The Loop
The Hero World Challenge TV ratings prove Tiger Woods is still golf's biggest draw (And it's not even close)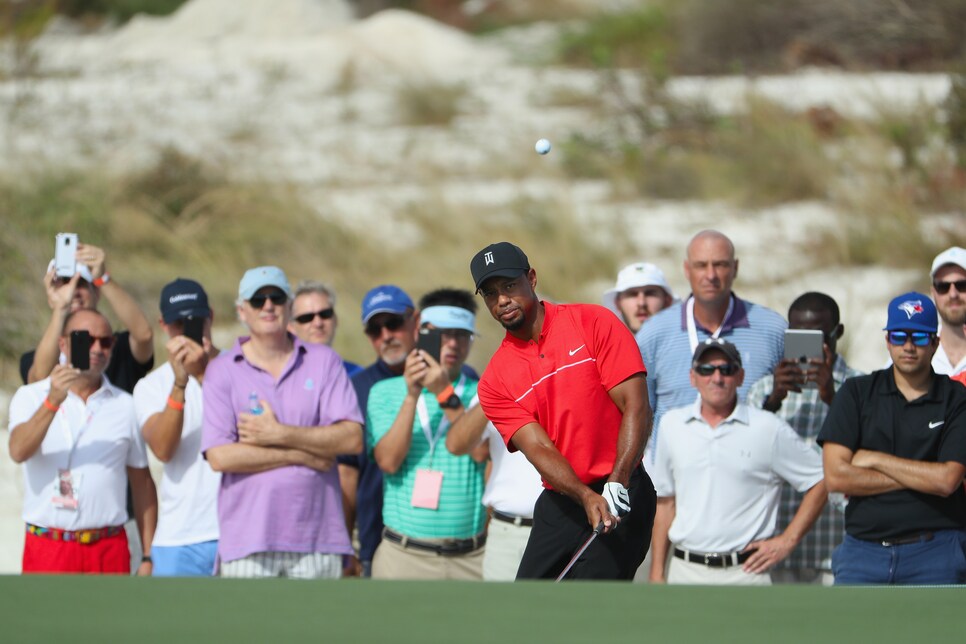 Does golf need Tiger Woods? It's a question that's asked often. But while the answer is debatable, one thing can't be argued: The 14-time major champ's presence certainly doesn't hurt.
TV ratings are in from Woods' latest return to the sport and they prove just that. Forget the state of his game, Tiger Woods is still golf's biggest draw. And it's not even close.
Let's start with Thursday's figures. While most of the country worked, the Hero World Challenge drew a .86 rating (or about 786,000 viewers), which was up 190 percent from coverage of last year's event when Woods didn't play. Those numbers may not sound crazy, but keep in mind, we're talking about the Hero World Challenge. In December. On a weekday.
Also, according to NBC/Golf Channel, that's the most-watched first round of any tournament (excluding the Ryder Cup) since the British Open. And it's also the most-watched fourth-quarter (Oct.-Dec.) round in Golf Channel history.
On Friday, the number dropped to .45, but that was up 200 percent over last year. And the weekend showed a similar trend. On Saturday, Golf Channel's live coverage was up 162 percent, while NBC's increased by 92 percent. And on Sunday, Golf Channel's live coverage was up 126 percent, while NBC's increased by 54 percent. Keep in mind, by the time NBC came on the air on Sunday, Woods had fallen well out of contention. And Hideki Matsuyama had a huge lead.
Does golf need Tiger Woods? Perhaps, not, but TV execs are sure glad to have him around again.