The Loop
The Grind: World rankings for everything, Tiger's great timing, and Houston picks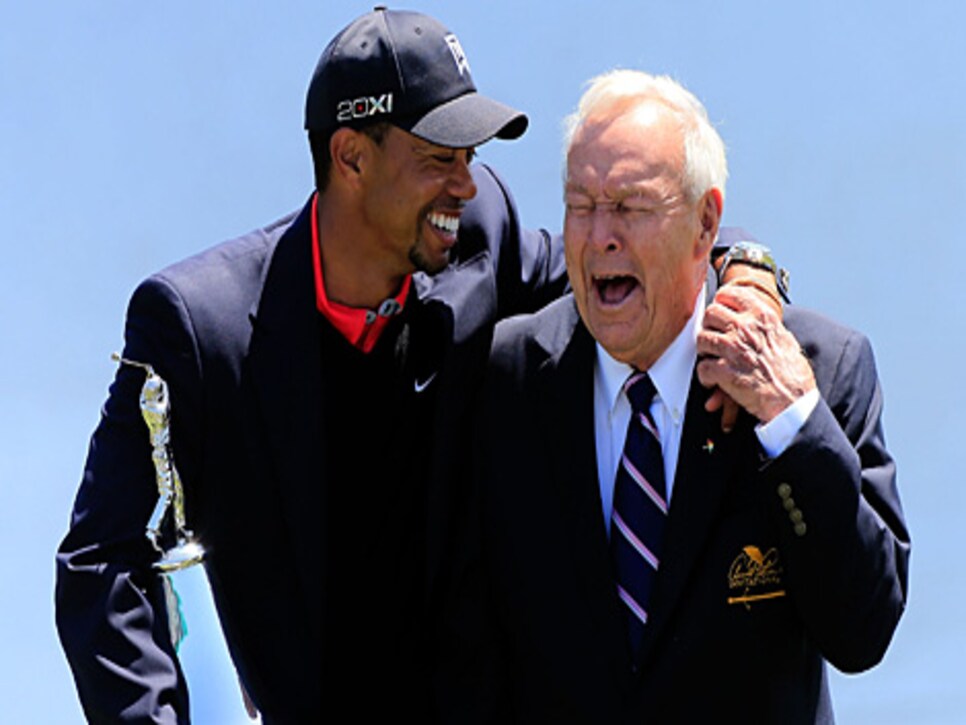 "Remember when people thought I was washed up?" (Photo: Getty Images)
Welcome to another edition of The Grind, where we wish world rankings existed in every day life. You know, so we could get some credit for some of the stuff we're good at. Wielding a remote control from the couch during a busy weekend of sports? Nobody better. Finding free food around the office? Second only to our boss. Writing a weekly golf column that includes fantasy advice and the latest Paulina Gretzky news? We have to be in the top 10. In any matter, we're happy for Tiger Woods being back on top at what he does best. Now where's that delicious scent I smell coming from. . .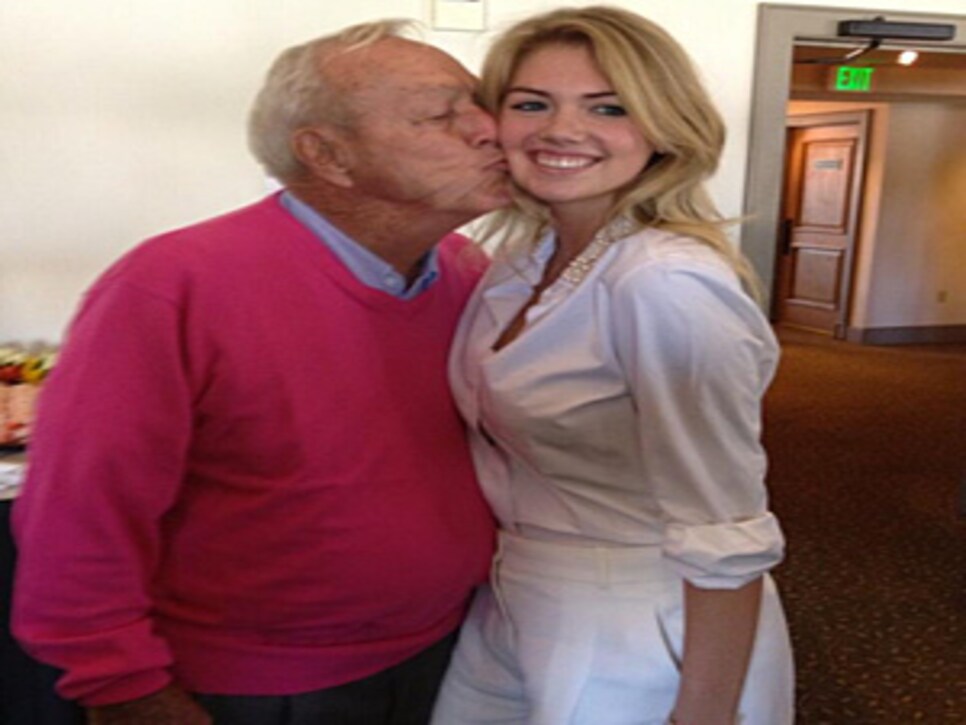 Tiger Woods. With his latest triumph at Bay Hill, Woods has now won a remarkable 77 times on the PGA Tour. To put that in perspective, that's 62(!) more wins than his friend Fred Couples has won during his HALL OF FAME career. Tiger now has as many wins at Bay Hill as big-name guys like Sergio Garcia, Adam Scott and Lee Janzen have on tour in their lifetimes. We could go on and on, but you get the point. It's Woods' world and we should all just be thankful we're allowed to wear red shirts on the course.
Arnold Palmer. Usually, we have to be creative to include a picture of a pretty lady, but not this week. Yep, thanks to the King's meeting with Kate Upton, showing a photo of the supermodel is completely justified. And when he's not hosting tournaments and kissing beautiful women who are a quarter his age, the 83-year-old is filming awesome commercials in which he is beating up bad guys. What a legend. Speaking of said awesome commercial, how about that timing?
Florida. The Florida Swing gave us two Tiger Woods wins and the state has also created the most buzz during March Madness. Florida and Miami were expected to make the Sweet 16, but Florida Gulf Coast University -- a school 99 percent of the country had never heard of until it upset Georgetown in its first-ever NCAA tournament game -- has unexpectedly joined the party. Speaking of unexpected, FGCU's coach has a supermodel wife. True story.
Beatriz Recari. Speaking of lovely ladies, Recari topped I.K. Kim at the LPGA Kia Classic in a playoff prompting an emotional celebration. We were celebrating, too, since it gave us a reason to link to GolfDigest.com's "Hottest Golfer" competition from 2011. And that's never a bad thing.
Phil Mickelson. A Friday 79 that included a four-putt from five feet was bad enough, but Lefty sounded whiney with his post-round comments concerning the PGA Tour's schedule leading up to the first major of the year. "I've got to make some adjustments, just because the tournaments before the majors are not helping us at all get ready," he said. While we respect that different players have different routines, keep in mind that Jack Nicklaus and Tiger Woods never even play the week before a major. They've done pretty well.
Rib injuries. Remember Brandt Snedeker? The PGA Tour's early Player of the Year candidate before Tiger reverted to old Tiger? Well, he returned this week after sitting out for more than a month with sore ribs and it wasn't pretty. A pair of 76s left him watching the tournament from home over the weekend. Bottom line: Rib injuries are no joke.
Lee Westwood. The man who knocked Woods from his top spot in the world ranking in October 2010 continued his lackluster play with a final-round 75 at Bay Hill to finish T-63. So far, his best performance of 2013 came when he appeared on "Feherty."
The PGA Tour heads to Texas for the Shell Houston Open, aka that tournament that a bunch of golfers play in because they think it's a good tuneup for the Masters.
Random tournament fact: Anthony Kim won this event just three years ago. Has anyone even seen him lately? Ummm, that's actually a serious question. Is there an official "missing golfer report" we need to fill out? Let us know you're OK, AK. . .
WEEKLY YAHOO! FANTASY LINEUP
Last week we told you to take Tiger Woods. You're welcome. OK, so that advice was about as obvious as instructing someone to look both ways before crossing the street, but we'll still give ourselves a pat on the back. Here's who we like this week:
Starters -- (A-List): Phil Mickelson. Lefty is coming off a rough week, but that should motivate him even more to put up a good performance before he heads to Augusta. That shouldn't be too much of a problem at an event he's won and finished T-4 in the past two years.
(B-List): Keegan Bradley. That other guy who wears red on Sundays is close to getting back in the winner's circle. His last three events? A T-4, solo 7th, and T-3.
(B-List): Louis Oosthuizen. The South African started his climb back up the world rankings here last year when he finished third and then runner-up at the Masters the following week.
(C-List): Jordan Spieth. The 19-year-old has played so well he's earned a special temporary membership on the PGA Tour. The native Texan would love to show off in front of a home crowd this week.
Bench -- Rory McIlroy, Hunter Mahan, Steve Stricker and Lee Westwood.
PICTURE OF THE WEEK (NOT INVOLVING ARNIE AND KATE UPTON)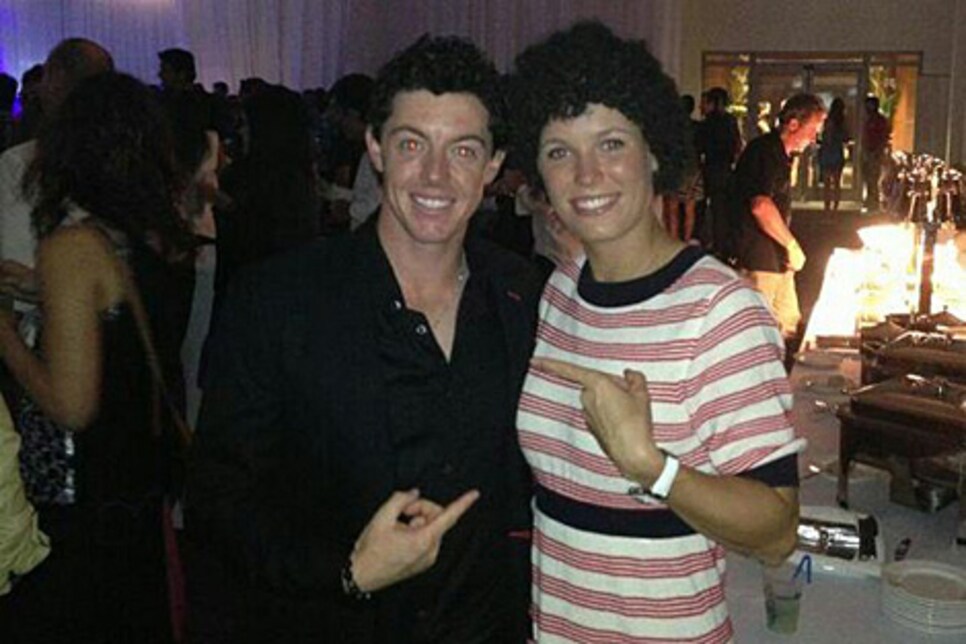 So much for those rumors of Rory McIlroy and Caroline Wozniacki having relationship problems. The two were back in full "Wozilroy" mode this past week, (Is that Ian Poulter at the prime rib station in the background?) with Wozniacki putting on a curly-haired wig to look like her boyfriend. We also noticed in other pictures that the taller Wozniacki seems to be staying away from wearing high heels when the two are in public together. Aw, how cute.
RANDOM PROP BETS OF THE WEEK
-- Anthony Kim will win a PGA Tour event this year: 1,000-to-1 odds
-- Coach K will spend most of Duke's next game complaining to the refs: LOCK
-- Phil Mickelson will also find something to complain about: LOCK
This is just the latest example of the modern golfer being more athletic. Of course, that was a lot of effort to go through just for him to withdraw a couple holes later.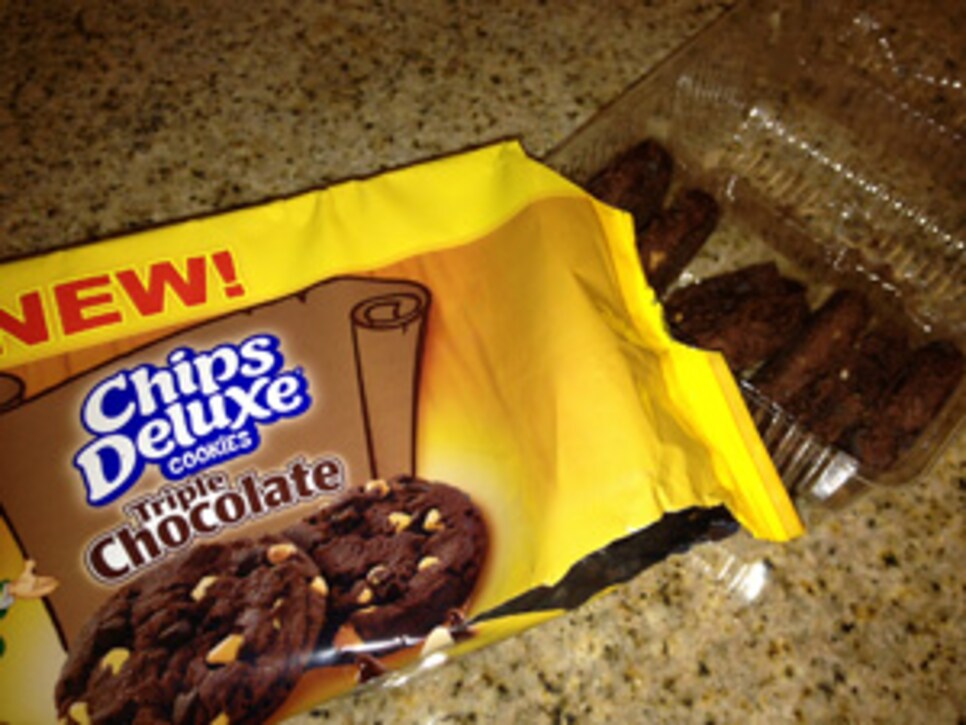 Days after Yani Tseng lost her No. 1 ranking, she was forced to withdraw at the Kia Classic as the defending champ after oversleeping and missing her pro-am tee time. And you thought you and your busted bracket had a bad week. . . . Rory McIlroy took a little heat for skipping Arnold Palmer's event again (he's never played in it). Of course, it's a little tougher to criticize the 23-year-old's schedule when he'll make a trip to Haiti for a humanitarian mission next week. . . . These new "triple chocolate" Chips Deluxe cookies (above) from Keebler are a GAME CHANGER.
RANDOM QUESTIONS TO PONDER
Does anyone really care about the Tavistock Cup?
Did Tiger Woods wear the same awesome red shirt on Monday that he wore on Sunday?
Does he have an extra one he can spare?