The Loop
The Grind: Tiger's fist pumps, Rory's "comeback," and Tampa predictions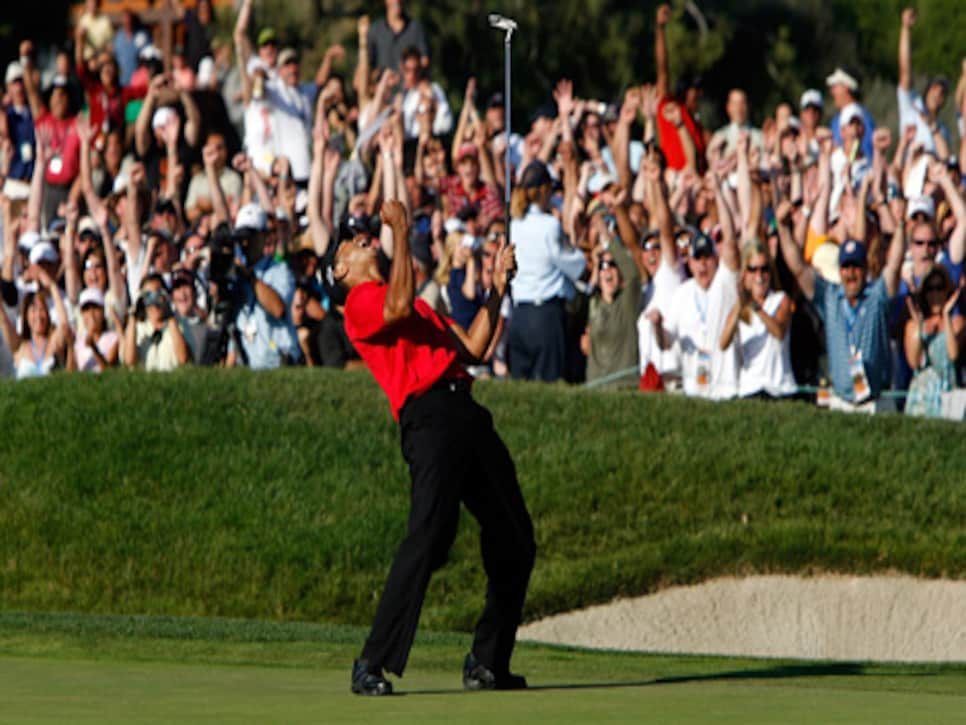 Welcome to another edition of The Grind, where like Tiger Woods, we always enjoy a good fist pump. When we think of an idea to stick in the column? That gets one of TW's subtle overhand ones. Write what we believe to be an amusing sentence? That draws one of his trademark big uppercuts. And when we actually finish the column? Well, that's when we do the emphatic, leaning back, double fist a la Torrey Pines in 2008 (look at that perfect form above). We just need to remember to do some light stretching first next time. . .
Anyway, after a big week, golf's biggest star is on break again, but we aren't. Here's what has us talking:
Tiger Woods. And just like that, Woods is the undisputed best player in the world again. He's the first player to multiple wins in 2013 and he's now a 4-to-1 favorite to win the Masters (Rory McIlroy is second at 9-to-1). Woods may have 76 PGA Tour titles now, but this was historic since it was the first time he won on my birthday. Thanks, Tiger! I thought you had forgotten about me again. . .
Scott Brown. Tiger Woods wasn't the only golfer winning a PGA Tour event last week. The journeyman (can you be a journeyman if you're still under 30?), who was splitting his time between the PGA and Web.com Tours took advantage of a weaker field in Puerto Rico to get his first big victory and lock up his tour card for the next two years. He took home by far the smallest winner's check ($630,000) on the PGA Tour. Somehow, I doubt he's complaining.
Steve Stricker. The Strick Show dealt out another putting lesson to his buddy, Tiger, and then wound up finishing runner-up to him. What a guy! We also admire his ability to play so well despite playing so infrequently. He's being efficient with his money, too. Stricker may not be teeing it up as often, but by having his wife on the bag, he's bringing home a bigger percentage of his paychecks. Shrewd!
Bandwagoners. Yeah, yeah, I've said Tiger is "back!" more than anyone, but at least I'm consistent. It's people who change their minds about the guy every five minutes who drive me nuts. And now that same fickle treatment happens with Rory McIlroy, who is everyone's darling again after a public apology and a Sunday 65 for a "back'door" top 10. Guys, it's a long season and golfers have LONG careers. Let's be a little more patient.
Luke Donald. A fairly quiet start to 2013 got even rougher at Doral, where LD didn't break 70 once on a very tame Doral and managed to double bogey the 18th hole ALL four days. Karma can be pretty nasty, huh Luke? We'll explain later. . .
TaylorMade's "-IER" campaign. It was bad enough seeing guys wearing "17" on their hats last year to indicate the average distance TaylorMade claimed people gained by switching to their RocketBallz line. This year's slogan, "RocketBallz-IER" and the accompanying "#IER" hats being worn are even worse. I mean, why would the company do such a thing? Do they want people to be talking about it after the tournament or something? Ohhhh, we get it. Touche, TaylorMade. Touche.
The PGA Tour heads across Florida for the Tampa Bay Championship at Innisbrook's Copperhead Course. Wait, there are still tournaments that are just named after where they are played? Were the clocks turned ahead an hour this past weekend or turned back about 50 years?
Random tournament fact: Luke Donald won here last year and shortly thereafter, I reached out to the then World No. 1 for help on how to play Copperhead because I was going on a golf trip there later that summer. He didn't respond. Is it a coincidence that he hasn't won a tournament since? I think not.
WEEKLY YAHOO! FANTASY LINEUP
Twice we have had Tiger Woods as our A-list bench player and twice he has gone on to win that tournament. Lesson learned. In future tournaments that he plays, we will keep doing that to sabotage our fantasy team, but make side bets on him to win.
Starters -- (A-List): Sergio Garcia. Sergio is coming off a T-3 at Doral and has shot over par at Copperhead just once in his past 11 rounds there. He's also one of those "-IER" guys, making his last name Garcia-IER in the new campaign. C'mon, that's four vowels in a row!
(B-List): Matt Kuchar. Kuch had a disappointing week in Miami, but have you heard of the "Matt Kuchar Rule"? It states that he never has two bad weeks in a row.
(B-List): Webb Simpson. The Wake Forest product had a tough runner-up here two years ago when he bogeyed the final hole, but his last three years at Copperhead have produced 10 rounds in the 60s and three top-15 finishes.
(C-List): Adam Scott. The Aussie dressed like he didn't think he was going to be on TV on Sunday (yellow pants with a grey shirt?), but his closing 64 brought him a lot of air time. Scott hasn't played here much, but his sparse schedule has made him focus better when he tees it up.
Bench -- Jason Dufner, Aaron Baddeley, John Senden, and Jason Day.
(PAULINA GRETZKY) PICTURE OF THE WEEK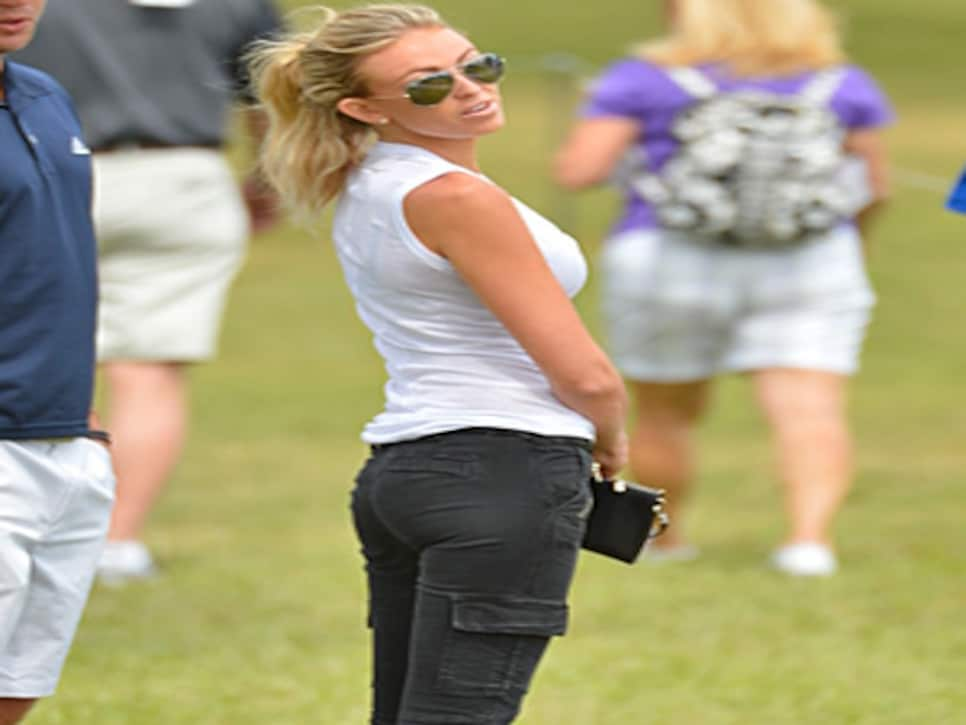 I know, I know, there were pics of her and Dustin Johnson on the beach, including ones of her putting her dog in her shirt, but I I like this better. No frills. Just Paulina. With a sultry look. Hey, cut me some slack, it's still close to my birthday. So, to recap, Tiger gave me a win, Miami gave me this Paulina pic and my boss gave me work to do. What did you get me?
RANDOM PROP BETS OF THE WEEK
-- NBC's announcing crew will say "The Snake Pit," Copperhead's closing three-hole stretch, as much as it said "The Bear Trap" at the Honda Classic: 100-to-1 odds
-- Unlike Donald Trump, Innisbrook's owner will not arrive to the course by helicopter every day: Even odds
-- Golf's TV ratings will be lower this week: LOCK
CELEBRITY/ATHLETE WE'D LIKE TO PLAY GOLF WITH
Scott Weiland. Remember him? He was the lead singer of Stone Temple Pilots before his, um, problems, led him to be fired recently. That hasn't stopped him from touring with another band and this weekend I saw him in action. He still has a great-sounding voice. Well, when he's not spending a good portion of the show challenging someone in the crowd to a fight. . . Scott, let's tee it up together. I think it will help relax you, plus, we can spend the whole round discussing how legendary 90's rock is.
Our two favorite things about Phil are his love of going for the bold (sometimes stupid) shots and his borderline overanalysis of the game. This brilliant clip following Thursday's first round at Doral combined both. It is the ultimate "Phil being Phil" moment. If you haven't seen it yet, you are in for a treat: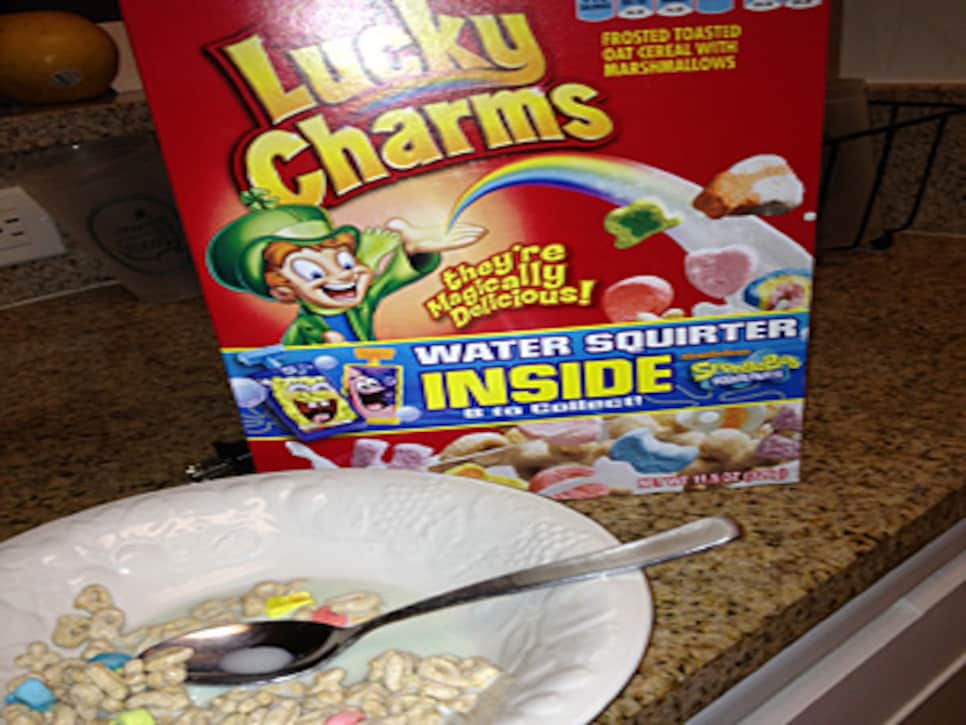 A Dallas judge stopped the auction of a Masters jacket. Poor Greg Norman. The guy can't even buy a green jacket. . . . Speaking of Greg Norman, the Shark is going to advise China's golf team leading up to the 2016 Olympics. There's got to be another Greg Norman joke in there somewhere. . . . I recently rediscovered eating cereal with milk (don't ask), specifically, Lucky Charms (above). Congrats, General Mills. I don't know what you put in those things, but they are "magically delicious" -- as in I can't stop eating them once I start.
RANDOM QUESTIONS TO PONDER
Why can't Justin Timberlake host Saturday Night Live every week?
Did anyone actually pull a hammy jumping back on the Tiger bandwagon?
How many non-golf-related fist pumps does Tiger make in a typical day?