The Loop
The Grind: Tiger v. Brandel, Webb's Vegas win & Arnie affects a football game
Welcome to another edition of The Grind, where we celebrate every week we don't get sued. After all, the golf world has Tiger Woods threatening legal action against a TV analyst, Rory McIlroy set to go to court against his former management agency, a looming Vijay Singh vs. the PGA Tour case and the potential of belly putters banding together against golf's big, bad rule makers. The Golf Channel might have to hire Judge Judy soon!
Fortunately, there's still some actual golf being played. We'll try sticking (mostly) to that. . .
Webb Simpson: Arguably the biggest name in the field at the Shriners Hospitals for Children Open, Simpson took advantage with a runaway six-shot victory, picking up his first win since capturing the 2012 U.S. Open. And this time, his trophy ceremony wasn't interrupted by the "Jungle Bird." Unless "Jungle Bird" now dresses up as a Shriner. . .
Chesson Hadley: In just his fourth-ever PGA Tour event, Hadley played in the final pairing on Sunday. He didn't play well, but still, we give the recent Web.com Tour grad a lot of credit for his T-5 finish, especially since it's the second week in a row that one of our sleepers has made us look really smart.
Adam Scott: The Aussie is known for playing a sparse schedule, but he showed up for the often-overlooked PGA Grand Slam of Golf and put on a show. A final-round 64, including a 6-iron to a few inches for a closing eagle, nipped buddy Justin Rose and added another highlight to a career year. He just better hope Tiger Woods doesn't sue him for stealing TW's "2000 swing."
Controversial endings: With a one-shot lead on the 17th hole of the final round, Kim Hyung-tae was informed he was being assessed a two-shot penalty for grounding his club in a hazard on the 13th hole. He wound up losing by one shot to Kang Sung-hoon (who also received the same penalty) and then argued with officials for two hours before signing his card. We're pretty sure this wasn't how the tournament wanted to be resolved. Then again, if it weren't for this ending, we probably wouldn't have mentioned the Korea Open.
Bernhard Langer: The Tiger Woods of the Champions Tour the past five years has suddenly become the anti-Tiger when it comes to closing the deal at tournaments. Langer picked up an eighth straight top-10 finish with a solo third at the Greater Hickory Classic, but blew a two-shot lead heading into Sunday. Of those eight tournaments, his final-round score has been his worst of the week six times.
Phil Mickelson's ping-pong skills: Callaway Golf released a quick video of Mickelson schooling someone in ping-pong (apparently, he's been taking lessons) and then tossing a football to someone during a commercial shoot break. People have been praising Mickelson's athletic prowess since, but we're not intimidated and would like to officially challenge Phil to a ping-pong match. What are our credentials? A plastic trophy from a Carnival cruise. Don't act like you're not impressed.
The PGA Tour heads to . . . Malaysia? Yep, Malaysia. The CIMB Classic has been around since 2010, but this will be the first time that it counts as an official PGA Tour event. This should be welcome news to Bo Van Pelt, who has a win and a runner-up the two times he's played in the tournament.
Random tournament fact: BVP has a 65.5 scoring average at The Mines Resort & GC. That's Steve Stricker-John Deere Classic territory!
THIS WEEK IN DUSTIN JOHNSON A RANDOM KOALA BEAR-PAULINA GRETZKY PUBLIC DISPLAYS OF AFFECTION
"Got to meet Sunshine the Koala today!! All thanks to my amazing fiance @djohnsonpga"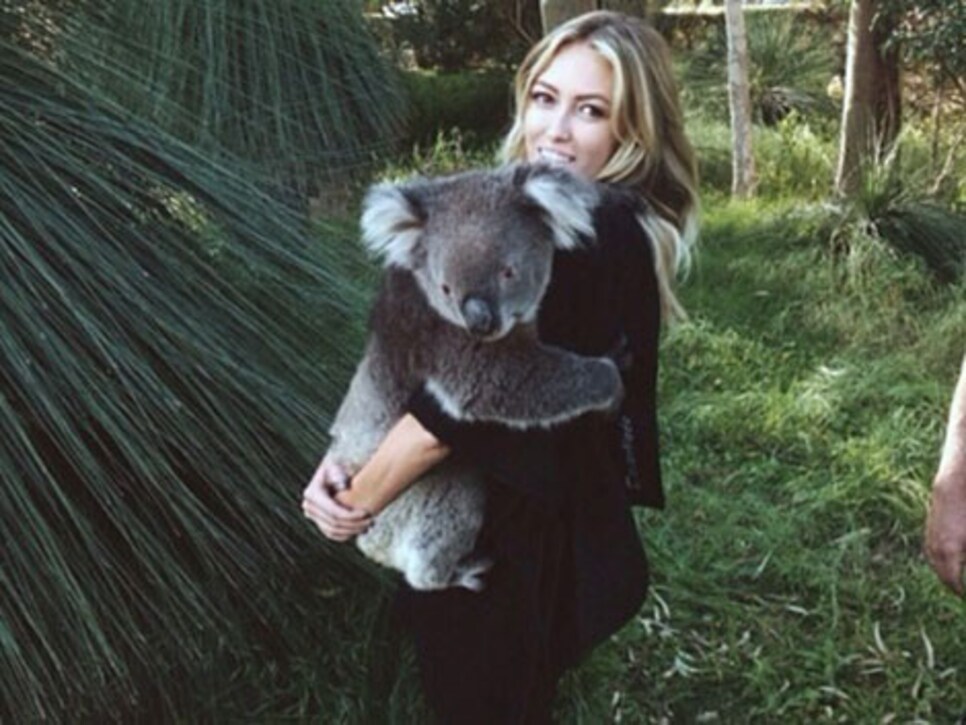 We can all learn from DJ here. Women LOVE little, furry creatures.
Arnold Palmer was at his (our) alma mater, Wake Forest University, over the weekend. First, he attended a ceremony in which he was honored with the unveiling of a statue of himself at the school's golf center. Then, he rode onto the field before the homecoming football game on a motorcycle with the Demon Deacons' mascot.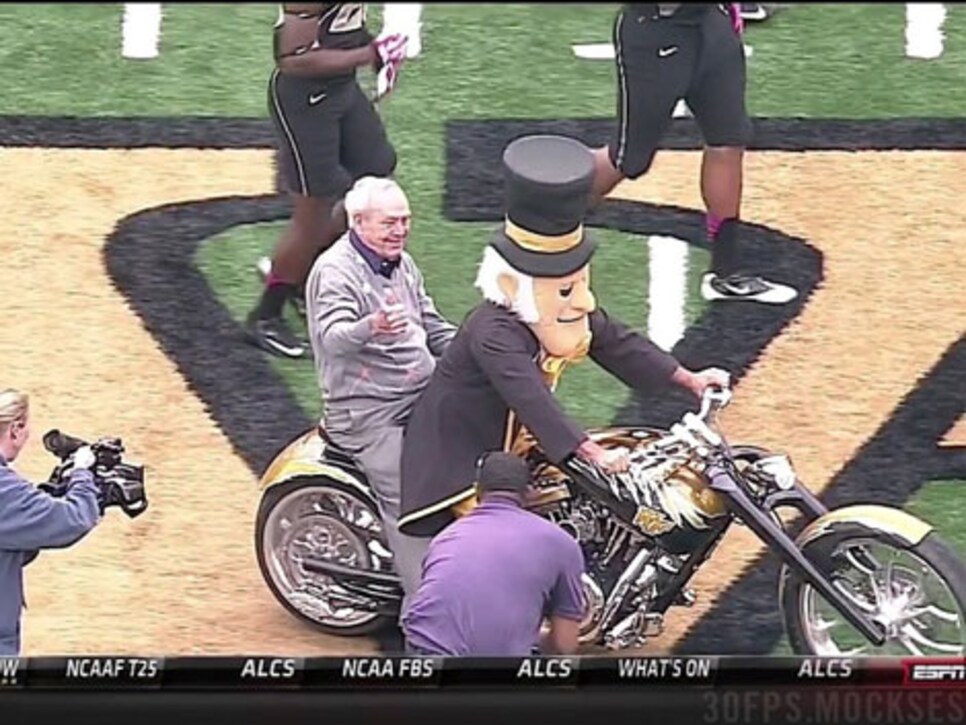 Arnie still has a magic touch. The six-point underdog Deacs clobbered the visiting Maryland Terrapins, 34-10.
RANDOM PROP BETS OF THE WEEK
-- Tiger Woods and Brandel Chamblee will hug it out the next time they see each other: 1 Million-to-1 odds
-- Rory McIlroy will sue girlfriend Caroline Wozniacki for taking unflattering pictures of him: 10-to-1 odds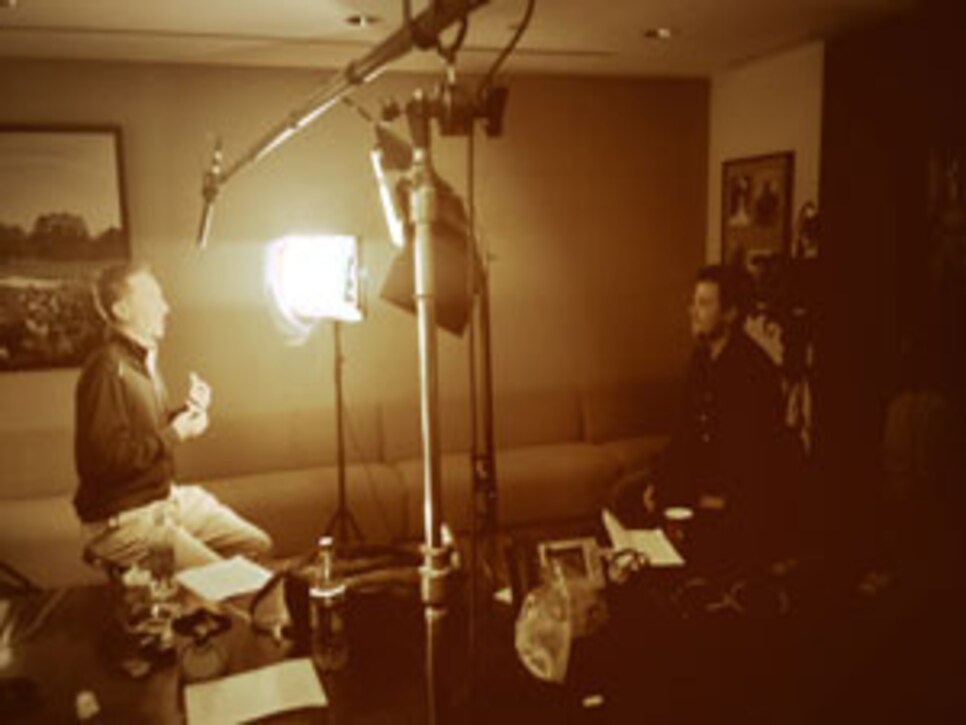 Michelle Wie tied for third place at the LPGA event in South Korea, just one shot behind Amy Yang, who won in a playoff. No joke, Michelle Wie actually contended in a tournament. . . . Andres Romero shot 61-81 to miss the cut in Las Vegas. Again, not a joke. . . . Donald Trump teamed up with Jack Nicklaus to build a golf course on a Bronx, N.Y., landfill. See? Golf is good for the environment! . . . That's yours truly (above, left) taping for what could be my debut appearance on the Golf Channel (our PR guru, Will Ober, gets the photo credit). Set your DVRs, guys! Mom and dad, that is. . .
RANDOM QUESTIONS TO PONDER
Did Chesson Hadley's parents really mean to name him that?
Will I ever get a crack at Phil Mickelson in ping-pong?
How much money would I have to borrow from the bank?