The Loop
The Grind: Tiger in Turkey, Briny the bridesmaid, & Paulina the cover girl
Welcome to another edition of The Grind, where we were impressed by Turkey's love of golf. The country shut down a major bridge just so Tiger Woods could hit a few wayward drives. And the Bosphorous Bridge doesn't just connect two cities or even two countries, but two CONTINENTS. We need to step up our promotional event game in this country. If only the U.S. could shut down the entire government for show. . . oh, wait.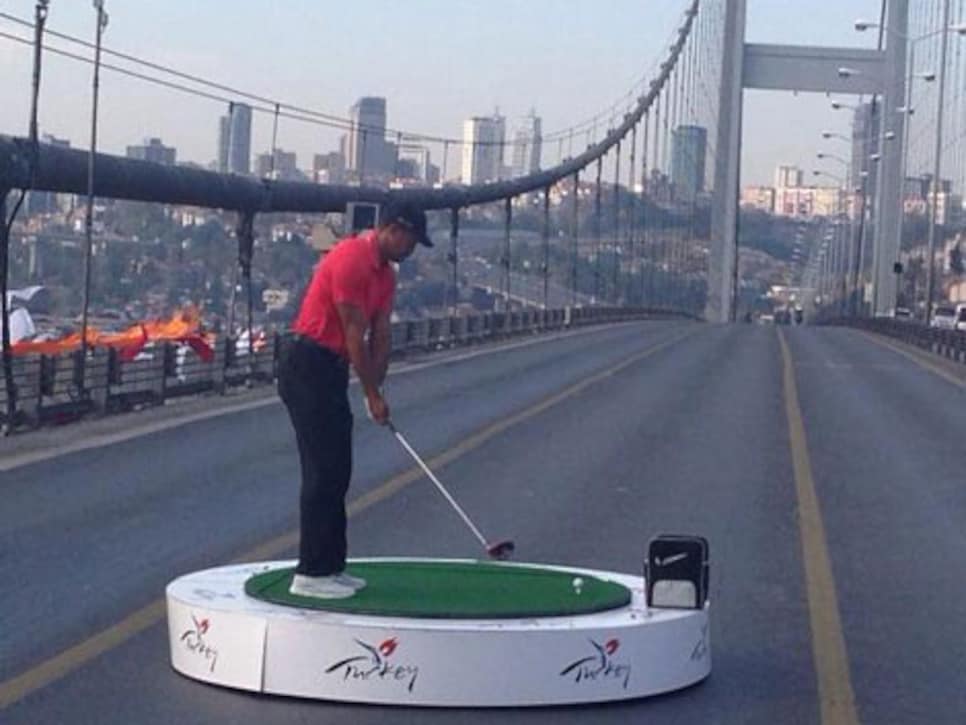 In any matter, don't worry, we're not shutting down anytime soon. Let's get to it.
Victor Dubuisson: The former top-ranked amateur golfer in the world (Raise your hand, if you remember that) picked up his first European Tour win at the Turkish Airlines Open. What made the 23-year-old's victory even more impressive was that it came over a couple of guys named Tiger Woods and Justin Rose. The Frenchman also appears to have cut off some of his hair. Good call. Just look at the mane he was rocking a few months ago!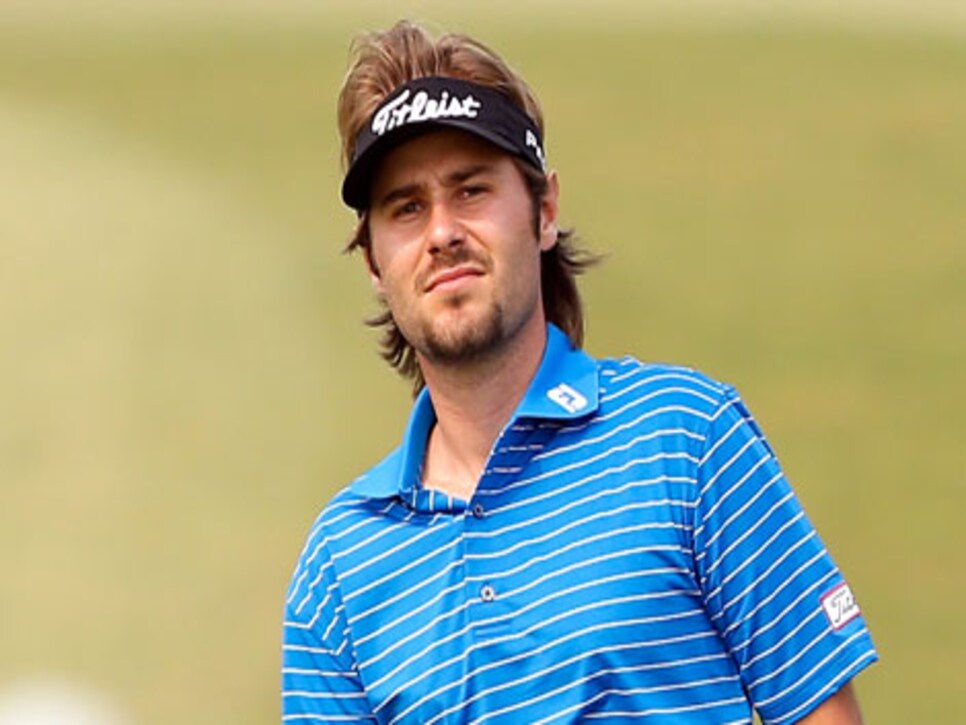 Golf In Turkey: The bridge exhibition. Woods and Rose playing well. A birdie-fest on a course that looked spectacular. It all came together nicely for the country's first official European Tour event. Something tells us it won't be the last, especially if the tournament's deep pockets continue to lure the World No. 1.
Chris Kirk: The McGladrey Classic winner earned his second PGA Tour title at Sea Island, a special place for him because he moved there in 2007 to hone his skills as a professional golfer. When is the movie coming out?! But seriously, Kirk birdied No. 17 then parred the closing hole to earn the biggest win of his career.
Adam Scott: OK, so this was just about as obvious a win as possible. Still, a win is a win and Scott took care of business in his home country at the Australian PGA. We're not sure what season his latest victory technically counts toward. Regardless, he's had a pretty decent year.
Briny Baird: We will continue to root for the PGA Tour's "biggest loser," but we still can't overlook that his latest heartbreak was his fault. Baird three-putted for par on the par-5 15th and then topped a 4-iron out of a fairway bunker and into a water hazard on No. 18. On the bright side, the bogey putt he then made earned him $225,000 and ensured he'll have a lot more attempts at picking up that first win. And don't forget about that P.F. Chang's sponsorship!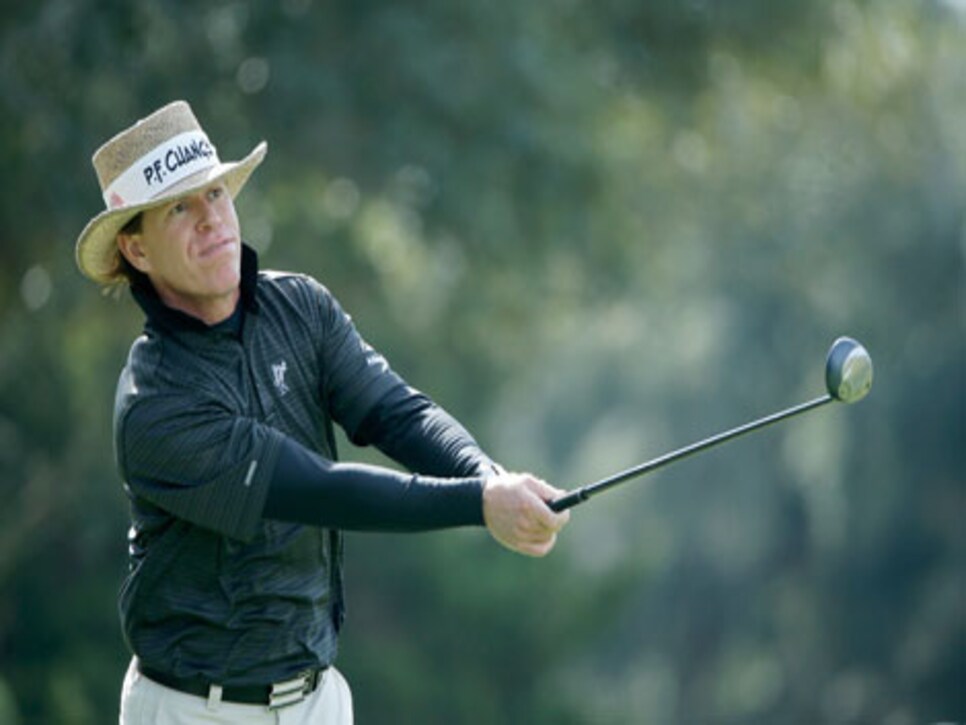 Bigger purses: The PGA Championship and the Players, aka the distant fourth major championship and the wannabe fifth major, announced their purses would swell to $10 million in 2014. It reminds us of a kid trying to gain more friends through bribery. We're sure those competing won't mind a little extra cash, but this isn't going to change either event's status.
The Old Course's Makeover: A lot of people, including John Huggan, are not pleased with the work the R&A is doing at St. Andrews. We agree. At least, when historic sports sites are demolished in the U.S., it's done to make more money.
The PGA Tour heads to Mexico for the OHL Mayakoba Classic and the European Tour concludes its season with the Dubai World Championship. More importantly, the Seitz Cup -- the annual grudge match between Golf Digest and Golf World -- will be played on Friday.
Random tournament fact: Golf Digest leads the all-time series, 8-7-1. Oh, you want something on those other events? Fine. Briny Baird has five top-15 finishes in the Mayakoba's six-year history. Wow, this guy is really due for a win.
THIS WEEK IN DUSTIN JOHNSON-PAULINA GRETZKY PUBLIC DISPLAYS OF AFFECTION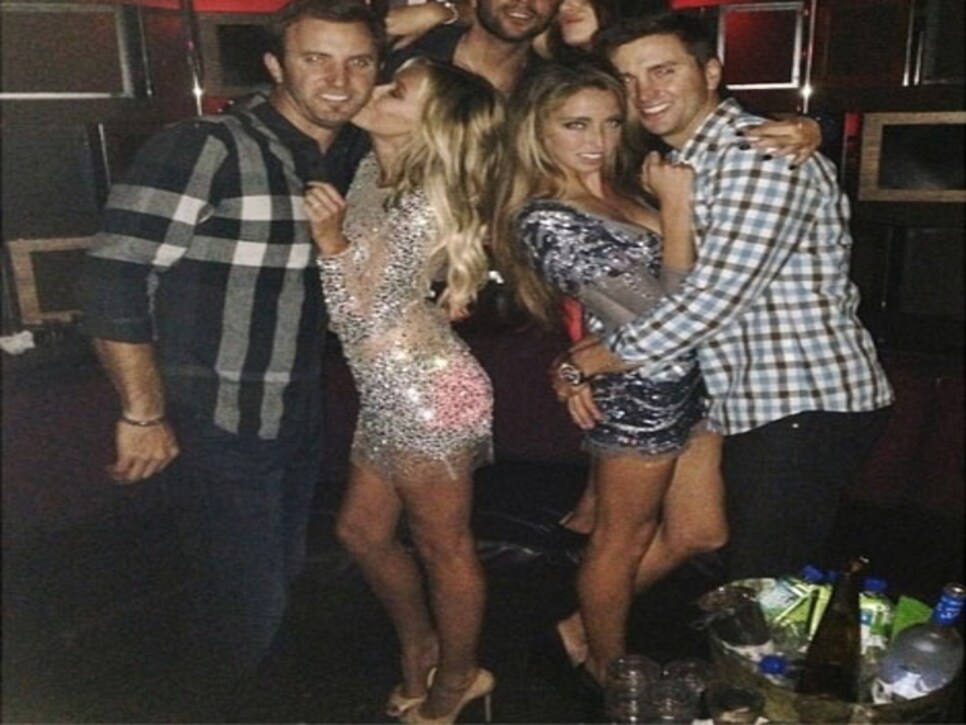 PHOTO OF THE WEEK (NON-PAULINA/DJ CATEGORY)
In case you didn't know, Jack Nicklaus' grandson, Nick O'Leary, is a star tight end for Florida State's No. 2-ranked football team. Very creative. Unfortunately, my alma mater, Wake Forest, was the latest team to get destroyed by the Seminoles, 59-3. Wait a minute. Why didn't the school save that pre-game Arnold Palmer motorcycle ride with the team mascot for this game? Our Demon Deacons might have actually scored a touchdown!
RANDOM PROP BETS OF THE WEEK
-- Briny Baird will pick up his first PGA Tour win: 50-to-1 odds (Actual odds)
-- Briny Baird will wear a straw hat: LOCK
-- The Mexican government will not shut down a bridge for anyone in the field, not even Briny Baird: LOCK
Again, Tiger Woods hit golf balls on a bridge connecting Aisa and Europe. How could we highlight any video other than this?
Seminole Golf Club will host the 2021 Walker Cup. To the 10-year-old golfers out there, start practicing! . . . The USGA held a day-long symposium in an effort to find solutions to the slow play problem plaguing the game. A rules official timed speakers to make sure they didn't exceed their allotted time. . . . Jerry West is stepping away from his Northern Trust Open role. Why run a golf tournament when you can just play golf? . . . What happens when Golf Digest staff members go out to dinner? A heated debate/demonstration of golf instruction, of course!
RANDOM QUESTIONS TO PONDER
How does Adam Scott not win every week with that swing?
Why does it feel like the Walker Cup is played at better courses than the Ryder Cup?
Which way is the reverse commute when traveling between Asia and Europe?