The Loop
The Grind: Snedeker's hot stretch, Grammy revelations, and Riviera predictions
Welcome to another edition of The Grind, where we've got two words for anyone who says golf isn't cool: Justin Timberlake. Between a new wife (Jessica Biel), a new album and a performance at the Grammys, we're not sure how much time he's spent on the course recently, but no matter. Timberlake is a golfer and a pretty good one at that. But while the smooth performer (we'll forgive him for that cheesy poem at the Ryder Cup opening ceremony) is known for "bringing sexy back," a certain mop-topped, putting wizard is the sport's unquestioned hottest commodity at the moment. Even JT would agree. . .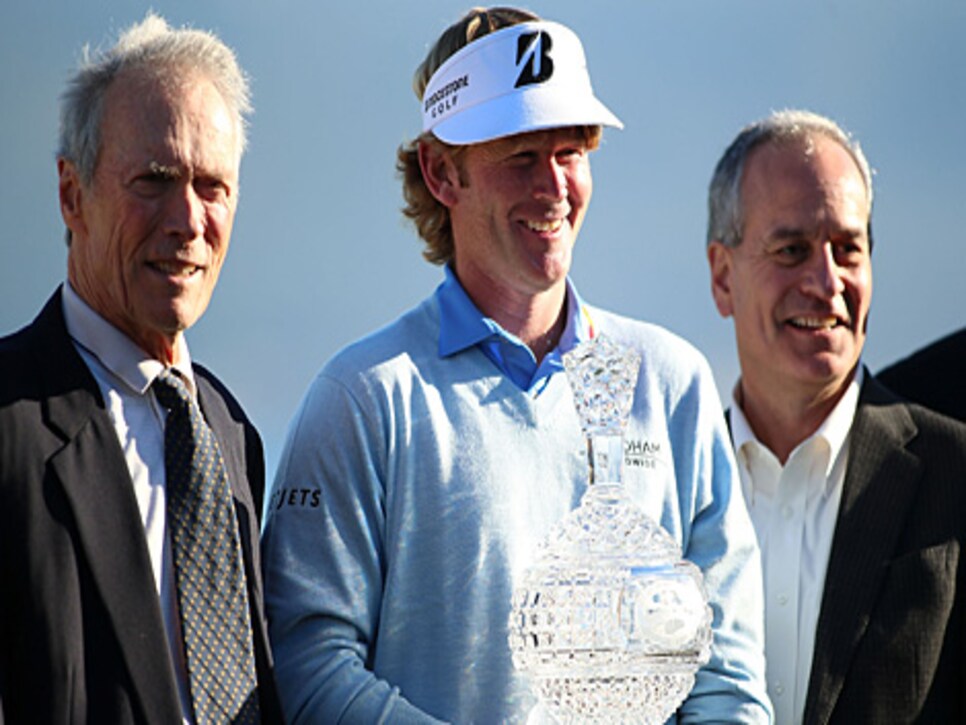 Even Clint Eastwood was impressed. Um, we think... (Getty Images)
Brandt Snedeker. Does this guy ever have a bad day? He's like the LeBron James of golf, just with a lot less muscle and a lot more hair. All Snedeker has done this season is rack up a third, two runner-ups and a win in five starts. Plus, I'm not sure if you've gathered this from all the gushing, but the Vandy Vanquisher (Sorry, "V"s are tough) is a "fast player" and a "great role model for young golfers."
James Hahn. Before this week, the 31-year-old rookie was known as that guy who did the "Gangnam Style" dance after making a birdie at TPC Scottsdale's 16th hole. But after a T-3 at Pebble Beach, he's now known as, um, well, OK, he's still that guy who danced "Gangnam Style" on a golf course.
Pebble Beach. Outside of the four major championships, I'd rank the AT&T as the tournament I'm most likely to watch no matter who is on the leader board. Even if all the pros got sick and it was just the amateurs playing the course, I'd still tune in for a glimpse of holes No. 7, 8, 17, and 18, among others.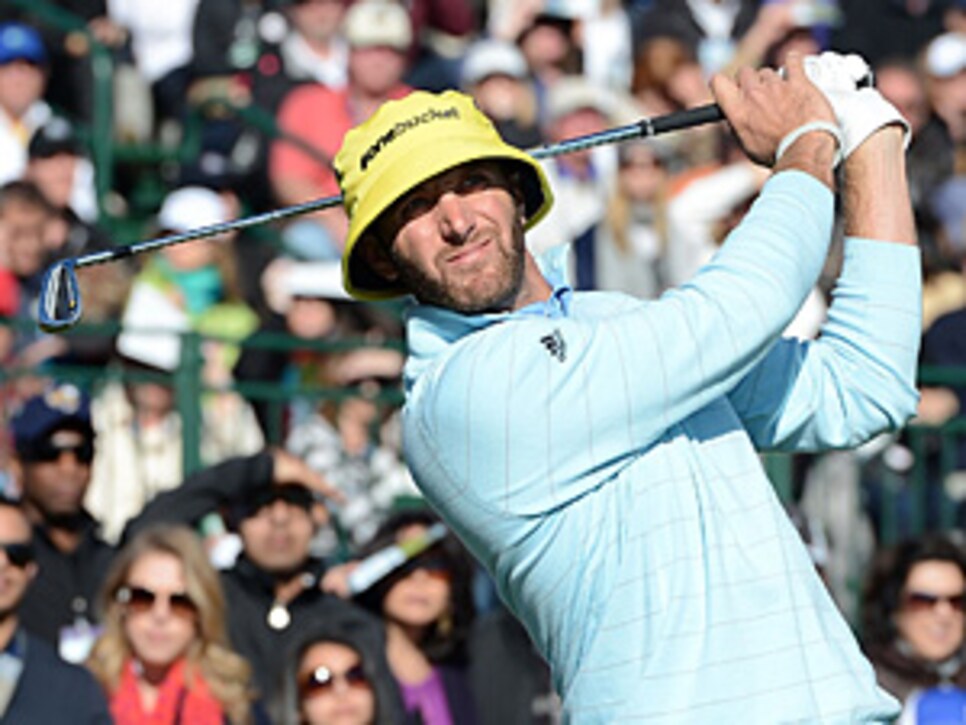 CBS. As Golf Digest executive editor Mike O'Malley pointed out, the network didn't show a live shot by a tour pro until 22 minutes after third-round coverage was supposed to start thanks to a college basketball game running long (surprise, surprise) and a love of listening to Jim Nantz and Nick Faldo talk to each other. Sunday was similar, and when you throw in a long appearance in the TV tower by a rambling Clint Eastwood and too many televised shots by pro-am partners, it wasn't CBS' finest hour(s).
Bucket hats. The yellow ones you may have seen on both pros (above) and amateurs were part of a TaylorMade promotion. However, seeing them reminded me that I went through a phase of voluntarily wearing such hats both on and (gulp) off the course. I want to take this time to apologize to anyone in my life that had to endure that stretch.
The PGA Tour heads to Hollywood for the Northern Trust Open, aka that tournament even NBA legend Jerry West can't talk Tiger Woods into returning to. Last year, Bill Haas won a thrilling playoff at Riviera over crowd favorites Phil Mickelson and Keegan Bradley. Or at least it was thrilling to fellow members of Wake Forest's class of 2004.
Random tournament fact: Riviera Country Club, the site of this longstanding event, is commonly referred to as "Hogan's Alley," due to Ben Hogan's affinity for the course on which he enjoyed much success. OK, so that wasn't very random. . .
WEEKLY YAHOO! FANTASY LINEUP
Fortunately for everyone else, Brandt Snedeker isn't in the field this week. But these guys are:
Starters -- (A-List): Charles Howell III. Lost in Snedeker's incredible run is CH3's start to the season. Perhaps like Sneds, he'll get into the winner's circle (at a place where he picked up one of his two PGA Tour titles) after a couple of close calls.
(B-List): Luke Donald. The former World No. 1 begins his PGA Tour season somewhat under the radar. It seems like a good place to start considering he once posted 11 straight sub-par rounds at Riviera.
(B-List): Keegan Bradley. It was here last year where Bradley proved his 2011 PGA Championship win wasn't a fluke and where he showed he was also a world-class spitter. With that unfortunate habit gone, there's no reason to think he won't contend again.
(C-List): Adam Scott. The Aussie makes his first worldwide start of 2013 at a venue where he has a win and a runner-up. More impressive? He achieved both of those without the help of caddie Steve Williams.
Bench -- Bill Haas(!), Dustin Johnson, Aaron Baddeley, and Lee Westwood.
Maybe you were dealing with Nor'easter Nemo. Maybe you happened to miss the broadcast. Or maybe you just want to see it again. Phil Mickelson fell on his butt at Pebble Beach. Literally. We still love you, Phil, but this is too good (Deadspin referred to it as "the unquestionable sports highlight of this or any year") not to keep enjoying:
RANDOM PROP BETS OF THE WEEK
-- Phil Mickelson will fall while trying to scale Riviera's clubhouse to check the gutters for a lost ball: 10-to-1 odds
-- After playing the Pebble pro-am with 49ers head coach Jim Harbaugh, Jason Day will lecture his playing partners on the virtues of running the Pistol offense: 5-to-1 odds
-- Justin Timberlake's (man crush alert!) new album will be awesome: LOCK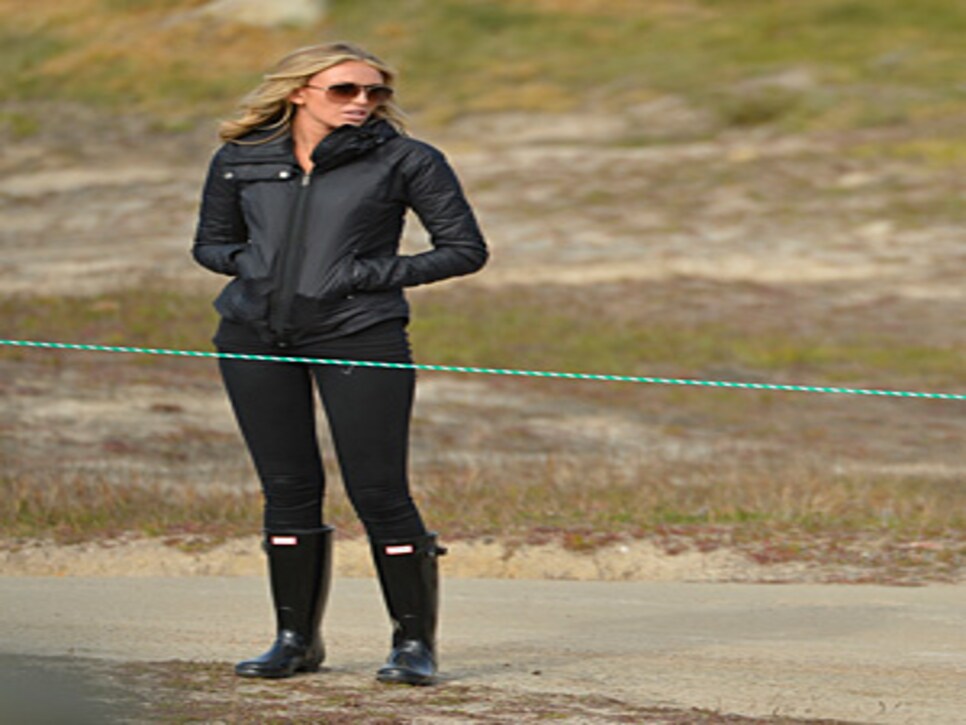 Paulina Gretzky. At Golf Digest, we have eyes everywhere. And apparently, that means we often have eyes on attractive females in crowd. This week's photo of the week is of Paulina Gretzky as she dutifully followed both her current boyfriend, Dustin Johnson, and her dad, Wayne, as they played together in the AT&T Pro-Am. The two didn't fare too well thanks to DJ missing the cut, though we'll cut the guy some slack. It's tough enough to impress your girlfriend's father, but imagine what that's like when your potential father-in-law is commonly referred to as "The Great One"?
CELEBRITY/ATHLETE WE'D LIKE TO PLAY GOLF WITH (NOT NAMED JUSTIN TIMBERLAKE)
Taylor Swift. No, I'm not a big fan of her music and yes, her voice leaves a lot to be desired. But did you see her at the Grammys? No, I'm not talking about her outfit (though she did bring it), but rather her enthusiastic reactions when CBS' cameras showed her in the crowd every 20 seconds. What a fun playing partner she'd be on the course. I picture her yelling "NICE TAP-IN!" before pulling out a guitar to write an angry song about a greenkeeper who shot her a mean look.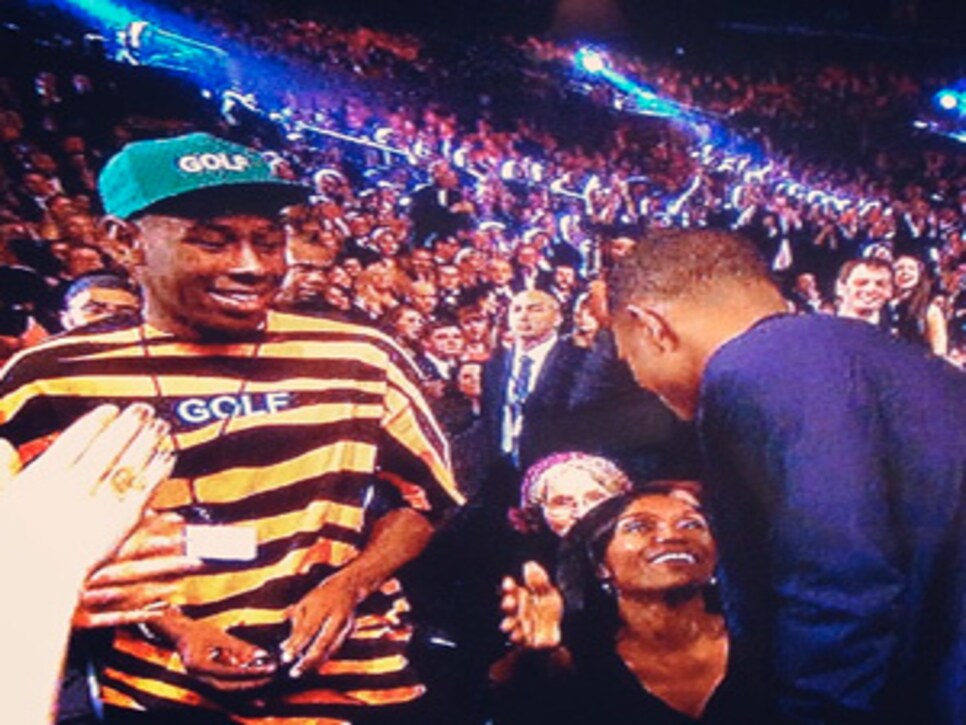 PHOTO OF THE WEEK (NOT INVOLVING PAULINA GRETZKY). As an old man when it comes to keeping up with the hip youngsters' music, I had no clue who Frank Ocean was before watching part of the Grammys. So I have even less of an idea who this smiling guy (thanks to Stina Sternberg for Instagramming the pic), apparently a part of Mr. Ocean's family or entourage, is, but I do appreciate his passion for golf. Is that Tiger-like print on his shirt supposed to represent support for the game's biggest name? Regardless, if anyone knows where I can purchase such an outfit, please let me know. I could make a lot of money in dare bets wearing that around the office.
Stina and I have been informed that the man in question is rapper/producer "Tyler, the Creator." We apologize for our lack of hipness.
Lydia Ko, 15, won the New Zealand Women's Open, which is her third pro win. Three wins? That's it? . . . The USGA announced it's eliminating the Amateur Public Links championship. What a surprise, Brandt Snedeker, golf's man of the hour, once won that event too. . . . Nor'easter Nemo was no joke (left). It's times like these I feel fortunate to live in an apartment so I don't have to shovel snow.
RANDOM QUESTIONS TO PONDER
Why do I live in the Northeast?
Will the pope take up golf now that he has some free time?
Is Phil Mickelson that hard-up for golf balls these days?