The Loop
The Grind: Stallings stuns, Tiger tanks, a Super Bowl prediction, and the perfect dessert?
Welcome to another edition of The Grind, where we can't take it anymore. The never-ending commercials that taunt us, the pointless analysis, the cold weather hysteria. Just play the darn thing already! Yep, the Masters really can't get here soon enough. Wait, did you think we were talking about something else?
But as we wait for the first of golf's four annual Super Bowls, the sport still gives us plenty of other things to talk about. Let's dive in.
Scott Stallings: OK, this one made NO sense. For starters, Stallings hadn't finished in the top 25 of a PGA Tour event in more than six months. Oh, but a slump-snapping Farmers Insurance Open win must have been obvious because of his great track record at Torrey Pines, right? Wrong. Stallings missed the cut in both his previous attempts, including a Friday 78 last year. But there he was on Sunday, shooting 68 and birdieing the final hole of regulation to avoid a huge playoff and capture his third PGA Tour victory. Then, he celebrated with his wife and son. As the kids say, "Adorbs!"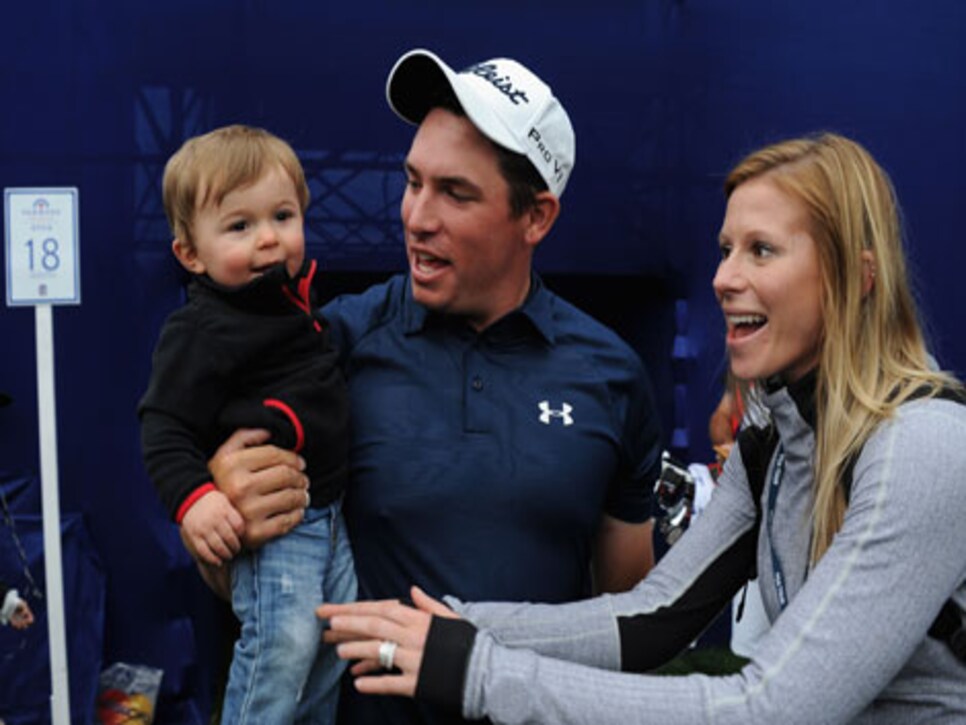 Sergio Garcia: Say what you will about the guy, but he's still one of the best players in the world. No. 9, in fact, if you go by the latest Official World Golf Ranking. Garcia's playoff win over Mikko Ilonen at the Qatar Masters gave him two wins in his last three starts. Granted, winning on the European Tour in January is a lot different than winning a major championship, but he's showing signs (yes, again) that this could finally be the year he breaks through.
Jessica Korda: First off, we're buying that there's an LPGA event in January. But on top of that, having an up-and-coming star like Korda win the Pure Silk Bahamas Classic in thrilling fashion (more below) was a nice bonus for the tour to start the season. Korda is 20, competitive, long off the tee, and easy on the eyes. She's basically Jordan Spieth in a skirt. OK, so that sounded a little weird. . .
Tiger Woods: Speaking of taking a week off, so much for all the fanfare surrounding Woods' first tournament of 2014. The World No. 1 needed to chip in and make a 10-foot putt on the final two holes just to break 80. He registered an "MDF" (made cut, didn't finish) for the first time in his career.
Phil's back/Jordan's ankle: On top of Woods' struggles, two of golf's marquee names were already hurt at the PGA Tour's first important event of the year. Wait, maybe Tiger was hurt, too? Were you, Tiger? We hope? That would make a lot more sense. . . In any event, Mickelson had to withdraw with a bad back and Spieth said a "tweaked" ankle affected his play over the weekend. Let's hope these are two injuries that don't linger long.
Sergio Garcia's caddie: No offense to Neil Wallace -- we're sure he's a nice guy and a fine caddie in his own right. But we miss Katharina Boehm, Garcia's girlfriend, being his bag lady. Plus, we bet she's miserable about not getting to carry Garcia's golf bag around, especially in the desert.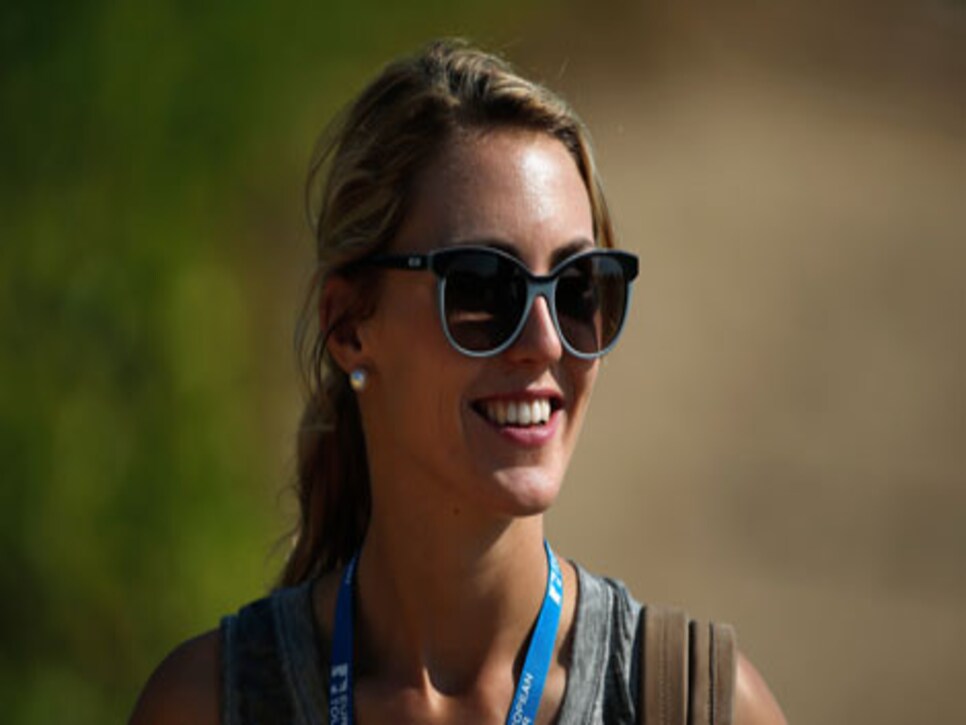 The PGA Tour heads to Arizona for the Waste Management Phoenix Open, aka that tournament that has a lot of, um, rowdy fans. And here's something else they can drink to: Phil Mickelson will play. Meanwhile, over in Dubai, Tiger Woods and Rory McIlroy will headline a pretty good field.
THIS WEEK IN DUSTIN JOHNSON-PAULINA GRETZKY PUBLIC DISPLAYS OF AFFECTION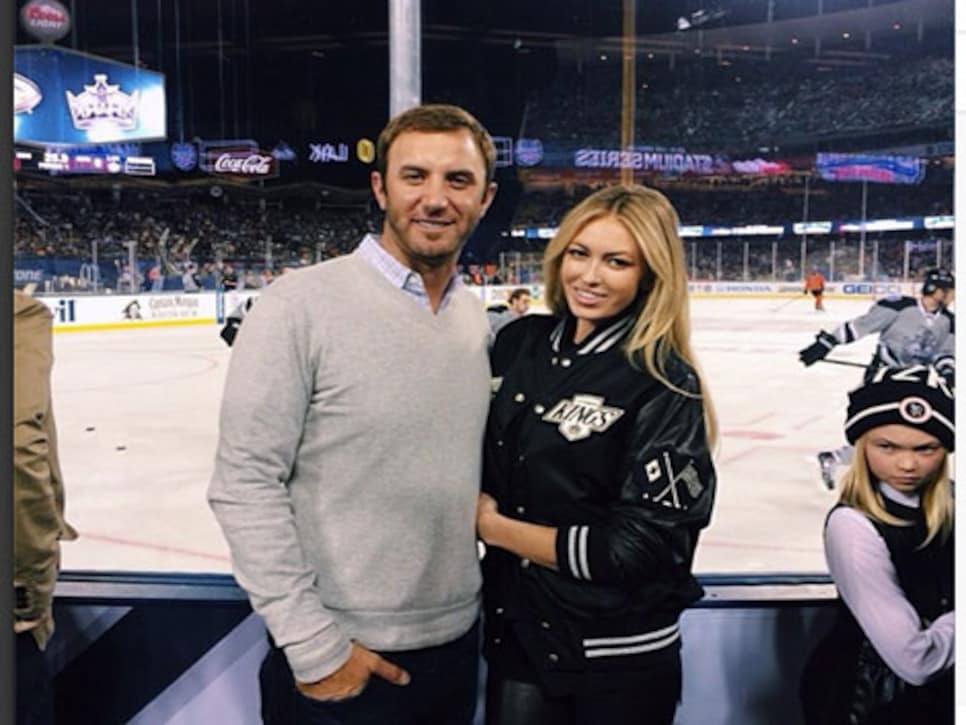 You can drop the act, Dustin. You're from South Carolina. We know you don't really like hockey.
Charles Barkley during the Miami Heat-Los Angeles Lakers game on Thursday: "Is Tiger playing this weekend?" (Told yes). "Thank God, because I don't want to have to watch Knicks-Lakers on Sunday."
Something tells us Barkley wasn't happy when he turned on his TV Sunday afternoon. . .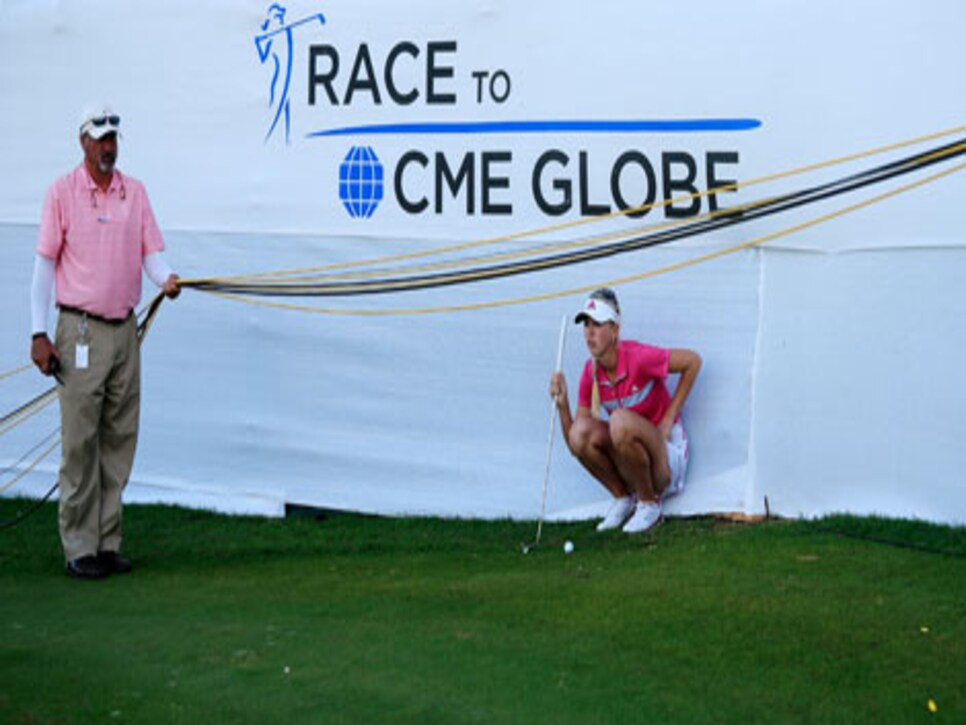 Two people (one isn't shown) hold up television wires so Jessica Korda can putt from off the green on the final hole of regulation. The shot set up her winning birdie putt from 10 feet. Yes, this actually happened.
RANDOM PROP BETS OF THE WEEK
-- Tiger Woods will shoot another 79 this week in Dubai: 100-to-1 odds
-- Any PGA Tour player will shoot 79 this week at birdie haven TPC Scottsdale: 1,000-to-1 odds
-- Some bozo tried to call in a rules violation from his/her couch on Jessica Korda: LOCK
FREE SUPER BOWL PREDICTION
Seahawks 27, Broncos 24. I'm taking Russell Wilson's crew to end Peyton Manning's dream season in the Meadowlands. You might want to take the opposite, though, if you've been keeping track of my recent fantasy golf picks.
This was part of a MasterCard ad campaign six years ago, but it's appropriate this week. Presenting Peyton Manning giving a "pep talk" to someone who stinks at golf:
What a motivator. Hmm, maybe I should reconsider that Super Bowl pick. . .
Morgan Hoffmann had "Anchorman"-themed wedges in his bag at Torrey Pines as a tribute to playing in San Diego, and was in contention until a rough back nine on Sunday. In the words of Ron Burgundy, "Don't act like you're not impressed." . . . That glorious concoction pictured is Chili's new "Skillet Chocolate Chip Cookie." Chili's! How good is it? Golf Digest Senior Equipment Editor Mike Stachura said, "This might be the perfect dessert." Now that's a strong statement, especially from a guy who doles out effusive praise about as often as Simon Cowell.
RANDOM QUESTIONS TO PONDER
Will Tiger and Rory watch the Super Bowl together in Dubai?
Who/what did Phil bet on?
Is Morgan Hoffmann going to keep those wedges?