The Loop
The Grind: Russell Henley's debut, Tiger & Rory's return, & Palm Springs picks
Editor's note: GolfDigest.com's new weekly column looks back at the week in golf (and beyond), and ahead to the next event.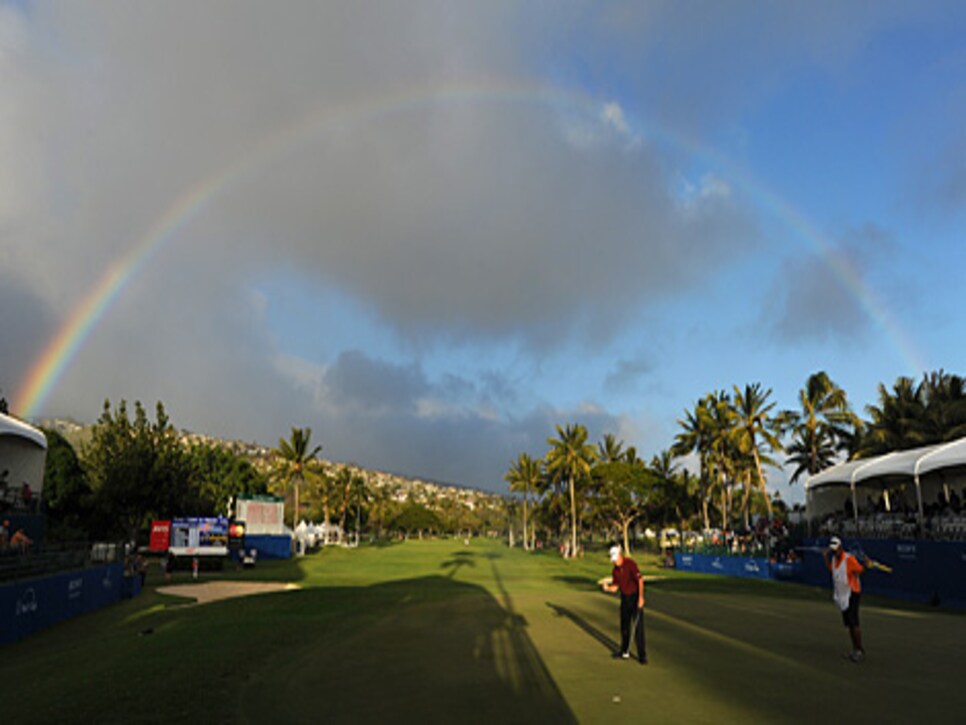 Uhh, so at which end is the pot of gold? (Photo: Getty Images)
Welcome to another edition of The Grind, where we enjoyed almost as successful debut as Russell Henley, in no small part thanks to our new favorite person in golf, Paulina Gretzky. Hmm, perhaps we should make her a weekly feature. . . What's that, you say? "Good idea?" Oh wait, "Great idea?" Duly noted. Maybe something like "Gretzky on Golf" or "Paulina's Picks." We'll keep thinking about it. In the meantime. . .
Rookies. First-year quarterbacks have taken the NFL by storm this season and now, young whippersnappers are already making their mark on the PGA Tour. What an impressive performance by Henley at the Sony Open, who won in his first start as a tour member and set the rookie and tournament scoring record. But he wasn't alone, as Scott Langley fired a 62 in his first round as a tour pro and finished third. Remember the days when golfers didn't "hit their primes" until they were in their 30s? If you do, then no offense, but you're probably pretty old.
Tim Clark. We highlighted him as a sleeper before the year started (Shush, we make our own criteria) and plugged him as a starter in our fantasy lineup last week. He paid us back with a runner-up finish. A former Fantasy Fix favorite is now an official, um, "Grind Guy." OK, we might have to work on that one. . .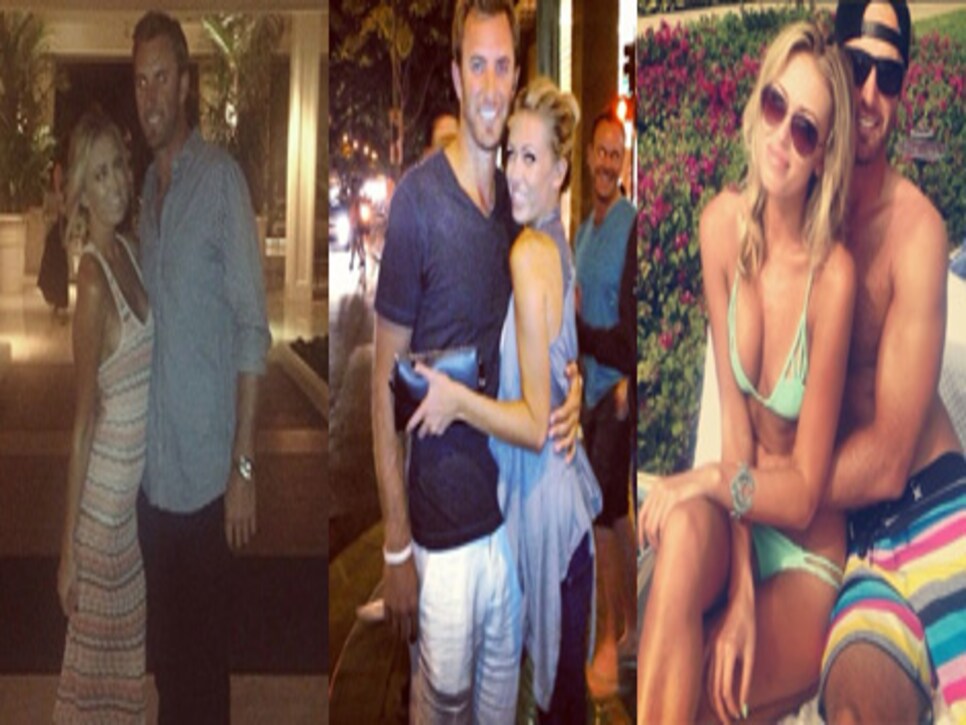 Dustin Johnson's "flu". Above are three photos posted to Paulina Gretzky's Instagram account the day before, of and after DJ withdrew from the Sony Open. Was Johnson really sick or simply playing hooky? We'll let you be the judge.
Phil Mickelson. It's great to see Lefty making his debut this week, but we're not expecting too much due to his struggles in recent season openers. We're also still trying to figure out why he didn't buy a piece of his hometown Padres. We were really looking forward to seeing a lot of awkward thumbs up coming from the owner's box.
Euro Ryder Cup drama. Darren Clarke withdrew his name from consideration, Colin Montgomerie seemed to nominate himself, but after a final three-hour meeting that drew comparisons to a papal conclave, Paul McGinley got the nod as Europe's captain for 2014. Next up, he'll have the arduous task of selecting far too many unnecessary assistants to help him fill out a lineup card.
The PGA Tour heads to the mainland for the Humana Challenge in Palm Springs. Last year, Mark Wilson, aka "Little Cheese," held off a trio of players by two shots to win. For a second year, former President Bill Clinton and his foundation will partner with Humana to put on the event.
Random tournament fact: Arnold Palmer is the only five-time winner of this event, but that pales in comparison to his most noteworthy accomplishment in Palm Springs. You see, it was here where he ordered his first "Arnold Palmer" beverage. This desert oasis is holy ground, indeed.
WEEKLY YAHOO! FANTASY LINEUP
Starters -- (A-List): Tim Clark. After a runner-up at the Sony, we're going with the guy who has two runner-ups in this event to get back into the winner's circle.
(B-List): Kevin Na. Mr. Pre-shot Routine has a T-5 and a T-8 in the past three years in this event.
(B-List): Matt Kuchar. We'll keep Kuch in this slot after a T-5 at Waialee.
(C-List): Harris English. Can another 23-year-old University of Georgia product win on the PGA Tour this week? Why not?
Bench -- Bill Haas, Webb Simpson, John Senden, and Pat Perez.
RANDOM PROP BETS OF THE WEEK
-- Phil Mickelson won't hit an amazing recovery shot from somewhere in the desert: 10-to-1 odds
-- Bill Clinton, playing in the pro-am, will have more of his golf shots shown during the TV coverage than defending champion, Mark Wilson: 1-to-10
-- Phil Mickelson and Bill Clinton will actually make some sort of prop bet between each other: Even money
I just got back from a wedding in Houston and it's official: Psy's "Gangnam Style" is now the top party pleaser at any wedding reception. In honor of that, here's a look at Jesper Parnevik's music video of the song:
Parnevik also happened to be in the news last week, inking a new deal with Cobra Puma Golf and he'll make his 2013 debut in Palm Springs, where he won this event in 2000. Company execs must have really dug that pink suit.
CELEBRITY/ATHLETE WE'D LIKE TO PLAY GOLF WITH
Jamie Foxx. He may not have gotten any Golden Globes love for starring in "Django Unchained," but the multi-talented artist still has an Oscar and and a Grammy. And then there's his work in the legendary TV shows "In Living Color" and "The Jamie Foxx Show". If he was able to make a WB Network sitcom funny, then he has to have some game on the course.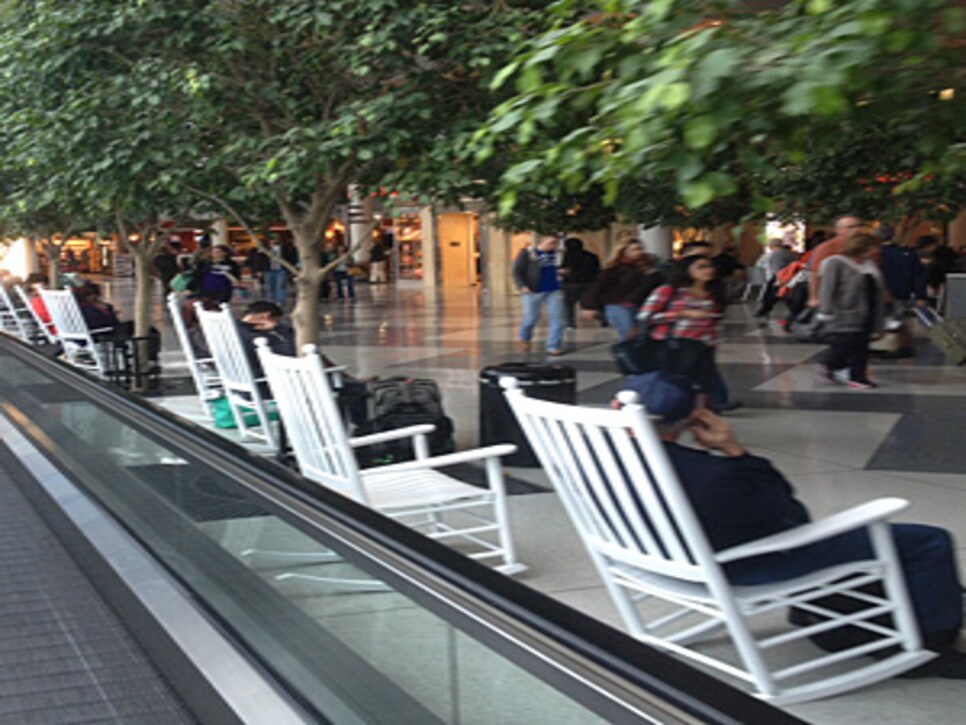 Notah Begay has replaced Dottie Pepper as NBC Sports/Golf Channel's latest reporter. It's good to be a friend of Tiger's again. . . Baseball didn't vote anyone into its Hall of Fame this year, while golf will admit two guys (Fred Couples and Colin Montgomerie) who recently received a hearty 51 percent of the vote. . . . The rocking chairs (left) make Charlotte International my favorite airport. That, and the conveniently-located Chili's, of course.
RANDOM QUESTIONS TO PONDER
When will the Golf Channel run out of locations to shoot the Big Break? Are we getting close to a "Big Break Cedar Rapids"?
Is Tiger's love life the best kept secret since the identity of "Deep Throat"?
Why do pilots say "Welcome to New York" when the plane is still 30,000 feet in the air?