The Loop
Rory McIlroy's double vision, "Coach Kiz" wins twice, Lydia Ko's millions, and the real Skins Game
Welcome to another edition of The Grind, where we're thankful that the last significant week of the golf year was so exciting. (Googles PGA Tour schedule. Crosses fingers this is finally the last significant week. Lets out sigh of relief.) We had yet another first-time winner on the PGA Tour, a superstar roaring back to life on the European Tour, a teen claiming a second million dollar bonus, and two "senior" winners elsewhere. It was a busy week and it's been a long season, so we're looking forward to refueling with pounds of turkey and mashed potatoes on Thursday. But first, let's carve up everything that's still on the table.
Rory McIlroy: He's back! McIlroy took advantage of the European Tour's generosity and won the season's final event to claim a second straight Race to Dubai and a third in four years. This doesn't quite make up for failing to win a major, but it's a nice way to cap the season. And it was nice to see Rory's signature victory toss again: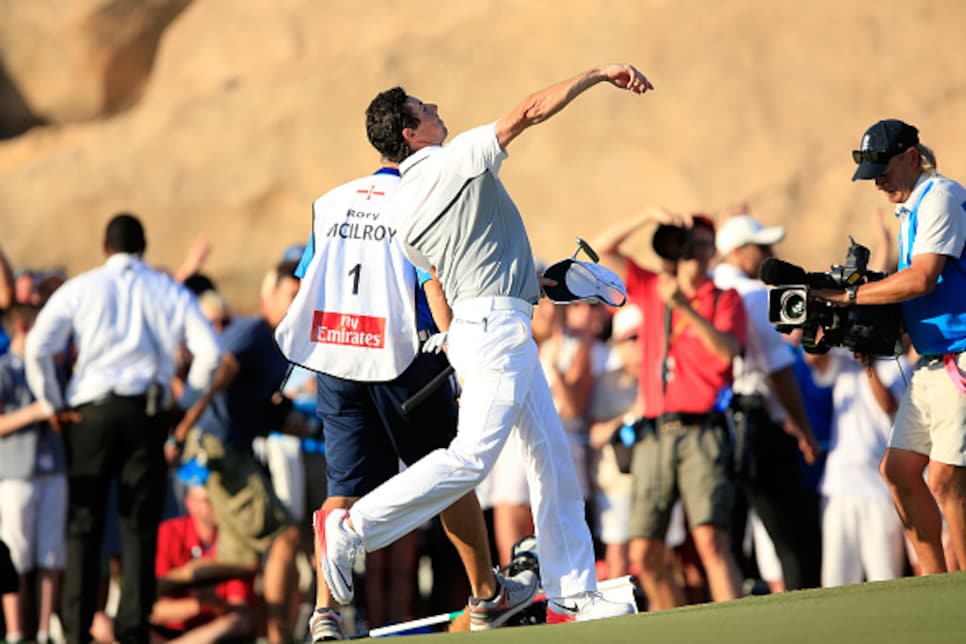 Just be careful with that shoulder, Rory. . .
Kevin Kisner: A couple weeks ago, Kisner was grumbling about playing golf instead of being home watching football and drinking beer. Now? He's a PGA Tour winner just a couple years after making a major swing overhaul. With a pair of 64s over the weekend at Sea Island, Kisner claimed his first title in dominant fashion with a six-shot romp. With five top-two finishes in his past 20 starts, he also might be the hottest golfer not among "The Big Four" entering 2016.
Lydia Ko: The 18-year-old phenom didn't have her best stuff, but a T-7 in the LPGA's finale was enough to wrap up Rolex Player of the Year honors and claim the Race to the CME Globe for a second straight year. She's now basically the youngest golfer to do everything, including a fairly decent Dr. Evil impression -- especially considering she was born a week before Austin Powers came out -- after winning one million dollars:
Gareth Bales' backyard: The soccer star is obsessed with golf to the point he's going to have a three-hole course built in his backyard. But not just any three holes. How about replicas of Augusta's 11th, TPC Sawgrass' 17th, and Troon's "Postage Stamp" eighth hole. We would have recommended going with a famous par 5 instead of a second par 3, but we guess that still sounds pretty sweet. . .
Adam Scott: It looked like the Aussie was poised for a first win of his post-anchor putter era at the Australian Masters until an inexplicable 77 in the third round. Scott blamed his driver more than his putter. Either way, not good.
USGA's new handicap rule: Speaking of not good, the USGA has added a rule for 2016 that says rounds played by yourself can't count for handicap purposes. Huh? If a tree falls in the woods and no one hears it, does it not still make a sound? We see the purpose of this clause (keeping sandbaggers from posting high rounds to inflate their handicaps), but making someone play with another golfer who has an official handicap index and will keep an "official" score is asking a lot. Also, good luck enforcing this.
Getting hit in the ankle: During the final round of the RSM Classic, Kevin Kisner's mom, Christy, was hit in the ankle by a Graeme McDowell tee shot. G-Mac told her she "did a good job" because the ball ricocheted back into the fairway. What are the odds?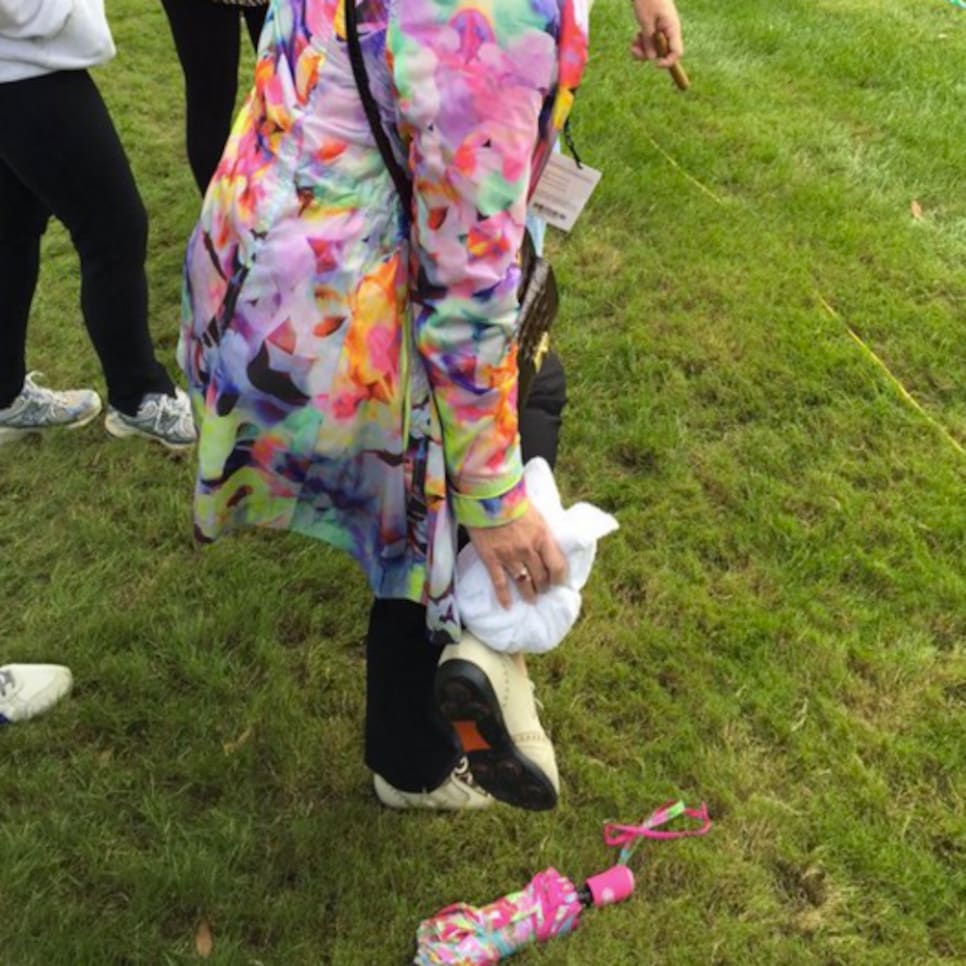 At least, Christy still got to see her son win his first PGA Tour title. And of course, it's not as bad as. . .
Getting hit in the face: Some poor fan at the Australian Masters was clocked in the face by a Steven Bowditch drive. He did not make out as well as Christy Kisner, suffering a broken nose.
However, he still returned to the tournament the next day. Now that's a golf fan.
The PGA Tour is finally taking a break! Of course, there are still other golf tournaments, because there are always golf tournaments. This week's headliner: The Australian Open, where Jordan Spieth will defend his title.
Random tournament fact: This used to be the week of The Skins Game until fans got tired of watching golfers play for $1 million because they were playing for at least that every other week of the year. But there's still a Skins Game every year, it's just not televised. It's called "Whoever Phil Mickelson plays with on Thanksgiving."
RANDOM PROP BETS OF THE WEEK
-- Lydia Ko is going to quit golf and go to college like a normal 18-year-old: 1 MILLION-to-1 odds
-- Tiger Woods' mom will be hit by a ball when following her son in a final group in 2016: 10 MILLION-to-1 odds
-- Kevin Kisner will be drinking beer and watching football this weekend: LOCK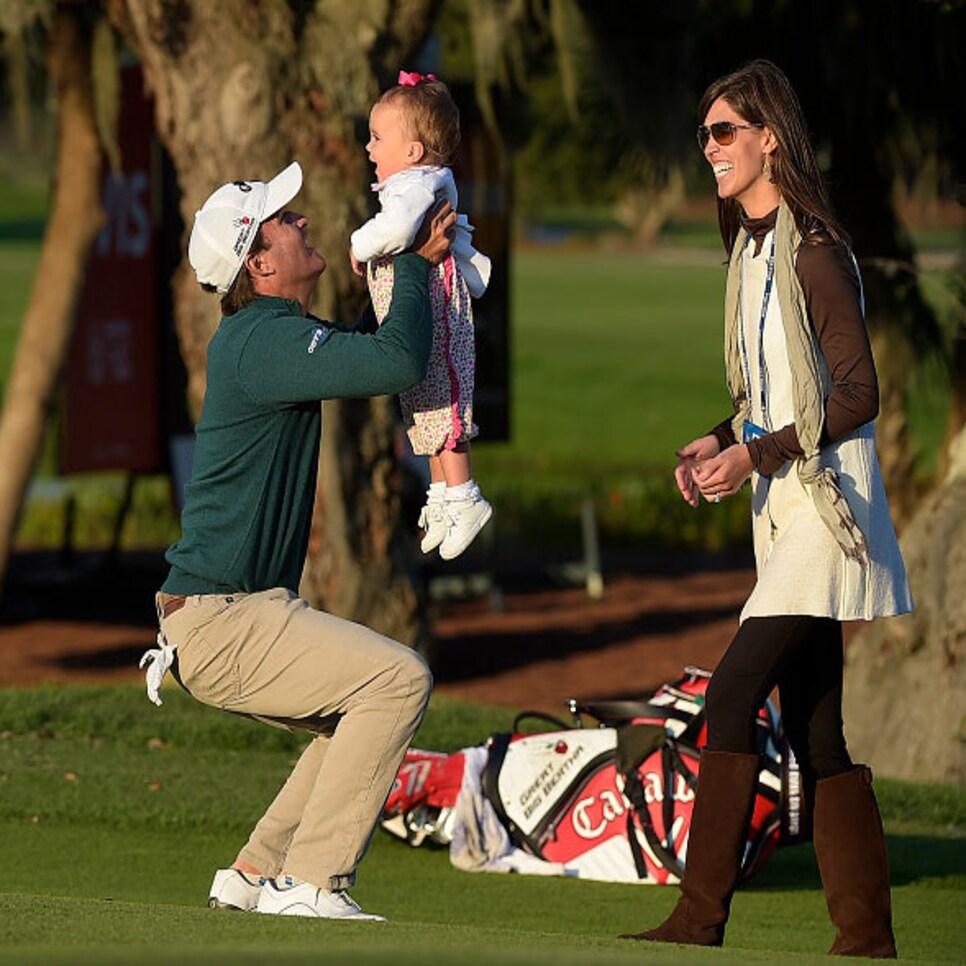 VIRAL VIDEO OF THE WEEK ("THAT'S TOUCHING" CATEGORY)
The end of the European Tour season also meant the end of Ivor Robson's career as the tour's official starter. With the help of some of its biggest stars, the tour sent Robson off with this fantastic tribute video:
VIRAL VIDEO OF THE WEEK ("THAT'S FUNNY" CATEGORY)
The PGA Tour had its Fourth Annual Wiffle Ball Classic and the players got pretty emotional following a win over their wives to avenge last year's loss. Funny stuff from Zach Johnson, Chesson Hadley and others, especially when they sing the praises of Kevin Kisner, aka "Coach Kiz":
VIRAL VIDEO OF THE WEEK ("THAT'S A FAIL" CATEGORY)
Colin Cowherd is usually knowledgable about sports, but it seems like he hasn't watched women's golf in about a decade. When referencing today's top players, Cowherd listed Michelle Wie (questionable) and Meg Mallon (Retired for five years):
THIS WEEK IN NATALIE GULBIS BELEN MOZO MAKING US FEEL BAD WITH HER TRAINING
Belen wasn't feeling 100 percent and she still went through with this crazy harness routine? Wow. And here's a video of Mozo going through an array of workouts we all should be doing (but we won't) after Thanksgiving:
THIS WEEK IN PAIGE SPIRANAC BEING PAIGE SPIRANAC
First, Paige completely fails at a club twirl:
And then, she posts another standard tight-dress/mirror shot:
THIS WEEK IN DUSTIN JOHNSON-PAULINA GRETZKY RORY MCILROY/ERICA STOLL PUBLIC DISPLAYS OF AFFECTION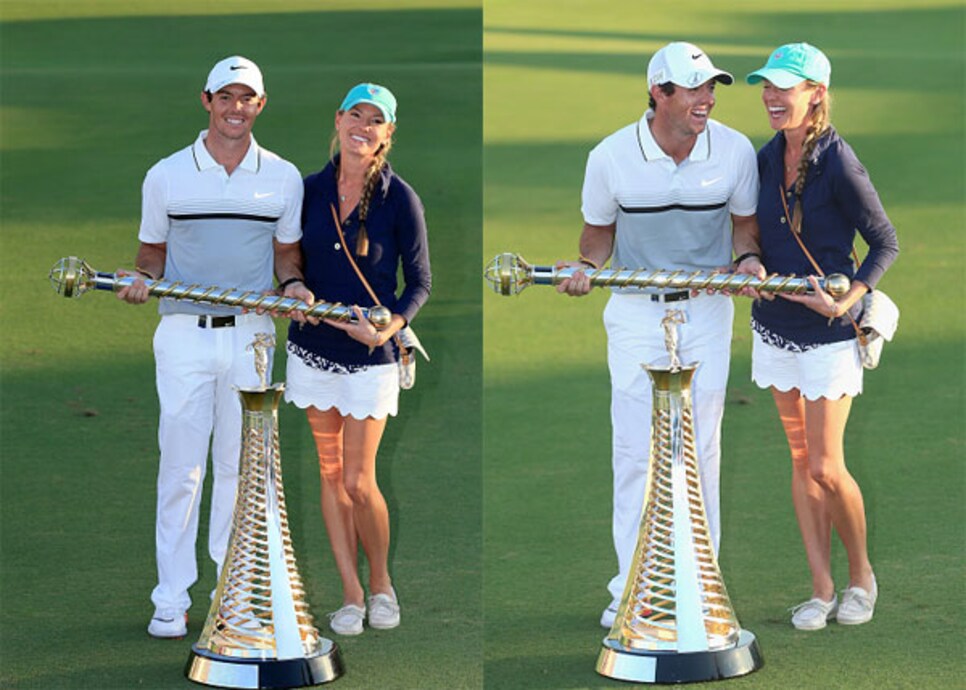 Things seem to be getting pretty serious between these two. Here's Erica with the entire McIlroy clan: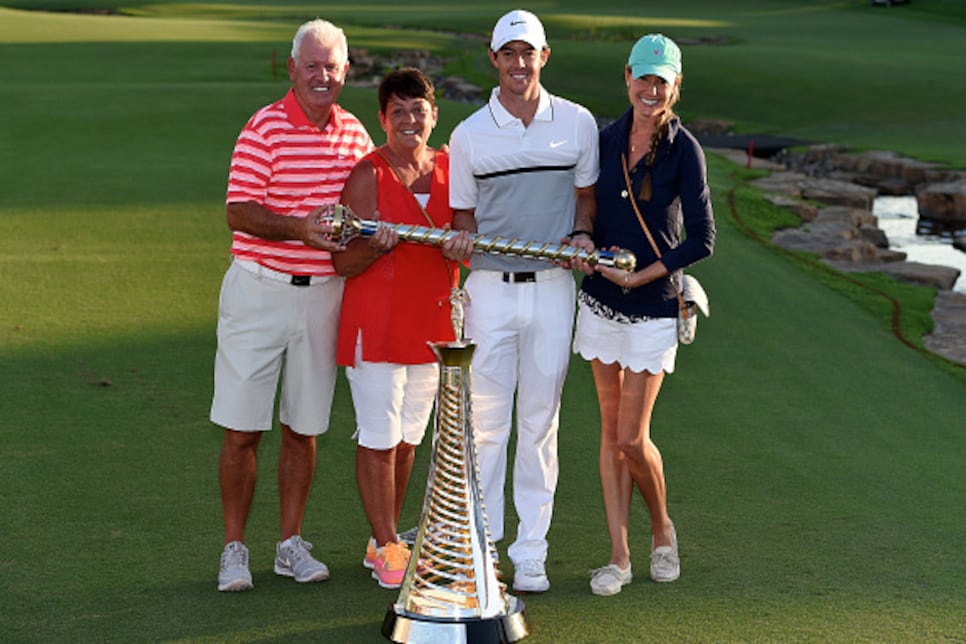 And speaking of getting serious. . .
"I really can't be doing silly things like playing football in the middle of the season to jeopardize even six months of my career. It's a big chunk where I could make some hay and win a major or two. . . I won't be making those mistakes next year." -- Rory McIlroy. Look out, world!
Lost amid Ko's big money grab, Cristie Kerr won the CME Group Tour Championship. Kerr is Ko's senior by 20 years -- and she wasn't even the best old-person story of the week. . . . Congrats to Peter (appropriately named) Senior, 56, for winning the Australian Masters. Senior is 34 years older than runner-up Bryson DeChambeau. Geezers everywhere are rejoicing and rooting for you. . . . Congrats are also in order to Matthew Southgate for overcoming being diagnosed with testicular cancer in July and earning his European Tour card for next season. Everyone everywhere is rooting for you. . . . In case you missed it, check out my interview with former New York Knicks All-Star John Starks, who is now a golf fanatic. It's a lot less awkward than the Tom Brady-Chuck Klosterman interview in GQ. Probably because John isn't hiding anything and not afraid to perjure himself. . . . And finally, my wife discovered a crock pot. And it's a beautiful thing.
RANDOM QUESTIONS TO PONDER
Will John Starks' No. 3 be retired by the Knicks?
Will Jordan Spieth eat turkey Down Under?