The Loop
The PGA Tour's quiet return, Phil Mickelson's milestone birthday and the end of the WAG Era (for now)
Welcome to another edition of The Grind where we are thrilled to have our normal Sunday afternoon routine back. The most energy I exert while sitting on the couch watching golf for hours on end is to get out the chips and salsa. It's glorious. It was even exciting seeing Jim Nantz interview the tournament sponsor's CEO again. Charles Schwab himself! That's big time!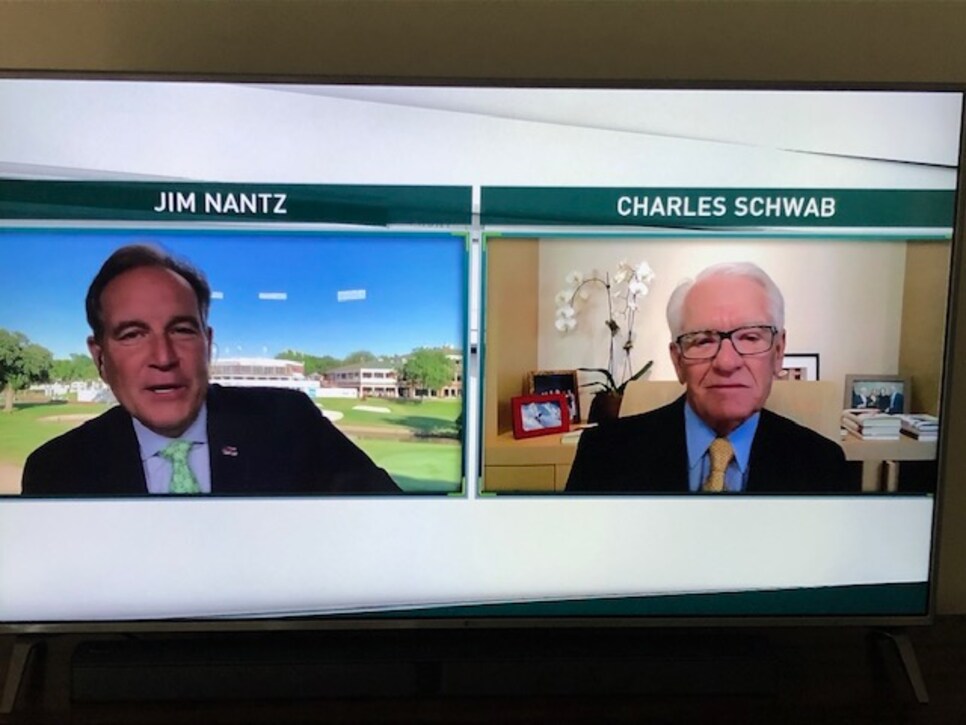 And no, that wasn't Steve Martin or the character from the movie "Up." Charles Schwab is a real person. And again, we had REAL golf to watch. Fingers crossed I've got a lot more lazy Sundays in my future. OK, here's what else has us talking.
Daniel Berger: The 27-year-old's third PGA Tour title shouldn't have come as much of a surprise considering he arrived at Colonial off back-to-back top-five finishes. Yes, the first of those happened in February, which is also the last time I got a haircut, but still, he's been playing great golf and he now has recorded 28 consecutive rounds of par or better.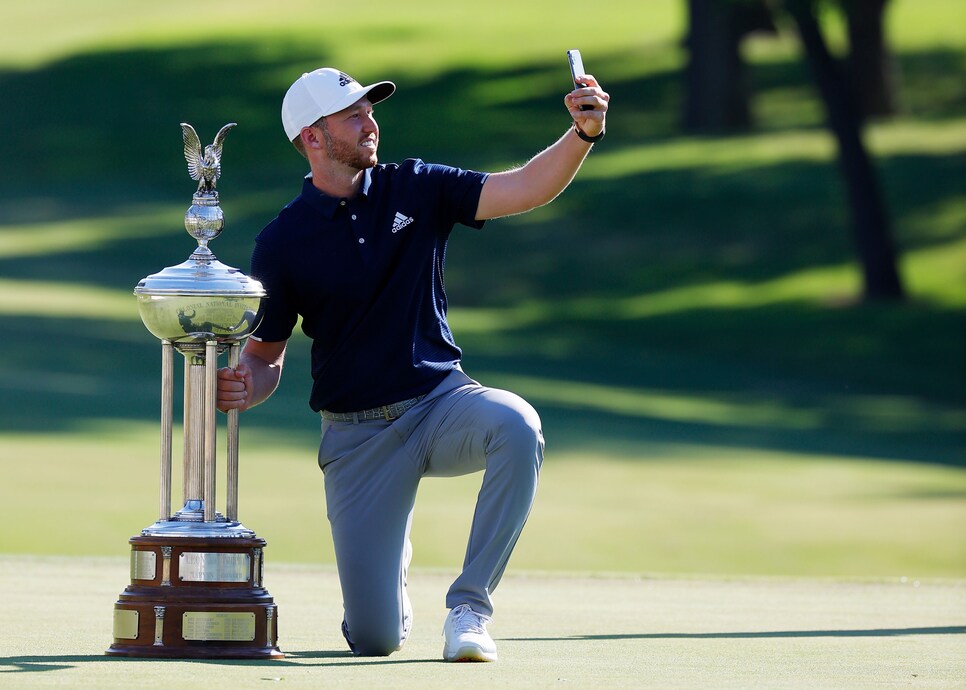 Even more of a hint this was coming was the tournament's date. All three of Berger's PGA Tour wins have come during the second week of June making him the greatest second-week-of-June golfer in history. If Father's Day ever moves up a week on the calendar, this guy is a LOCK to win a U.S. Open.
Bulky Bryson: For a second time in three starts, a 71st-hole bogey kept him out of a playoff, but that's just part of the story. While many people put on a few pounds during quarantine, DeChambeau did it on purpose. And for good reason. For a second consecutive event, he dominated the field with his driving, picking up nearly 2.5 strokes over the next best player by taking—and pulling off—lines from Colonial's tees that Ben Hogan never could have dreamed of. Playing alongside Rory McIlroy in the final round, Bryson bombed it 30 yards farther on multiple occasions. He was already a great player, but now? He looks like a future World No. 1.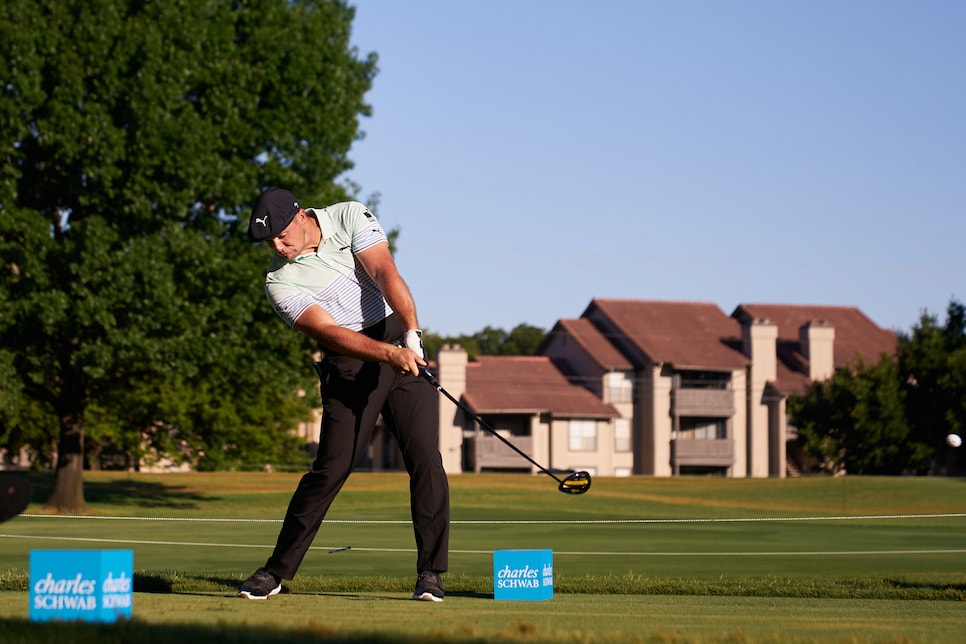 Darren Carroll for Golf Digest
Don't act like you're not impressed.
Collin Morikawa: This young gun doesn't quite have Bryson's GUNZ, but it's impossible not to be impressed with him either. Sure, there were those two short missed putts on his final two holes, but just one abbreviated year into his pro career, he's already up to No. 27 in the Official World Golf Ranking. And he possesses an iron swing that even Ben Hogan would have stopped to watch:
Storybook endings not happening: With all due respect to Daniel Berger and Korn Ferry Tour winner Luke List, most golf fans were rooting for Harold Varner III and Camilo Villegas. HV3's first win, just days after penning an emotional letter addressing racial injustice in this country, would have been incredible timing. And a Villegas victory would have showed the incredible strength of a man in unfathomable pain after announcing his 20-month-old daughter is battling tumors. But it wasn't meant to be on the course this week for either. Of course, by far the most important result involving these guys is that Villegas' daughter gets better. Let's all keep his family in our thoughts.
Sunday Rory: After a Friday 63 to get into contention, the World No. 1 seemed like a lock to finish in the top five for a seventh consecutive PGA Tour event. But after a disappointing 70 on Saturday he posted a much more disappointing 41 on Sunday's front nine to tumble off the leader board. His scoring ranks this season? First round: No. 1. Second round: No. 6. Third round: No. 4. Final round: No. 123.
Saturday and Sunday Jordan: Spieth ranks 171st and 158th in scoring the final two rounds this season after ranking 170th in final-round scoring average last season. But when it comes to providing entertainment value, the Jordan Spieth Experience is currently No. 1. Life is like a Jordan Spieth Sunday, you never know what you're going to get. In somewhat related news, I made a $100 bet with a friend that McIlroy will end up with more career majors than Spieth. Of course, by the time that bet is settled, that $100 will probably be worth about a dollar.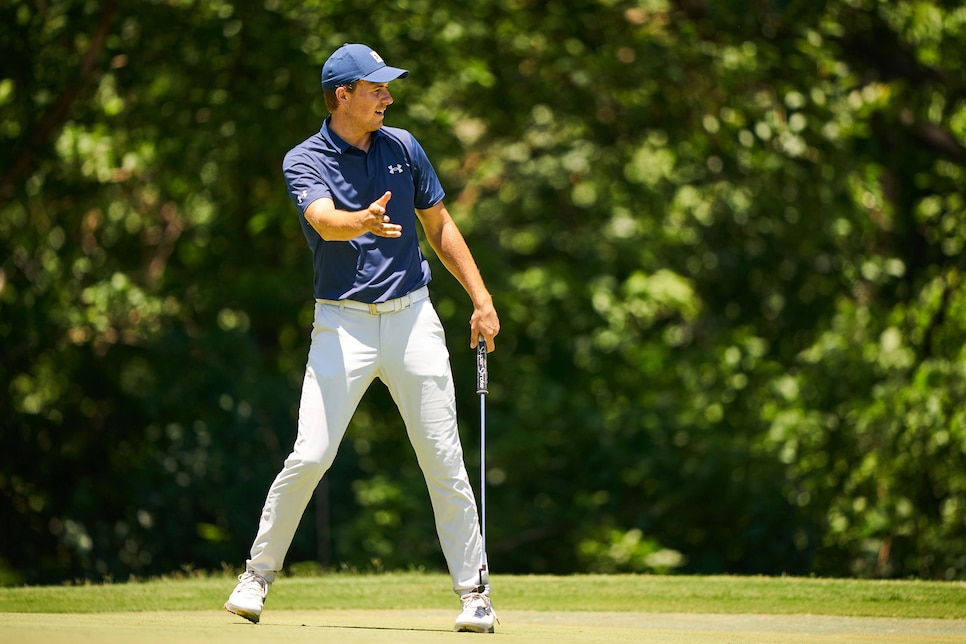 Darren Carroll for Golf Digest
The PGA Tour heads to Hilton Head for the RBC Heritage, AKA that tournament with the lighthouse that's usually played the week after the Masters but still has the lighthouse. After a week at Colonial that saw 16 of the top 20 in the world play, 15 of the top 20 will tee it up a Harbour Town. Noticeably absent still, though, is Tiger Woods despite the fact his yacht was tracked to a nearby marina last week. Maybe he was just in the mood to get BBQ.
Random tournament fact: Luke Donald has finished runner-up in this event five times without winning. For Donald, the tournament is the equivalent of the U.S. Open to Phil Mickelson.
RANDOM PROP BETS OF THE WEEK
—There is a real person named "RBC Heritage": 1 MILLION-to-1 odds
—Bryson will win this week: 14-to-1 odds (Actual odds, second favorite to Rory McIlroy)
—Bryson will lead the field in protein shakes this week: LOCK
A couple from Darren Carroll, who was at Colonial for us documenting a successful—but quiet week: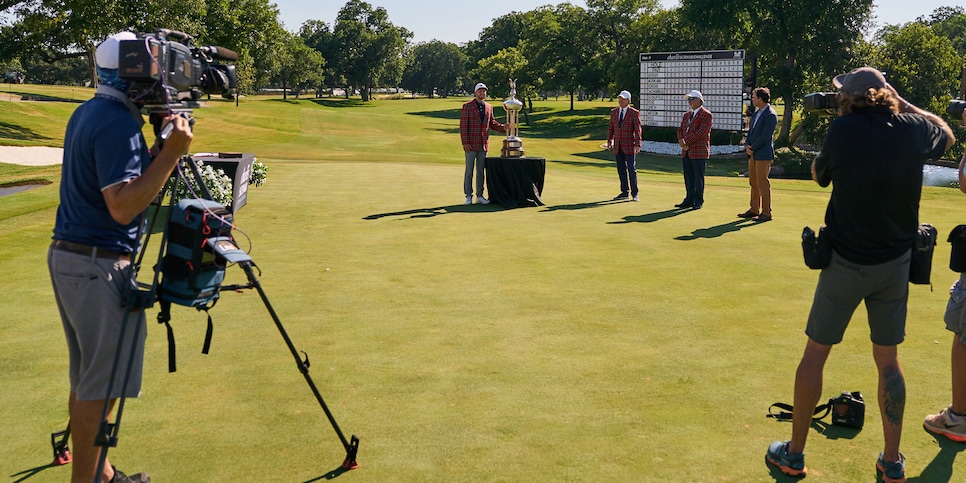 Darren Carroll for Golf Digest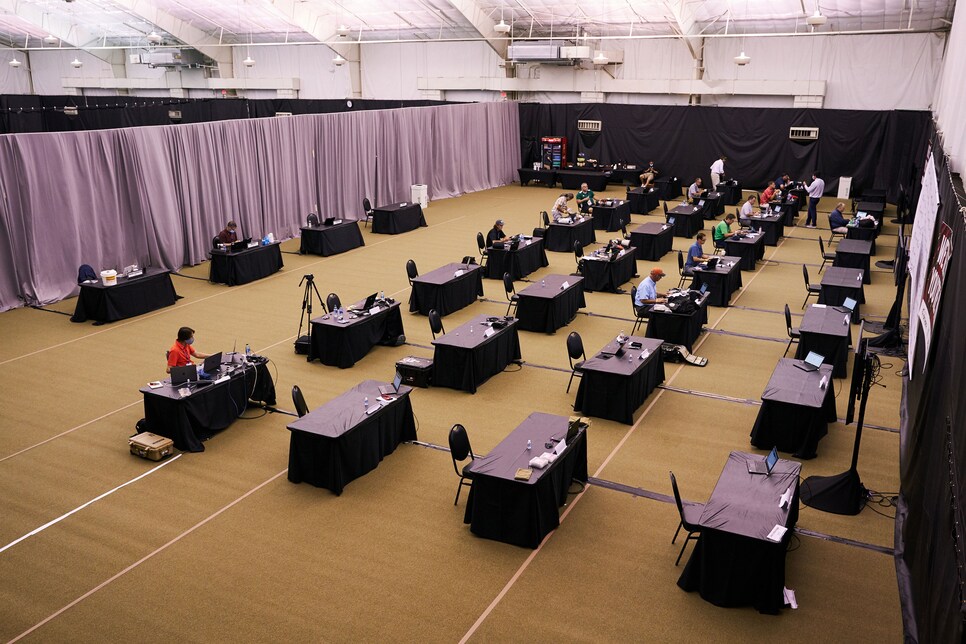 Darren Carroll for Golf Digest
Having a little more room in the media center seems kind of nice.
VIRAL VIDEO(S) OF THE WEEK
Sung Kang made a hole-in-one during the first round at Colonial and had absolutely no clue until he got to the green because there were no fans to let him know his good fortune. Incredible.
Imagine if this happens at a major?!
THIS WEEK IN TOUR PRO PUBLIC DISPLAYS OF AFFECTION
Sadly, with no spectators at events, we won't be seeing any WAG/family celebrations on the 18th green anytime soon. So Daniel Berger's girlfriend, Tori Slater, had to settle for congratulating him on her Instagram story. It's just not the same! So here's a look back at them celebrating his last win … actually, it seems like Tori has never been on hand for one of her boyfriend's wins. So here's just a look at them (and Paulina Gretzky) hanging out at the 2017 Presidents Cup: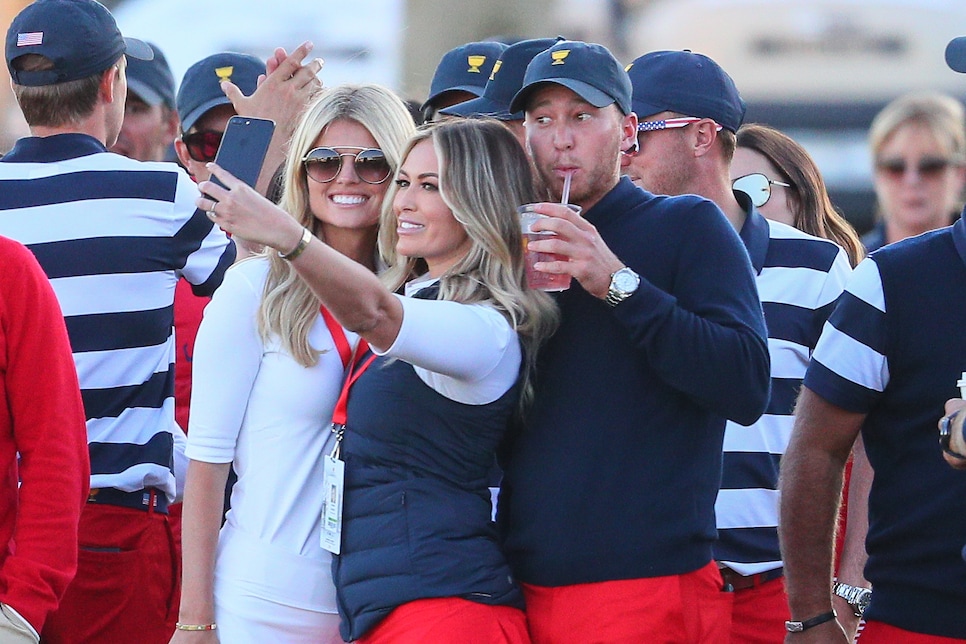 THIS WEEK IN TOUR PROS ARE JUST LIKE US! (SORT OF)
Five-time PGA Tour winner Jonathan Byrd Monday qualified for this week's Korn Ferry Tour event using a pushcart:
OK, so the 65 wasn't like us, but good for him wheeling his own clubs around. At my age, I should probably consider buying one of those bad boys. Speaking of getting up there …
THIS WEEK IN PHIL BEING PHIL
Golf's ultimate showman turned 50 on Tuesday. Man, I feel old. Well, not as old as Phil, but old.
Actually, he's in much better shape than me, so I probably do feel a lot older. In any event, to celebrate this milestone birthday, our Tod Leonard compiled 50 favorite phavorite Phil being Phil moments. Enjoy.
Nailed it as usual, Eddie.
The PGA Championship will be held without fans at Harding Park in August, according to a San Francisco Chronicle report. No word on whether WAGs will be allowed on the grounds. … The LPGA has cancelled the Evian Championship, which is obviously much worse news than just cancelling fans. At least the LPGA still has four majors on the calendar this year. … Colin Montgomerie has called for a 20-percent rollback of the golf ball, which, as our E. Michael Johnson calculated, would mean Bryson DeChambeau would go from averaging 323 yards off the tee to 259. That seems a bit drastic. … And finally, working from home with a 2-year-old is tough. Working from home with a 2-year-old and a roof being redone is a lot tougher: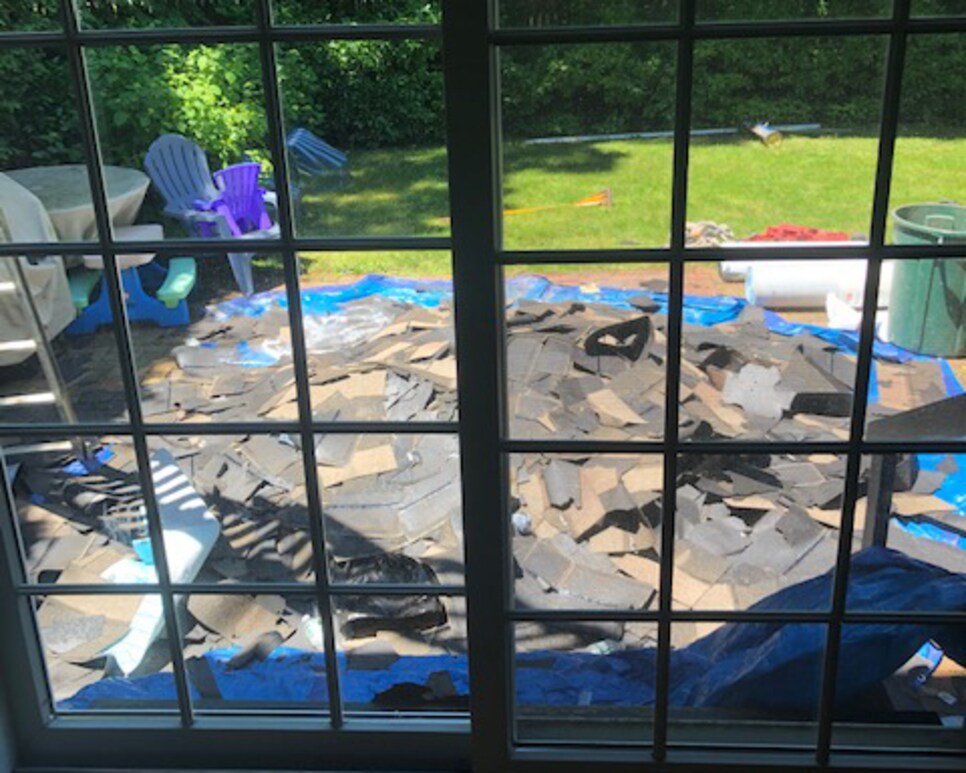 RANDOM QUESTIONS TO PONDER
Why was Tiger's yacht off the coast of Georgia?
What will Phil do next (for his 50th birthday party)?
What will I have to pay for next?