The Loop
The Grind: New Orleans fun, G-Mac's cool, and DJ and Paulina heat up
Welcome to another edition of The Grind, where we're wondering what has happened to American golf? After opening 2013 with 14 straight victories, a U.S. player hasn't won THREE weeks in a row. C'mon, guys, that's almost an entire month! We already stink at tennis; we can't lose our grip on the other main country club sport! At least, the red, white and blue contingent will have a chance to get back on track this week. Why? Because the PGA Tour NEVER stops and neither do we. Here's what has us talking.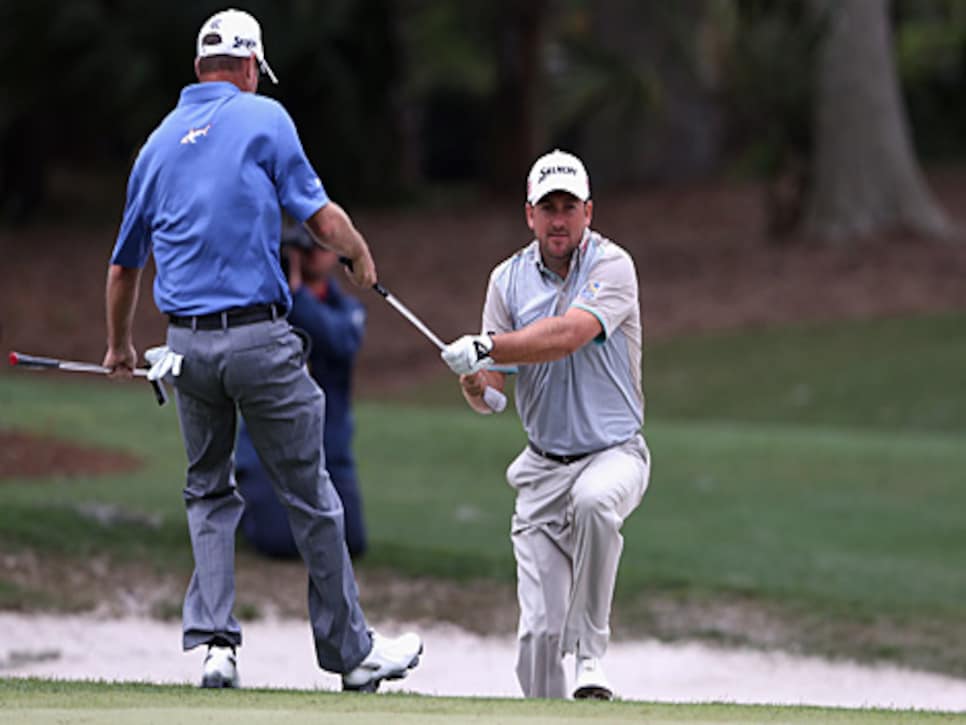 Who says there's no teamwork in golf? (Getty Images)
Suzann Pettersen. A win in Hawaii has the Norwegian in the mix for the suddenly-competitive top spot in women's golf. As for her dancing (below), that we are selling. . .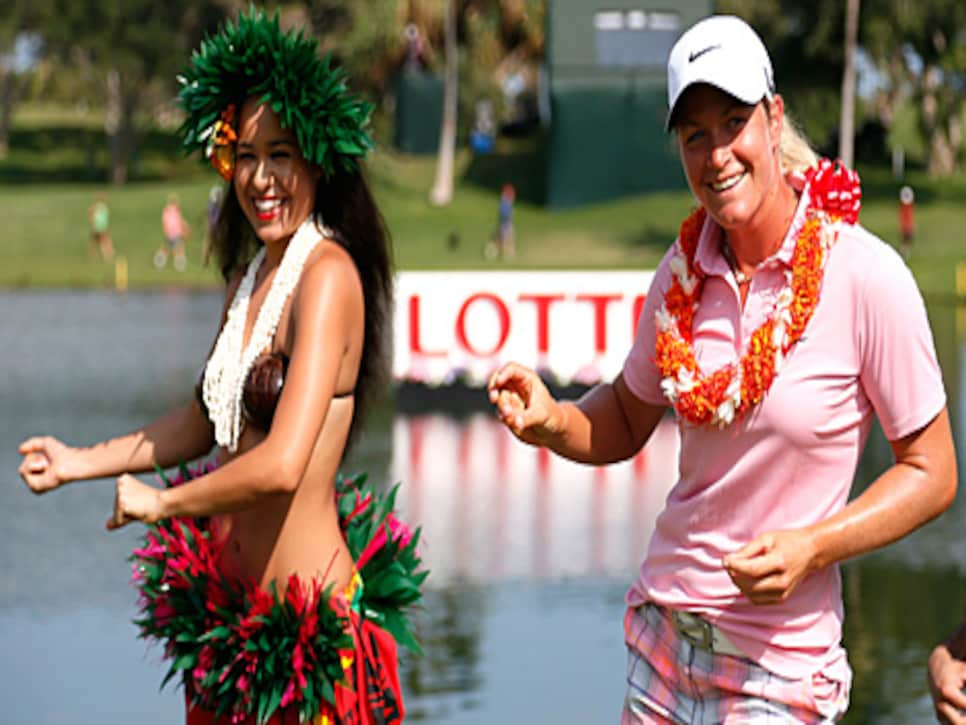 Bernhard Langer. A week after contending on Sunday at Augusta National, Langer won his second event of 2013 on the Champions Tour. This guy might be the most in-shape 55-year-old since Sylvester Stallone did one final training scene in *Rocky Balboa (*aka Rocky VI).
Charley Hoffman. People often wonder why the long-haired Hoffman only has two career PGA Tour wins. Those people must not watch him on Sunday enough. Entering the final round at Harbour Town with a two-shot lead, Hoffman shot a 77 for a T-6.
The wind. After playing in very gusty conditions in the Northeast over the weekend, we were glad to see the pros have to suffer through a similar test in Hilton Head on Sunday. That being said, wind stinks. Yeah, yeah, yeah, it's part of the game. We get it, but that doesn't mean we have to like it.
Guys who haven't won a major. We came up with a formula to determine who the best of this current crop is. That being said, outside of a select few (namely Lee Westwood and Sergio Garcia), their collective track records in majors is embarrassing. It's not just that they haven't won a big one yet, for the most part, these guys haven't even come close. Fortunately, it's golf, and as Tom Watson proved, you can still contend when you're approaching 60. So they all still have time -- even Steve Stricker.
The PGA Tour stays in the Southeast, heading to New Orleans for the Zurich Classic. Ahh, New Orleans. Home of great jazz, the NFL's Manning family and "The Jester." What is "The Jester," you ask? Only the greatest frozen drink ever concocted. Just a word to the wise: If a friend offers to pay for as many as you can drink the day you're flying home, don't take him up on that offer.
Random tournament fact: Fourteen-year-old Tianlang Guan is in the field after accepting a sponsor exemption. He is NOT allowed to drink Jesters yet.
WEEKLY YAHOO! FANTASY LINEUP
Starters -- (A-List): Jason Dufner. We're not big fans of playing defending champions, but we just have a feeling here.
(B-List): Justin Rose. The best player in a watered-down field.
(B-List): Fredrik Jacobson. The Swede has been knocking on the door for his second PGA Tour win all year.
(C-List): Billy Horschel. Does this guy ever take a week off?
Bench -- Bubba Watson, Ernie Els, Andres Romero and Rickie Fowler.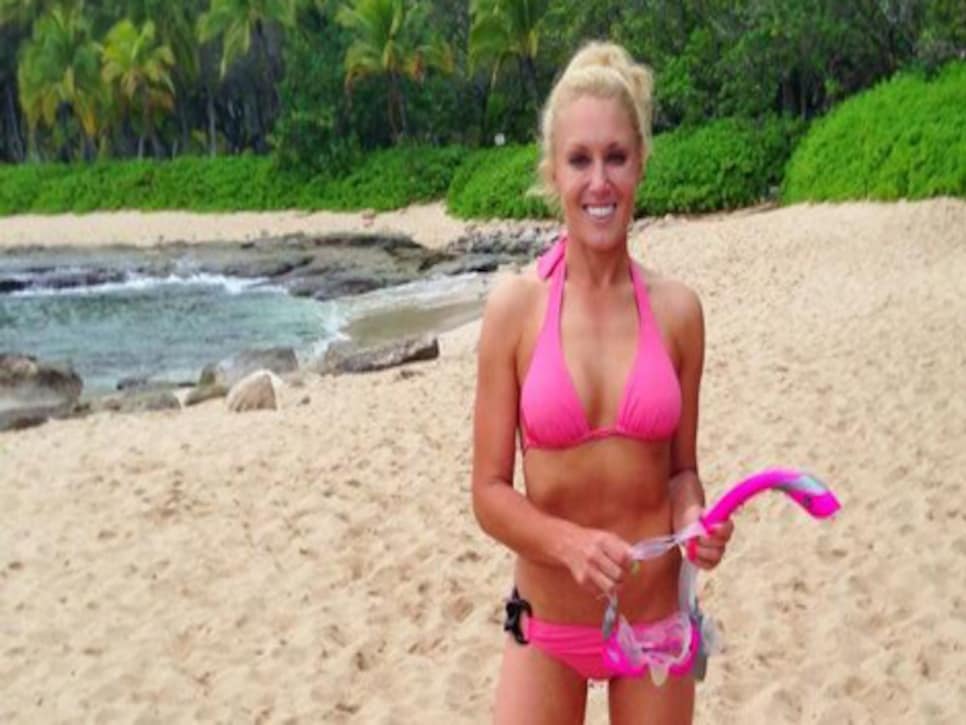 Natalie Gulbis went snorkeling while in Hawaii for the Lotte Championship and snapped this photo. On behalf of snorkeling fans everywhere, thank you.
RANDOM PROP BETS OF THE WEEK
-- Tianlang Guan will win this week: 1,000-to-1 odds (actual odds)
-- Tianlang Guan will receive another slow-play penalty this week: 10,000-to-1 odds
-- Any player who misses the cut will feel a lot better after a few Jesters: LOCK
Another fantastic effort by South Korean star Psy. We just wish he had shot a scene on a golf course. Psy's previous hit, "Gangnam Style," prompted Jesper Parnevik to put together a crew to do a parody video. Psy's videos are awesome. Of course, it helps when they have a higher budget than most Hollywood blockbusters.
VIRAL VIDEO OF THE WEEK (NOT INVOLVING PSY)
And to think, this actually used to be a penalty. . .
I have a friend who learned about a player being penalized for the wind moving his ball and he would remind me from time to time how stupid it was. It was a great day when I was able to inform him it was no longer a rule. Now I just hope he doesn't find out that you can still get disqualified for signing an incorrect scorecard when MILLIONS of people around the world know what you shot.
THIS WEEK IN PAULINA GRETZKY-DUSTIN JOHNSON DISPLAYS OF PUBLIC AFFECTION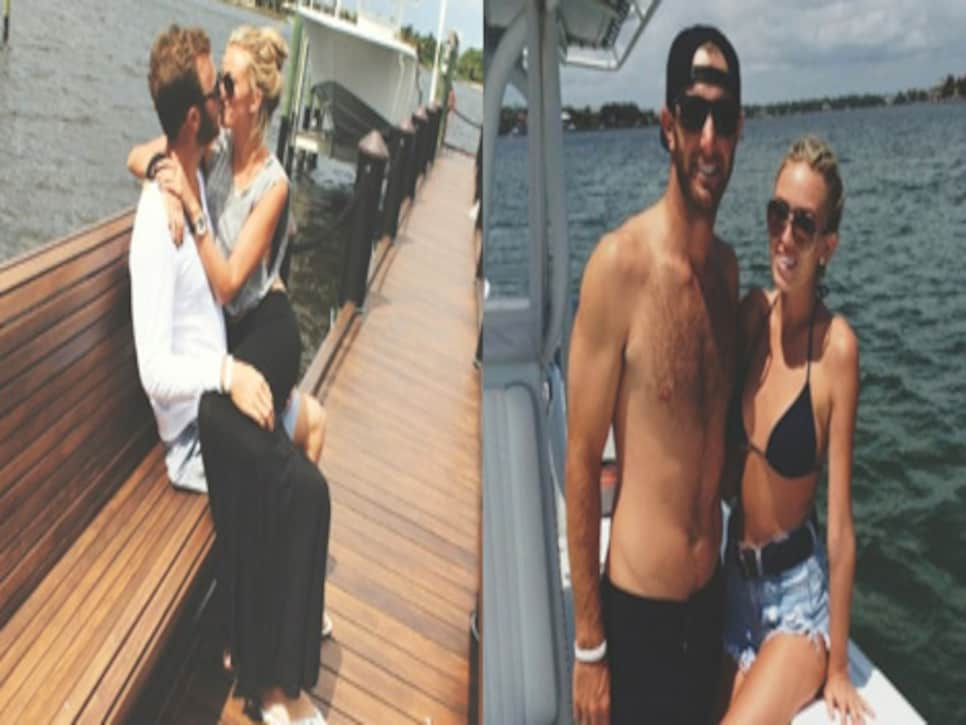 DJ drops the "L-bomb" and Paulina replies by telling him "You're the best thing that's ever been mine." Sorry, guys. This is getting serious!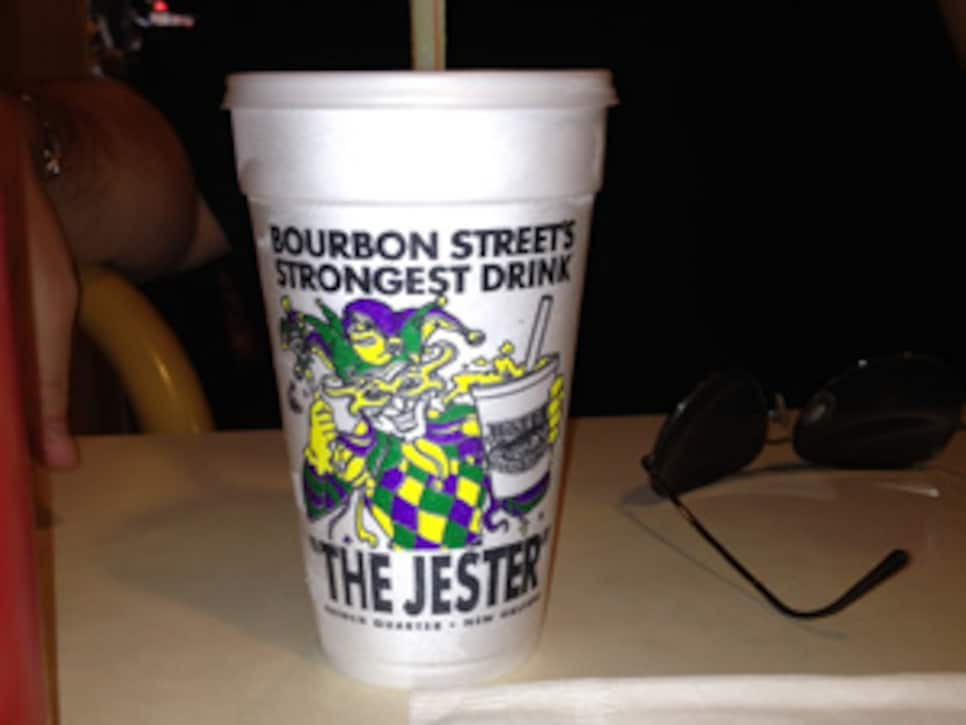 Raphael Jacquelin won the Spanish Open in a record-tying nine-hole playoff. That must be a pretty difficult hole if if took the Frenchman 10 tries before he could birdie it. . . . Speaking of playoffs, Angel Cabrera got back to winning them in his hometown event on the PGA Tour Latinoamerica. Cabrera has played two events on the circuit created before the start of the 2012 season. He's won both. . . . This is a "Jester" (above). Drink at your own risk.
RANDOM QUESTIONS TO PONDER
Why don't they sell Jesters in the Northeast?
Will Jason Dufner #Dufner when he wins again?
When's the Johnson-Gretzky wedding and can we come?