The Loop
The Grind: Wie twerks, Streelman 'tweets', Paulina sings, and Paula visits Fort Bragg
Welcome to another edition of The Grind, where we officially have Wie Fever. We've also never been more excited to see a swarm of rules officials around a golfer as we were when Michelle Wie was taking that unplayable late in her final round. We were having Dustin Johnson-sandy area flashbacks, but disaster was averted. Phew. Wie's first major must have felt extra sweet since she must feel like the oldest 24-year-old golfer of all time. It's crazy to think she was also a 54-hole leader at the U.S. Open NINE years ago. Hmm, that reminds me. Around that time I bet my mom she would win a major someday. PAY UP, MOM!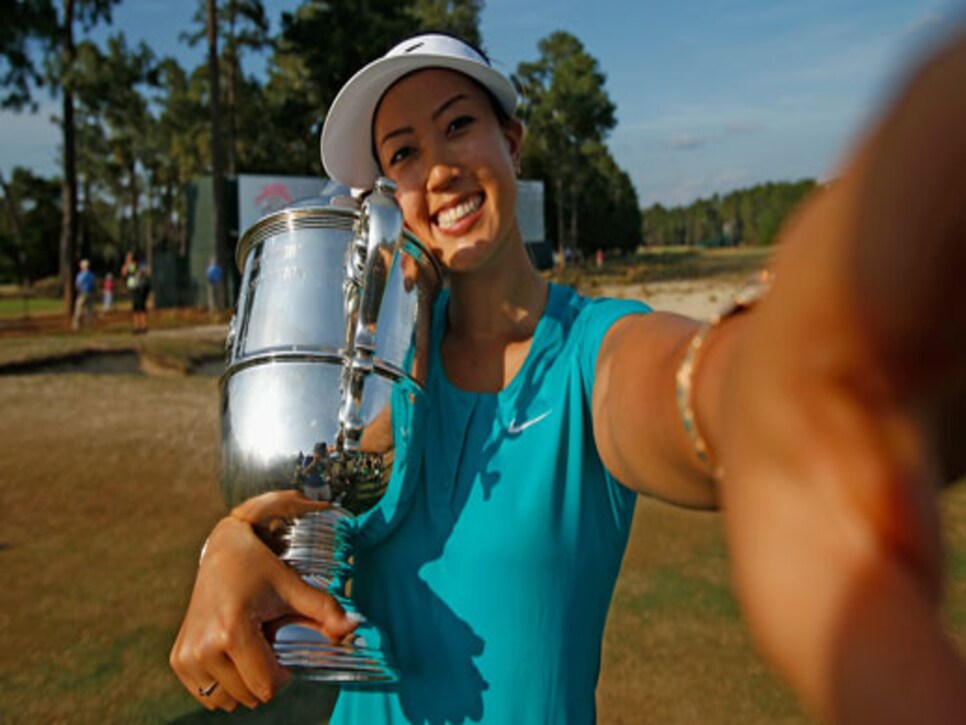 Michelle Wie: The LPGA Tour doesn't keep an official "bounce back" stat, but it doesn't need to. Wie is No. 1 after a birdie on No. 17 immediately followed that messy double bogey on 16. The clutch putt all but wrapped up the U.S. Women's Open and ended an exciting two weeks of major championship golf at Pinehurst. Speaking of putting and Pinehurst, Wie managed to go the entire tournament without making a three-putt. Raise your hand if you've made fun of her putting stance (raises hand). Who looks silly now? In fact, she's so comfortable in that stance now that she even used it to drink beer from the U.S. Women's Open trophy.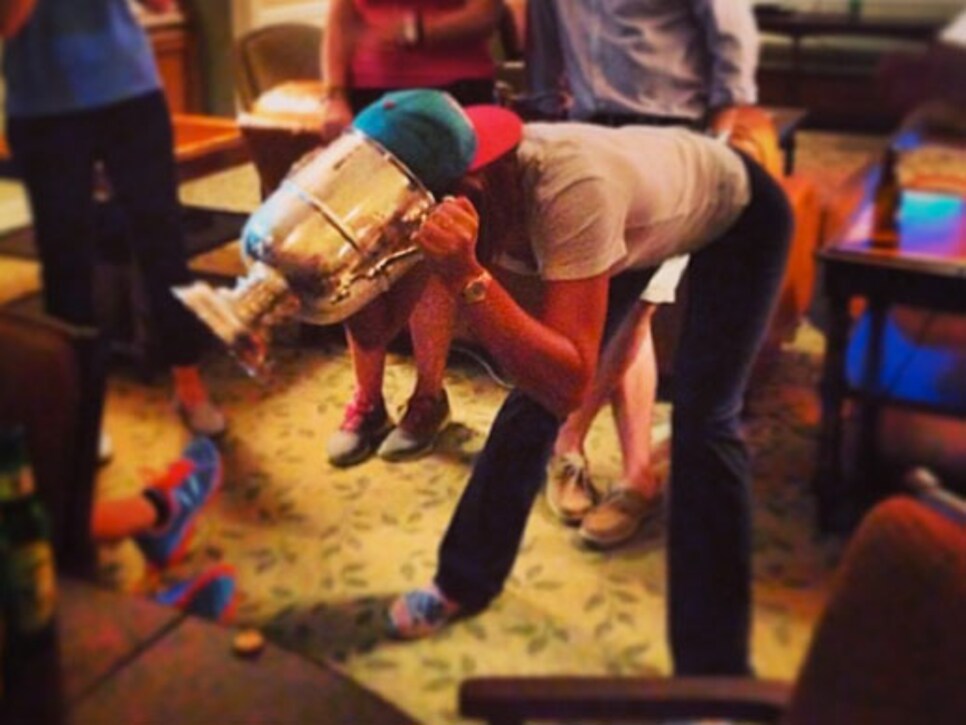 Kevin Streelman: Lost in the Michelle Wie hysteria, Streelman did something that no PGA Tour player has EVER done. The 36-year-old birdied the final seven (!) holes to win the Travelers Championship by one shot over Sergio Garcia and K.J. Choi. As if Streelman's timing of this historic performance wasn't bad enough, he even got short-changed in about the only headline he got: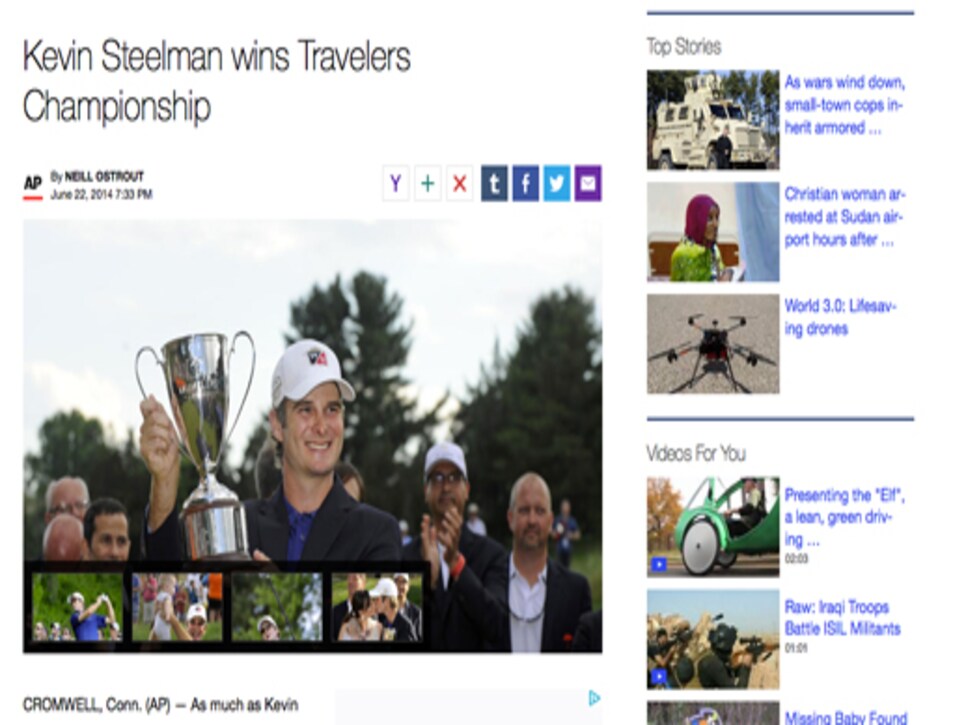 Poor guy. If someone like Tiger, Rory or Phil did this, there'd be a statue of him built on the spot. At the very least, Kevin, we promise to spell your name right.
People who questioned the USGA: The back-to-back U.S. Open experiment worked! The USGA prepared Pinehurst No. 2 in a way that held up for two weeks and played challenging but fair for both tournaments. Do you know what the final-round scoring averages were? The men shot 72.4 versus the women at 72.39. Wow. Mike Davis knows a thing or two about course setup. Of course, it helped that the USGA got extremely lucky with the weather. Eight days of golf in North Carolina in June and not a major delay in play? We're taking Mike as a good luck charm the next time we go there for a golf trip.
People who questioned Lucy Li: Calm down, everyone. It's one week. We have no problem with an 11-year-old qualifying for the U.S. Open -- it's an "Open" isn't it? But others, most notably Stacy Lewis disagreed. "I'm not a big fan of it," Lewis said before wondering "where does [Li] go from here?" The main problem with that reasoning is there's no guarantee Li will have another opportunity like the one she had here. Remember Tadd Fujikawa? How about Derek Tolan? No? Exactly. In any event, congrats to Li for shooting a pair of 78s. And we hope to see you at future U.S. Opens.
People who complained about the anchoring ban: The ban doesn't kick in until 2016, but we've seen a few people start to prepare recently. At the Travelers, it was Brendan Steele's turn. He switched to a short putter, opened with a 62 and picked up his best finish of the season with a T-5. So there you go, guys. There are countless ways to putt that don't involve jamming your club into your belly or chest. Switch to the short putter. Or do the Matt Kuchar. Or try Michelle Wie's table-top style. Eh... maybe don't try that one unless your back is particularly limber.
The PGA Tour heads to D.C. for the Quicken Loans National, aka Tiger's tournament. Meanwhile, down the road in Williamsburg, Va., I will be competing in the HGGA (don't ask) Tour's lone major, the HGGA Championship. Tiger, next year we won't schedule it the same weekend so we don't force you to make a tough choice of which to play in.
Random tournament fact: Tiger has won his own tournament twice. I have won my annual golf trip's tournament twice. The similarities are eerie.
RANDOM PROP BETS OF THE WEEK
-- This week's PGA Tour winner will finish with seven straight birdies to win by one: 1 million-to-1 odds
-- This week's HGGA Tour winner will make seven birdies over the course of the week: 2-to-1 odds
THIS WEEK IN PAULINA GRETZKY-DUSTIN JOHNSON PUBLIC DISPLAYS OF AFFECTION
On Sunday, Dustin celebrated the big 3-0. For the occasion, Paulina put together a video of family and friends wishing him happy birthday with Katy Perry's "Birthday" as background music. Aww.
"When you're in the zone like that, when athletes talk about being in the zone, everything is really slow, and it's really clear and concise, and it's very vivid. The lines are easy to see. The hole seems to appear bigger. It's almost to a point it doesn't matter how you read the putts because you just know they're going in before you hit them." -- Kevin (Streaky) Streelman
Again, this little girl shot a pair of 78s at the U.S. Open!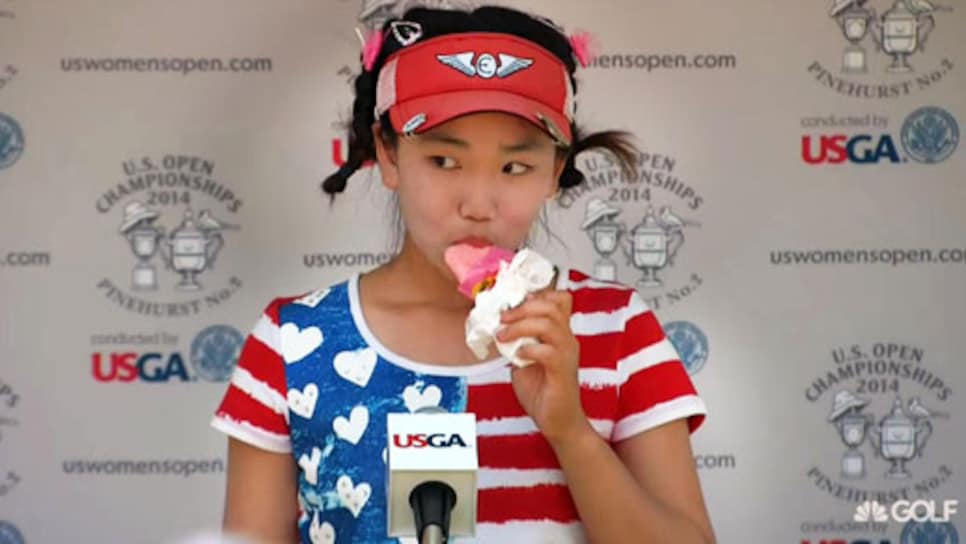 Wait, is that a strawberry Starburst ice cream bar? Oh yeah. Lucy Li is wise beyond her years.
PHOTO OF THE WEEK (NOT INVOLVING WIE OR LI)
Paula Creamer stopped by Fort Bragg on Monday. Apparently, she's been working on her guns.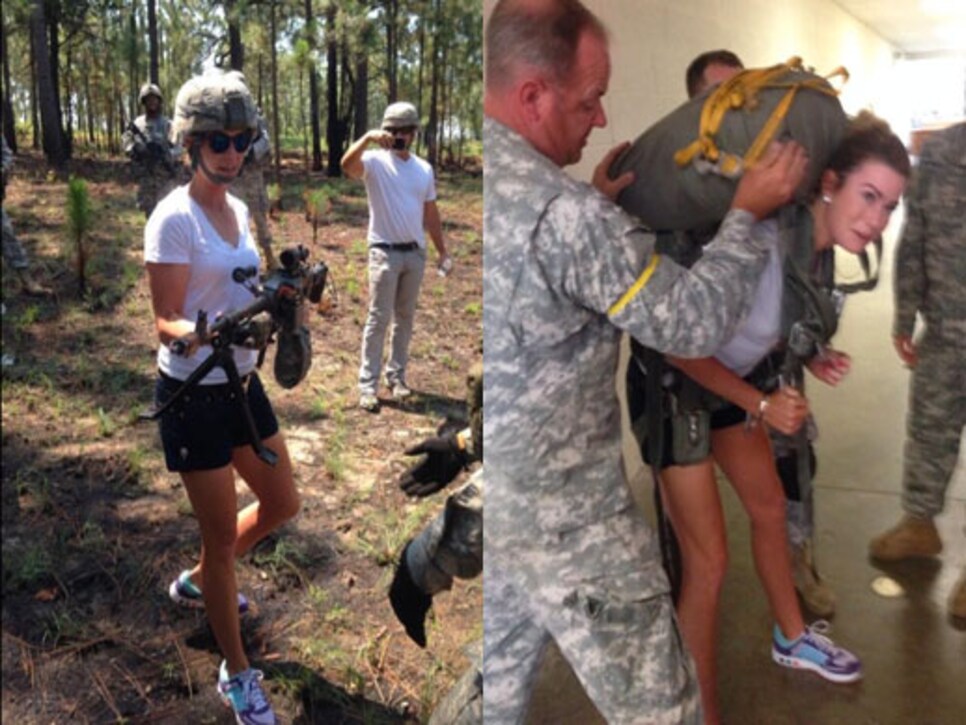 How could it be anything other than Michelle Wie 'twerking'?
Tom Lehman birdied the final hole to win the Champion Tour's Encompasse Championship by one. Is it just me, or does every Champions Tour event end with a birdie on the final hole? . . . Hunter Mahan is putting his Dallas-area house mansion on the market. It includes an indoor basketball court, a man cave with a golf simulator and gym, and one of the coolest pools you've ever seen. If only I lived in Dallas. And had $9.5 million. . . . Speaking of having money to spend, Callaway Golf announced that Art Mark was the winner of its "Big Bertha Payday" contest -- the one in which the winner takes home a check equal to Phil Mickelson's U.S. Open prize money. I'm sure he's not complaining about winning $59,588, but he's really wishing Mickelson hadn't missed a few of those short putts at Pinehurst. . . . Looking for a healthier alternative to potato chips? Try these soy sauce-flavored crackers from Trader Joe's. If there was a U.S. Open for crackers, they'd win by more than Martin Kaymer.
RANDOM QUESTIONS TO PONDER
Should we stop calling Kevin Streelman a journeyman now?
More career majors: Wiesy or Lexi?
Why in the world is Hunter Mahan selling that house?