The Loop
The Grind: Jason Dufner's world, USGA/PGA jousting and Tiger Woods' troubles
Welcome to another edition of The Grind, where we regret not taking our grandfather's advice and incorporating a waggle into our pre-shot routine. Ben Hogan did it and now a guy who hit a golf ball like Hogan for four days at the season's final major does. Sigh. Why don't I waggle? Why don't we ALL waggle?
Jason Dufner: We'll forget about those closing bogeys and focus on the ball-striking clinic Dufner put on all week at Oak Hill. How do you win your first major when everyone can practically see you shaking when you stand over your putts on Sunday? Simple. By hitting approach shots so close that even his wife could knock them in. Speaking of Amanda Dufner, between her, a Wanamaker Trophy and an appearance on the Howard Stern Show, this guy is doing pretty well for himself.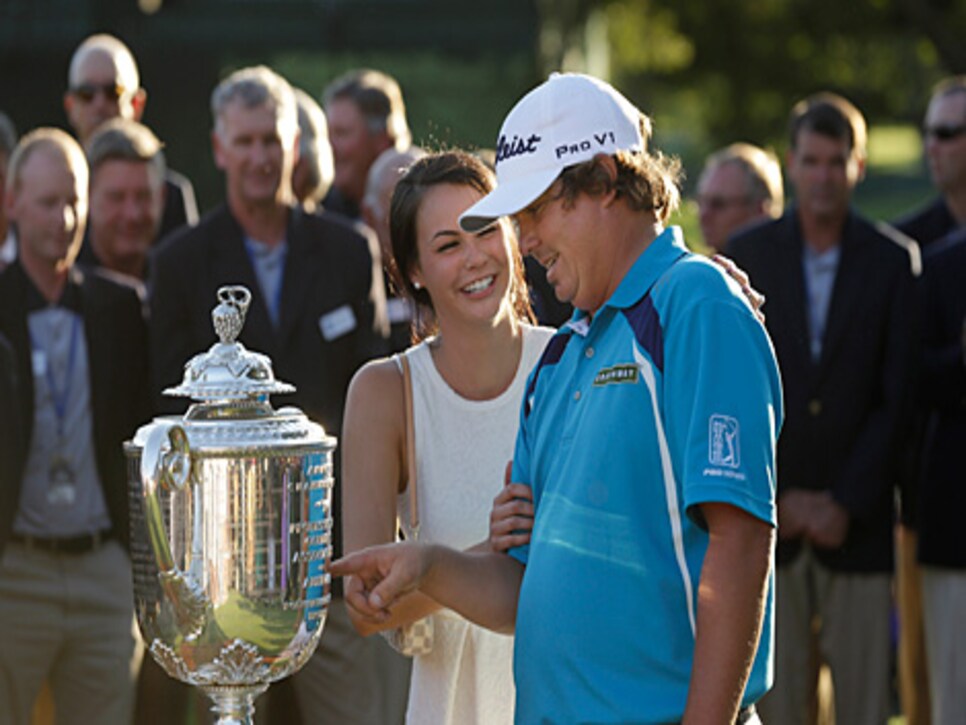 Yes, honey. That's your name on the trophy.
Henrik Stenson: How good has Stenson's last month been? Two thirds and two runner-ups, including one of each at the season's final two majors. "Hank the Tank" is here to stay.
Oak Hill: We only got glimpses of how the Rochester, N.Y. track could play in firmer conditions, but so what? A softer Oak Hill made for a lot of close approach shots and at the same time, the historic track still had extra-juicy rough that could swallow errant tee shots. Last November, Jason Dufner tweeted that Oak Hill was one of his five favorite courses. Maybe others could have benefited from similar positive thinking.
Adam Scott: The critics will say he could have won three majors this year. We say he's still the first golfer since Padraig Harrington in 2008 to finish in the top five of three majors in the same season. And with with a swing that Golf Channel's Brandel Chamblee described as "maybe the greatest ever," the Aussie isn't going anywhere anytime soon. Scott entered 2013 as arguably the best golfer to have never won a major. He'll exit as arguably the game's best player.
Tiger Woods: A week after blowing away the field at Firestone, Woods looked like a different player -- that guy who dresses like the 14-time major champion but doesn't play like him in majors. Woods continued his conservative strategy in golf's big events, even with a soft Oak Hill there for the taking. He made just 10 birdies for the week and finished T-40 to match his worst performance in a major where he's made the cut. The wait until next year's Masters could be the longest eight months of his life.
Matt Kuchar: Others who had worse weeks, but the world No. 6 deserves to be singled out for how he handled a weekend in which he had a chance to win his first major. Kuchar birdied the first hole on Saturday to pull within a shot of the lead, but played his next 19 holes in 10 over to end his title chances.
People complaining about a lack of drivers: This has been a common complaint this year, especially in the majors. Well, guess what? No one is stopping ANYONE from hitting the big stick and those who do it well can still gain an edge. Look no further than Jason Dufner, who pulled driver time-after-time on Sunday. Dufner spun a wedge into the cup for an eagle on Friday and nearly did it three times during the final round. Why did he have such a short club in his hands for those approach shots? You do the math.
USGA/Fox Sports deal: Starting in 2015, the U.S. Open will feature no Johnny?! And no Yanni?! It's enough to make a grown-man cry. Geoff Shackelford called out the USGA's timing, Ron Sirak broke down the stunning deal and Tim Rosaforte reported Greg Norman might be Fox Sports' answer to Johnny Miller in the booth. OK, I'm starting to lose it again. Where did I put those tissues?
The PGA Tour heads to the Greensboro for the Wyndham Championship, aka "Glory's Last Shot," if you want a shot at the end-of-the-season money grab known as the FedEx Cup Playoffs. Only the top 125 players in points after this week will be allowed to tee it up at next week's Barclays, the first of four postseason events.
Random tournament fact: Since this event moved to Sedgfield CC in 2008, the average winning score has been 19-under par. In other words, don't expect a grindfest out there.
WEEKLY YAHOO! FANTASY LINEUP
Think no one won two majors this year? Think again. With my brilliant pick of Jason Dufner in the second round, I won our PGA Championship pool, adding to the Masters pool I won thanks to Adam Scott. I should probably quit while I'm ahead, but I'd be doing you a disservice.
Starters -- (A-List): Bill Haas: A disappointing weekend at the PGA Championship doesn't change the fact that the North Carolina native has gone T-4, win, T-9, T-7 in his last four non-major starts.
(B-List): Webb Simpson: We'll keep the Wake Forest/good guy vibes going with the 2011 champ fresh off a week in which he tied Oak Hill's course record on Friday -- at least, until Jason Dufner broke it a few hours later.
(B-List): Zach Johnson: After a rough start to the season, ZJ has been on a tear, with four straight top 10s, including two in major championships and a runner-up at the John Deere. We say he gets his first win of 2013 here.
(C-List): Hideki Matsuyama: His three major championships this year resulted in a T-10 at Merion, a T-6 at Muirfield and a T-19 at Oak Hill. Oh yeah, he's only 21.
Bench: Brandt Snedeker, Graham DeLaet, David Hearn and Roberto Castro.
DufSqueeze #Dufnering, #DufTown, #DufDaddy, #Dufsanity. You get the point. It's Jason Dufner's world right now.
RANDOM PROP BETS OF THE WEEK
-- A struggling pro will approach Jason Dufner and ask him for a lesson in waggling: 5-to-1 odds
-- Jason Dufner won't be given a lot of short putts at the Presidents Cup: LOCK
THIS WEEK IN DUSTIN JOHNSON-PAULINA GRETZKY PUBLIC DISPLAYS OF AFFECTION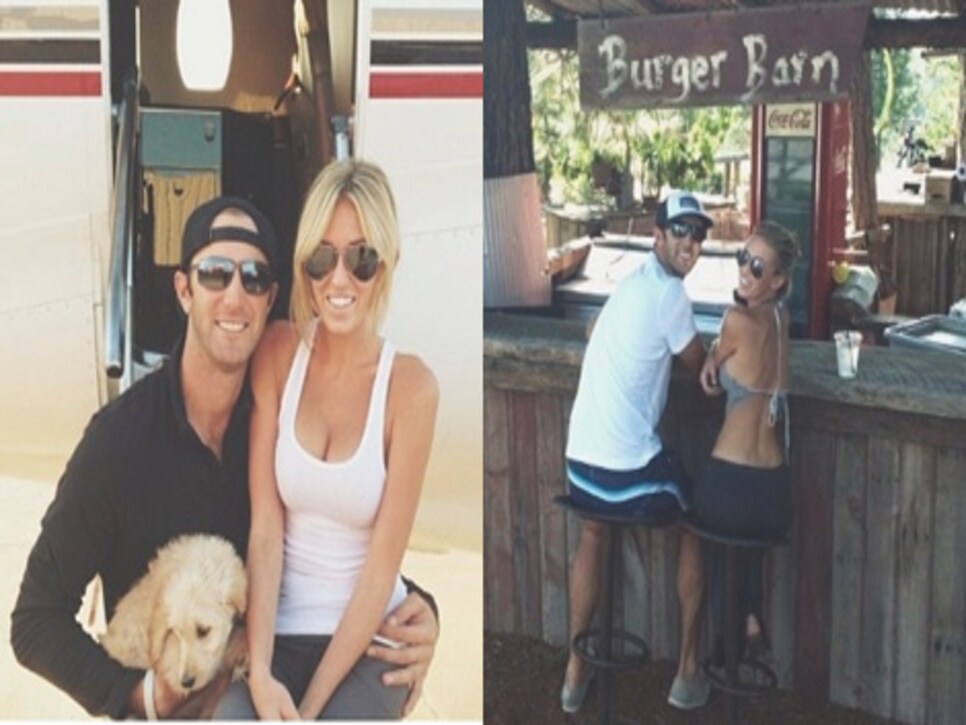 The two lovebirds are back in mid-season form (DJ looks to be back in form as well, with a T-8 at the PGA) when it comes to posting pictures. Here are two that caught our eye. Of the second one, Paulina writes: "Burger Barn w. My Baby." Hmm. We wouldn't have pegged her as the burger-eating type. . .
THIS AND THAT Sunday TV ratings for the PGA Championship were up 13 percent from last year. The lesson learned? We need more final pairings of Jason Dufner and Jim Furyk! . . . Andrew Svoboda, a PGA Tour member this year, won his first Web.com tournament. My first big golf assignment was shadowing him at the 2006 U.S. Open at Winged Foot, where he was a member. Good times. . . The PGA of America announced news that Bethpage Black will host the 2019 PGA and 2024 Ryder Cup during the U.S. Amateur, but said the timing wasn't done as a retaliation for the USGA announcing its TV deal with Fox Sports on the eve of the PGA. Sure it wasn't. . . .
RANDOM QUESTIONS TO PONDER
Does Jason Dufner play poker?
Does Jason Dufner have a dip sponsor?
Is it too late to learn to waggle?