The Loop
The Grind: Jason Collins' announcement, Rory's b-day gifts & pies in the face
Welcome to another edition of The Grind, where we are really impressed by Jason Collins. It takes a lot of guts to do what he did. A finely-tuned professional athlete coming out and admitting he's a bad golfer? Well done. Ohhh, that wasn't the big announcement? He also did what?! Wow. Good for him and hopefully others will follow. And great job by him to pay tribute to a cause close to his heart by wearing the No. 98. We just hope he doesn't think that's the type of score he should settle for on the golf course. After all, the NBA's off-season coincides perfectly with the golf season in most of this country. Jason, get to work!
Billy Horschel. We saw this one coming when we plugged him into our lineup last week. Then again, didn't everyone? It seemed like Horschel was going to keep playing every week until he finally got his first PGA Tour win. A Sunday 64, including a dramatic 27-footer for birdie on the final hole, got it done. While the former college star probably felt this was a long time coming, he pleasantly reminded us that you don't have to take a long time to hit a shot to be a good golfer.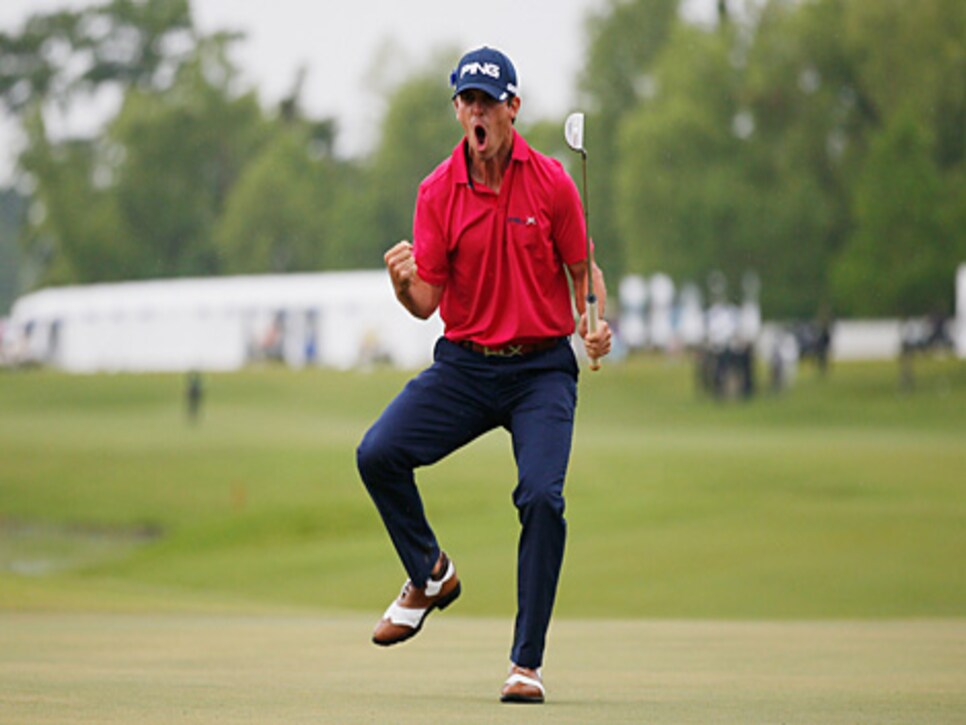 We'd hoot and holler like we just won a million bucks, too, if we just won a million bucks.
Tianlang Guan. For a second time this month, this 14-year-old phenom teed it up at a PGA Tour event and for a second time, he made the cut. To put this accomplishment in perspective, keep in mind Tiger Woods didn't make a PGA Tour cut until he was 19 and in his eighth try at the 1995 Masters.
Inbee Park. Or should we just start calling the No. 1 player in women's golf "Winbee"?
PGA Tour drug testing. Greg Norman ripped the PGA Tour's drug testing policy, pointing out that the Vijay Singh situation could just be the tip of the iceberg. While we agree the PGA Tour has been lax on this issue (there's no reason golf should lag behind other professional sports), we just wish it didn't come from Norman. Adam Scott's recent Masters win for Australia seems to have put Norman back in the spotlight -- and the Shark seems to be eating it up.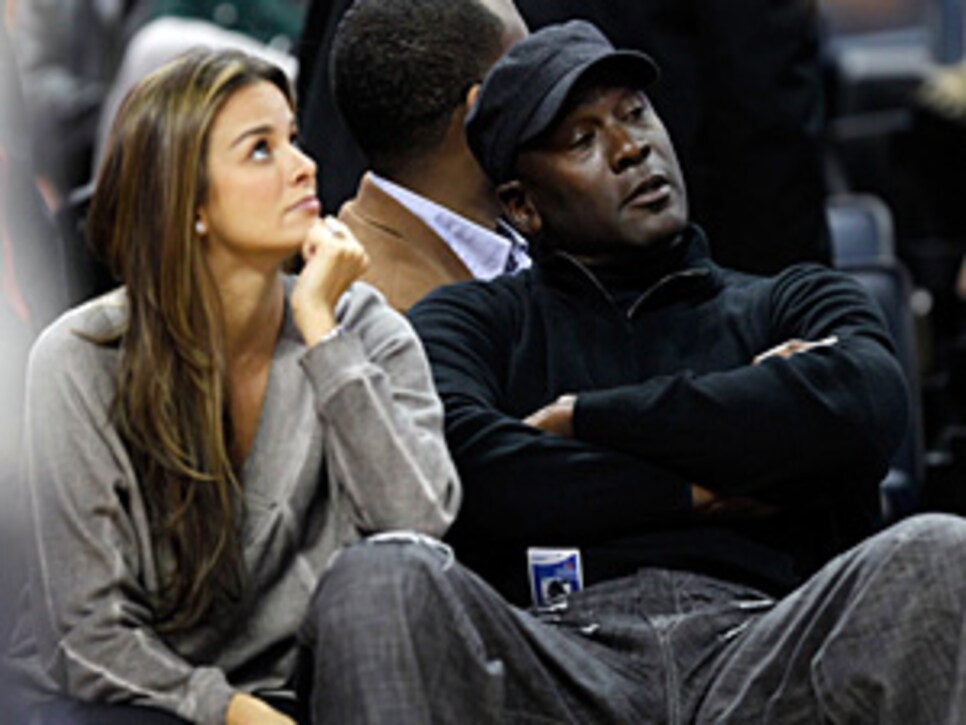 PGA Tour weather. From fog to snow, we've seen every possible type of delay in the book this year. But a lightning delay with the two contenders -- one of whom has been agonizingly close to getting his first tour win of late -- in the middle of the FINAL hole of regulation? C'mon, Mother Nature. That's just cruel.
Michael Jordan. We love MJ's passion for the game, but a wedding reception on a golf course? On a Saturday? How are the members of the Bear's Club supposed to keep their games sharp? Oh right, they all probably just played at one of their other clubs over the weekend. However, we are NOT selling Yvette Prieto, Jordan's new wife. In addition to being beautiful, she even puts up with sitting through Charlotte Bobcats games with the team owner (above).
Speaking of Charlotte, the PGA Tour heads there for the Wells Fargo Championship at Quail Hollow. Unfortunately, a couple of the course's greens had to undergo emergency replacement recently. This means the pros might actually have to play a couple less-than-perfect greens for the first time in years. What an OUTRAGE!
Random tournament fact: This is the only event in which Tiger Woods has missed the cut twice as a pro. In semi-related news, Tiger Woods isn't playing this week.
WEEKLY YAHOO! FANTASY LINEUP
Why were we such big fans of Horschel's win in New Orleans? A. We had him in our lineup last week; B. We pegged him as one of our Sleeper Picks heading into this season and highlighted him as the guy on the list with the most potential. Man, do we look smart now. . .
Starters -- (A-List): Bill Haas. The 2011 FedEx Cup champ played his college golf up the road at Wake Forest University and has a pair of T-4s on this course.
(B-List): Webb Simpson. Another Demon Deacon with a good track record here, Simpson lives in Charlotte. He'll get to feel what it's like to commute to work for a week and should have plenty of crowd support.
(B-List): Lucas Glover. The 54-hole leader in New Orleans is familiar with being in contention at Quail Hollow as well. He won here in 2011 and was a runner-up in 2009.
(C-List): Lee Westwood. The former World No. 1 finally got the hang of this track last year with a T-5 (68-66 over the weekend) and seems to be hitting his stride with back-to-back top 10s. We also liked his hungover report on Twitter following his 40th birthday celebration.
Bench -- Rory McIlroy (2010 champ), Zach Johnson, John Senden, Rickie Fowler (2012 champ).
Geoff Shackelford's headline says it all: "Oosthuizen's 500-yard, 120-second cart path drive." As if these guys needed any help with distance.
RANDOM PROP BETS OF THE WEEK
-- Phil Mickelson will conduct a 10-minute interview/lecture on Quail Hollow's two make-shift greens and the different types of Bermuda grass: 2-to-1 odds
-- Tianlang Guan has a lot of homework to catch up on: LOCK
-- Michael Jordan will find a way to play golf while on his honeymoon: LOCK
THIS WEEK IN DUSTIN JOHNSON-PAULINA GRETZKY PUBLIC DISPLAYS OF AFFECTION
Paulina tweeted this photo to DJ and he retweeted it. Teamwork!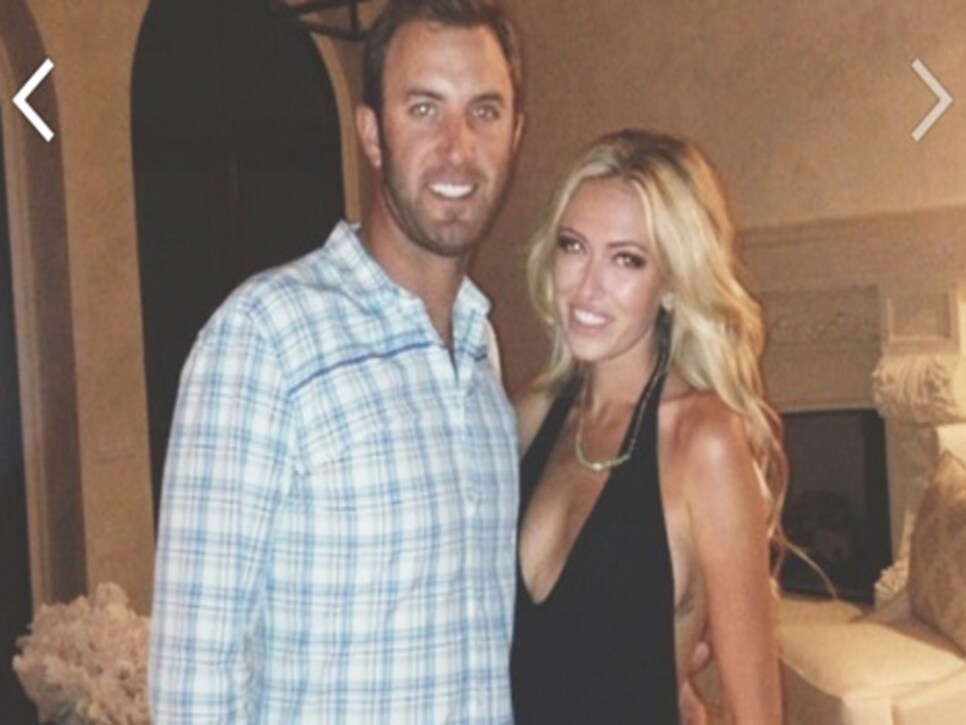 THIS WEEK IN RORY MCILROY-CAROLINE WOZNIACKI PUBLIC DISPLAYS OF AFFECTION
Via Twitter: "Got these awesome early birthday presents last night from @CaroWozniacki! #lucky" Apparently, Rory loves him some Louis Vuitton.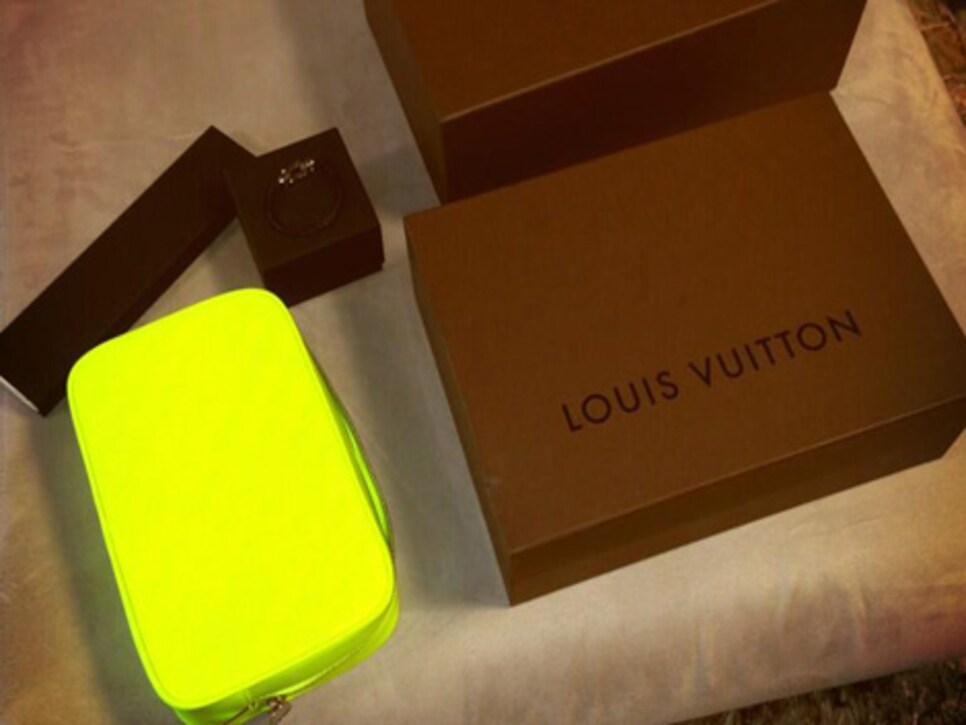 THIS WEEK IN TIGER WOODS-LINDSEY VONN DISPLAYS OF PUBLIC AFFECTION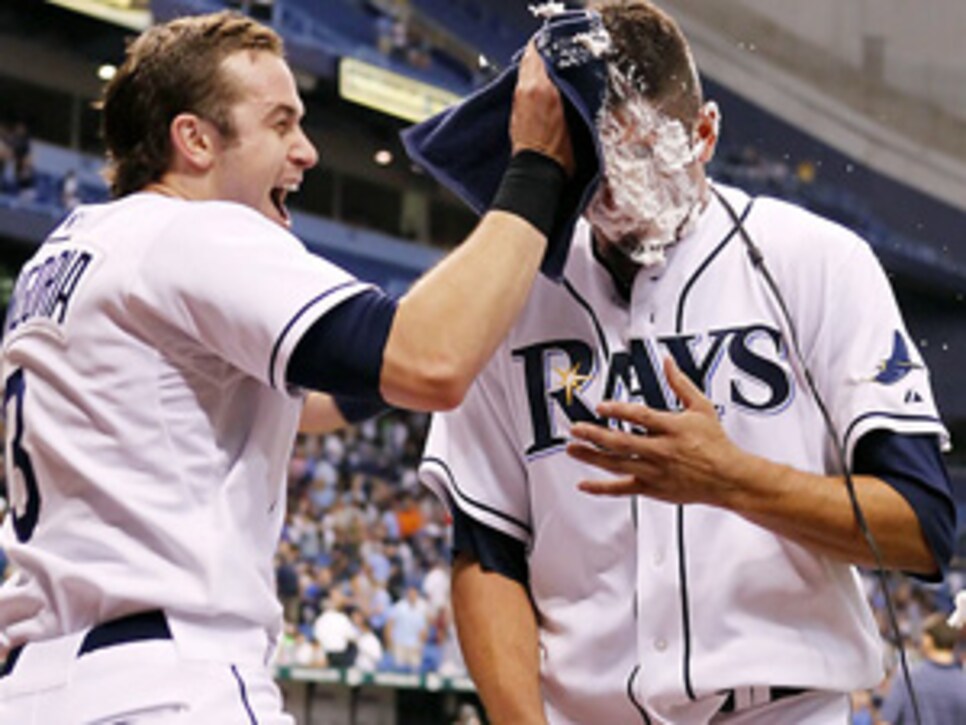 A 12-year-old will play in this week's China Open,, breaking the European Tour record. Two questions: Why isn't Guan playing in this and is this kid his younger brother? . . . Muirfield was lengthened for this year's Open championship. Why? Because every course HAS to be lengthened before it hosts a major again. . . . Brad Faxon gave Jeff Sluman a vicious pie in the face after the two teamed up to win last week's Legends of Golf event on the Champions Tour (Unfortunately, there's no picture. Hence, the photo of Evan Longoria giving the treatment to a Rays teammate). It's one thing for younger guys to do this, but the over-50 crowd? We're just glad no one involved was hurt. . . .
RANDOM QUESTIONS TO PONDER
When will a professional male golfer come out as gay?
Is this Dumb and Dumber sequel really going to happen?
What did Tiger get Michael and Yvette as a wedding gift?