The Loop
The Grind: Park's grand quest, Haas' special win & what the USGA should ban next
Welcome to another edition of The Grind, where we're not sure where all the confusion is coming from. The LPGA's timing to add a fifth major this year of all years is unfortunate, but the last time we checked, a grand slam in baseball scores FOUR runs and the Grand Slam in golf and tennis is winning FOUR majors in a single season. Changing this requirement now would be like making a bowler roll a 13th straight strike for a 300 or making a pitcher throw an extra inning to lock up a perfect game. Nope, if Park wins the British Open, she's accomplished the feat no matter what happens in the fifth major. Of course, winning all five would make "Winbee" the "QUINT" Bee. Someone get a copyright lawyer on the phone!
Inbee Park: Three up, three down. Winbee did it again with a dominant performance at the U.S. Women's Open. Next up in her attempt at history? The British Open at the Old Course at St Andrews. Perfect. To steal from a Nike ad campaign, "We are all witnesses."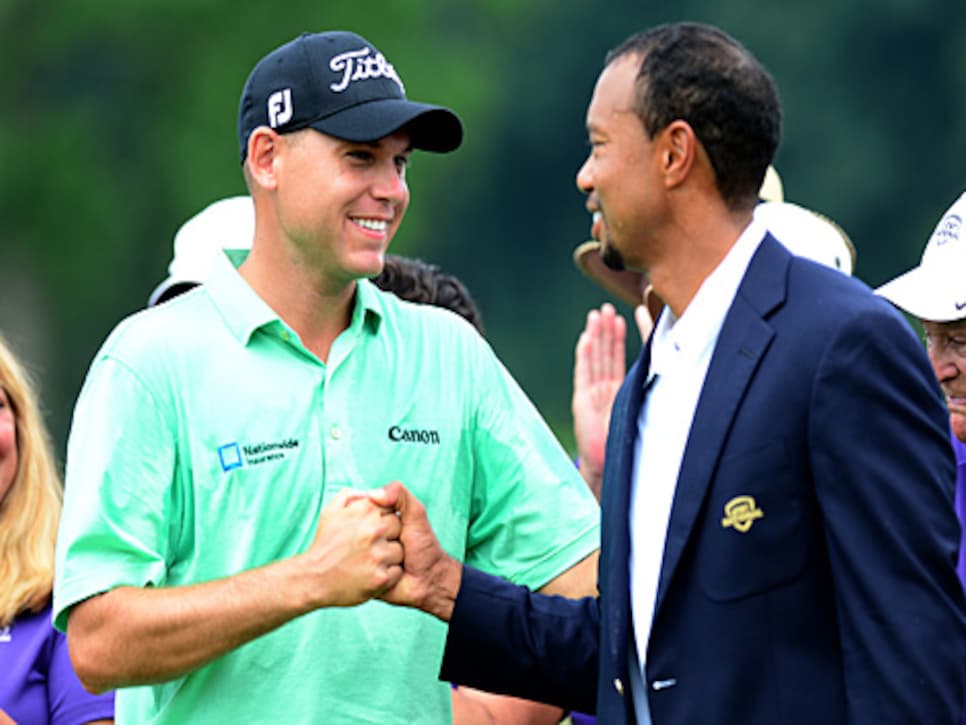 The Grind's two favorites sharing a moment warmed our heart.
Bill Haas: We gave the fellow Wake Forest Demon Deacon some tough love recently when we scolded him for his poor weekend play, but boy did he ever overcome that on Sunday. Haas shot a final-round 66 at Congressional to earn his fifth PGA Tour win and his first as a dad. Good timing. We hear diapers are expensive.
Paul Casey: This guy still plays golf?! Once No. 2 in the world, Casey has had bad luck with injuries the past couple years, but he looks like he's past all of that with his win at the Irish Open. Maybe he'll be the next Brit to beat Lee Westwood and Luke Donald to a major.
PGA Tour: After months of putting up a fight, the tour voted to go along with the USGA's anchor ban. Good for the game, but bad for those who putt this way. Steve Stricker might have to come out of semi-retirement with all the putting lessons he's going to be giving the next couple years. . .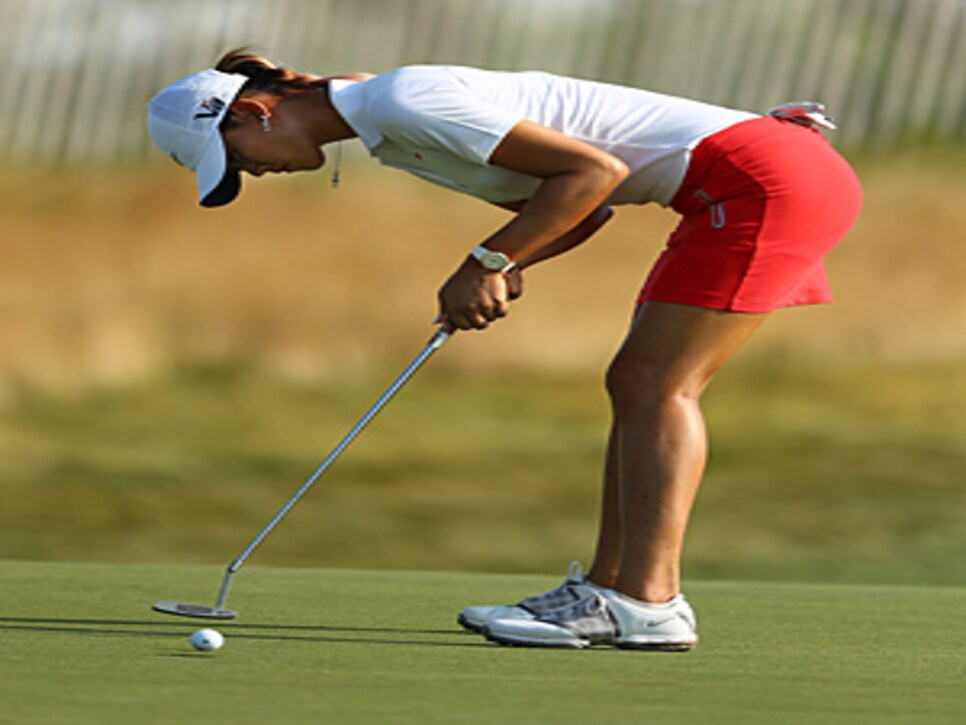 Jessica Korda: Another young LPGA player drew negative attention to herself when she fired her caddie mid-round on Friday and replaced him with her boyfriend. To Korda's credit, she played much better after the move and finished T-7 at Sebonack. But we think the 20-year-old could have waited until after the round was over to make the move. And mixing work with your personal life? Good luck.
Kris Blanks: The man with the easiest nickname ever, Kris "Not Firing" Blanks was arrested after trying to bring a loaded gun onto an airplane. Hey, we've all forgotten to take things out of our bag before boarding, right? OK, so usually it's just a little too much shampoo.
The PGA Tour heads to the Greenbrier Classic, aka that tournament that may have paid Tiger a pricey appearance fee to miss the cut last year.
Random tournament fact: Ted Potter Jr. beat Troy Kelly in a playoff last year to win this event. Yep, that really happened.
WEEKLY YAHOO! FANTASY LINEUP
You're welcome for the Bill Haas nod last week. See? It wasn't just because he was a classmate of mine at Wake Forest.
Starters -- (A-List): Bill Haas: No reason not to ride the hot hand here. Haas was a runner-up in 2011 and has a scoring average of 68 at the Old White Course.
(B-List): Webb Simpson: We'll stick with the Wake Forest theme and take a guy who has a T-7 and a T-9 in this event the past two years.
(B-List): Scott Stallings: Mr. Close Call (he has four top-four finishes in 2013) picked up his first PGA Tour win here in 2011.
(C-List): Jeff Overton: JO would have picked up his first PGA Tour win here in 2010 if Stuart Appleby didn't shoot a Sunday 59. True story.
Bench: Charles Howell III, Charlie Wi, Jimmy Walker and Ken Duke
THIS WEEK IN DUSTIN JOHNSON-PAULINA GRETZKY DISPLAYS OF PUBLIC AFFECTION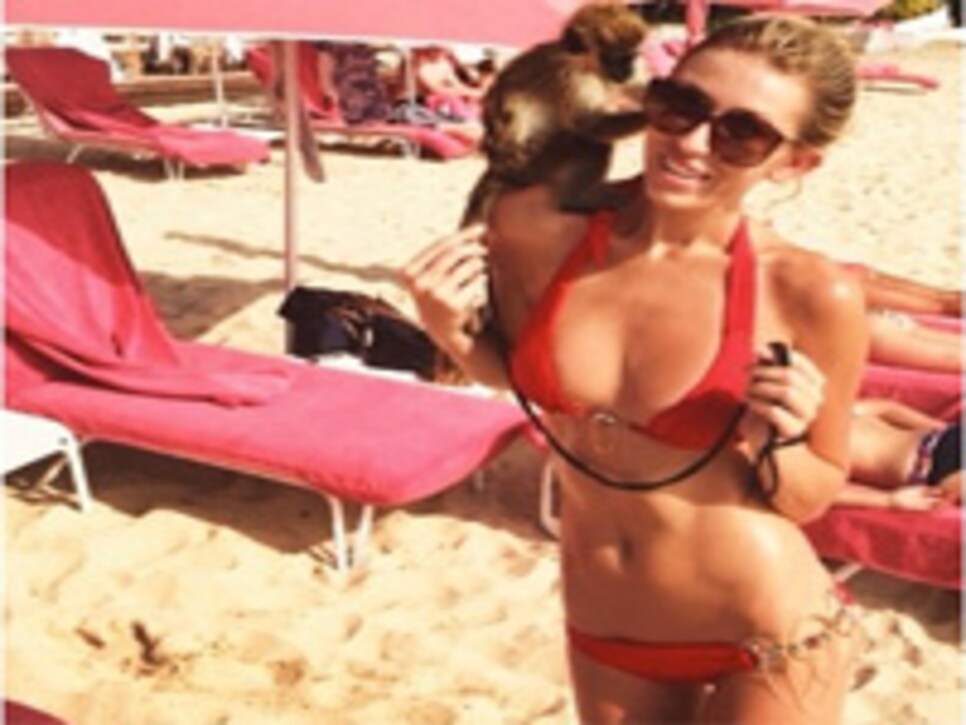 From Paulina on Twitter: "Mine & @djohnsonpga New Lil Friend" Having a pet dog as a couple is a pretty big deal, but a pet monkey? Wow. Things just got even more serious between the two lovebirds. And to those of you who think this was just a cheap way to show yet another picture of Paulina in a bikini, well, um, you are correct. . .
How about a club pro holing a wedge from about 100 yards in a playoff to get the final spot up for grabs at the PGA Championship? Not bad, Rob Labritz. Not bad. This might just be the shot of the year to this point:
Kenny Perry finally won his first major! So, the Senior Players Championship isn't exactly the Masters, but still, we're happy for him. . . . Ben Martin picked up his first Web.com Tour win in a Monday playoff. We feel bad for the other three guys who came back to the course only to play one hole and lose. . . . Rory McIlroy said he felt "lost" in missing the cut at the Irish Open. On the bright side, he made a cool commercial with a trash-talking robot! . . . The late Harry Caray (above) is everywhere in Chicago! Holy cow!
RANDOM QUESTIONS TO PONDER
How did Inbee Park go four years without a win?
Has anyone ever actually bought something from SkyMall?
Can the USGA ban Michelle Wie's putting stroke next?