The Loop
Emiliano breaks out, the Beemer helps out Team Europe, Paige goes to Vegas, and the unluckiest golfer in the world
Welcome to another edition of The Grind, where we're still trying to warm up after playing golf in subfreezing conditions for the first time. Truth be told, I usually don't play when the temperature dips below 65, so this was a real stretch. But when you're invited on a golf trip by your boss, you tough it out and play -- even if it means wearing SEVEN layers of clothing. True story.
But there was better golf being played elsewhere in much more comfortable climates. And hopefully, our frozen fingers will cooperate enough to get to it all.
Emiliano Grillo: With that great name, the 23-year-old Argentinian sounds more like a member of the Three Tenors, but the PGA Tour rookie could be pushing golf's Big 3 soon. Two weeks after hoisting the Web.com Tour Championship trophy, Grillo won the PGA Tour's season-opening Frys.com Open and got sprayed down with some celebratory bubbly: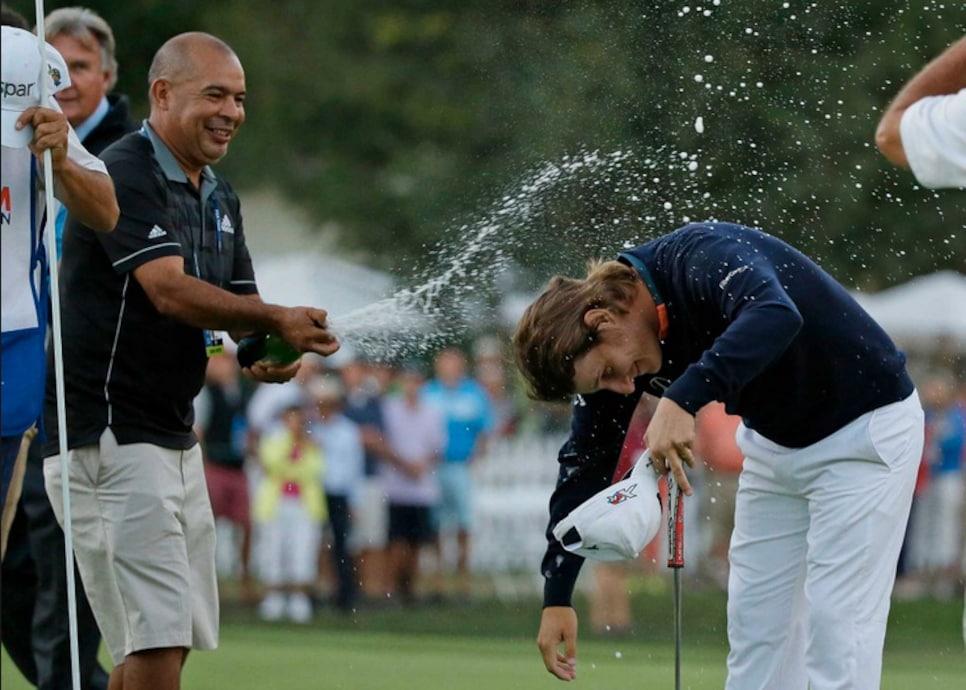 Grillo missed a short putt to win in a playoff, but won on the next hole thanks in part to Kevin Na's curious decision to hit a driver off the deck. We're also thankful to Grillo -- and others -- for making us look good with our 9 Sleepers to Watch list right away. We're buying our own list, too.
Lexi Thompson: Remember when she was golf's big phenom? Well, she's still just two years older than Lydia Ko and after topping Ko and others in South Korea, Thompson now has six LPGA Tour titles. She's also up to No. 4 in the Rolex Rankings. We're looking forward to many more Lexi-Lydia duels in the future.
Shotgun starts: With a bad weather forecast on Saturday, the European Tour decided to use a shotgun start for the third round of the Portugal Masters. And you know what? It worked fine and kept the event's schedule on track. Between this and players being able to swap spots in tournaments, the European Tour is getting rather creative!
The Class of 2011: A group of golfers who graduated high school in 2011 is starting to take over the PGA Tour. How old do you feel when you read that sentence? And the headliners of this remarkable class were all in great form this past week. Grillo won, Justin Thomas finished T-3, Patrick Rodgers was T-6, Daniel Berger, fresh off winning the PGA Tour Rookie of the Year Award, was T-17, and Jordan Spieth had a great time swimming in piles of cash somewhere.
Frys.com final pairing: Brendan Steele entered Sunday with a one-shot lead over Andrew Loupe, but neither figured into the final-round discussion. Steele shot 76, Loupe shot 74, and TV viewers had to wait for both to finish out their lousy rounds before the playoff could start. Awkward.
Rich Beem: Thanks to Beem giving up his spot in this week's Hong Kong Open to Ian Poulter, the Englishman will keep his European Tour card and thus remain eligible to play in next year's Ryder Cup. We suspect Beem was just being a nice guy, but if Poulter winds up tormenting the Americans again, we might see official petitions to change his name to Rich Benedict or Beemedict Arnold.

Getting hit by a CAR on the course: A retired U.S. Air Force Colonel was just minding his own business on the 18th tee of his home course in Greensboro Country Club when he was hit by a car being driven by a man fleeing the police. Kevin Reinert suffered a host of injuries that will likely leave him unable to play golf for the next year. Let's keep Kevin in mind when we start bitching about the bad breaks we're getting on the course.
Oscar Pistorius' golf career: First of all, we're selling the fact that a convicted killer is being released from jail just one year into a five-year sentence. But now that he's out, it seems the disgraced Olympic hero hopes to "launch a lucrative golf career." There's just one tiny problem: Pistorius is said to have an 18-handicap. Good luck with that, Oscar. . .
The PGA Tour heads from Napa to Vegas for the Shriners Hospitals for Children Open, aka that event that used to be called the Justin Timberlake Shriners Hospitals for Children Open.
Random tournament fact: Jonathan Byrd won this event in 2010 with a walk-off hole-in-one. That was pretty cool, but getting to meet Justin Timberlake after must have really made his day.
RANDOM PROP BETS OF THE WEEK
-- There will be a walk-off hole-in-one this week: 1 MILLION-to-1 odds
-- Oscar Pistorius will be a successful tour pro: 10 MILLION-to-1 odds
-- Rich Beem will be on the Poulter tab all week in Hong Kong: LOCK
Here's Grillo just lounging in the airport with his new trophy after winning his first PGA Tour title. Dig his style: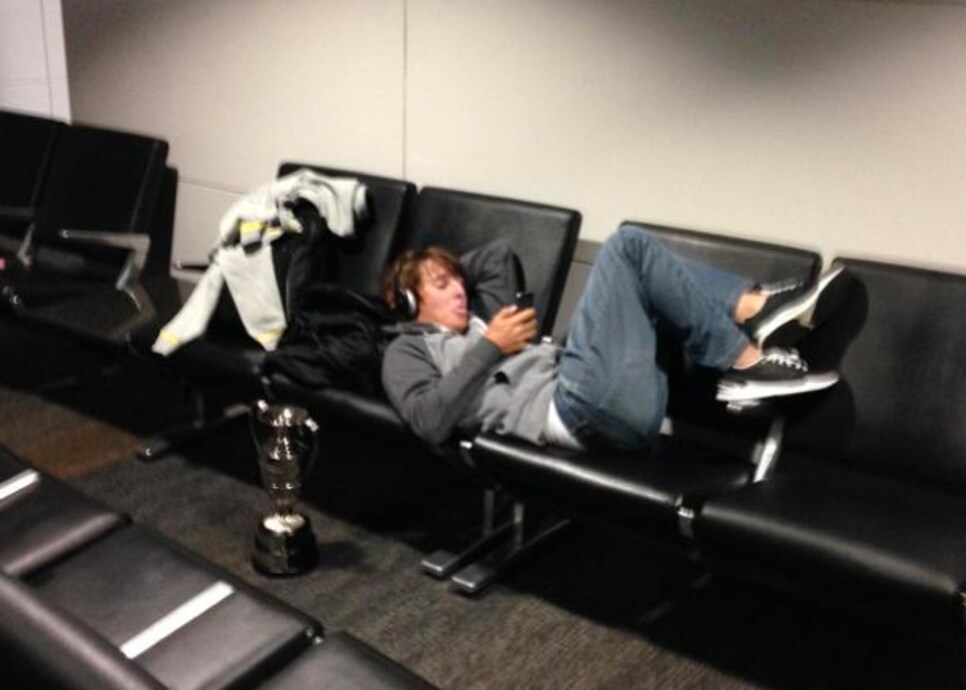 (CRAZY ON-COURSE) VIRAL VIDEOS OF THE WEEK
How about back-to-back hole-outs for eagle by playing partners John Huh and Jarrod Lyle. Man, these guys are good:
And Matt Kuchar demonstrates how to get the wind to blow his golf ball into the hole. Man, these guys are REALLY good:
Look for Kuchar to explain this tip in an issue of Golf Digest next year.
(CRAZY OFF-COURSE) VIRAL VIDEO OF THE WEEK
Watch Michelle Wie eat a live squid:
And K.J. Choi's got PIPES!
Justin Timberlake may have just found the next act to sign to his record label.
THIS WEEK IN NATALIE GULBIS (AND HER MOM) MAKING US FEEL BAD WITH HER TRAINING
Then Natalie walked us through her complex stretching routine:
THIS WEEK IN PAIGE SPIRANAC BEING PAIGE SPIRANAC
Check out Paige teaming up with the Bryan Bros in Vegas for a trick shot:
And apparently, she's already planning her Christmas outfits: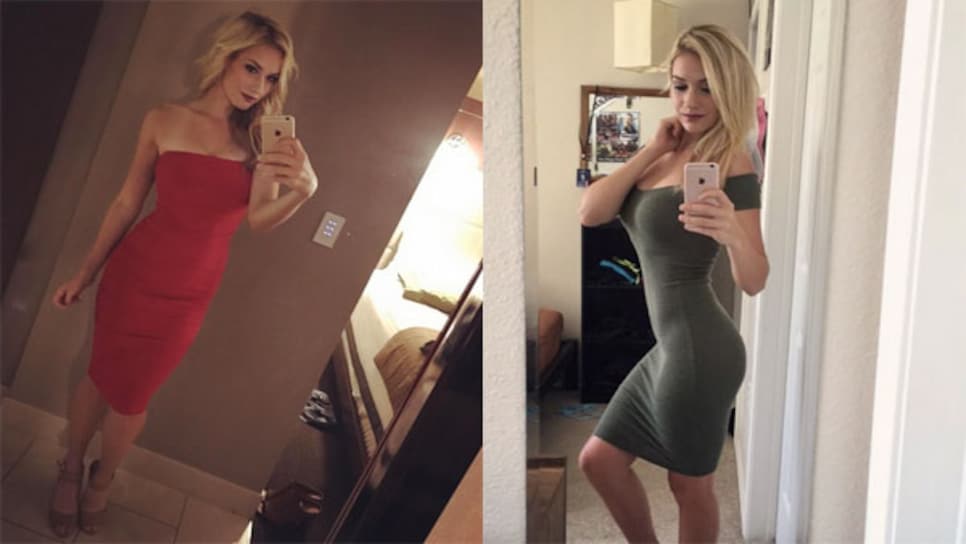 THIS WEEK IN DUSTIN JOHNSON-PAULINA GRETZKY-AND OTHERS PUBLIC DISPLAYS OF AFFECTION
Phew. Thought it was a funeral with all that black clothing.
"It would have put me out of my misery." -- Rory McIlroy after nearly getting drilled by an Emiliano Grillo tee shot on Saturday following a miscommunication on Silverado's drivable par-4 17th. Yeah, Rory's putting was that bad during his disappointing T-26 performance.
The San Diego Padres, along with Callaway, are setting up a nine-hole golf course in Petco Park next month. Hopefully, there are no miscommunications like the one between Grillo's and McIlroy's groups. . . . Speaking of the number nine, Amy Yang birdied every hole on the back nine of her final round at the Hana Bank Championship to finish T-4. We can safely say that is a golf record that will never be broken. . . . Bernhard Langer won his 25th Champions Tour title. If only there was a way to handicap his dominance. Oh. Right. The anchoring ban. . . And congrats to Golf Digest creative director Ken DeLago for winning the 2015 Golf Digest Ekwanok Invitational in Manchester, Vermont.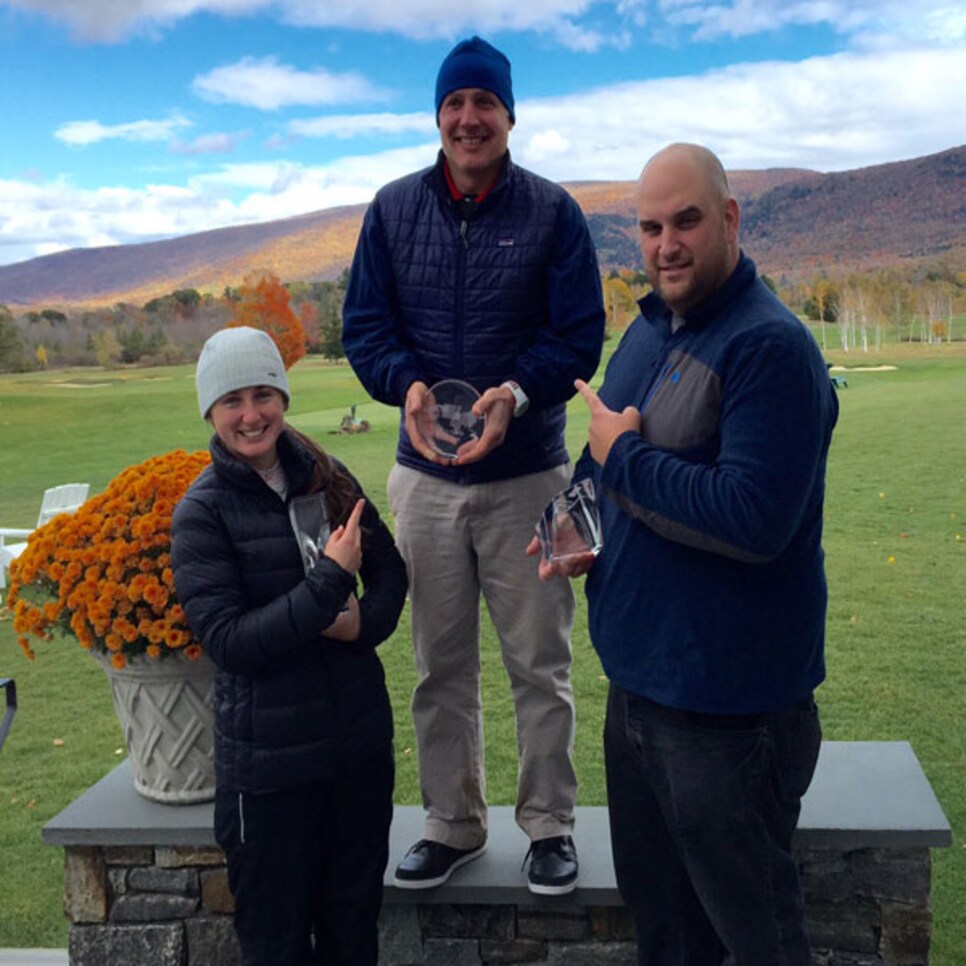 Considering my spotty track record of cold-weather golf, I'm calling my T-4 (out of eight brave souls) a victory.
RANDOM QUESTIONS TO PONDER
Will Rich Beem turn over his Hazeltine notes to the Europeans?
Why wasn't there a K.J. Choi-Kenny G duet at the Presidents Cup?
When was the last time I stretched?