The Loop
The Grind: Carolina dreaming, Crane's crazy win, and Johnny's last stand
Welcome to another edition of The Grind, where we've been going to Carolina in our minds for some time now. Pinehurst is finally set to host back-to-back U.S. Opens, and we're excited to see how it all plays out -- especially since we have nothing to do with pulling off this logistical nightmare. But before the USGA's latest experiment begins, there's a lot to talk about. Let's get to it.
Ben Crane: Known more for his comedic performances than his golf in recent years, Crane got back into the winner's circle with his wire-to-wire win at the FedEx St. Jude Classic. The victory was made even more amazing by the fact he hadn't finished better than T-32 in his previous 12 starts on tour, and he didn't have a birdie over the final 29 holes in Memphis. In lieu of playing in the U.S. Open, Crane made Memphis his own personal grindfest.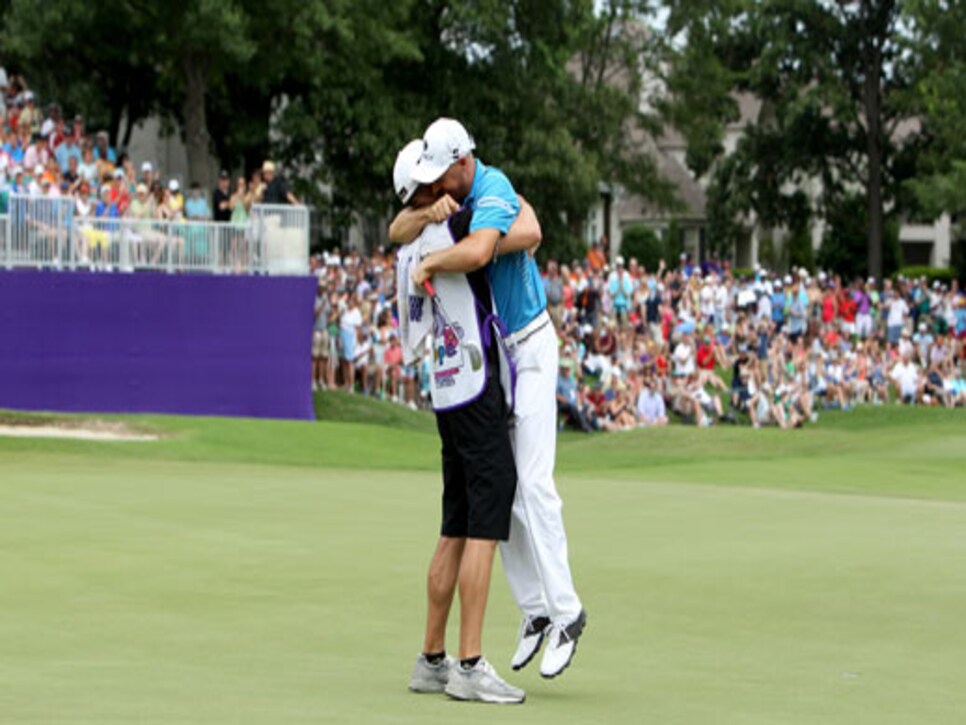 "Pick me up. I'm limping home."
Inbee Park: WINBEE is back! After an 11-month drought, Park shot a final-round 61(!) to win by three shots at the Manulife Financial Classic. Another LPGA victory by another top-ranked player. Incredible. The recent stretch on that circuit would be like if Tiger Woods, Phil Mickelson, Adam Scott, Bubba Watson and Rory McIlroy just kept switching off winning on the PGA Tour. Yeah, keep dreaming, Tim Finchem.
Jay Haas: The nine-time PGA Tour winner was announced as the U.S. captain for the 2015 Presidents Cup. Haas will match wits with Nick Price, who will captain the International team at the Jack Nicklaus Golf Club Korea. Haas also happens to be enjoying an incredible season on the Champions Tour. In 10 starts this season, he has NINE top-five finishes. Speaking of the Champions Tour. . .
Legends Of Golf: In case you didn't know, the Champions Tour did something pretty cool for this always fun event this year: hold it on a par-3 course. Jeff Sluman and Fred Funk were the winners in this experimental format. Well, Sluman, Funk and slow-play haters everywhere.
Phil Mickelson's U.S. Open chances: After a promising start, Mickelson didn't do much over the weekend, finishing T-11. The good news? That matches his best performance of the season. The bad news? That matches his best performance of the season. Mickelson changed putters and even how he gripped his putter in Memphis, raising even more questions for this week's trip to Pinehurst. It's tough to have confidence in a player winning the U.S. Open when he hasn't finished in the top 10 on the PGA Tour since last August.
Johnny's last U.S. Open: Think people are making too big of a deal about this being Johnny Miller's final U.S. Open at the mic? Too bad. There have been a lot of great things written about this leading up to the U.S. Open and we're looking forward to a great final broadcast by the entire NBC gang. Have a box of tissues handy on Sunday. It could get a little dusty in the booth.
This week's weather forecast: Maybe if we talk about the heavy chance of thunderstorms in the forecast for the week in North Carolina, we'll get lucky and the bad weather won't show. It's not like the USGA is planning on holding another major championship there the following week as well. Oh. Right.
Cue up Yanni's "In Celebration of Man" one more time (tear), it's finally U.S. Open week. The best players in the world not named Tiger Woods will descend on Pinehurst No. 2 for the year's second major championship. Let the games carnage begin!
Random tournament fact: Pinehurst hasn't hosted the U.S. Open since 2005, but it has hosted another major since. Yours truly captured the 2008 HGGA Championship on that hallowed ground. You can look it up. Actually, you can't, so just take my word for it.
RANDOM PROP BETS OF THE WEEK
-- NBC won't show footage of Johnny Miller winning the 1973 U.S. Open: 1 million-to-1 odds
-- The winning score at Pinehurst will be 10 under par: 10,000-to-1 odds
-- The winner will still have a much better score than I did when I played Pinehurst No. 2: LOCK
Natalie Gulbis is getting pretty good at this yoga thing: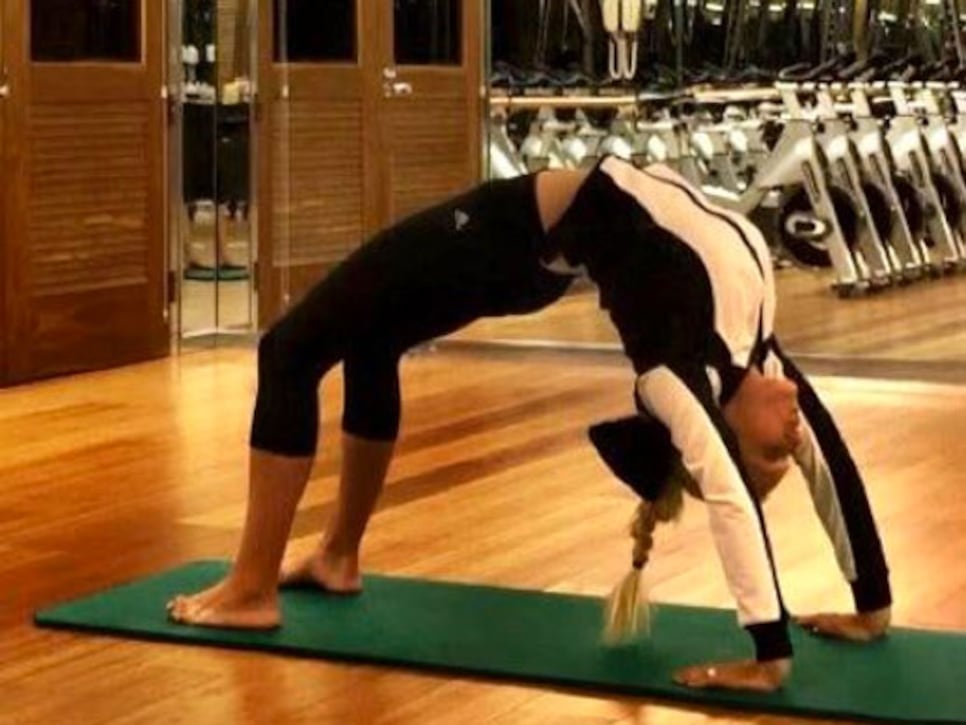 Phil Mickelson's 2014 struggles have been well documented, but it hasn't been all smooth sailing for his caddie, either? Courtesy of Brendan Porath, check out this Vine of "Bones" dropping the ball. Literally.
In a recent radio interview, Hank Haney said Tiger Woods "doesn't try to be a jerk. He just doesn't get it." Guess we can rule out Woods for a future season of "The Haney Project." . . . A tornado blew through a junior golf tournament in Colorado. Scary stuff, but luckily, there was only one broken wrist. . . . An incredible 100,000 hats and 70,000 shirts are expected to be sold at this year's U.S. Open. That's a lot of happy dads on Father's Day. . . . I used to love Starburst as a kid (who didn't?), but it had been awhile since I had eaten them. That was a mistake. They are still awesome.
RANDOM QUESTIONS TO PONDER
Is Phil playing us all for suckers?
Will a horse ever win the Triple Crown again?
Should I buy a hat or a shirt at Pinehurst?