Letter from Europe
The greatest upset in Walker Cup history is still hard to fathom 50 years later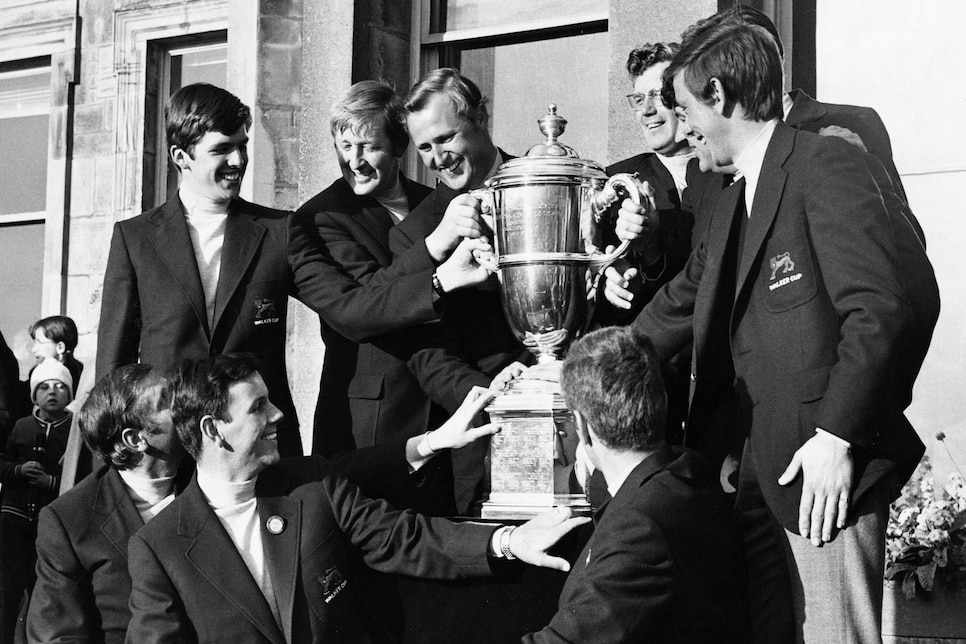 We're not talking once-in-a-lifetime here. Not quite. But half-a-century ago—May 26-27, 1971 to be precise—10 amateurs drawn from the four nations that comprise Great Britain & Ireland won the Walker Cup over the Old Course at St. Andrews, beating the United States by two points.
So what? you may ask, with some legitimacy. That sort of result isn't exactly unusual these days. The Old World has beaten the New seven times in the last 16 editions of this biennial encounter, one that started in 1922 and continues this weekend when the two sides meet at Seminole Golf Club in Juno Beach, Fla., to decide the 48th Walker Cup. Parity has been achieved, or something close to it.
But back in 1971, the notion that America's finest might relinquish the amateur equivalent of the Ryder Cup was close to unthinkable. Not since 1938 had the U.S. lost (there was one tie in 1965) and it wouldn't happen again until 1989. The average margin of American victory in all those wins was nearly 5½ points. Summing up the prevailing pre-match mood, future CBS commentator Ben Wright was in no doubt about the outcome. Writing in the Financial Times, Wright called the GB&I side "one of the weakest in living memory" and announced he would jump into the Swilcan Burn should the home team triumph.
Disappointingly, Wright lived down to his promise after a startling reality played out over the two-day affair, contested on a Wednesday and Thursday, four foursomes games each morning followed by eight singles in the afternoons.
"When we finished, the caddies went looking for Ben," recalls Michael Bonallack, the GB&I captain. "They were going to throw him into the burn. But he escaped through a hole in the back of the press tent."
For the American side, there was no such route to safety in front of knowledgeable but partisan crowds, estimated to be 10,000 strong each day, whose behavior sometimes failed to live up to the level of sportsmanship normally associated with golf in Scotland. While the savviness of the galleries was evident to the visitors, which side most spectators were favoring was equally clear.
"They were very partial," says former U.S. Amateur champion Vinny Giles, 28 at the time, who was making his second of four Walker Cup appearances. "And it was apparent. They would occasionally applaud a bad shot by one of our players. I was very surprised by that."
Poor sportsmanship from the locals aside, a more damning aspect of their eventual defeat was that the Americans entered the second-day singles with a two-point lead, only to receive a 6-2 trouncing in the last session that made the final result 13-11 in favor of GB&I.
Even now, almost 50 years removed from the upset, the surviving members of the 10-man U.S. squad struggle to get their heads round how such a capable side failed to win. Consider the following: Captained by former USGA president John M. Winters, the American roster was supposed to be a potent mix of youth and experience. Lanny Wadkins, Tom Kite and Jim Simons were all 21; Allen Miller a year older. Then there was 56-year old Bill Hyndman, a veteran of five Walker Cups, and Bill Campbell, who was 48 and making the seventh of his eventual eight appearances.
Five of the winning U.S. side from 1969 (Giles, Steve Melnyk, Wadkins, Miller and Hyndman) survived to appear in a team featuring four U.S. Amateur champions in Wadkins, Giles, Melnyk and Campbell and two future major champions in Wadkins and Kite. In all, four of the team (Wadkins, Kite, Miller and Simons) would later amass 44 PGA Tour titles between them.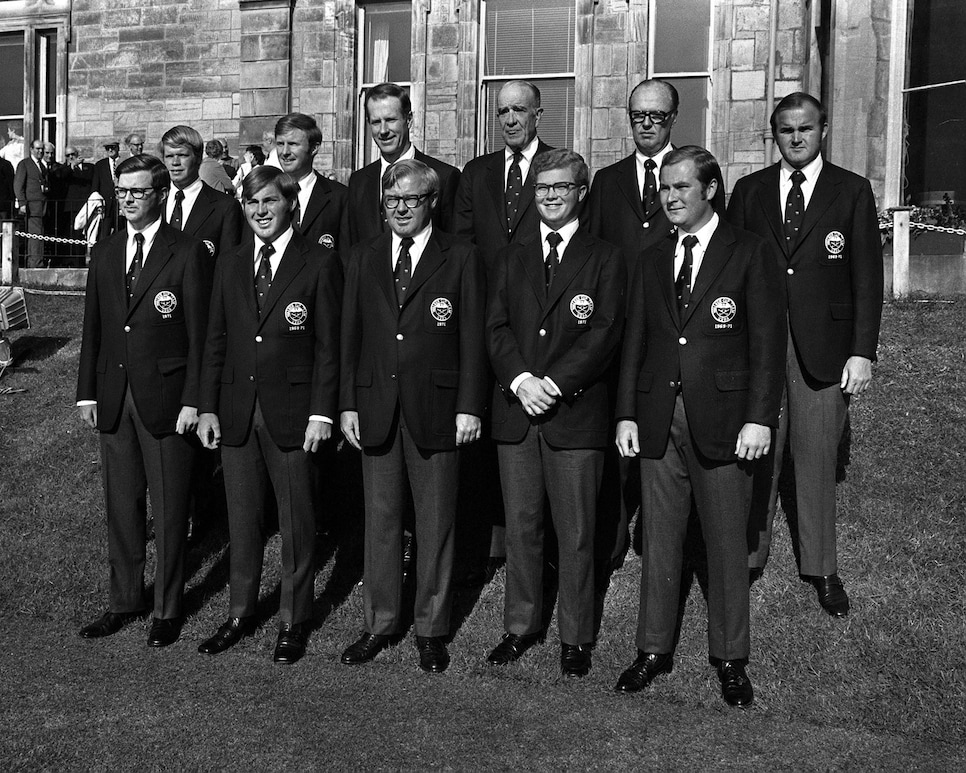 The 1971 U.S. Walker Cup team: Back Row L-R: Jim Simons, Marvin Giles, William Campbell, John M Winters (non-playing captain), William Hyndman, and Steve Melnyk, Front Row L-R: Jim Gabrielsen, Lanny Wadkins, John Farquhar, Tom Kite, and Allan Miller.
Popperfoto
Conversely, a GB&I team containing five rookies was one of the last to be dominated by life-long amateurs. Only two Roddy Carr (20) and the baby of the side, Warren Humphreys (19), would turn professional. And Carr is now a reinstated amateur. As for the rest, they represented a generally older and eclectic mix, all of whom found a range of employment outside golf. Captain Michael Bonallack worked in his father's coach-building business. David Marsh was a family doctor in his native Southport. Charlie Green sold whisky. St. Andrews-born Scott Macdonald owned a degree in civil engineering from Edinburgh University. George Macgregor was company secretary in a paper mill. Rodney Foster and Hugh Stuart both worked in insurance. And Geoff Marks was an architect.
To be fair, the home players also remain a little perplexed at their extraordinary achievement, although more than one did detect possible areas of weakness in the opposition.
"I was impressed by many of the Americans," says Macgregor, one of four Scots in the GB&I team. "Steve Melnyk was really good. Lanny Wadkins was a confident young man, a swashbuckling player. You could tell he was special. But some of them were individuals within a team. They clearly hadn't spent much time together. We all knew each other well, which maybe gave us an edge in team spirit."
And it took only a few holes for another member of the home side to think they might have more of a chance than many suspected.
"I played with Michael [Bonallack] on the first day against Wadkins and Simons," Humphreys says. "After five holes we were 1 up. I turned to Michael and said we had played like a couple of hackers to that point. 'They're not that good, are they?' he said in reply. Which was fine. But as we turned round, Lanny was standing right there. I could see him bristling and thought that might not have been a great move on our part. But we won on the last."
On the other hand, at least one American has a straightforward explanation for the eventual result.
"We simply got out-played," says Melnyk, low amateur in the 1970 Open Championship over the Old Course. "It wasn't that we played badly. They just played better. But I will say I don't think we adjusted too well to the small ball or the firm turf. And it was windy. You either embrace those conditions or you let them beat you. I enjoy all of that, but I'm not sure everyone on our side did."
Maybe, maybe not. But there is little doubt that the Americans were superior talents, a view confirmed a week later. In the British Amateur at Carnoustie, three of the four semifinalists—eventual champion Melnyk, runner-up Simons and Kite—were members of the U.S. side. Only two of the GB&I team (Stuart and Carr) made it as far as the last eight.
"That shot on 18 lives with me still. I remember it like it was last week. I felt terrible. When you lose overall, you remember the shots that hurt you."
Tom Kite
"I will never know how we lost," says Wadkins, who won both his singles matches but came away pointless from two foursomes. "We had four U.S. Amateur champions on our team. We had Kite, a future Hall-of-Famer, and Simons, who led the U.S. Open with a round to play less than a month later. … We needed to win only three of the last eight singles to retain the cup. But the only guys who gave us points were me and Tom. I'm still shocked by that."
Equally eye-popping is that Kite was the only American to emerge with a winning record on the week. "It was arguably one of the best U.S. teams ever," says the 1992 U.S. Open champion, who was making his lone Walker Cup appearance. "It was really good. But too many individuals just didn't perform, especially over the closing holes, which was a weird deal."
Speaking of which, the legendary eccentricities of the Old Course have been cited by some as at least part of the problem, especially for the first-time visitors. Kite recalls sitting in the bus from Edinburgh Airport en route to St. Andrews and asking the experienced Campbell and Hyndman for their impressions of the most famous 18 holes in golf. The response to his double-barrelled query, "Is it hilly or is it flat?" is telling.
"The funny thing is they didn't know how to answer the question," Kite says. "'Basically, the terrain is flat,' they said. 'Except it's not.' Then they laughed."
Leading the GB&I side as the last playing captain, the 36-year-old Bonallack commanded huge respect. But the five-time British Amateur champion and future knight of the realm had yet to play on a winning side in a Walker Cup. Which didn't mean he wasn't hopeful. His feeling that the storied venue could be GB&I's 11th man was born out by what he witnessed over the two days.
"We had a very young team," he says. "Not many had played in a Walker Cup before, which was a good thing. They weren't used to being beaten regularly. The Old Course helped too. The Americans didn't appreciate how to play it as much as our team did. We were used to 'seeing' the pitch-and-run, while they were hitting high wedges to hard, fast greens."
Not always though. In what was clearly a turning point, Campbell drove into a divot off the 18th tee for the Americans during the second day foursomes. His partner, Kite, was left with little option but to attempt a pitch-and-run through the Valley of Sin. It didn't come off. The ball finished in the famous dip fronting the green, from where the Americans three-putted to let Foster and Macdonald escape with a crucial square game.
"Tom was unfortunate," Macdonald recalls. "It wasn't a shot he was used to. But that half-point gave us all hope. It was a palpable feeling."
Indeed, instead of the U.S. entering the final singles session with a three-point lead, the advantage was only two. A small difference statistically, but huge psychologically. And mental scars remain.
"That shot on 18 lives with me still," Kite says. "I remember it like it was last week. I felt terrible. When you lose overall, you remember the shots that hurt you. We had those guys down and didn't step on them. We gave them the opportunity to hang around. And they took their chance. Then we got smoked in the afternoon singles."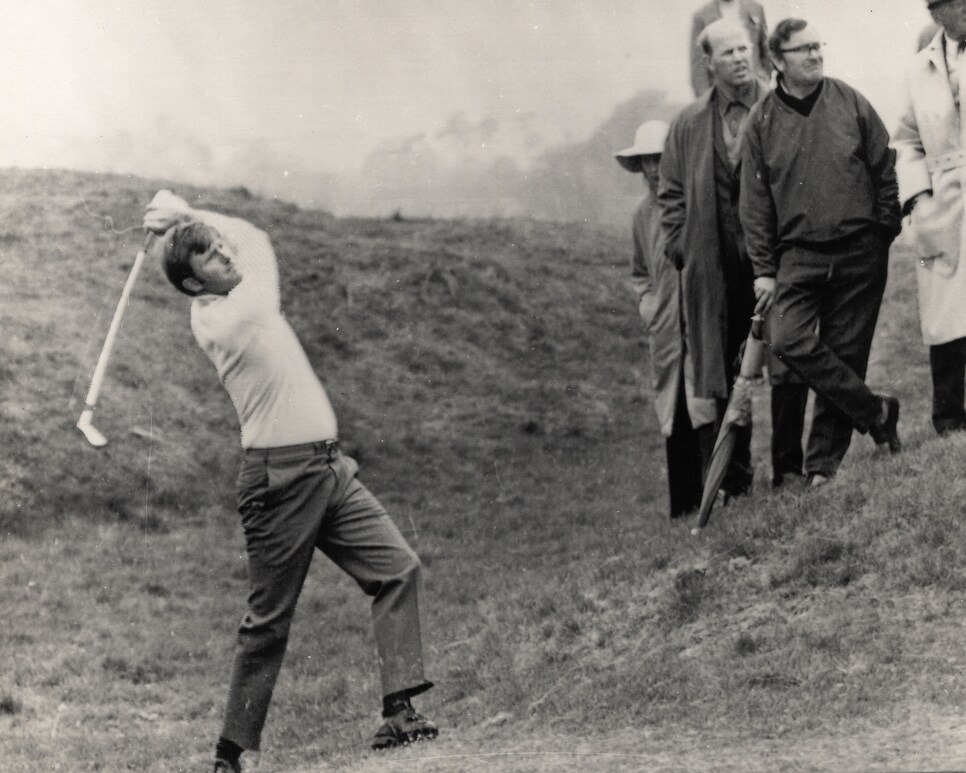 The memorable victory of Vinny Giles (shown) for the U.S. in Day 1 singles over Michael Bonallack was a highlight as the Americans took the lead.
Courtesy of the USGA
That the most important element of team golf—momentum—should swing in favor of the home side wasn't a surprise. Right from the start, the matches had a back-and-forth rhythm. Watched by every member of both teams from the 1938 matches, GB&I lunched 4-0 up on the opening day. But by the end of the afternoon singles, normal Walker Cup service had ostensibly been restored. The U.S. led 6½-5½.
"The mood in our camp changed dramatically over the course of that day," says Stuart, who would win his three matches. "At lunch there was a buzz in our team room. By the evening that feeling had gone, but there wasn't any real despondency. The matches were still close."
That was certainly true of the first-day singles that seemed to turn the contest in America's favor. Five of the eight went to the final green, Game 2 between Bonallack and Giles the most eventful. With the match all-square on the 17th, the Englishman's ball sat four feet from the Road Hole flag after three shots. Also in three, his opponent was on the eponymous public thoroughfare that runs alongside the putting surface. But things were about to change with dramatic effect.
"I had basically no chance," Giles says. "I tried an explosion shot, but it was just a blind stab. The ball took one bounce, hit the flagstick and shot down into the hole. Shocked, Michael dropped his putter, then missed his putt. And I went on to win 1 up. The headline in The Scotsman newspaper the next morning called my shot, 'A most dastardly act.' Perfect reporting."
Almost a year later, Giles attended the amateur dinner at the Masters. Halfway through the proceedings, then R&A secretary Keith Mackenzie stood up and presented Giles with the flagstick and flag from the Road Hole. Today, both hang in the family room at Giles' home in Richmond, Va. No other evidence of the many honors won by the now 78-year-old during a prolific career in golf is on display.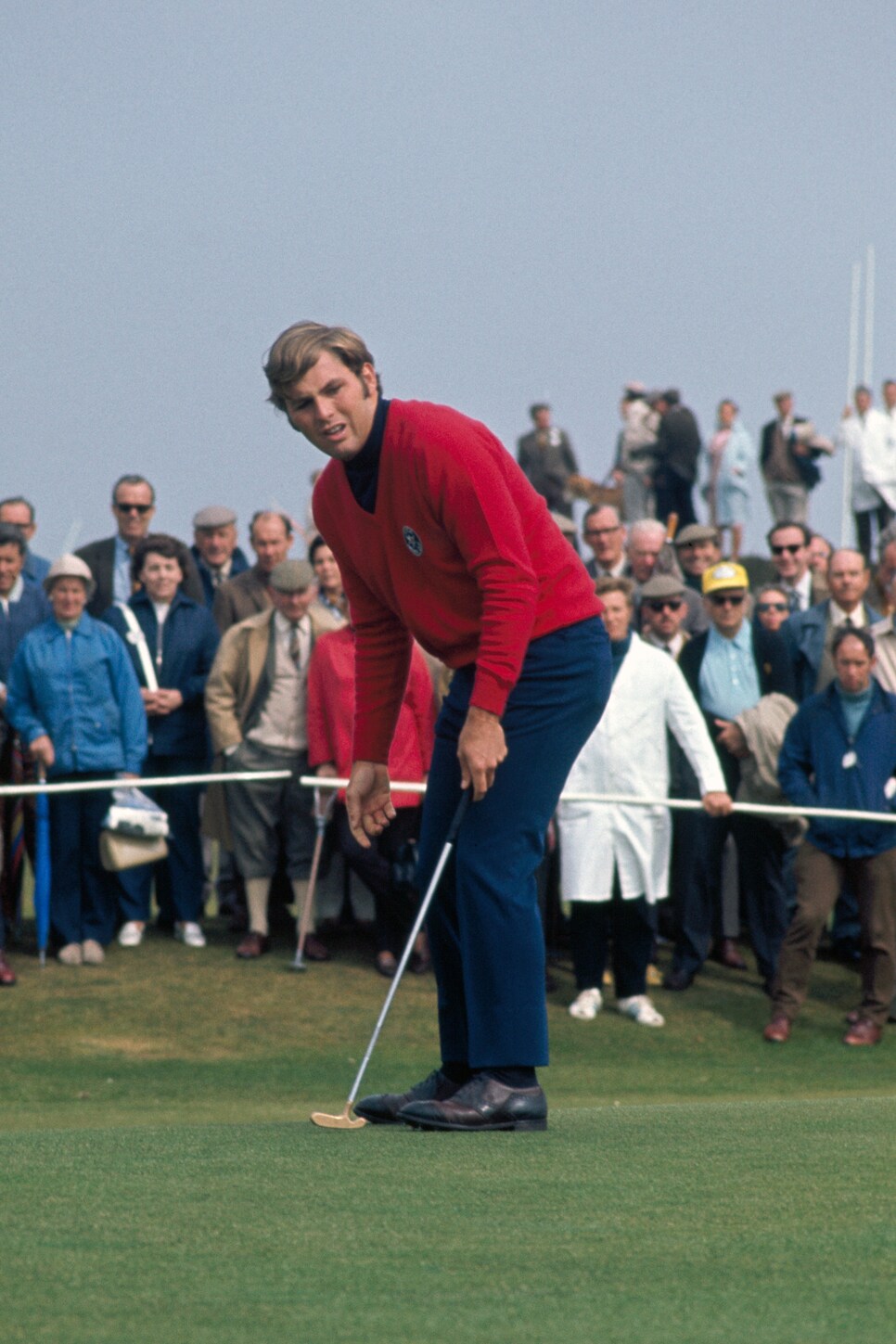 Lanny Wadkins was one of only two Americans to win his Day 2 singles match.
Ed Lacey/Popperfoto/Getty Images
Still, no matter how dear that shot and its eventual tangible rewards are to Giles' heart, 24 hours later his stunning exploit was largely forgotten as the Americans extended their lead in the morning foursomes. Going against the norm, Bonallack retained only one of his four winning pairs from Day 1, a strategy that resulted in his side falling another point behind. But he remains unrepentant.
"Our great start on the first morning turned into a disaster in the afternoon," Bonallack says. "So I thought we should start again in the second series of foursomes. I wanted fresh thinking. I didn't want them dwelling on the lead we had lost the previous day. But it didn't quite work out."
Not immediately perhaps. But Bonallack's unorthodox decision did have an unintended consequence. The afternoon singles were marked by a stream of long putts holed by fired-up home players. Performing starring roles in that department were the two youngsters, Humphreys and Carr.
"I was so angry not to be picked for the second foursomes," Humphreys says. "When I got to the first tee against Melnyk I was so charged up. I holed one from 30 feet on the first, the ball jumping into the air when it hit the back of the cup. All because I was trying so hard to prove my captain wrong.
"Later, I holed from 20 feet on the 14th. Then I made one from 50 feet on the 15th. I looked at Steve's face when that one went in and thought, 'I've got him.' He clearly thought he should be beating me and started to press a little. When we shook hands on the 17th green, Steve didn't look me in the face. He was so pissed off."
As for Carr, his match with Simons also contained an element of animosity. The American uttered not a single word to his opponent and played at a pace best described as funereal. On the 18th green. Carr was 1 up and 30 feet away in two; Simons 10 feet closer and also putting for birdie. In all likelihood, the Irishman had two putts to secure victory. But, assisted by iconic local caddie, 'Tip' Anderson (Arnold Palmer's long-time bagman in Britain), he would need only one.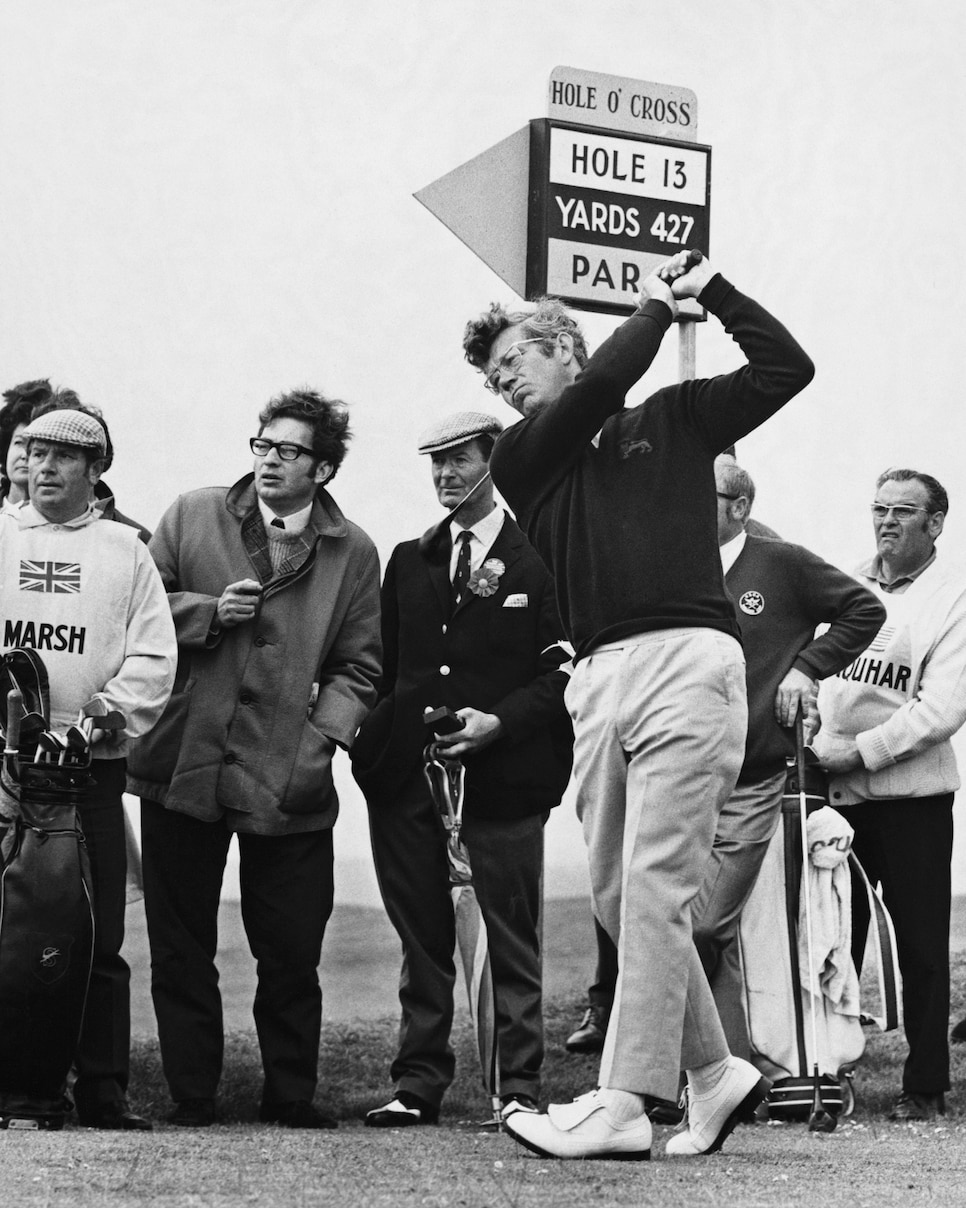 David Marsh, who would go on to become a family doctor in his hometown of Southport, England, clinched the Walker Cup for GB&I with his Day 2 singles victory.
Hulton Deutsch
"Tip and I agreed the putt would break a little from the right," says Carr, whose father, Joe, played in 11 Walker Cups between 1947 and 1967. "And when the ball fell in, my Dad came running onto the green, totally against protocol. He had been more nervous watching me than he ever was playing. And he gave me the biggest hug. It meant so much to him."
Still, for all their heroics, both Carr and Humphreys are happy to cede "shot of the day" to Marsh. The long-iron approach the now-retired Southport general practitioner struck to the almost peerlessly elusive 17th green has since assumed legendary status within the packed annals of British amateur golf.
"I was there when David hit his 3-iron to the Road Hole," says teammate Foster. "It was a fantastic effort. The ball came out low, landed short and ran up to about 15 feet. In the moment, it was the perfect shot. I'm glad to have seen it. That shot won us the Walker Cup."
It did, but only after an unusual preamble.
"I had just over 200 yards to go," remembers Marsh, who was 1 up on Hyndman and had Alfie Fyles (caddie for Tom Watson in all five of his Open Championship victories and a fellow Southport native) on the bag. "I was looking at my shot when I noticed a wee chap standing close by. He had a bike, was wearing a white coat and was holding a rake. When the game finished up ahead, my new friend told me he was going to rake the sand in the Road Hole bunker. Just in case. So I stood back and watched him cycle down there. He raked the sand and gave me a wave, as if to say, 'on you go.'
"Then I hit it. The ball started down the right side of the fairway but it had a bit of draw on it. Alfie was imploring it to hook. But it was on a good line."
Two putts later, Marsh was dormie, guaranteeing at least a half-point (which were counted for the first time in this Walker Cup) and clinching his side's victory.
"I will never know how we lost. We had four U.S. Amateur champions on our team. … I'm still shocked by that."
Lanny Wadkins
Let the celebrations begin, memories of which understandably vary in both accuracy and clarity.
"There was a bit of a party in the clubhouse," agrees Macgregor, a tee-totaller. "The trophy was filled with champagne, much of it spilled on the carpet in the 'big room.' I remember seeing a few casualties lying about the hotel later that night. Joe Carr was in the middle of it all."
"We weren't drinking too much that night," Roddy Carr says. "We were exhausted. But I do recall the formal dinner. The Americans were not comfortable losing, except Hyndman and Campbell, the older guys. Both came over to say 'Well done.' But the other guys did not. They couldn't wait to get out of there."
"We exchanged ties at the dinner," Melnyk says. "Some of the GB&I players were a little over-served and made their way out onto the course late that night."
"We were still up at 2 a.m.," Stuart confirms. "I was drinking orange juice at that point, having had enough alcohol. Charlie [Green] took my glass and threw it into a fireplace. 'What the hell are you drinking that for?' he asked."
"The bar shut at, I think, 3:30 a.m.," Foster says. "I remember Charlie shaking the cover on the bar and asking them to open up. 'We're not finished yet,' he called."
While the victors enjoyed their moment, the losers indulged in a sometimes contentious post-mortem. In particular, the U.S. side's questionable pre-match preparation came under scrutiny, as did at least one controversial pairing.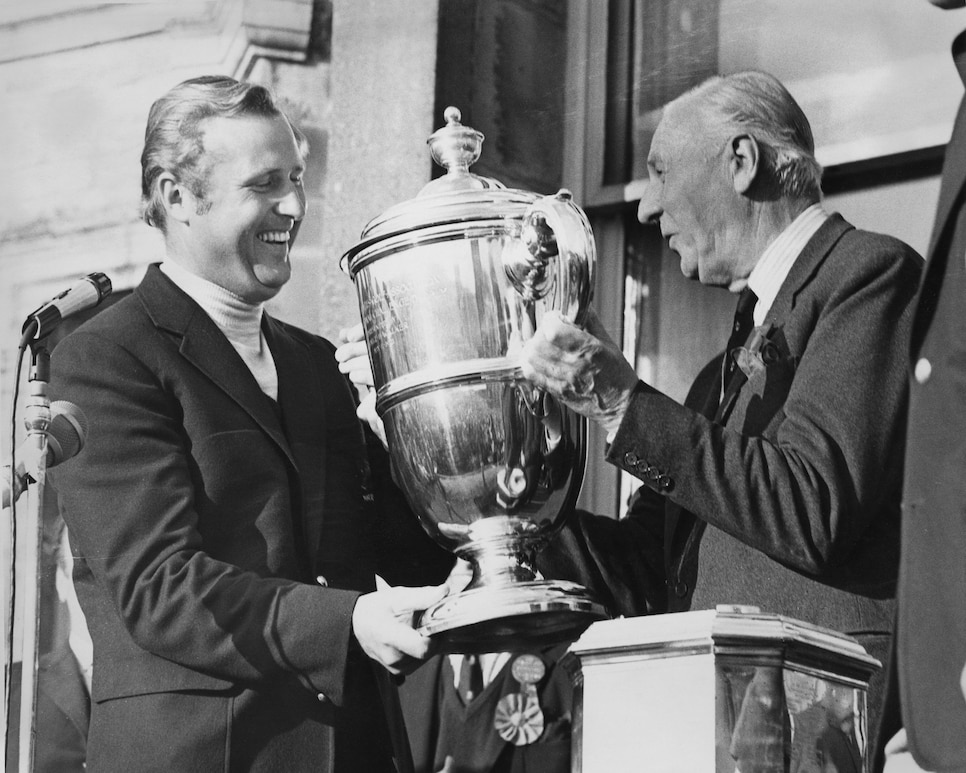 Michael Bonallack was playing in the eighth of his nine Walker Cups in 1971. The five-time British Amateur winner was the last playing-captain in GB&I history.
Cowper
"We went to Gleneagles in the middle of our practice days," Wadkins says. "That is a strange place to be when preparing for a match at St. Andrews. Then, on the second day of the match, our captain made a puzzling decision, especially when you are talking alternate shot. He put me with Jim Gabrielsen, who I had never played with in my life. That made no sense."
Neither, at least briefly, did the morning after for Humphreys and Bonallack. The pair had arranged to drive from St. Andrews to Carnoustie for the aforementioned British Amateur.
"Michael had the Walker Cup with him," Humphreys says. "He had to sit with it in his lap, his knees close to his chin. About 20 minutes into the journey we realized that neither of us knew the way to Carnoustie. We ended up going back to St. Andrews and starting again. Michael laughed the whole way. He was so happy. Winning the Walker Cup meant more to him than anyone else I think."
No doubt. And not even Vinny Giles' amazing Road Hole shot could spoil that feeling.