The Greatest Golfer for a Day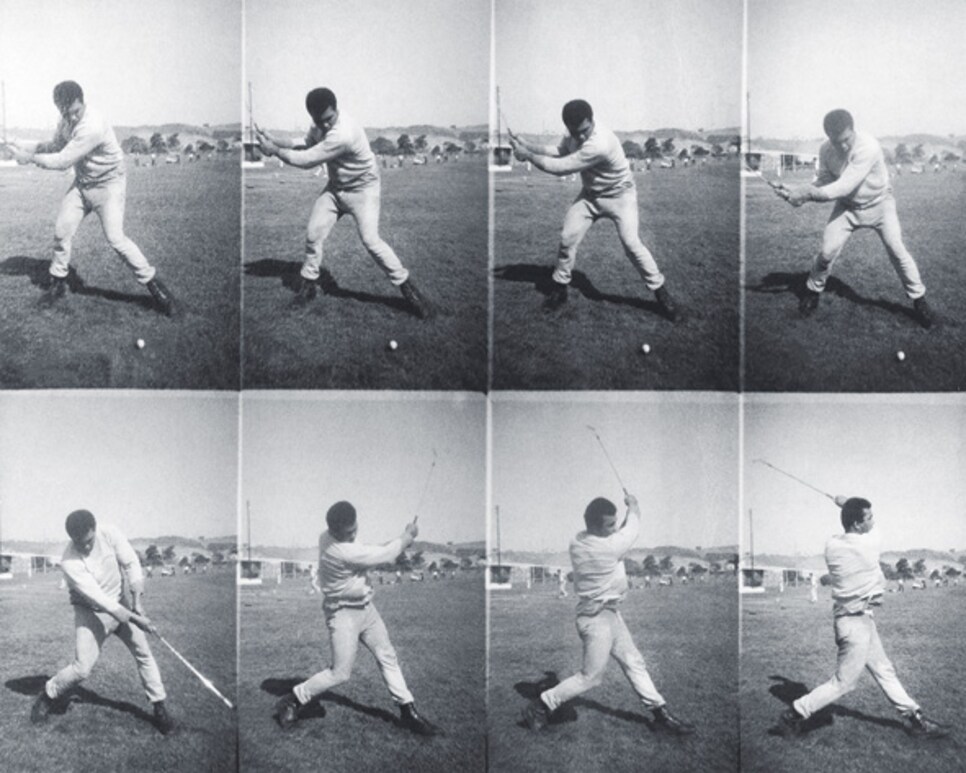 In a year when brash talk is getting so much coverage in the media, it's ironic that the brashest talker of them all slipped away without a word. Muhammad Ali died at 74 from the ravaging effects of Parkinson's disease, and even golf paused for a moment of silence.
The heavyweight champion was never known to be a golfer except for one afternoon in March 1973. He was training for a fight against Ken Norton in San Diego. One day Ali showed up at the Stardust Country Club (now the Riverwalk Golf Club) near his training camp. The associate pro, Brad Wilson, would later write an article for Golf Digest on his encounter.
Wilson was watching San Diego Chargers defensive end Deacon Jones hit balls on the range when Ali's trainer, Angelo Dundee, approached and began talking to Jones. Then Ali appeared, dressed in a gray sweatsuit and wearing weighted running shoes for a jog on the course. Wilson asked if Dundee thought Ali would be willing to swing at a golf ball. "Ali's his own man," Dundee replied.
When Ali returned, dripping with perspiration, Dundee introduced him to Wilson, who asked if he would make some golf swings while Wilson took pictures with his Polaroid sequence camera. According to the Golf Digest article published in October 1974, Ali agreed, and Wilson handed him an 8-iron. "How ya' hold this thing?" Ali said. Wilson put his hands on the club in a baseball grip and said, "Just do whatever feels natural."
Ali hit the first one about 140 yards straight down the middle and shouted, "How 'bout that, Angie! You didn't know I was a champion golfer, did you?" Wilson wrote that Ali's form showed a good shoulder turn, flexed knees, with his hips and legs leading the downswing, right elbow tucked, head down and eyes fixed on the ball.
He hit another solid shot. "Look at that ball go! Nobody can knock the ball that far. Nobody but me, the great, the one and only Muhammad Ali," he declared. "Hey, Angie, let's quit boxing and start playing golf.... That ball can't hit back!"
Those were his last golf swings that we know of. He lost to Norton in a 12-round split decision. (Ali's only previous loss was to Joe Frazier.) The next year, Ali won back the heavyweight championship by knocking out George Foreman in Zaire in what was called The Rumble in the Jungle.
Our longtime contributor Tom Callahan was there. "At N'Sele, [president] Mobutu's San Clemente estate, Ali came into a press agent's hacienda, where a lot of writers were sitting around," Callahan says. "Checking out the betting pool on the wall, he saw I was picking Foreman in one—George had hit Frazier and Norton like an iron ball hits a tenement. Ali invited me outside. We walked over to the Congo River. It was dark. Only shadow shapes of hyacinths were visible, floating on the water. 'I'm going to tell you something,' he said, 'and I don't want you ever to forget it. Ready? Black men scare white men more than black men scare black men.' " Ali evolved from brash boaster to international statesman over the years, from winning his 1960 Olympics gold medal in Rome to carrying the torch and the world on his shoulders at the 1996 Games in Atlanta. When golf enters the Olympics this year for the first time in a century, new heroes will be crowned, but none like Ali.
Ali once apologized to the great Joe Louis for some of the unkind things he had said about him in his youth, calling him an "Uncle Tom." Louis was a hero in the house I grew up in. My father, a World War II veteran, had listened on the radio to Joe Louis knocking out the German Max Schmeling in 1938, a victory that inspired a nation about to go to war.
Joe Louis' full name was Joe Louis Barrow. His son, Joe Louis Barrow Jr., is now the chief executive of The First Tee, the junior golf program that teaches life skills in more than 7,000 elementary schools today. "I remember Ali coming up to me at my father's funeral [in 1981]," says Barrow, "and saying that he believed my father was the greatest. That meant a lot. To me, Muhammad Ali was a hero and certainly the greatest when I was growing up. They both made a great contribution."
During an annual conference in Louisville several years ago, Barrow invited Ali to meet The First Tee national trustees at the Muhammad Ali Center. He was seated as he greeted us one by one and posed for a picture, unable to say a word. I remember leaning down and thanking him for his service to the world. "His eyes lit up when you spoke," Barrow said to me recently. I only remember the silence.
MY TOP-FIVE OLYMPIAN GOLFERS OF ALL TIME
1. Babe Didrikson Zaharias
The greatest female athlete of all time won two golds (javelin and hurdles) and a silver (high jump) in 1932 and won three U.S. Women's Opens. Case closed.
2. Michael Phelps
The most decorated Olympian of all time with 22 medals in swimming, including a record 18 golds, but struggles to a 15-handicap.
3. Jesse Owens
Played a little golf in his later years after four golds in track and field in 1936, when he sent Hitler to the showers.
4. Johnny Weissmuller
Swimmer won five golds in swimming; legend has it that after being surrounded by Cuban rebels while playing golf, he was freed when they recognized his Tarzan yell.
5. Caitlyn Jenner
Formerly known as Bruce Jenner, the 1976 decathlon gold medalist is an avid golfer.