If anything was clear after walking the aisles at the PGA Merchandise Show last week in Orlando, it was this: At least from the perspective of the golf industry, a Donald Trump presidency will not be viewed like a Barack Obama presidency.
Whether that will be good for the business of the game isn't as clear.
Trump, the most avid golfer and golf businessman ever to hold the country's highest office, has a chance to shape the economic direction of golf just as he shapes that of the country. Indeed, his success in the latter all but guarantees his success with the former. If the economy improves, jobs are created, taxes are lowered, golf will benefit. Same as it ever was. And when American golf is thriving, global golf is thriving.
Precisely because of the sheer size of its literal and figurative golfing geographic import, the enormous presence on the world stage of golf's U.S.-based numbers cannot be overstated. Conservatively, more than 40 percent of the world's golfers are American. More than half of the world's golf courses are in the U.S. (15,372 of 29,901). Nearly 42 percent of the more than $8 billion in worldwide golf equipment sales come from the U.S., a billion dollars more than No. 2 Japan. Unequivocally, the game's economic vigor, despite its increasing global reach, is fated to be led by America.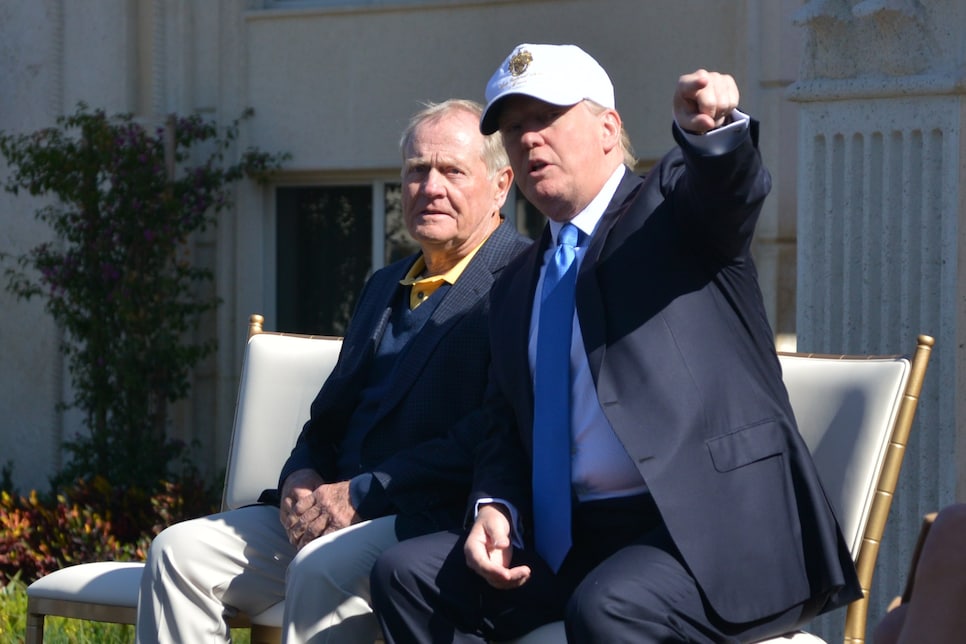 While few gathered in Orlando were willing to comment directly on the effect President Trump might have on the game's momentum, most agreed the game, its business and the President seem more uniquely entwined than at any time in history.
The possibilities for Trump's role in golf's economic future blanket both sides of the spectrum in equal measure.
"The golf market is at a major turning point," said Takashi Mizukoshi, president of Tokyo-based Yano Research, which studies the business of golf in Asia and Japan. Mizukoshi was speaking about the state of the game in his native country as it prepares to be the next host of the Summer Olympics in 2020, but his words ring true in a global sense, too.
A report produced by Yano and U.S.-based Golf Datatech on the world golf market suggests that units in all categories are flat to down, while prices have escalated dramatically. It's a business model that cannot be sustained, and one that needs to see growth from some place and perhaps through someone in particular.
Tiger Woods? In a fantasy throwback time-machine world, perhaps. In reality, it may be President Trump who holds the keys to golf's potential growth engine going forward, both at home and abroad. But no one walking the aisles of golf's mammoth trade show seemed certain which direction Trump might take us, toward or away from the golf course or any other known proven geopolitical strategy. The possibilities for Trump's role in golf's economic future blanket both sides of the spectrum in equal measure.
"I'm not going to talk about his potential politics," said Pete Bevacqua, PGA of America CEO. "I just think what's going to be good for golf certainly is the fact that the President of the United States loves the game, that the President of the United States plays the game, has obviously supported the game. That's got to be good for the game."
Said another industry veteran with three decades of experience on the manufacturing and retail sides of the business, speaking on the condition of anonymity: "I really have no idea because I have no idea what is actually going to happen to the economy under Trump, and not knowing that makes it hard to predict how golf makes out. If the economy starts rolling, it usually ends up being good for the game, but if we start running into international problems, especially international trade problems, it could go the other way, maybe quickly."
How specifically President Trump might or might not push the game forward is the deeper question, especially for the golf business. By their very nature, golf courses, golf retail and golf manufacturing are so many collections of small businesses. The President has pledged his support for small businesses, and as one executive for a small putter manufacturer told me, "It's been great for us. We're excited about him being president. We think it's going to be an immediate cut in our business tax rates. We can't wait."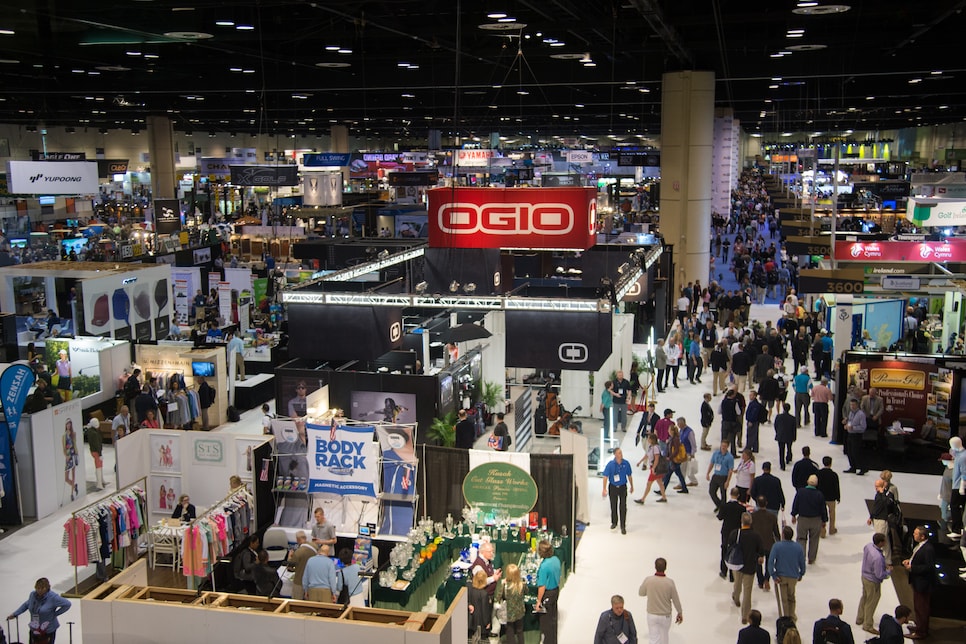 But that same manufacturer has a business that reaches global markets, while other U.S.-based golf manufacturers have huge domestic revenues fueled by manufacturing operations based largely in Asia and specifically China. As is well documented, President Trump has been stern in looking to renegotiate trade deals specifically with China, where the vast majority of golf clubs, apparel and accessories are made. If a new deal with China led to higher tariffs, it's not inconceivable that this surcharge could lead to even higher prices for golf equipment, not exactly the recipe for growth the game needs in its current state.
"But," suggests a long-time industry insider, "what if Trump pressured these manufacturers to bring their manufacturing back to the U.S.? Wouldn't that be good for the game and the business and the country?"
Not in and of itself, of course. It doesn't seem likely that President Trump would think of treating a Callaway or TaylorMade like a Carrier or Ford by pressuring companies that are long removed from manufacturing their products in the U.S. to reestablish their manufacturing business domestically.
Unlike the automakers or air-conditioner manufacturers, golf club and accessory manufacturing jobs in the U.S. haven't really existed in wide scale for the better part of two decades. Plants wouldn't simply be re-opened; they'd largely have to be built in the first place. That's particularly true for things like titanium casting operations, which have been developed and perfected for the last 20 years in Taiwan and China.
'We anticipate that the golf industry will receive more even-handed treatment from Washington than it has received in the past,' said one industry executive
And, of course, the current, relatively affordable pricing for golf clubs has the benefit of artificially low labor costs in China, something that would not be immediately possible if manufacturing were moved back to the U.S.
It's more than a little complicated, says Tom Gocke, global vice president of bagmaker Ogio International, which was recently acquired by Callaway. "We have tried in the past to be able to open an assembly facility in Oxnard, Calif. Unfortunately, the administration change [in 2009] slapped some heavy import duties even if we were building in the U.S., so we had to move it back over to Asia. So we had been lobbying to try and actually get those duties reduced so we could bring more of the jobs over here and do more of the assembly over here. And I think with Donald Trump we may have a better shot of making that happen.
"Right now, it's too advantageous to manufacture or assemble golf equipment overseas. It takes two and a half hours to build a golf bag. It's 220 steps. When you do that with the labor rates in China, certainly the amount is a different cost structure. We sell a bag for $199. If we build it here, we would have to start nearly at $500 for the same bag, based on the labor difference. And we would love if we could sell a bag for $500. But nobody is going to buy it and we'll all be out of jobs."
And yet, Gocke remains bullish on Trump.
"I think my hope is that he's going to lower the tax rate here in the U.S.," Gocke said. "I'm fine if he wants to raise the import tax because we want to actually move it here. And if we can drop 20 percent here and offset the 20 percent reduction in labor, [that would work]."
NEW LEGISLATION, NEW QUESTIONS
Aside from the global business of golf manufacturing, even as Trump climbed the Capital steps for his inaugural address, his first priority was and remains domestic. And that most certainly could impact how golf is viewed, played and, of course, legislated.
First, it's clear that Trump is interested in freeing businesses, especially small businesses, from government interference. In a Trumpian perfect world, that could mean lower health-insurance premiums, increased use of guest-worker visas and reduced costs due to a revision in the rules governing overtime—all elements with uniquely relevant ties to the golf business. In an email to Golf Digest, Henry Wallmeyer, president and CEO of the National Club Association, thinks Trump represents a welcome change for small businesses, which is what golf clubs are.
"We anticipate that the golf industry will receive more even-handed treatment from Washington than it has received in the past," Wallmeyer said. "President Trump is a private club owner himself. He understands that clubs are small businesses and that onerous regulations can undermine the success, not just of private clubs, but of any small business."
From a golf course maintenance standpoint, could a Trump administration also ease some of the environmental restrictions that may have hindered the cost of building and maintaining golf courses? Or will the Trump Administration's hard-line position on undocumented workers present issues for the many golf courses that rely on undocumented immigrants on their maintenance crews? A 2008 survey of golf course superintendents revealed 10 percent of those in the survey said they had had a worker deported.
Will a Trump administration seek to revise some of the Environmental Protection Agency's controversial Waters of the U.S. rule, which would expand government authority to the smallest drainage ditch or treatment pond on the smallest golf course? The rule is currently opposed by a golf consortium that includes the PGA of America, the National Club Association and the Golf Course Superintendents Association of America, and a recent article in Politico suggested "opponents condemn it as a massive power grab by Washington" and the Obama administration. That of course is the kind of language that could instigate change by Trump and his supporters. The rule has been stalled through legal maneuvering of opponents, and the NCA's Wallmeyer said it "would have required golf courses to receive a federal permit to apply chemical and fertilizers to all course land. The costs, in both time and resources, could have been devastating." It's not likely to be brought back to life by a Trump administration that's clearly shown disdain for governmental regulation, and in fact, Republican senators already introduced a resolution to repeal the rule.
For its part, golf's leaders see a repeal of the WOTUS rule as an opportunity to showcase the game's responsible leadership in water use and resource management. "The rule created more uncertainty, and our members need clarity here," said Robert Helland, director of congressional and federal affairs for the GCSAA. "We want people to know that golf course superintendents understand what's necessary to keep a professionally superior playing surface while also protecting the environment."
Helland made the point that golf's role in best management practices with respect to the environment will be a key part of the slew of meetings golf's leaders have with government agencies and officials in April at National Golf Day. He is likely to remind naysayers that golf course water use by irrigation amounts to about 0.5 percent of the nation's daily irrigated water use.
Having Trump as president doesn't change the intensity of the golf industry's message. Golf's efforts over the last two decades as environmental stewards are well-documented. The perception that eliminating oversight from the EPA in some way might lead to a careless disregard for environmentally sound facility management ignores how golf course superintendents have conducted their jobs over the years.
"Golf gets that it has a story to tell," Helland said. "Yes, there's a golf course owner in the White House, but there's not just one person making all these decisions. It's a multi-faceted process so we never look at this as a one-size-fits-all approach. We need to keep talking on these issues and that work never stops. It wouldn't have stopped no matter who won the White House."
Meanwhile, will a Trump administration seek to change the IRS restriction that removed golf green fees and other country-club expenses from being a legitimate business-expense deduction? On the surface, it seems like a natural bonus for golf. Returning the tax benefits of playing more golf to what it was in the Bush-Clinton-Bush years could have a profound effect. Golf's participation rate in the U.S. grew from 21 million in 1987 to 30.5 million in 2003.
Of course, the new administration's approach to the tax code is to simplify and reduce deductions, so adding a deduction that's already been removed from the books may be doubly difficult. Still, as Wallmeyer explained, "if the final tax-reform package actually lowers the overall tax liability for members of private clubs, the return of this deduction may not be as important."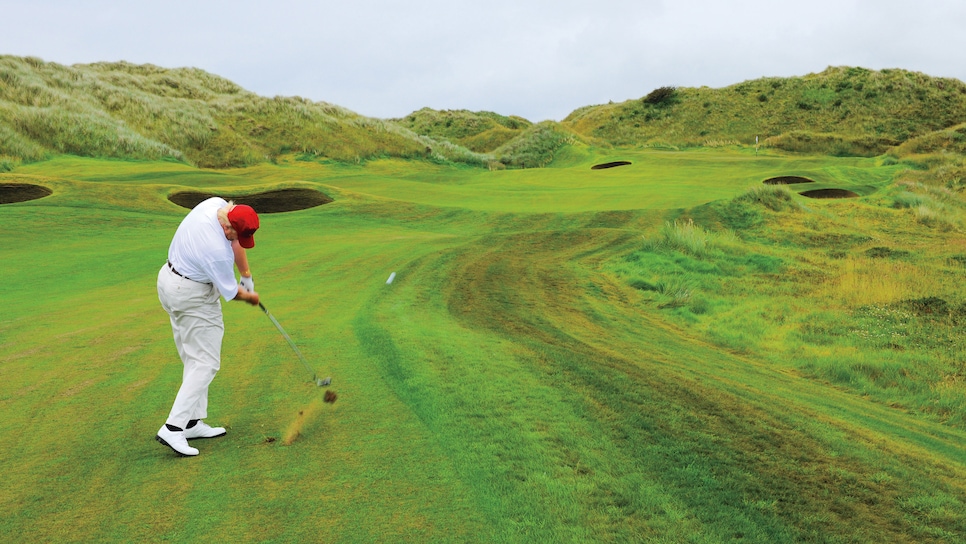 Courtesy of the Trump Organization
Whether Trump may or may not have taken the necessary actions to ethically distance himself from his golf portfolio, the President still has golf in his blood. And the golf industry not only believes it's a good thing, but that it will be an effective thing.
"The fact you have a president who is such an avid golfer, who has actually spent a lot of time acquiring and developing golf courses, it's good for the game," said Paul Levy, president of the PGA of America. "There is no doubt he's someone who is bullish on the game of golf. I hope that the president is successful in enhancing jobs and creating more jobs for America. Who wouldn't be? We love our country. We're a patriotic group. I want to see America be successful."
But anything a Trump Administration might do for golf, just as with anything the Administration proposes for any industry, lives on a razor's edge. Those in golf who see Trump as a positive force for all facets of the game, including participation, still note with some reservation that the President's current divisiveness could put golfers and those in the golf industry as Trump stand-ins on the local level. Said one national retailer, "It's not a stretch to say protesters associate Trump with golf. So in my mind I have to wonder, does that put my business in the line of fire if an anti-Trump protest gets out of hand in my neighborhood?"
Whether Trump plays anywhere near the 306 rounds President Obama played in office (he has already said he'll be focused on other things than his golf game), it seems fair to say that his rounds will be viewed differently. His many personal ties to the golf community mean his commitment cannot be measured in how many rounds he played but perhaps ultimately in how many rounds all golfers play. Undoubtedly, and moreso than Obama's, Trump's rounds will be more public, and how he carries himself in those settings seems just as likely to grow the game as it does to make it appear outside the grasp of the common man.
Indeed, Trump's first public discussion of golf since taking office was a report of an expressed desire to play golf in front of the Queen of England. It might be the most photographed round of golf by a sitting president since Bill Clinton played in the Bob Hope Chrysler Classic Pro-Am with George H.W. Bush, Gerald Ford, defending champion Scott Hoch and the tournament host himself more than two decades ago. But the venue, a nine-hole course on the private property of the Queen's Balmoral Castle, might not exactly enhance golf's image as an accessible everyman game.
Of course, the visit already has been met with protests and calls that it be cancelled. So with Trump, it seems, golf gets nearly as much leadership and momentum as it does controversy and consternation.
"When it's all said and done," said the PGA's Levy, "having a golfer in the White House is better for the game of golf than not having a golfer in the White House, period."