The GOAT: When Tiger stared down Jack
Two dominant players, one iconic setting, and the game's ultimate title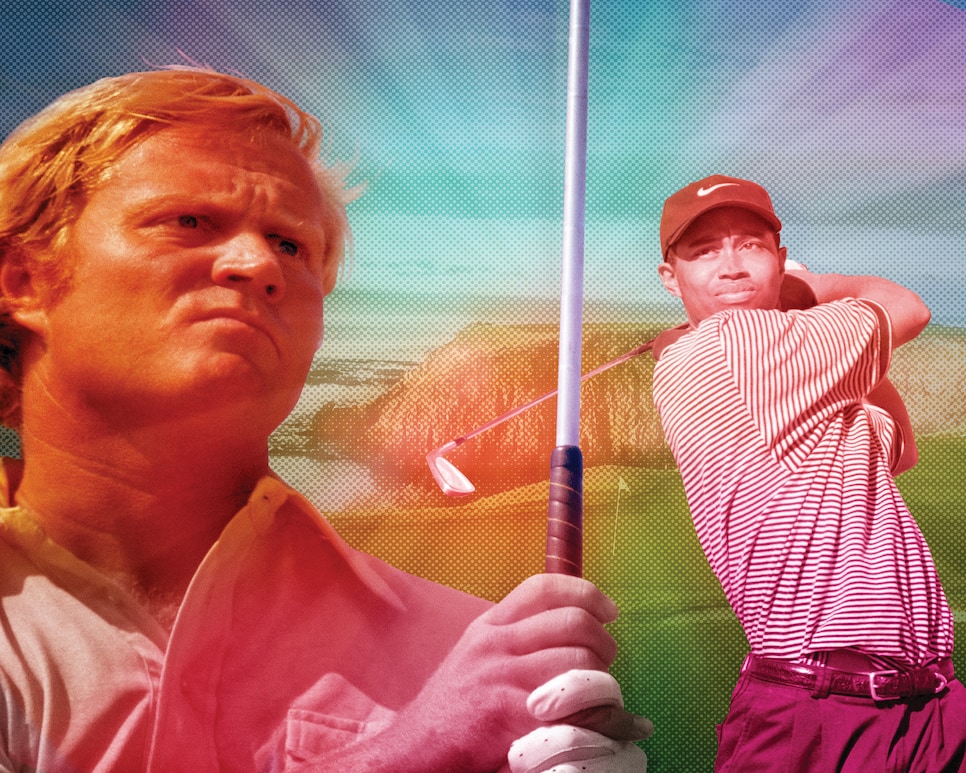 At precisely 9 a.m., Pacific Daylight Time, the official starter stepped to the microphone beside the first tee at Pebble Beach.
"Welcome to today's final match in Golf Digest's Greatest of All Time Invitational," said Walter Hagen, dapper in an immaculate tuxedo. "Eighteen holes of match play between our two finalists to identify the best player who ever lived … " He coughed, and barked out: " … not named Hagen."
"Stick to the script, Walter," said Joe Dey, the dean of USGA executive directors, standing right behind him. Hagen covered the mic. "Look, pal, I basically invented pro golf and won 11 majors before Bobby ever sniffed a dogwood at Augusta, so I still don't get how I lost to Mickelson in the second round."
A few of the other players who'd been eliminated, close enough to hear this, chimed in.
"Get a grip," said Harry Vardon.
"I told them they should have let me do the intros," said Gary Player, to anyone who would listen.
"Now tell 'em how much you lost on our side bet, Walt," said a grinning Lefty.
"Tell the one about why you're wearing the tuxedo again, Sir Walter," said Bob Jones, striking the perfect note to settle The Haig down.
"Funny you should mention that, Bobby," said Walter, perking up. "I got home too late to change."
Bing Crosby, on a nearby bandstand with Count Basie and his Orchestra—ready to play the finalists off with the week's 43rd version of "Straight Down the Middle"—signaled drummer Buddy Rich, who fired off a rim shot.
"Get on with it," growled Ben Hogan.
That had the desired effect. Everyone—even Hagen—was afraid of Hogan.
"Introducing the winner of Bracket 1," said Hagen, "originally from Cypress, California, Tiger Woods!"
Tiger, in his Sunday red—it might have been Sunday; no one really knew—stepped forward and tipped his cap. Tall, young, lean and hungry, staring down the first fairway like The Terminator, he didn't seem to notice anyone else was there.
"Introducing the winner of Bracket 2," said Hagen, "from Columbus, Ohio, Jack Nicklaus!"
Jack, looking fit and confident in a yellow argyle sweater—hair a bit shaggier, the way you might remember him from, say, 1972—joined Tiger on the tee. The two shook hands, and three things were immediately clear: They liked and respected each other, everyone else there was terrified of them, and neither Jack nor Tiger feared the other, not even a little bit.
"Play well. May the best man win," said Hagen. "And if anyone needs me, I'll be in the bar."
The Haig headed for the Tap Room, where John Daly, Jimmy Demaret and Crosby Clambake regular Phil Harris had already secured a table by the big-screen TV.
Sam Snead had been asked to conduct the coin toss to determine who played first but turned it down when he thought he had to supply his own coin. Francis Ouimet, who all agreed was the most agreeable fellow in history, stood in for him.
Jack called heads, won the flip and deferred. Tiger stung a 2-iron 288 yards straight down the middle. Jack, a wry smile on his face—per the rules he was playing with the latest equipment, and the same modern ball—smashed his 1-iron 290. Bing and the band struck up their inevitable tune, and the two men set off. The small crowd—players, writers and VIPs—trailed after them.
"Game on," said Jim Nantz, from the home tower above 18. The match wasn't actually being telecast, except for closed circuit to the Tap Room—and, somehow, a pirated feed at Der Bingle's manse just off the 13th fairway—but all the commentators had showed anyway.
Tiger and Jack hit wedges to the green you could cover with a napkin. Neither caddie said a word. Angelo Argea, Jack's longtime looper, never read putts, and Stevie Williams, back on Tiger's bag, took a moment to threaten the life of a passing squirrel as both players drained their eight-footers.
"All square after one," said Jim Nantz. "Let's send it out to our old friend Byron Nelson down on the course."
"Jim, conditions are perfect here," said Byron. "Wind's laid down like a hound after a hunt, and fellas like these two are a different breed of cat, even if one of 'em's a Bear … well, look at that: Tiger's caddie just treed a squirrel."
At the second, a converted par 5 playing as a long par 4, both men split the fairway. Jack carved his approach to 20 feet, and Tiger dropped a towering 5-iron just inside him.
Manning the broadcast tower near the third tee, Henry Longhurst, the venerable dean of English golf broadcasters, remarked: "Just extraordinary. That majestic shot floated in as gently as a 101st Airborne paratrooper descending silently behind enemy lines."
"Positively lethal," said his partner, Peter Alliss, Long-hurst's successor as dean of English broadcasters. "But I'd have to say it put me more in mind of the British 1st Airborne landing at Arnhem, resplendent in their distinctive maroon berets, and of course the familiar shoulder patch of Bellerophon astride his winged steed Pegasus."
"Sir Nick," said Nantz, turning to his booth partner. "What would you say to that?"
"Do I sound like I went to Oxford, mate?" asked a chuckling Nick Faldo. "Jack's got the easier putt."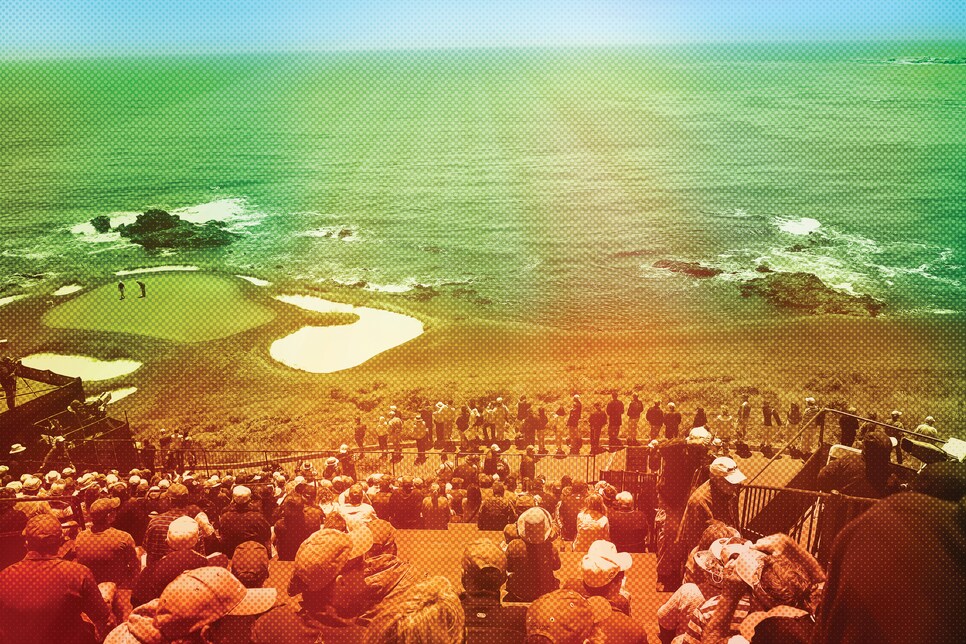 Tiger's birdie try ran long. Benefitting from the read, Jack ran his in for a 3. Jack, 1 up.
At the par-4 third, both men cut the dogleg with flawless drives over the tree-lined ravine. Jack's ball settled 50 yards short of the green, but Tiger's took an awkward bounce. Lee Trevino and Ray Floyd, walking the fairway, watched Tiger's ball disappear into the gunch near the left greenside bunker.
"Man, you could lose a ball in that mess," said Ray.
"You could lose a bag in there," said Lee. "Fifty says he makes 6."
"Done. Good gravy, what the hell is Stevie doing now?"
Trailing the golfers, Stevie Williams had just ripped a camera out of the hands of a spectator and was pulverizing it with a tree limb. Six heavily armed men had formed a circle around him. "And don't let it happen again, Mr. President," said Stevie.
"Sincerest apologies, Stevie," said Bill Clinton, waving off his bodyguards. "My fault entirely."
"Sorry, Stevie," said George W. Bush, Clinton's companion, with a crooked grin. "Take 'er easy."
"Man, even the Secret Service is scared of that guy," said Lee.
"He used to work for me," said Ray. "How do you think I felt?"
Jack pitched to six feet. Tiger needed two hacks to gouge his ball out, skulling it over the back of the green. Tiger hurled a string of curses toward the bay and then chipped to five feet. Jack smoothed in his third straight birdie. Lying 4, Tiger scooped up his ball with his wedge, bounced it twice off the face, once between his legs, and batted it into the bay.
Nike's Phil Knight turned to his creative director and said, "I've got a great idea … "
As Lee handed Ray a fifty—"That helps make up for El Paso," said Ray—Sam Snead and Tommy Bolt strolled by.
"Can you believe that Tiger?" said the Slammer. "Don't know when I've ever been so impressed. Only 24, and this kid's got it all: range, imagination, the ability to visualize …"
"He made 5 with a gimme," said Lee.
"Not that," said Tommy. "You shoulda heard him cuss."
"And Jack with the early lead, 2 up!" said Nantz.
At the par-4 fourth, both men cleared the fairway bunker. Tiger nailed his iron to three feet, Jack to 15. Jack's bid for a fourth straight birdie ran long, Tiger holed his for 3. Jack, 1 up.
At the par-3 fifth, as Jack carved a fade to the middle of the green, Tiger admired the shoreline vista. When Jack picked up his tee, Tiger said something to him. Jack smiled, answered, then watched Tiger's ball settle near the back of the green.
"David Feherty, that's the first time the two have spoken today," said Nantz. "Any idea what was said?"
"Yes, Jim," whispered Feherty, creeping behind them. "Might want to have the little ones cover their ears: Tiger said, 'I really like your redesign on this hole,' and Jack said 'Thanks.' Fortunately, I was able to restrain Stevie before he flew into a rage."
Pars at 5. At the par-5 sixth, both men pounded driver to the edge of the sea cliff, but Tiger's ball ran into heavy rough. Jack lofted a 5-iron just short of the green. Tiger took a monstrous hack with a 7, airmailing it over the cove to the elevated plateau, where it scampered to the middle of the green.
"Jim," said Feherty. "I'm calling my optometrist 'cause I can't believe my eyes. I'm fairly certain I couldn't have made that shot with a weed wacker, a jai-alai cesta and a papal dispensation."
"Set the mood for us as they're walking to the green."
"It's getting testy out here; Jack just said, 'Nice shot.' "
Jack's chip came up short, but he drained his birdie putt. In tense silence, Tiger stroked his 20-foot eagle try … and dropped it.
"There's our first eagle of the day, and it's back to all square!" said Nantz. "As they walk to the seventh, let's say hello to friend and colleague Peter Jacobsen."
Jacobsen stood to the right of the seventh tee box leaning over the cliff, holding the fence with one hand and, with the other, the belt of actor Kyle MacLachlan, who was holding Clint Eastwood's belt, who was holding Jack Lemmon's belt as he dangled halfway down the cliff.
"Sorry, Jim," said Jacobsen. "Little busy at the moment. While waiting on the tee, the wind came up and blew off Jack's sunglasses."
"Can't you just swing me a little to the left?" said the flustered Lemmon, "I swear I can see 'em, I just can't reach 'em."
"You sure that's not your ball there, Jack?" hissed Eastwood. "From 1967?"
"Nobody's perfect!" said Lemmon.
"What year is it?" asked MacLachlan.
"Don't mind us, fellas," said Jacobsen to the group. "Play through."
Jack and Tiger hit wedges inside 15 feet. Jack ran it straight in for a 2, and Tiger dropped a matching birdie on top of it.
"Still all square as they move to the eighth," said Nantz, "where we pick up the action with our friend Greg Norman."
"Still can't believe he beat me in the first round," said Faldo.
"I heard that, Nick," said Norman, shouting over engine noise. "Jim, I'm high above the eighth fairway, piloting my chopper, and Jack and Tiger have hit terrific tee shots, flirting with that cliff on the right. I'm taking 'er down for a closer look as they hit their approaches."
"Always, Jim. I can tell you there's a massive front moving in from the east; looks like we're in for nasty weather. Speaking of bad luck, I still can't believe Tiger beat me in the second round."
They heard an ominous clank, and Norman's chopper wobbled for a moment.
"No worries, Jim. Guess I got a little too close—Stevie just dinged my fuselage with a rock. Just gonna ease 'er back up—all good fun, Stevie used to work for me, you know—ah, too bad, Tiger's knocked his approach into that back-left bunker, which explains the rock, but Jack's hit a cracking shot, middle of the green."
The chopper continued swaying at the higher altitude. "Greg, it looks like you're still having difficulty."
"Good eye, Jim; seems that rock punctured my fuel line. Heading back to the pad, but
I'll be airborne again soon as we get this sorted. Shark One, over and out."
Tiger's shot from the bunker, on a downhill lie to a back-left flag on the severely sloped green, ran 20 feet past, and he missed the comebacker. Jack eased his birdie attempt to six inches, and Tiger conceded the hole.
"And with that, Jack takes the lead again!" said Nantz, cranking up the volume. "As they continue on three of the toughest par 4s anywhere, we're joined in the booth by our good friend Johnny Miller."
"That's OK, Nick, I don't mind standing," said Johnny.
Faldo covered his mic and said to the crew: "Can we get another chair in here for 'Mr.' Miller, please?"
"How do you see the match so far, Johnny?" asked Nantz.
"Not very well if I can't get a chair," said Johnny. "Actually it's kind of a funny deal. I said I'd come out of retirement if Jack and Tiger ended up in the final—by the way, I totally believe Tiger beat me in the first round; I played so bad I got a get-well card from the IRS—though that drive he just hit on 9's not his best work, and I'm disappointed Jack pulled his left, but that's golf, which, as you know Nick, is just another name for choking."
"Why's he saying this to me?" Faldo whispered to Nantz. "That's just weird."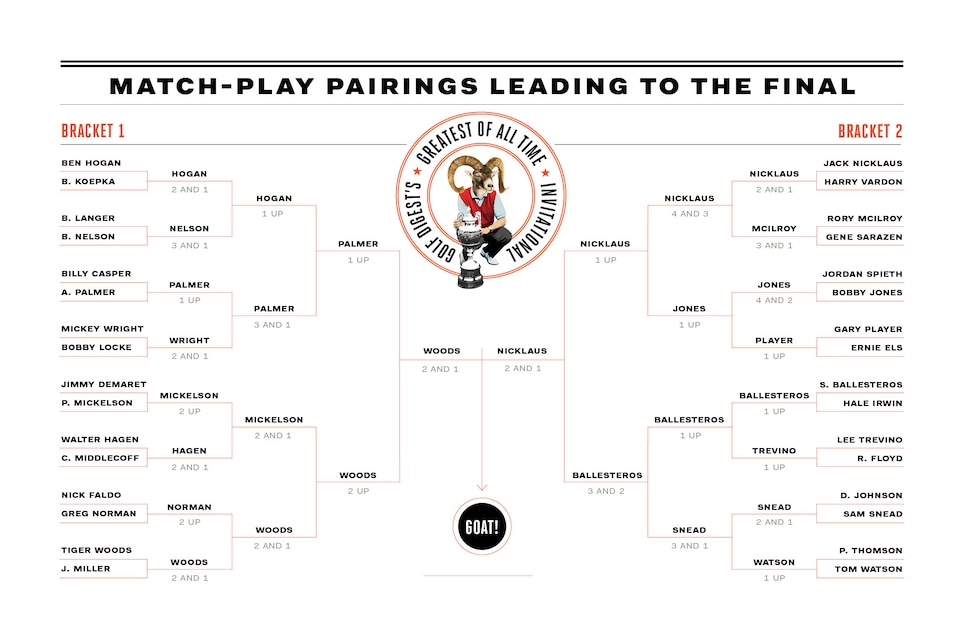 Tiger's second shot landed short of the green, and Jack's approach released to 12 feet. Staring daggers at the flag, Tiger ran his chip dead at the hole, and it creased the lip but spun out. Jack conceded the par, then bent over his birdie putt.
"I see Jack's caddie Angelo's signing autographs in the gallery," said Miller. "Jack doesn't need any help reading this one … but he slides this one by on the right. Kinda surprising; that's an opportunity lost… . Cheez Whiz, Nick?"
"Straight from the can? No thanks, Johnny, but knock yourself out."
"So as they halve the ninth and make the turn," said Nantz, "the wind's picking up and that storm Greg Norman mentioned is heading our way. Johnny, are we in for some of that infamous Pebble weather?"
"Could be, but you should probably ask Jack 'cause you'll never hear him say, 'I don't know' about anything. I'm not trying to be critical here, folks."
"Well, you're doing a bang-up job," muttered Faldo.
Jack and Tiger crushed their drives at 10 just off the left bunker, then striped long irons pin high. Tiger, grinding over the line, slammed his 15-footer dead center for birdie and pumped his fist. Jack, matching Tiger's intensity, watched his curl right to the lip, where a gust of wind stopped it one roll short.
"All square after 10!" shouted Nantz. "Now let's send it over to Jack Whitaker in the Invitational's media center."
"Jim, golf has enjoyed an eternal love affair with the written word, and we're blessed to have here today all the heavyweights from history." He passed two men in tweed sharing gin and tonics: "Englishmen Bernard Darwin and British humorist P.G. Wodehouse, creator of Bertie and Jeeves … L.A. Times great Jim Murray, and the pride of Texas, Golf Digest's Dan Jenkins." Murray and Jenkins were sharing drinks with Ben Hogan, while the next pair enjoyed martinis: "The New Yorker's elegant immortals Herbert Warren Wind and novelist John Updike." Whitaker passed a long-haired man levitating nine inches above his chair—"Author of the mystical classic Golf in the Kingdom, Michael Murphy"—then approached an elderly gent in a three-piece suit, alone, sobbing into a handkerchief: "And finally, O.B. Keeler, who's been weeping inconsolably ever since Bob Jones lost to Nicklaus in the quarterfinals."
"Bob is simply the finest young man who ever lived," said Keeler. "Abe Lincoln, Julius Caesar and Aristotle all rolled into one. And for him to lose to a strapping Germanic brute who plays a game with which Bob is so utterly unfamiliar, I don't think I'll ever get over it."
"Sorry to interrupt, Jack," said Nantz. "After halving 11, the action has moved to 12, where things are really heating up. Let's send it out to our old friend, The Squire himself, Gene Sarazen, with a couple of eyewitnesses."
Sarazen stood greenside at the par-3 12th, in natty plus fours and bucket hat. "Thanks, Jim, I'm here with that effervescent South African exercise enthusiast, Gary Player, and Rory McIlroy, one of the game's young greats, but I still can't believe you beat me in the first round, Rory."
"Got a bit lucky, but honestly, neither of us were going to get by Jack in the second."
"I always say, boys, the key to beating Jack," said Player, raising a forefinger, "is you must always believe in yourself and never give up. You'll still lose, but you'll come away feeling anything is possible."
"Except beating Jack," said Rory.
"Exactly! Think positive!"
"Can you fellas tell us what we just saw here at 12?" asked Sarazen.
"Well, Jack hit a great tee shot to about 18 inches," said Rory. "And then Tiger launched the identical shot—uncanny! It landed exactly on Jack's ball mark."
"Tiger's ball rolled straight for the cup," said Player, "hit Jack's ball, knocked it sideways, and then hung up on the lip."
"Just incredible," said Sarazen. "Anyway, Jim, birdies for both at the 12th, still all square."
Two looming figures moved into the frame behind them. The camera tilted up to reveal Dustin Johnson and Brooks Koepka, jogging in place, wearing workout gear.
"Squire, Rory, if you'll excuse me," said Player, "these youngsters asked me for some fitness tips, so I'm to put them through their paces. Off we go, boys; look lively." Player raced away at a blistering clip, Johnson and Koepka struggled to catch him. "You're welcome to join us, Rory!"
"I'd rather bench press Colin Montgomerie," said Rory, opening an umbrella.
"And I can officially report that it's starting to rain," said Sarazen.
At the 13th, as the men reached their perfect tee shots, they were distracted by the buzz of Bing Crosby's house party in a tent just north of the fairway. Crosby spotted them and called through a megaphone: "Ahoy, mateys. Anyone aboard in need of sustenance, or a refreshing libation?"
Nicklaus and his caddie had a brief discussion, then Angelo set down the bag and walked toward Crosby's house. As Tiger took his stance, Stevie turned toward the party and screamed:
Dead silence. After Jack and Tiger hit approaches to the green, the party resumed and correspondent Roger Maltbie walked up to Nicklaus:
"Jack, can you tell us what you just discussed with Angelo?"
"Sure. Angelo said he was thirsty, and Bing's pouring free drinks," said Jack, shouldering his bag. "I said why not; Angelo said he'd find someone in there to carry for him, so we'll see—unless you'd like to volunteer, Roger."
"Did somebody say free drinks?" said Maltbie, vectoring toward Crosby's. "Back to you, Jim."
"Kind of unusual, right there," said Miller.
"Unusual?" said Faldo. "Middle of a classic round like this? It's bananas with a side of nuts."
Jack eased his 20-foot birdie try close for a conceded par. Taking a more aggressive line, Tiger rammed it in for a 3.
"And Tiger takes the lead at 13!" said Nantz.
On the tee at 14, with steady rain falling, Tiger massacred his drive 320 yards, carrying the right bunkers. Jack slaughtered his ball, fading toward the middle, even with Tiger.
"Did I hear somebody needs a caddie?" someone asked, as the gallery parted.
Arnold Palmer walked out of the crowd. Gasps turned to applause as the three men exchanged warm greetings. Arnie opened one of his signature umbrellas, hoisted Jack's bag, and they marched down the fairway.
"I still can't believe you beat me in the semifinals," Palmer said to Woods.
"You come at The King," said Tiger, grinning, "you best not miss."
As Jack sized up his shot, Arnie pulled Jack's 3-wood, holding it out when Jack turned.
"Hell with course management," Arnie said. "Go for it."
Two-fifty to a back-left pin. Jack gave it a lashing, dead on line into the throat between the bunkers, settling 25 feet right of the pin. Arnie high-fived him, and they marched on.
Tiger didn't hesitate, taking his 3-wood and answering, carrying the front-right bunker and drawing it to the back middle fringe. As they started toward the green, Stevie shot a competitive glare back at Arnie: Beat that. Arnie simmered.
Tiger trickled a ticklish eagle try inside three feet. Jack took a run at eagle, missing left. Tiger conceded. Arnie tried to talk Jack out of conceding Tiger's birdie, but Jack picked up the ball, winked at Arnie and flipped it to Tiger.
"As they move to the closing stretch, let's welcome into the booth my old friend and partner Ken Venturi," said Nantz.
"Thanks, Jim," said Ken, trying to slide into a chair. "Little crowded in here."
"It's like a Marx Brothers movie," said Johnny. "Did somebody order two hard-boiled eggs?"
"Crosby weather, that's what we use to call it," said Ken. "Wind, rain, sun, hail—all four seasons in one round."
"Speaking of hail, what the hail is that?" asked Faldo.
A large, triangular shape was riding in on the wind over the 15th tee as Tiger prepared to tee off.
"Hold on, I'm being told we've got Greg Norman back with us," said Nantz.
"That's right, Jim," shouted Norman over a howling wind. "I've commandeered a hang glider, and I'm coming in over 15—tad bumpy, but the view's sensational. We're directly downwind here and Tiger's hit a ripper—felt it whiz right by. I'm going to circle back for Jack's shot … hold on, is that what I think it is?"
"Looks like Stevie's taken something from his bag and tossed it into the air," said Nantz.
"Right, that's a boomerang headed straight at me—evasive action!"
As Nicklaus hit his drive, the glider veered hard right—just avoiding the boomerang—caught a heavy gust, and sailed off course toward houses across the street, where a loud crash was heard.
"Greg, are you all right?"
A few choice words were bleeped, dogs barked, and then: "Seen worse, Jim. Tangled up in somebody's patio set—good boy; let go of my pants—and the glider's a total loss, but I'll get back up there for the finish."
"No hurry, Greg," said Nantz. "Now Ken, Tiger's in fine shape, but it looks like Jack's drive caught that left fairway bunker."
"That's right, Jim. Probably didn't help having a UFO pass directly overhead as he swung."
"I see Arnie's got a few choice words for Stevie as they traverse the fairway," said Faldo.
"That's a strange deal," said Miller. "I mean, who carries a boomerang in their bag? Did it even come back to him?"
"You know what they call a boomerang that doesn't come back?" said Faldo. "A stick."
Jack's ball had plugged under the front edge. He slammed a wedge and popped the ball out, but it landed 70 yards short of the green. Tiger feathered in a soft pitch 15 feet left of the flag. Jack hit a bump-and-run that stopped just outside Tiger.
"Advantage, Tiger," said Venturi.
Jack's par attempt got blown off line and trailed left. Tiger conceded the bogey and eased his putt to two feet. Once again, Jack conceded the par; once again, Arnie didn't look happy about it.
"Let's set the scene here, folks," said Nantz. "Tiger is 2 up on Jack with three to play."
"He's in the danger zone now," said Venturi. "Did I ever tell you fellas about the time Harvie Ward and I played Hogan and Nelson over at Cypress?"
"Yes," said Nantz, Faldo and Miller.
As Ken told the story anyway, Jack and Tiger halved the 16th. Heading to 17, Stevie said to Arnie: "We're dormie, mate. How you like them apples?"
Arnie invited Stevie to discuss it behind a stand of trees. The trees shook violently, raised voices were heard, cries of pain, then someone apologizing profusely. Moments later, Arnie joined Jack and Tiger on the tee, carrying both bags.
"Where's Stevie?" asked Tiger.
"He had to go look for his boomerang," said Arnie, winking at Jack. "Here's your bag, Tiger."
Tiger suppressed a grin and pulled his 3-iron.
"The wind is positively howling here at 17," said Nantz.
"I thought that was Stevie," said Faldo.
"It's dead across, left to right," said Venturi. "I don't know how you get to that back-left pin."
Tiger hit a low draw holding its line against the wind. It landed and checked on the right side, just shy of the ridge in the middle.
"Par's a sure thing from there," said Miller.
"Pressure's definitely on Jack," said Faldo.
Jack took dead aim at the flag, hammered it, and the ball soared straight for the pin.
"He might have overcooked it," said Faldo.
"But look at this," said Nantz. "It appears to have hit someone behind the green, bounced back on and it's rolling straight for the cup … Jack has less than a foot for birdie!"
"Looks like someone is down," said Miller. "That had to hurt, folks."
"Gary Player is behind the green—what happened, Gary?"
"I was standing here with actor Bill Murray when that ball came screaming in and bounced off his head," Player said. "Fortunately he was wearing an absurdly oversized tam o'shanter that cushioned the blow."
Just behind Player, who seemed energized and somehow not even wet, an exhausted Dustin Johnson and Brooks Koepka were kneeling beside Murray.
"Dude, I'm telling you it's the guy from 'Caddyshack,' " said Dustin.
"No, bro, it's the guy who played the guy from 'Caddyshack,' " said Brooks.
"Hey, Bill and Ted, mind giving me a hand here?" asked Murray. They lifted him, and Murray waved to the crowd. "I'm OK! Rub of the green! Rub of the green!"
"Thank goodness, Bill appears to be all right," said Nantz.
"And his timely header's left Jack with a kick-in birdie," said Nick.
"Tiger's conceded Jack's birdie. He's standing over a putt that could still close out the match … takes a run a it, right on line … oh, it catches the lip and just rolls by. This match is going to 18 with Tiger 1 up!"
Everyone gathered at the 18th tee in the steady downpour. Jack pounded one, fading off the sea wall to the middle. Playing with the lead, Tiger knocked down a 2-iron, then smoothed an 8 to 110 yards. Arnie pulled the 3-wood again. Jack gave it a rip, tracking for the front of the green …
"And he's reached in two!" said Nantz. "His ball settles near the back, and Jack has 40 feet for eagle."
Tiger played a perfect wedge, 12 feet below the hole. The assembled greats circled the green as the two men stalked their putts.
"This putt's harder than it looks," said Venturi. "But if anyone could make it in this situation, my money's on Jack Nicklaus."
The crowd held its breath as Jack stroked it, rolling down, breaking right, on line to the cup …
"And it hangs on the lip!" said Nantz. "Oh my goodness!"
Nicklaus gave a wry smile and shook his head. Tiger conceded the birdie, and Jack knocked it away.
Tiger stepped to his ball, poised and calm, eyes wide staring down the hole. He stroked it smoothly … and drilled it for a 4.
"Tiger's done it—your winner of The GOAT Invitational, folks, by 1 up, Tiger Woods!"
"He needed every one of 'em, I can tell you that," said Miller.
"There are pressure putts, and there are pressure putts," said Venturi, "and that was a pressure putt."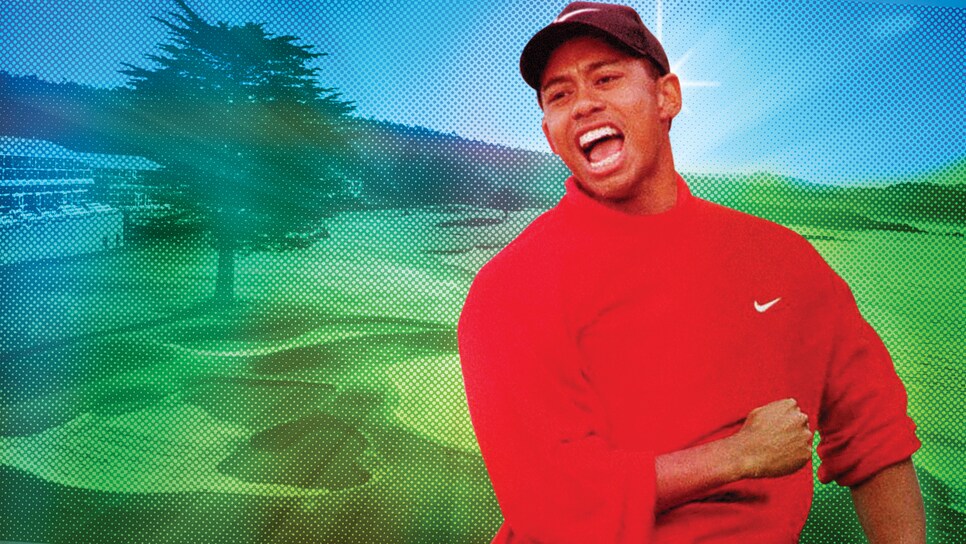 "The two men shake hands. Genuine mutual admiration there, I think," said Faldo.
"No question about it," said Nantz. "And we're so preoccupied with the excitement at 18 we didn't notice Greg Norman coming in from the bay riding a—what is that exactly, Greg?"
"It's a parasail, Jim. Conditions aren't ideal, but I didn't want to miss the final action."
"Tiger lifts his ball from the cup, heaves it toward the bay and …" said Faldo. "Well, wouldn't you know it."
Norman's parasail took a hard drive to the left.
"I'm all right, Jim! Just a glancing blow. I'm headed for the beach now. Coming in hot. Say, who won anyway? Mayday!"