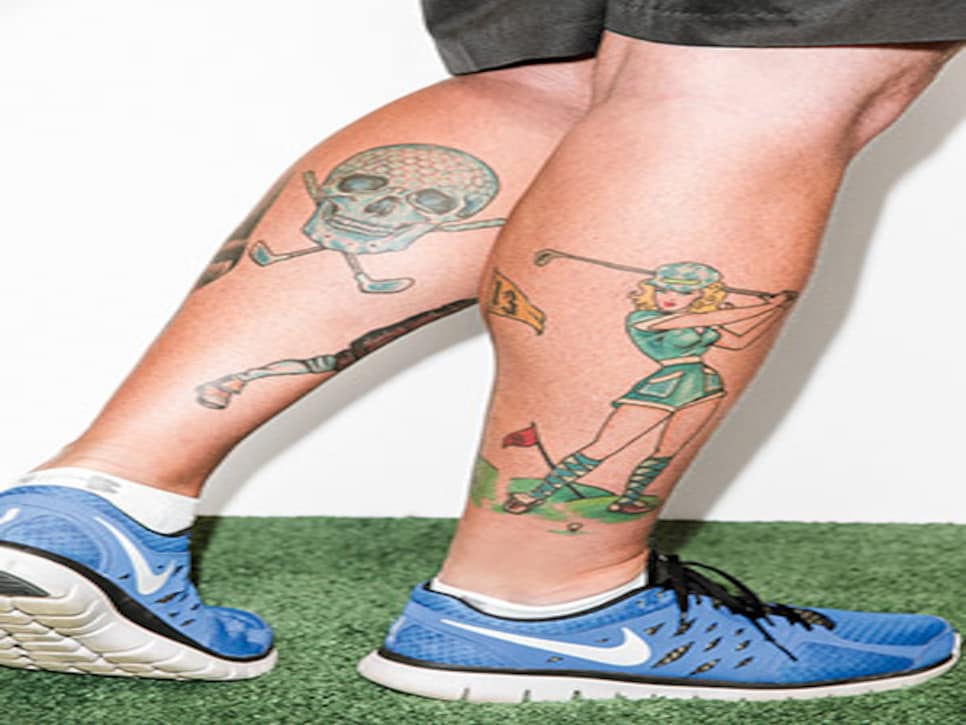 Heath Anshel played 327 rounds in 2013 and plans to do even better this year. Just in case there's any question about his devotion to the game, Anshel, 41, also has five golf-themed tattoos: a pair of pinup girls, a dimpled skull with clubs crossed behind it like bones, an eagle perched on a ball, and a skeleton golfer.
A 2012 Harris Poll found one in five adult Americans had a tattoo. Although that number must be far lower among golfers, plenty have them. "I've done all kinds of golf stuff," says Florida tattoo artist Bill Hannong, who runs the National Tattoo Association's charity golf event. "I've done balls, balls with crossed tees, crossed clubs. I had one kid who hit a great shot with his 2-iron. I drew a picture of that iron and put it on his shoulder."
Seve Ballesteros had a tattoo of himself fist-pumping, and Annika Sorenstam has a cat on her back. But you won't find any of today's top-ranked tour pros wearing ink, at least that you can see. Even as tattoos have grown in popularity, 24 percent of Americans still view them negatively, according to the Harris Poll. Why take the chance of turning off fans or sponsors?
Anshel, operations manager at a Maryland bingo hall, says he never gets any grief at golf courses. "Nobody's asked me to cover them. They want to talk about them, to have a closer look." Four of his five tats were custom designs by Beth Kennedy, a tattoo artist near Baltimore. The two pinups cost about $400 each, and the others were about $200.
"Don't let anyone tell you it's not painful," Anshel says. Worse than getting hit by a golf ball? "No! I've been hit, and I'd rather get a tattoo."