25th Anniversary
The First Tee celebrates a milestone birthday with some fanfare but even bigger results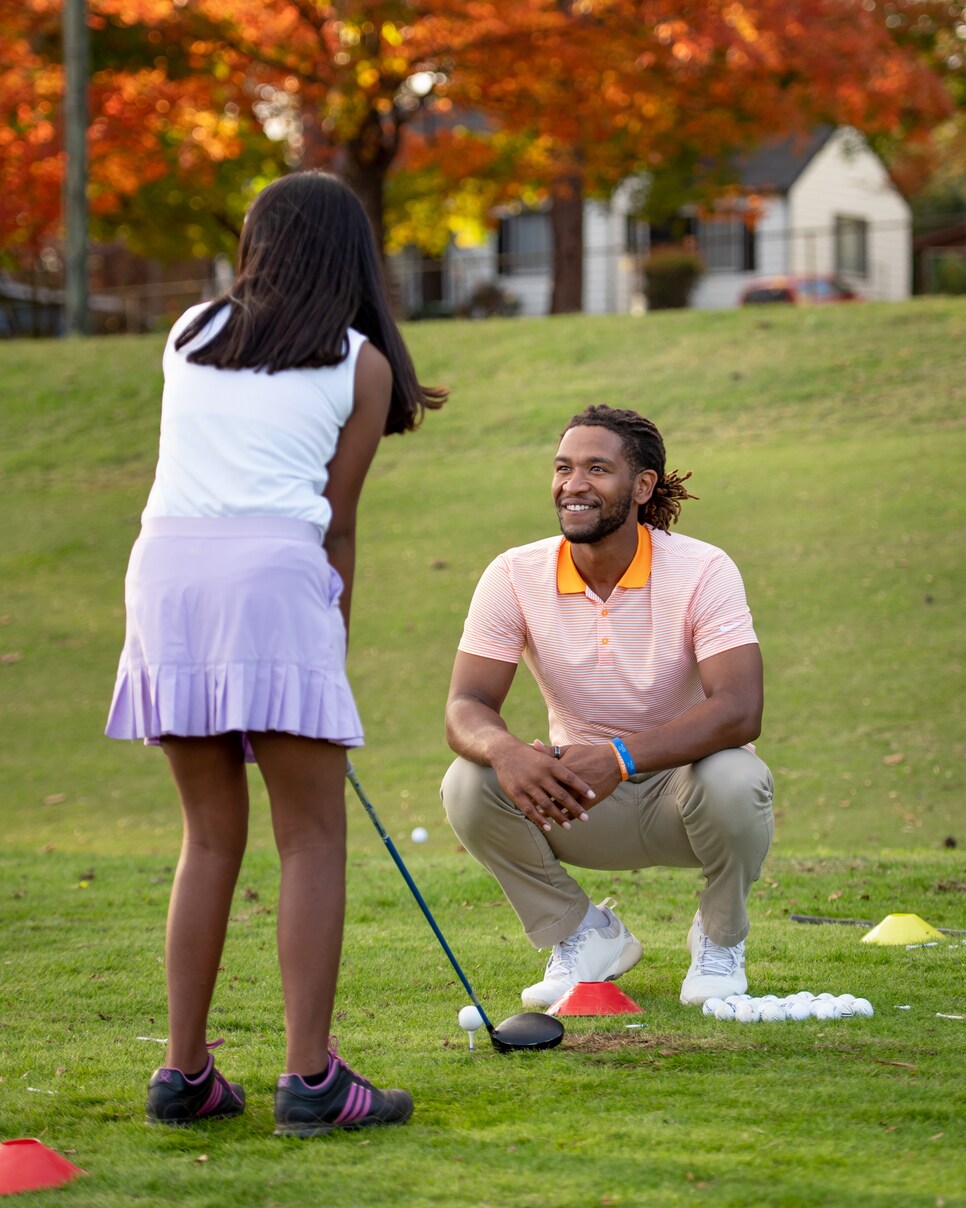 With so much juicy golf news going on, what hope is there for a staid charitable organization getting some attention on its birthday? While a Masters champ sues golf writers, the brother of the current U.S. Open champ defends allegations about a sketchy free pass into Q-School, the top pros openly squabble about world ranking points and the commissioners prepare for their big day in court, the game can recall a nicer time in November of 1997. On a sunny day in New York's Central Park, President George H.W. Bush stood next to PGA Tour Commissioner Tim Finchem to announce an idea called The First Tee. Founding board member Earl Woods was among those who foresaw an opportunity for golf on the heels of his son's breakout season.
One-hundred fifty chapters and 2.2 million kids and teens later, The First Tee held its 25th Anniversary celebration last week at the Dallas Hilton Anatole. Among the 600 attendees were President George W. Bush, who opened the morning session, and Joe Louis Barrow Jr., who closed the dinner by accepting a surprise lifetime achievement award. Politically, you'd be hard-pressed to find two men with more divergent views embracing each other in the same room. Somewhere in the middle, I was invited onstage to interview Valentino Dixon about second chances and prison reform. Such is the nature of The First Tee as the rare organization that transcends all that divides us. Essentially, it takes donations from some of our country's most successful capitalists and redistributes the money to kids of all colors and backgrounds in the form of golf coaches imparting life lessons.
"I wouldn't be here if I didn't think The First Tee was tremendously valuable to the future of our country," said 43.
"Never before have our nation's children faced higher rates of anxiety, depression and drug abuse," said Arthur Blank, founder of The Home Depot, who in addition to giving over $15 million, hosts a leadership summit for 40 First Tee kids at his western ranch each summer."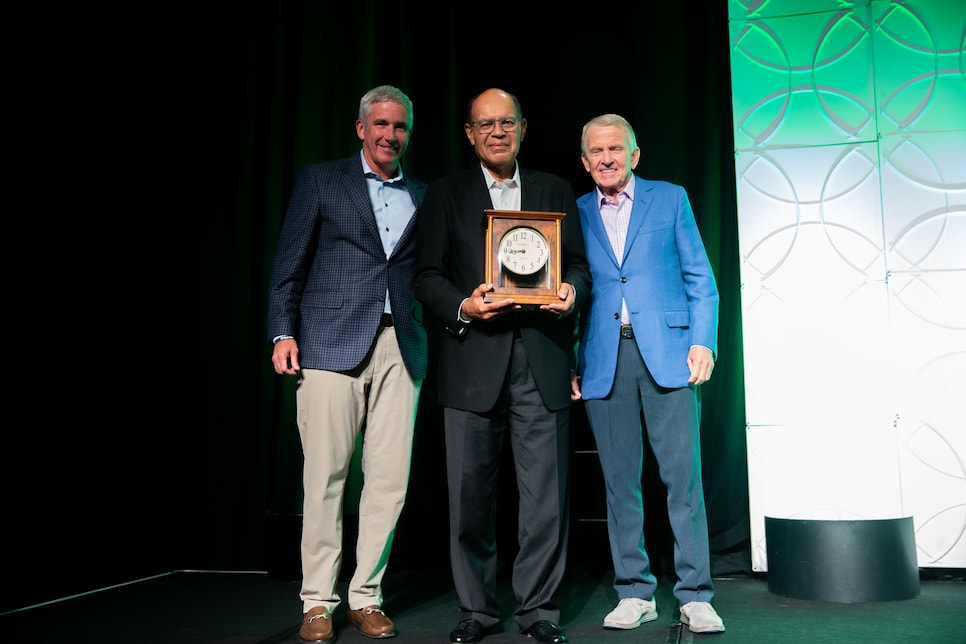 PGA Tour commissioner Jay Monahan (left) and his predecessor Tim Finchem (right) present a lifetime achievement award to Joe Louis Barrow Jr.
Chris Womack, the president of Southern Company, which has also given $15 million, mentioned the importance of doing things with "a Southern style." A cynic hears a corporate slogan, but a realist sees what operating with general graciousness and rightness of action does to create better citizens of this world.
In 2022, The First Tee raised over $130 million, its best year ever, and is on track to impact 140,000 kids. If such factoids overwhelm you as incomprehensible (as they do me), meeting some of the graduates at the birthday dinner helped make these programs tangible. Like Jakari Harris from Atlanta, who played college golf at Hampton University and is now pursuing a Ph.D. at Georgia tech in biomedical engineering. Or Drake Mosley from Jacksonville, Fla., who played at Talladega College, now works as a data analyst for the PGA Tour and got his first hole-in-one two weeks ago (187 yards downhill, 9-iron). Hannah Rens from Coco Beach, Fla, is just a casual golfer, but stunned folks describing her degree in aeronautics and dream of working to shape our future lunar economy. PGA Tour Commissioner Jay Monahan meekly asked that Hannah assign him some small part building the first golf course on the moon.
There are always a few shining examples. The reality is, the pandemic disproportionately hurt the underserved communities that The First Tee targets. Bussing and accommodating kids safely became more complicated, as did the lives of the kids themselves, and golf naturally fell away. The First Tee experienced worse rates of attrition and overall ethnic diversity. CEO Greg McLaughlin is optimistic he can help correct these trends in part by focusing more energy on staying relevant to older teens. A new digital app is in the works and the recently launched national championship that rotates among top universities should help. "We know that the longer we can keep kids in the program, how drastically the chances of success in so many other metrics goes up," McLaughlin said.
Of course, what always has and will make the difference is the energy and charisma of the volunteers and coaches who actually interact with the kids daily. These are the people for whom the birthday party was thrown.