The Loop
The "fight was rigged" crowd are the idiot fans of the week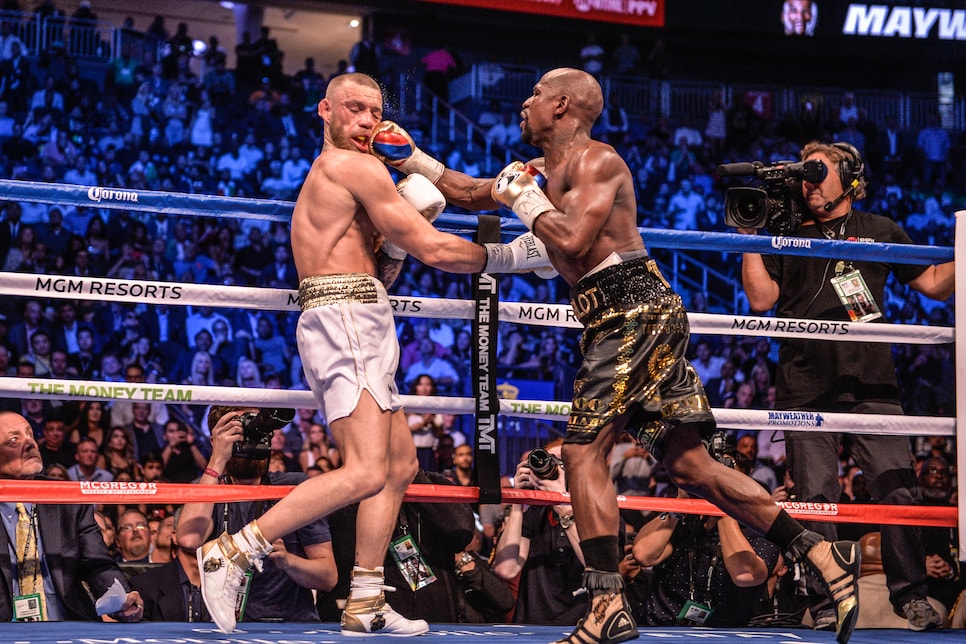 Stop me if you heard this at some point Saturday night after the Mayweather-McGregor fight, or anytime since: "The whole thing was rigged. Floyd was just playing with him for a few rounds to make it look legitimate in order to sell a rematch and/or heighten the drama. Any fighter out for blood would have knocked McGregor out in two rounds, and you're a stooge if you think it was on the level."
You know how when people get angry online, they always try to pretend they're not mad at all, and say things like, "I'm actually laughing "? Not me. I'm beyond that. I'm beyond trying to look cool, or maintaining emotional control. I'm actually mad at how stupid and misguided this is. AND I WANT TO RANT THE RANT OF THE RIGHTEOUS.
First off, I am not what you'd call a boxing expert, but I did go through a phase where I learned about that sweet, sweet science in a way that went a little beyond the superficial—I watched old fights, read the people who wrote about it in a literary way, and had like...a month?...where I nerded out. What I'm saying is that I understand it enough to know that anyone bitching about a rigged fight has clearly never seen Floyd Mayweather Jr. fight before. The minute I knew I had become an actual boxing fan, during my brief obsession, was when I learned to recognize Mayweather's genius inside the ring. Before that, I just thought he was boring. I didn't get his style—probe for weakness, retreat, score tactical points, never lose control, never expose himself. It took understanding the technical side of the sport, even just a little, to realize that he'd run up an undefeated record due to his maddeningly consistent strategic brilliance. Which is a weird thing to say about a guy who in normal life beats women and won't pay taxes, but there you have it—in the ring, the dude is pure science.
All of which is to say: That guy you saw Saturday night, looking mortal for the first four rounds before dominating? That's how he fights! That's how he's fought for a very long time! Anyone screaming out "rigged" has clearly never watched him before. And what makes this take even dumber is he just fought his best, most aggressive fight in six years! Take a look, if you will, at the decade of fights preceding the McGregor bout: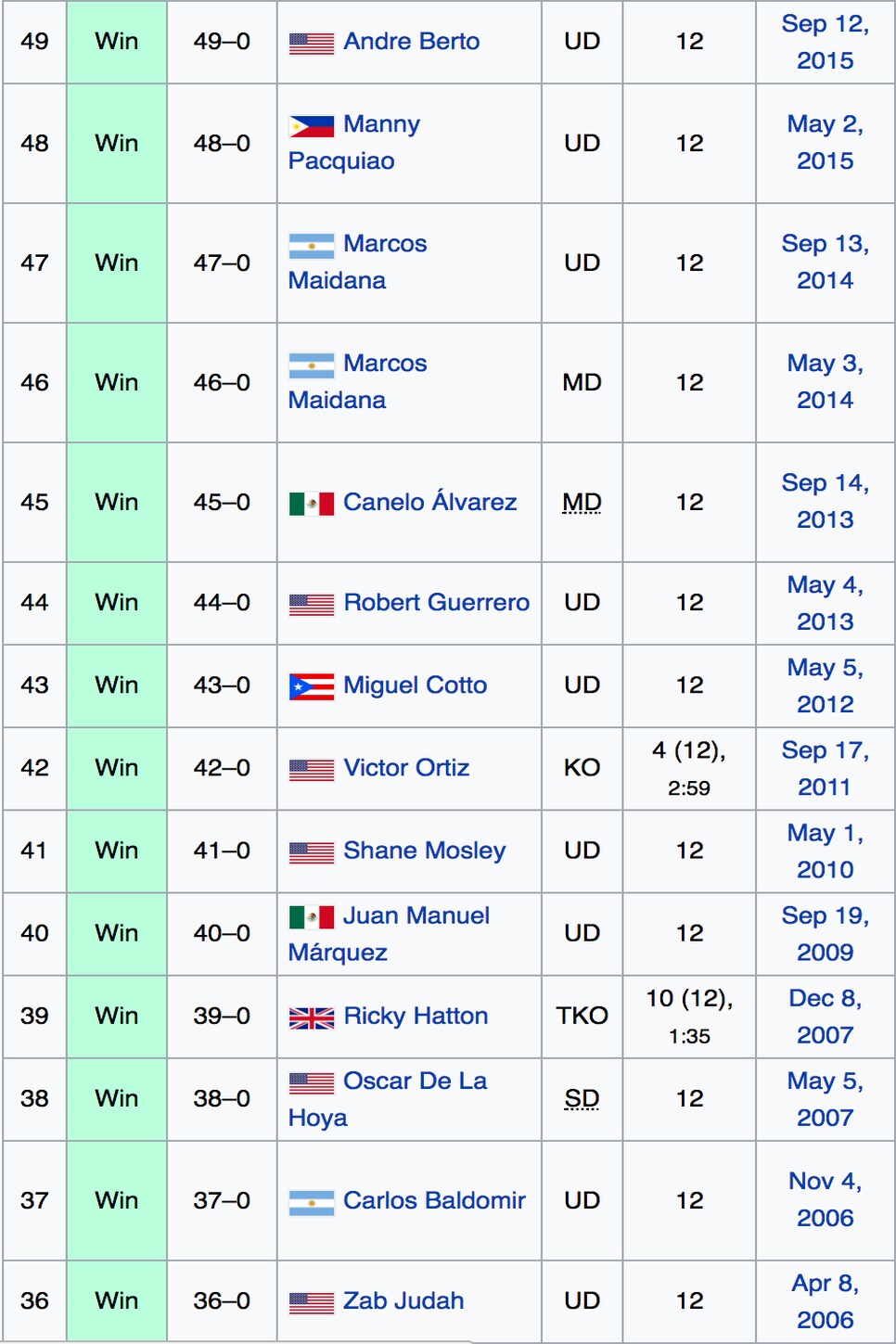 See all those 12s? Those are fights that went the distance, where the winner was left up to the judges. Since 2006, 11 of his 13 fights met that criteria. And one of the only two that didn't go the distance, against Ricky Hatton, was instructive—Mayweather was cagey as hell, and finally laid him out just two rounds from the finish. Two years later, when Hatton fought Pacquiao, the Pac-Man KO'd him in the second round. But as we saw in 2015 (a decade too late, admittedly), Mayweather beat Pacquaio in a defensive bout. So it wasn't like Hatton was "better" against Mayweather because he lasted eight rounds longer—he was still a bum—it's just that Mayweather isn't out to kill. It's not his style, and hasn't been in about 20 years.
But tactics aside, let's not bury what should have been the lede—this was his first knockout since 2011. And the man is 40 YEARS OLD! He actually had his best, most aggressive fight in six years, he attacked more than ever, and he's an older man now...and still, fools online think the guy spent 20 minutes in the tank, getting hit in the face just for kicks. May I quote my own tweet? MAY I?
It is absolutely baffling that people thought he would risk getting hurt, or losing on a fluke punch, just because he had some vested interest in drumming up anticipation and making the fight look better. That's not how this works—the man was going to get paid the minute the opening bell rang. He fought his best fight—anyone who knows Mayweather knows that's true. This is how he dominates. You can reasonably argue that the result proves McGregor is a bad boxer, and you can reasonably argue that a more aggressive boxer would have won sooner, a la Pacquaio and Hatton, but Floyd was just being Floyd. A slow killer is still a killer.
This Week's Plea to the Sporting Gods: Please Give us Rafa-Roger at the U.S. Open
The best rivalry in sports history—yup, I said it—got some new and unexpected life this year, there is an unbelievable chance for a perfect capstone to a wild 2017 season. The year's final grand slam, the U.S. Open, is also the only slam where Rafa and Roger have never met. Which is actually kinda nuts, considering their unprecedented success. Blame it on bad draws, bad timing, or Rafa taking a little more time to become truly great on hardcourts, but in any case, it's a huge anomaly. They've met five times at Roland Garros, four times in Australia, and three times at Wimbledon, but never once at Flushing Meadows.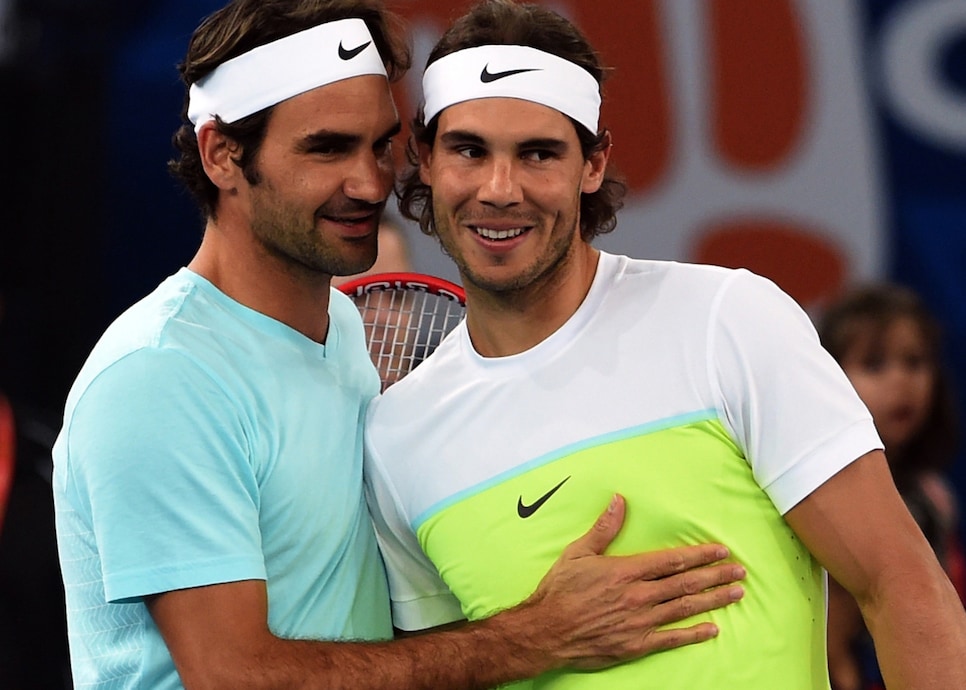 This year, though, the chances seem excellent. Murray and Djokovic, the other half of the Big Four, are out with injuries. Fed and Nadal are on the same side of the draw, which means they'd meet in the semifinals—a big deal, because it lets them both avoid world-beating youngster Sasha Zverev until the finals. Now, will it happen? I give it a 35% chance at best. Rafa is still weakest on hard courts, and is only 3-2 on the surface this season. His biggest obstacle will be Dimitrov in the quarterfinals, and Dimitrov is in unbelievable form. Federer has a better shot of reaching the semis, but he may have to fight past the mercurial Nick Kyrgios in the round of 16, which can be impossible or annoyingly simple, depending on the day, along with either Bautista-Agut or Dominic Thiem in the quarters.
In other words, a smart man would not get his hopes up. But I am not a smart man, and I want this match more than I want food and shelter. So please, sporting gods, I implore you—show us your sweet mercy and let them meet. In return, I offer as a blood sacrifice my very own one-handed backhand, mediocre but improving, which is kinda hurting my elbow lately. Take it from me! This is my dance, and Rafa-Roger meeting in New York is my rain.
Weird-Ass Sports Fact of the Week: Half of Canada Calls Kickball "Soccer Baseball"
I can't tell if this rules, or if I should be mad at it. But seriously, it's true. They also have their own term for basketball: "Non-ice elevated-but-smaller-goal no-goalie fewer-men ball hockey."
Divine Video of the Week: Stephen Strasburg and the Curveball From Heaven
I usually have more videos in this column, but I've ranted for too long and run out of space. Before I go, though, I insist that you enjoy this gift from the firmament, courtesy of one Stephen Strasburg. I'm pretty sure Jose Altuve thought this pitch was going to hit him, not send him to the dugout with a backwards K:
Of course, you're a total stooge if you think this was on the level. If Strasburg were really trying, he would have struck him out in one pitch, not five. YOU DUMB MARK.