Course Rankings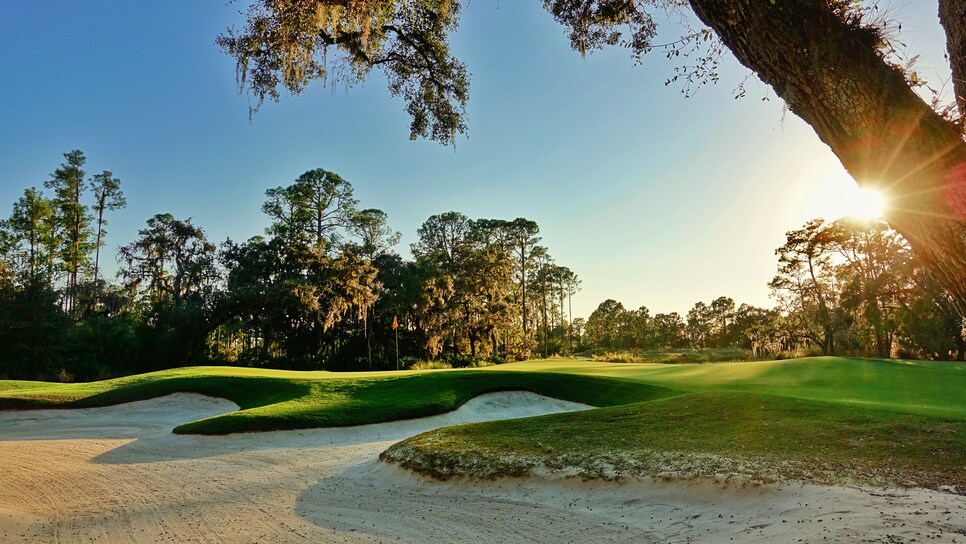 141. The Concession Golf Club
Jack Nicklaus & Tony Jacklin (2006)
The Concession was originally established by Sarasota resident Tony Jacklin, who convinced Jack Nicklaus to handle the design while Jacklin would offer design suggestions. The club name honors the famous final-putt concession from Jack to Tony in the 1969 Ryder Cup, which resulted in a tie between the teams and a moral victor for the underdog Europeans. The Concession is a terrific design, a rare Nicklaus one that's not a residential development. The course flows across a variety of landscapes—meadows, wetlands, oak hammocks and pine forests—with spectacular bunkering and exciting green contours. Jack had been working on this course at the same time he and Tom Doak were doing No. 38 Sebonack, and Jack later admitted the small, heavily-contoured greens at The Concession were inspired by those at Sebonack. In 2021, The Concession hosted the World Golf Championships - Workday Championship, won by Colin Morikawa.
Ranked on America's Second 100 Greatest: 2013 through current. Highest ranking: No. 105 (2013-2014). Previous ranking: No. 135.
Watch Golf Digest's latest "Every Hole At" course videos below:
Panelist comments, The Concession Golf Club:
"The best conditioned course I have played in Florida. Hard to get firm fairways in Florida in the summer time, hats off to the superintendent for creating ideal playing conditions."
"Very peaceful and quiet ambiance with the absence of condos or houses in a remote location."
"The greens have a lot of internal slopes and mounds around the greens allow for multiple ways to play shots—including the option to use the ground into the greens, a great aid to playability."
"The fairways are generous but local knowledge goes a long way to manage your way around the hazards and positioning you in the right spot to approach the green."
"The Concession is the one golf course that I do not understand why it is not in the 100 Greatest. It's a complete test of golf for the good player but is very playable for the average player from tee to green. The greens are the best Nicklaus designed, with plenty of movement and hole locations that require a great deal of thought. My favorite holes are the long 3rd, the cute short par 4 8th, the drivable 11th, the long 12th, and the finishing 3 holes. There's not a weak or indifferent hole on the course, and it's a special atmosphere for golf with the Ryder Cup theme of Jacklin and Nicklaus carried throughout. Great stuff."
Photos: Courtesy of Jon Cavalier