The Loop
The book on Tiger: He's back in time for Augusta
Tiger Woods has always had another gear, one activated by anger arising from any slight, real or imagined, and rooted in a lesson from his youth. Feeling aggrieved? Let your talent speak on your behalf, his mother taught him.
Others can decide for themselves whether Hank Haney's new book, "The Big Miss," qualifies as a real slight or an imaginary one, but either way, Tiger is angry about it and steadfastly unwilling to discuss it further.
Maybe this was his response: Two days before the most anticipated sports book of the year goes on sale, Woods won a PGA Tour event for the first time in 2 1/2 years.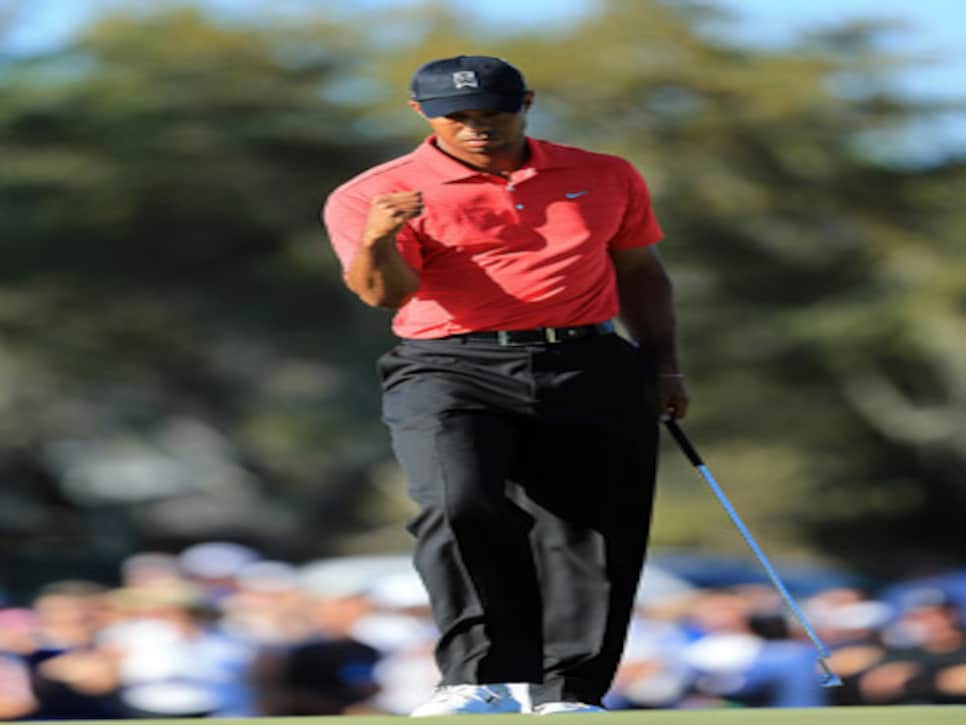 It could have been a coincidence, of course, but this seemed to be the equivalent of "nine and eight," his post-round response at the 2006 WGC-Accenture Match Play Championship to Stephen Ames' pre-match remarks about the state of Tiger's game.
Woods' five-stroke victory in the Arnold Palmer Invitational won't change the conversation entirely -- Haney will be ubiquitous in the coming days as his publisher puts the publicity machine in overdrive. But it will set the golf world abuzz, returning the bulk of the focus to Woods' golf, rather than peripheral issues that include his now very public private life. Winning, of course, was always going to be the easiest path to redemption.
The timing of Woods' victory was propitious in another regard, one of indubitably greater importance. Two weeks before the Masters, it was imperative that he take into Augusta something other than imperceptible progress that he habitually labeled "a process." Say it often enough and it begins to sound like an excuse.
Whatever the process, Woods needed to re-establish himself as a winner, for his own sake. During "the process," he had opportunities to win, but seemed to have mislaid the ability to close. That was not the case on Sunday. He took a one-shot lead into the final round and outplayed all his possible challengers, including a player partner whose best shots weren't good enough to fell Woods.
When Graeme McDowell holed a 51-foot eagle putt at the sixth hole, it was good enough only to pare a stroke from his four-shot deficit. Woods carried a three-stroke lead into the back nine then deftly protected it on a course playing too difficult to mount a charge.
When his approach to the treacherous 18th green was safely aboard, Woods broke into a broad smile. He high-fived his caddie, Joe LaCava.
"It feels good, it feels really good," he said afterward. "A lot of work went into it. I'm so thankful for a lot of people helping me along the way. They all know who they are."
Presumably one of them is Sean Foley, the instructor who took over when Haney quit and inherited the bulls-eye that goes with teaching Woods. It was his first tour victory under Foley and carried him back into the top 10 in the World Ranking at No. 6.
More to the point, Woods now has finished second and first in the last two tournaments in which he completed 72 holes, which loosely resembles the career pattern he had established before injury and scandal derailed him. And that it came so close to the Masters has clearly energized him.
"I'm looking forward to the momentum I built here," he said, reiterating what his wide grin, so often missing in recent months and years, had already conveyed.