The Loop
The 'Bill and Ted 3' rumors have nothing on its predecessor, perhaps the craziest sequel ever made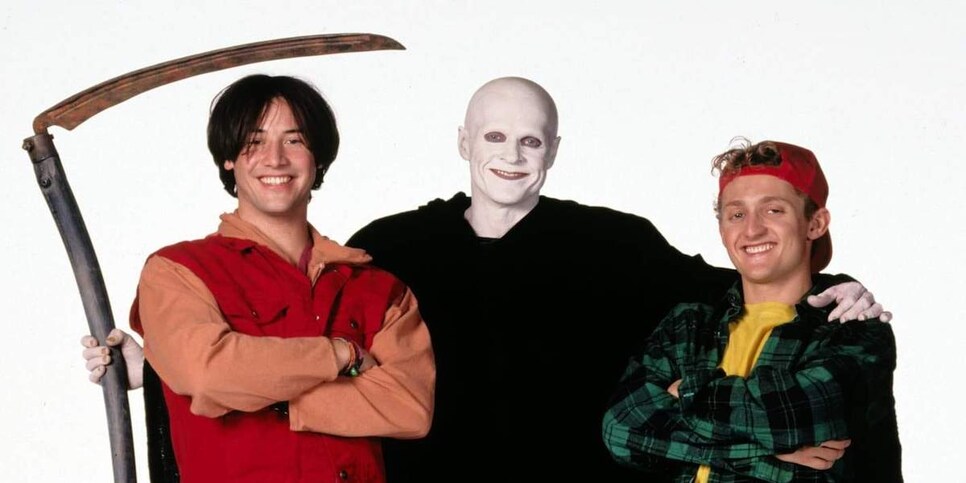 Rumors about a third Bill and Ted movie have been bubbling around pretty much since the end of the second Bill and Ted movie, which you and your formerly athletic and currently drooping musculature will be stunned to realize occurred in 1991. NINETEEN NINETY-ONE, GRANDPA. That is very close to knocking on THIRTY YEARS AGO. You know what's weird is Googling facts about a Bill and Ted movie and being reminded of your own mortality. Wasn't expecting that.
Anyway, Bill and Ted! Buzz for a third movie is picking up again, at least according to the over-caffeinated super-tweeting members of The Internet, which makes its collective clothes damp and heavy every time two cast members from a '90s show converge for any activity at all. (JAMES VAN DER BEEK AND KATIE HOLMES SPOTTED IN SAME GAP FOR KIDS, DAWSON'S CREEK REUNION IS A 100% LOCK AND WE ARE CRYING)
Earlier this week, Entertainment Weekly, which is basically 80% just pictures of cast reunions and anecdotes about alternate endings at this point, interviewed Keanu Reeves, Alex Winter and the movie's crew to lay out the possibility for a 30-years-later sequel called Bill and Ted Face the Music, which will ostensibly be about the global history-rattling success of their band Wyld Stallyns. (If you think a 30-years-older Bill and Ted are too paunchy/gray to put on a reunion rock show, hahahahahahahaha.)
But let's back up. If you put other stuff in your brain after '91, at the end of the original movie, a miraculously cast George Carlin alerted us that Bill and Ted's music brought peace to the globe, united all peoples, shut down Trump's businesses (I'm just assuming) and ushered in a new golden age, one that was overseen by a galactically appointed Clarence Clemons and the guitarist from Faith No More. Yes, people: Carlin, Clemons AND Jim Martin. You find me a better cast in a '90s movie than the first Bill and Ted. You try. I'm waiting.
Anyway, this set up the second movie, which came out about 30 minutes later and was PHENOMENALLY BONKERS. It was originally titled Bill and Ted Go to Hell and found the duo dancing with Actual Death during a trip to the fiery underworld, but they had to change the name because the MPAA, an organization that OK'd you bringing your seven-year-old to an Indiana Jones movie where a shaman claws a beating heart out of a man with feelings, said you couldn't put "Hell" in a title. (Ugh, Hollywood liberals, am I right.) A few minutes of thesaurus action later, the crew came up with "Bill and Ted's Bogus Journey," and left all the stuff about hell and Death (who was played by William Sadler, the cube-jawed villain from Die Hard 2 and a man who had a more fun two years in 1990-1991 than you will ever have).
They also added two hours of sweaty, nightmarish post-salmonella fever dreams! The script apparently was being written well into production, which may account for the hideous Easter Bunny doll in hell, a psychotic grandmother played by Winter in drag, robot Bill and Teds that looked like they were assembled in a ninth-grade Camp Invention week and an inexplicable animatronic Where the Wild Things Are outtake named Station, who was fat, Martian and also a genius. (The article reveals the bafflingly named character got his moniker when the writers basically magic-markered out everything on a screenplay page except the word "Station," which is frankly a better explanation than I was expecting.)
Want more? Bill's stepmom divorces Bill's dad and marries Ted's dad. Also, the movie opens with the evil Camp Invention robots KILLING BILL AND TED, which was a lot to take in when you were a ninth grader. Also, Death takes Bill and Ted to visit ACTUAL GOD, which seems like something that would deeply freak out about 500 Midwestern TV stations in 2018. Also, the big revelatory song at the end is a furiously cheesy power ballad by makeup-less KISS with the ACTUAL TITLE "God Gave Rock n' Roll To You," because KISS is nothing if not overly loyal to screenplays.
To recap: This movie got made, and continues to be beloved, and this was about to be a piece about the vague dullness of constant nostalgia, but I have 100% changed my mind. Everything in the '90s was absolutely better. The news wasn't entirely garbage and assault rifles weren't available in schools and most us still had clear skin and unbroken dreams. Bring us Bill and Ted 3, bring us old movies for the next 50 years and the Wyld Stallyns forever.