In the pantheon of the great American golf course architects, you have the names all golfers know: A.W. Tillinghast, C.B. Macdonald, Robert Trent Jones Sr., Pete Dye and Tom Fazio. And most golfers are familiar with Shinnecock Hills Golf Club, site of this year's U.S. Open. You know it as one of golf's great championship venues. But in all likelihood, the majority of casual golfers couldn't name its designer. William Flynn is one of the best American architects in history, and consistently is underrated among the designers who get the most notoriety. The reason? Flynn didn't work on nearly as many designs. Tillinghast and Trent Jones have hundreds of courses to their name. Flynn did not, but among the key principles in the Golden Age of American golf course architecture, he was as influential as anyone else. And Flynn's work was stellar: "His style could perhaps best be summed up as 'apparent simplicity, but actual complexity,' " says Wayne S. Morrison, co-author of "The Nature Faker," the most comprehensive study of Flynn. "He would mimic nature in truly brilliant ways."
Flynn played major roles in the designs of three courses ranked within the top 20 of Golf Digest's most recent America's 100 Greatest rankings: Shinnecock Hills (No. 4), Merion's East Course (No. 6) and The Country Club at Brookline (No. 16), matching only the contributions of Alister MacKenzie (Augusta National, Cypress Point and Crystal Downs) and Donald Ross (Seminole, Oakland Hills South and Oak Hill East) for most courses inside our top 20. That's an impressive fact, and it speaks to how under-appreciated Bill Flynn is.
Hugh Wilson, one of the most prominent amateur players of his time, would lean on Flynn to assist him in completing the famed East Course at Merion Golf Club. Flynn, a Massachusetts kid who competed against Francis Ouimet in high school, was hired by his brother-in-law, to help him with construction there. Wilson and Flynn would continue to revise the course up until Wilson's death in 1925, according to Morrison. Merion purchased seven-and-a-half acres of land in 192, leading to a significant renovation of the East Course, and with Wilson ill at the time, most of the work was likely done by Flynn, Morrison says. "Much of the conceptual stuff was likely Wilson, but Flynn's originations are in the dirt," Morrison told Golf Digest. Flynn's work at Merion, where he'd become their superintendent for some time, led him to get the breakthrough job of his career—redesigning Macdonald's layout at Shinnecock Hills, firmly cemented as one of the world's best championship venues.
Golden Age architects such as Tillinghast, George C. Thomas and Perry Maxwell usually get their do. Perhaps with the recent restoration work by Bill Coore and Ben Crenshaw to bring back many of Flynn's design features at Shinnecock before this U.S. Open, Flynn will resume his place as one of the most heralded designers in American history.
10 . Lehigh (Pa.) Country Club, Allentown, Pa.: Much of Flynn's stellar work came in the Philadelphia area, and Lehigh Country Club is one of Flynn's best. Currently ranked No. 11 in Pennsylvania, Lehigh is an example of Flynn's ability to utilize the best pieces of land in his routing. The par-3 seventh hole is one of the most memorable—playing down off an 80-foot high elevated tee to a kidney-shaped green.
9 . The Country Club (Pepper Pike) in Ohio: Ranked 12th in our Best in State rankings, the course opened in 1930. Since our first Best in State rankings in the 1980s, Pepper Pike has consistently ranked inside the top 10 or 15 in golf-rich Ohio. In "The Nature Faker," Morrison points to the visual deception techniques with Flynn's bunker placement and design, specifically the manipulation the topline of bunkers. In addition, offset fairways force a player to puts a premium on distance control. Morrison calls the long par-4 15th hole and the short par-4 17th "two of the best holes you'll find anywhere." He told us: "These were innovative, sight-specific holes. He used bunkers in the less dramatic holes and let the land dictate where the routing should go."
Courtesy of The Country Club (Pepper Pike)
8 . Huntingdon Valley (Pa.) Country Club: Ranked 10th on our Best in State rankings, Huntingdon Valley was designed by Flynn and Toomey with tournament play in mind, Morrison says. "The premium is on shotshaping and ball-striking off demanding, uneven lies," he told us. The course is essentially built in a bowl, which accounts for those sidehill lies.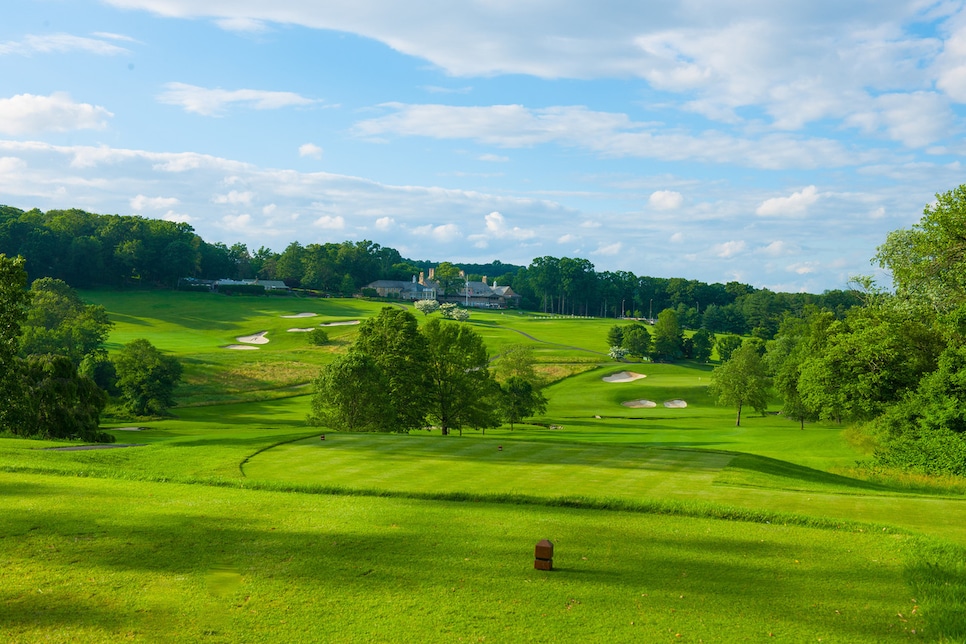 7 . Lancaster (Pa.) Country Club: The host of the 2015 U.S. Women's Open. Currently ranked seventh in Best in State, Lancaster Country Club was a member of Golf Digest's 100 Greatest from 1971 through 1985. The course faded into our top 15 in Pennsylvania from 1987 through 1997, but the club is back inside our top 10.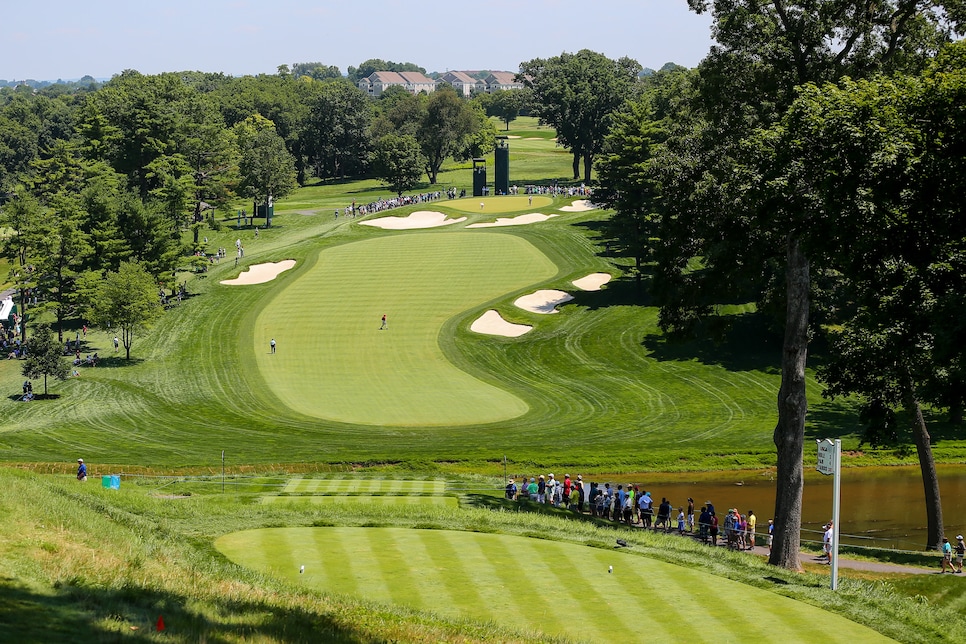 6 . Omni Homestead (Cascades course): As the story goes, Tillinghast, Raynor and Peter Lees visited the site where the Cascades course would eventually be built by Flynn's team. They all said a golf course couldn't be built on the dramatic site. Flynn had a different idea. The result would be the Cascades course, which has hosted the U.S. Amateur, the U.S. Women's Open, U.S. Women's Amateur, the U.S. Mid-Amateur and the NCAA Championships, in addition to more than 30 state amateur championships. The Cascades course was ranked in Golf Digest's 100 Greatest rankings from 1969 through 2007, and it's currently ranked 142nd on our Second 100 Greatest. "Flynn was almost a savant," Morrison said. "He was such a quick study about what could be done on a piece of land." Morrison calls the Cascades course an "engineering marvel" at the time, as Flynn developed a natural-feeling course by heavily engineering it.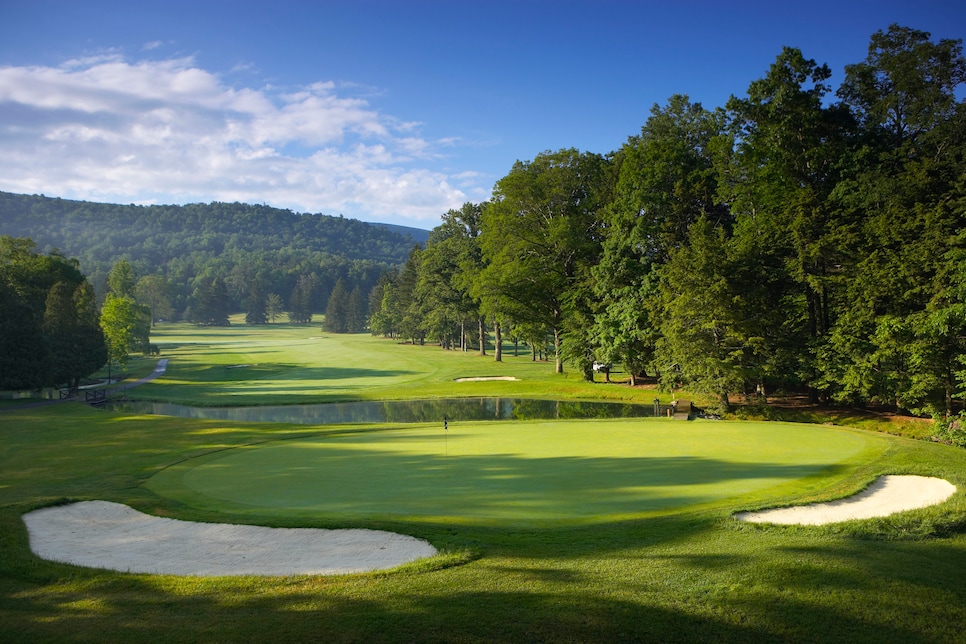 5 . Cherry Hills Country Club, Cherry Hills Village, Colo.: Probably most known as being the host of the 1960 U.S. Open, where Arnold Palmer drove the first green and made a glorious Sunday charge for the win, Cherry Hills made history at the 1938 U.S. Open as well, being the first venue west of the Mississippi River to host the nation's championship. Cherry Hills is one of this country's classics. Flynn instituted the United States' first island par 5 when it opened in 1923. The club was ranked as high as 21st in our 2003-2004 100 Greatest. It's currently ranked 73rd.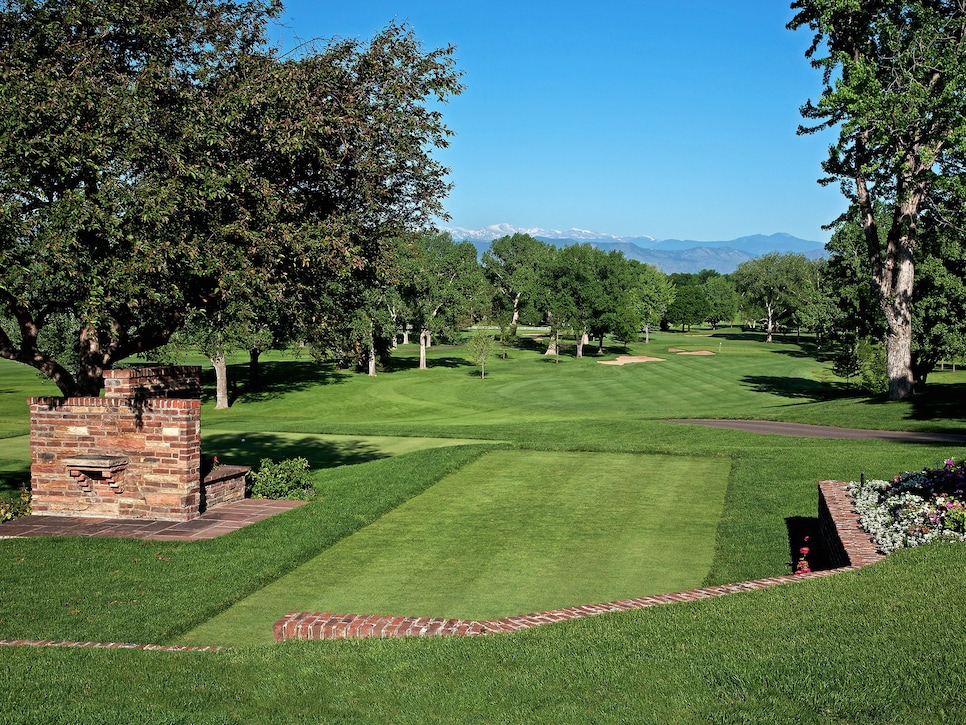 4 . Kittansett Club, Marion, Mass.: The seaside, links-like layout, ranked 67th on our most recent 100 Greatest, was long thought to be the product of an amateur architect, up until recently. With the discovery of some original blueprints, the Kittansett Club was actually the work of Mr. Flynn. Credit that Morrison and Thomas E. Paul, who reveal that and much more in their massive 2,260-page biography of Flynn entitled "The Nature Faker: William S. Flynn, Golf Architect." Credit Gil Hanse with restoring the bunkers without the aid of those Flynn plans. Instead, he used old aerial photographs. —Ron Whitten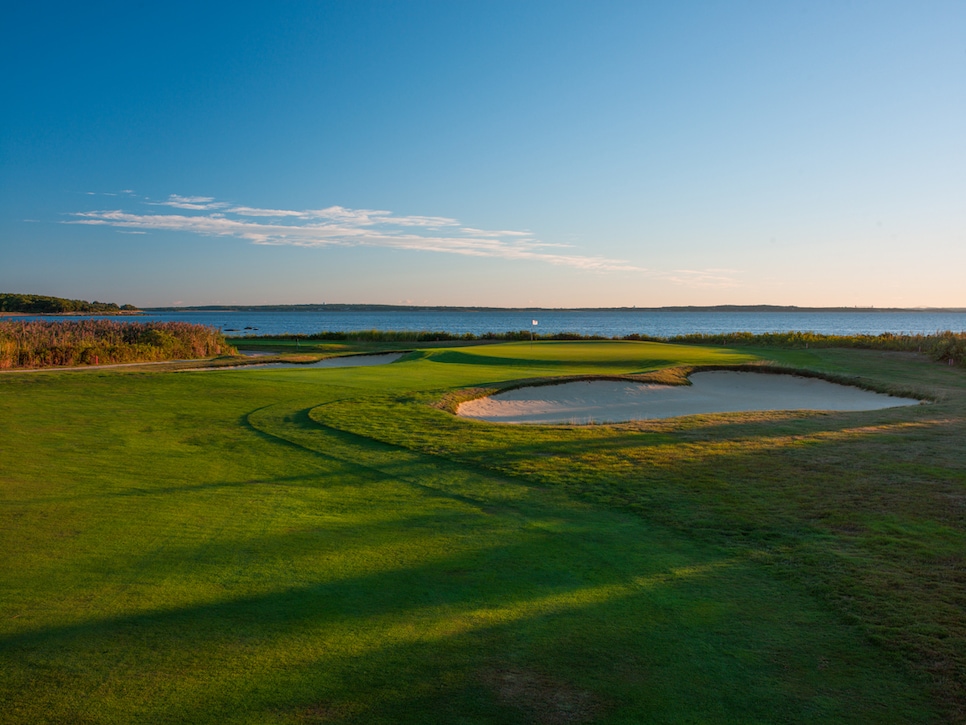 LC Lambrecht/Courtesy of The Kittansett Club
3 . The Country Club (at Brookline), Mass.: So much history here—from local kid Francis Ouimet's improbable 1913 U.S. Open victory, to the 1999 U.S. Ryder Cup victory. And Flynn played a big part in the design of the course. Since our 1989 100 Greatest rankings, The Country Club hasn't ranked lower than 20th, rising to as high as 10th in 1995.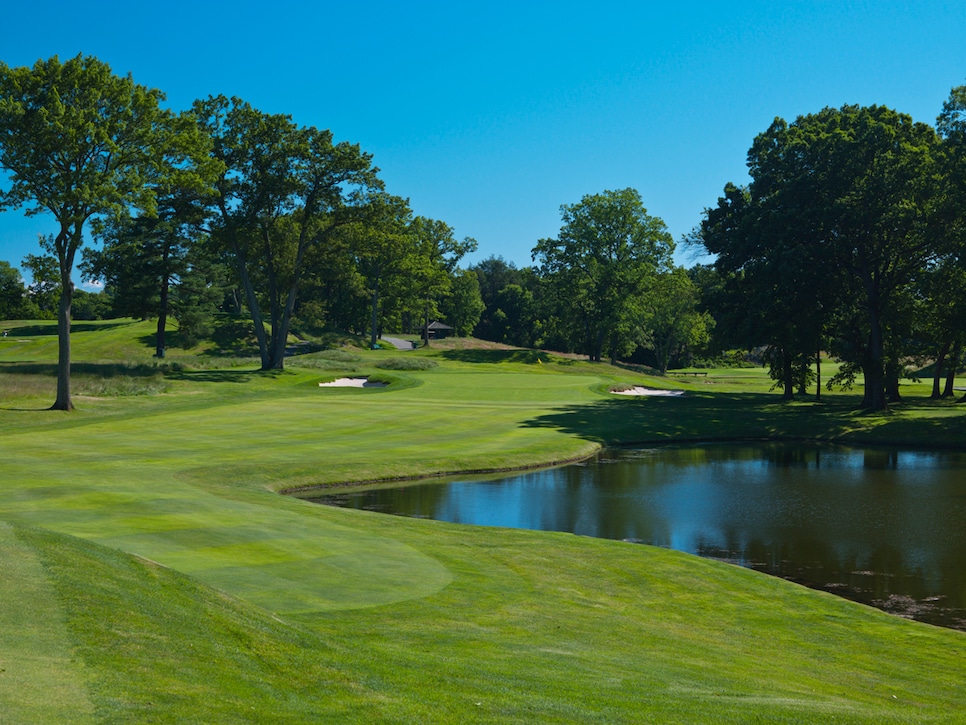 2 . Merion Golf Club (East), Ardmore, Pa.: Flynn was hired to help the construction at Merion, and would later become the greenskeeper. Long considered to be one of America's greatest routings across such tight acreage, it's perhaps no surprise that Flynn used what he learned by studying Merion East to help facilitate his later designs. The site of so much history, most recently Justin Rose's 2013 U.S. Open victory, Merion is one of the great sites in American golf.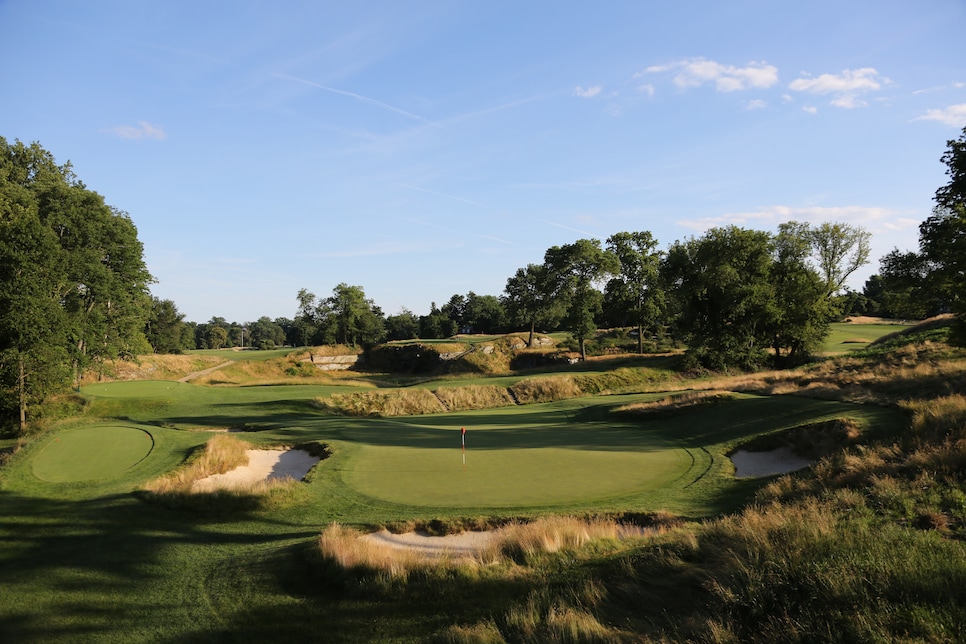 It has been known as one of the toughest tests in golf, even after it had just opened and hosted the 1896 U.S. Open and U.S. Amateur. After two extensive remodels by Macdonald, the club purchased land east of its clubhouse, and brought in William Flynn to reroute the course. The new course tipped out at 6,749 yards, lengthy for 1931 standards, and remained mostly unchanged for decades. For the 2004 U.S. Open, the course measured 6,996 yards, and after changes made by Bill Coore and Crenshaw over the past couple of years, the course restored lines and angles to the fairways from 10 new tees, with it stretching to 7,445.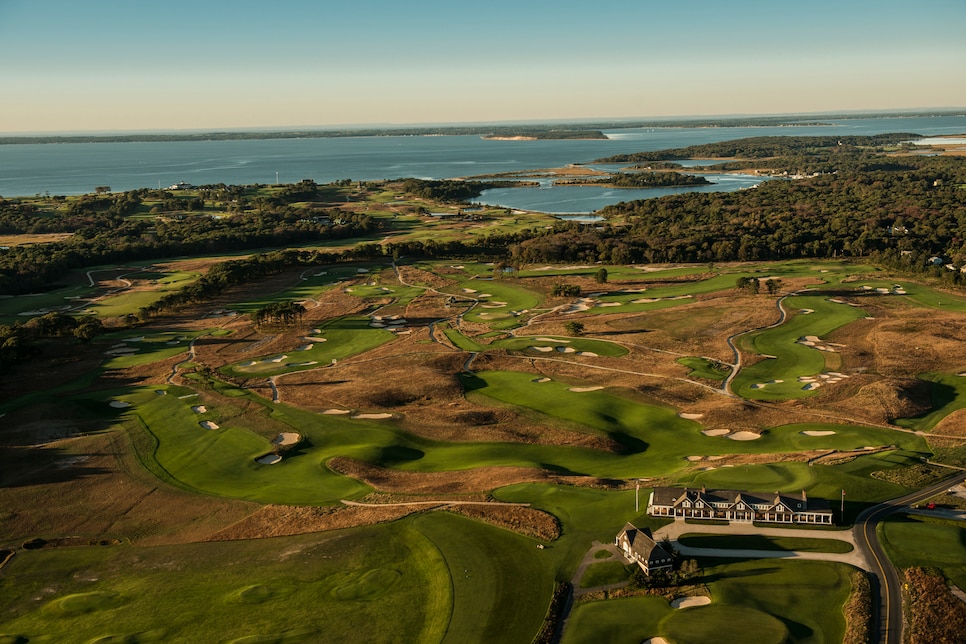 --Indian Creek (Fla.) Country Club: Another engineering marvel, as Flynn, according to Morrison, did some dredging work on Key Biscayne to make Indian Creek feel less engineered than it actually is, appearing rather natural as it sits 35 feet above sea level. Indian Creek is currently ranked No. 25 in Florida.
--Country Club of Virginia (James River) -- Ranked ninth in Virginia. Though most attribute the design to Flynn, Morrison and his co-author Tom Paul are somewhat skeptical. As they write in "The Nature Faker": "It is possible the drawings in the collection do not represent the final Flynn plans and as yet undiscovered plans by Flynn were used in the end. However, it may well be that the course was designed by someone else."
--Potantico Hills (N.Y.) Golf Course: The reversible, nine-holer was built for the Rockefeller family estate, brilliantly routed so as to highlight the most interesting aspects of the estate. It's unclear whether the course is currently maintained, as the current Rockefellers are not huge golfers.
--Philadelphia Country Club (Spring Mill): 15th in our most recent Best in State rankings.
--Rolling Green Country Club: Right behind Philly C.C. at No. 16 in our Best in Pennsylvania rankings. Contains one of the most challenging holes that Flynn designed—the uphill, 260-yard par-3 10th hole.
--Manufacturers Golf & Country Club, Fort Washington, Pa.: An interesting and diverse layout with a lot of elevation change. Contains eight holes crossing across streams.
--Atlantic City Country Club, Northfield, N.J.: Extensive renovation work in the past decade by Tom Doak might make this more Doak than Flynn—but the original routing is still Flynn's. Ranked as high as our top 5 in state in our 2003-2004 Best in New Jersey rankings.