Equipment
The best fairway woods of 2019—11 clubs to help you hit more par 5s in two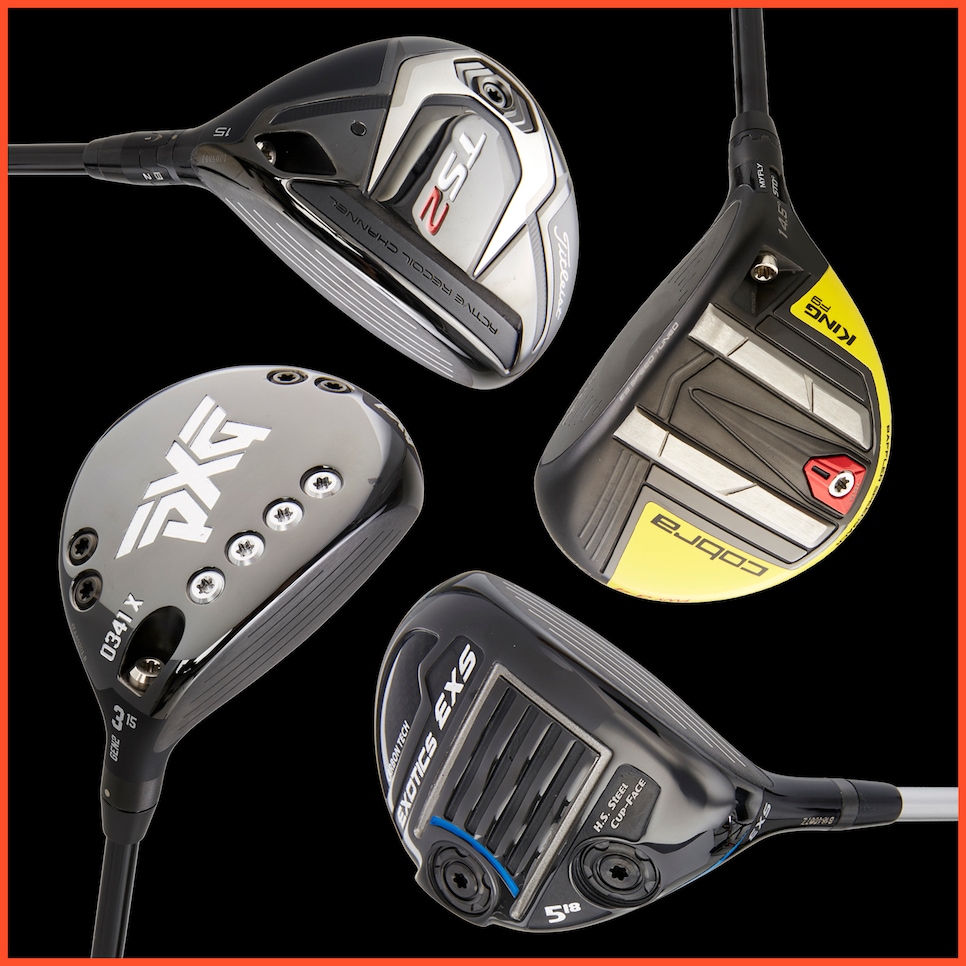 When it comes to a player's relationship with fairway woods, there's not much middle ground. Either you savor every chance to whip out the 3-wood a la Henrik Stenson, or it's mere appearance causes the worst type of fears—cold tops, duffs, wind-swept foul balls—to manifest. Luckily, with a wide range of styles, shapes and services, this year's Hot List fairway wood winners will get you closer to that Stenson mindset.
These batch of clubs continue the fairway wood trend of placing more weight in the bottom and back of the head, a configuration that makes it easier for players to launch the ball in the air. This extra weight is found by extended use of carbon fiber crowns, a lighter material that has given manufacturers more discretionary weight to play with. Better yet, this design helps reduce spin, giving your ball the chance to fly further than it ever has before.
Of course, longer and higher can be problematic if the shot is not on line. To help with accuracy, many clubs have thinner faces than past iterations, with a few even featuring wrap-around contours, creating a larger sweet spot for contact. If that wasn't enough, the flexing from most models helps provide ample ball speed across the face, alleviating some of the pains from mis-hits.
And, similar to innovation seen in drivers, adjustability is becoming more routine in fairway woods—both in loft, and draw and fade bias—allowing the player to get properly fit into the specs right for them. In short, hitting a fairway wood is now easier than ever.
Story: Callaway has spent the past few years outfitting its fairway woods with driver features, including its "jailbreak" technology for more face flex. Now Callaway borrows the artificial intelligence that fueled its new driver face and modified it for a fairway wood: The variable-thickness face's unique, thicker perimeter ring creates more flexing, even low on the face. Ten adjustable heads in two styles (one for low spin) with lofts into the mid-20s mean there's a fit for everyone.
Loft: 13.5, 15, 17, 19, 20, 21, 23, 25
Story: There's flashy technology like a carbon crown, a high-strength steel face and aerodynamic trip steps, but the subtle features are just as effective. Cobra's trademark sole rails are steeper as the lofts get higher to match the more descending swing path. A precision computer-milled face provides more consistency compared to hand polishing. That's crucial for the face curvatures that provide higher launch on the standard version and workability on the Tour model.
Loft: 3-4 (adjustable 13-16 degrees), 5-6 (adjustable 17-20 degrees), 7-8 (adjustable 21-24 degrees); F9+: 3-4 (adjustable 12-15 degrees); 5-6 (adjustable 16-19 degrees)
Story: A lot of fairway woods position weight in the rear for forgiveness, but here the center of gravity is closer to the face for improved energy transfer and less spin. A raised structure also stiffens the crown for consistent speed across the face. Weight saved by a lightweight carbon-composite crown makes room for eight sole screws of varying weight for adjusting spin, launch and direction. Finally, the crown's matte finish reduces glare at address.
Story: All three models feature a new adjustable hosel with eight settings to change loft and lie, but each style offers distinct attributes. The standard model is forgiving and provides a neutral flight. The compact LST has a lower center of gravity for high launch with less spin compared to last year's G400 Stretch, and the slice- fighting SFT's larger size provides fade correction and higher launch through more heel-side weighting and 1.5-degree higher lofts.
Loft: 14.5, 17.5, 20.5, 23.5; SFT: 16, 19, 22; LST: 14.5
Story: When you use a compact titanium body and face and a lightweight carbon-composite crown, you have discretionary weight to play with. TaylorMade took 65 grams and added a movable sole weight that keeps the center of gravity low for optimal launch. The weight can be adjusted for a fade or draw. The twist-face design—in which the face is twisted like a potato chip's contrasting curves—helps direct mis-hits back toward where you're aiming.
Story: A thinner and expanded carbon-composite crown gives this wood forgiveness and power. Nine grams of saved weight from the crown are relocated low and along the perimeter for a higher launch. A center section in the sole improves turf interaction. A wider sole slot provides more flex at impact, which equals more ball speed. Finally, the face shape twists open at the toe and closed at the heel to bring off-center shots back toward the target.
Story: Similar to the TS2/TS3 drivers, these fairway woods embrace speed-enhancing features. Among them are a very thin, center-of-gravity-lowering crown and a thinner, high-strength steel-alloy face. Completing the speed push is the sole slot, which cuts deeper into the head to create more flexing, especially on thin shots. The TS3 has a weight cylinder that dials in a draw or fade, and the more-forgiving TS2 is designed to launch the ball higher.
Loft: TS2: 13.5, 15, 16.5, 18, 21. TS3: 13.5 (RH Only), 15, 16.5, 18
Story: The design features a weight-saving carbon-composite toe that keeps the center of gravity low and forward for less ball spin. Additional weight has been pushed to the perimeter for extra off-center-hit forgiveness. The variable-thickness face is made of a thin, high-strength steel and wraps around the crown, toe and sole to improve flex. Two movable weights on the heel (11 grams) and rear (three grams) can toggle between a draw and neutral setting.
Silver-medal winning clubs:
Story: The face offers distance with plenty of help from the body. First, the crown features thin sections in the front and rear so it can compress more at impact for additional face flex. There's also a thin section at the leading edge, and together these work with a variable- thickness face to produce a higher, faster launch. The milling pattern on the face is twice its former depth, so the higher launch comes with limited spin.
Story: Mizuno's "wave technology" is not new, but it takes on a more aggressive pattern for additional give at impact, increasing the energy transferred to the ball. Also, a high-strength, steel-alloy face provides extra ball speed. A composite crown allows for weight to be redistributed lower in the head to help launch the ball higher with less spin. The two versions include the low-spin TS, which adjusts from 13 to 17 degrees.
Loft: ST190: 15, 18. TS: 13-17 (adjustable)
Story: This new model adds forgiveness and speed to go along with the penetrating flight better players prefer. For speed, the stronger lofts feature a high-strength-steel wraparound cupface, and the 5-wood uses that alloy as a face insert. The stronger lofts use a carbon-composite crown to lower the center of gravity, and all models feature a 10-percent thinner front of the crown that steps down to further increase launch and decrease spin.