The Loop
The Ambush Is All About Value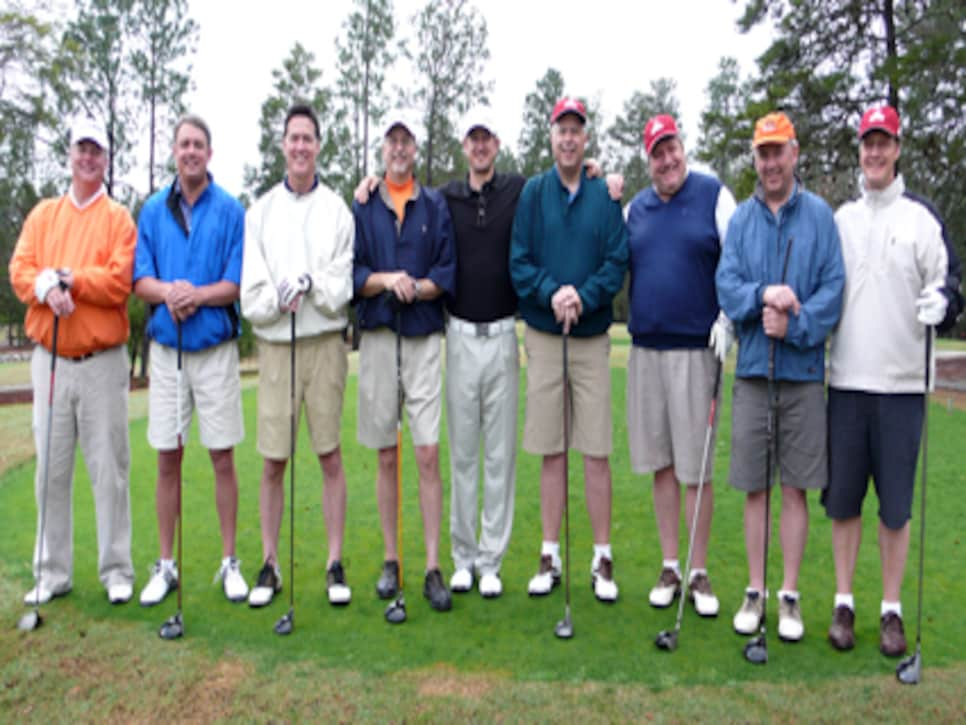 If you've noticed a trend in the story lines of the Ambush, yes, it's a celebration of the "fellowship" that Mike Hendren (third from the right in the photo above) speaks about in the most recent Ambush video from Florida.
But the Ambush story lines are always about the bargains: $550 per man for two nights of lodging, two home-cooked breakfasts and dinners, and four rounds of golf (lunch included) is what Hendren secured his group an hour north of Tampa. This was the 13th year of The Other Senior Tour -- eight guys getting together for some golf by day, college basketball by night and sharp personal digs regardless of the time of day or night.
I'm in the process of picking Ambush No. 28. Among others, I'm looking into the Straw Dog Invitational at Palmetto Dunes sent in by Lawrence Peterson of Macon, Ga. Or Michael Speer's group from Canada going to Boyne Highlands in Michigan, playing for the coveted "blue vest." Northern Michigan is also where the 22nd year of the Fitton Follies Golf Extravaganza is taking place. (They have their own website: www.fittonfollies.com.) At the sixth annual Masters Golf Trip in North Dakota (five sets of brothers), yes, they play for a green jacket, and the winner gets to pick the menu the next year, but he also has to plan the whole trip. I'm also considering the guys in Cuscowilla, on Lake Oconee in Georgia--who are playing for The Fanny--an old McGregor 3-iron mounted in a block of wood. Why The Fanny? Jeff Pittman of Roswell, Ga. explains: "One of our guys was hitting his approach on a par 5 and he bounced one off a circulation fan, which was located on the edge of the trees. It ricocheted the ball to about three-feet from the cup. Instead of making double or triple bogey, he made a birdie."
A fanny with that kind of action rarely leads to a birdie, almost always leads to a big bill.