The Loop
The 7 finest moments of Greg Norman's career (and yes, some of them were losses)
On Tuesday, Greg Norman turned 60, and if tough losses take a bigger toll on the body than big wins, you'd expect The Shark to look and feel a lot older than he does. On Monday, he posted a photo of himself looking very fit as well as a list of advice for how to "attack life." Unfortunately, Norman is probably most remembered for his heartbreaking losses on the course, but there were also plenty of positives for a man who has spent more than a tenth of his life -- 331 weeks to be exact -- ranked No. 1 in the world. Here's a look back at seven moments from his brilliant career that stood out:
1986 British Open: 1986 is most remembered as the year of Jack Nicklaus winning his final major at Augusta, but it's also the year Norman broke through for his first. With a final-round 69, the Aussie pulled away from the field at Turnberry to win by five shots. Incredibly, Norman led all four majors that year through three rounds. Only closing the door in one is seen as a major disappointment, but going T-2, T-12, win, 2nd in the four biggest events in one year is impressive no matter how he did it.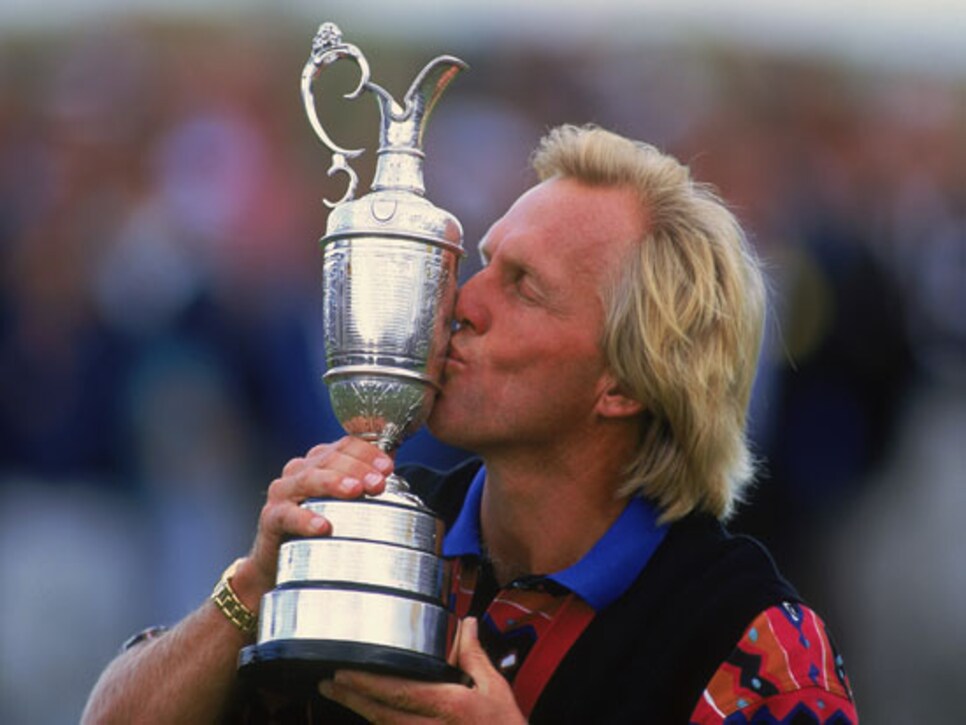 1993 British Open: There was no questioning of Norman's ability to close the door after this event. A final-round 64 at Royal St. George's allowed him to overtake 54-hole leader Nick Faldo by two shots and earn a second major championship.
1994 Players: After opening with a course-record 63 at TPC Sawgrass, Norman didn't slow down. Three consecutive 67s gave him a 24-under total, which is still the tournament record by four shots. Norman made one bogey the entire week at the tricky Pete Dye track thanks in large part to the length and accuracy off the tee (49 of 56 fairways) that made him arguably the best driver of the golf ball ever. Norman would wind up winning his third Vardon Trophy (for the tour's lowest scoring average) at the end of the season.
1995 NEC World Series of Golf: Norman is one of two golfers (Craig Wood) to lose all four majors in playoffs, but he didn't always lose when tournaments went to extra holes. At Firestone CC in 1995, the top-ranked Norman chipped in for birdie to defeat No. 2 Nick Price and Billy Mayfair. The $360,000 winner's check set a new single-season money record on the PGA Tour and pushed him ahead of Tom Kite as the tour's all-time biggest earner.
1996 Masters: Yes, he infamously blew a six-shot lead through 54 holes, but how he handled the loss to Nick Faldo won him even more fans. Watching Norman crumble that Sunday with a 78 -- 11 shots worse than Faldo -- was tough, but he showed incredible sportsmanship when it was over. "Victory is sweet, but how you handle yourself in defeat is often more telling," Norman advised on Tuesday. The man practices what he preaches.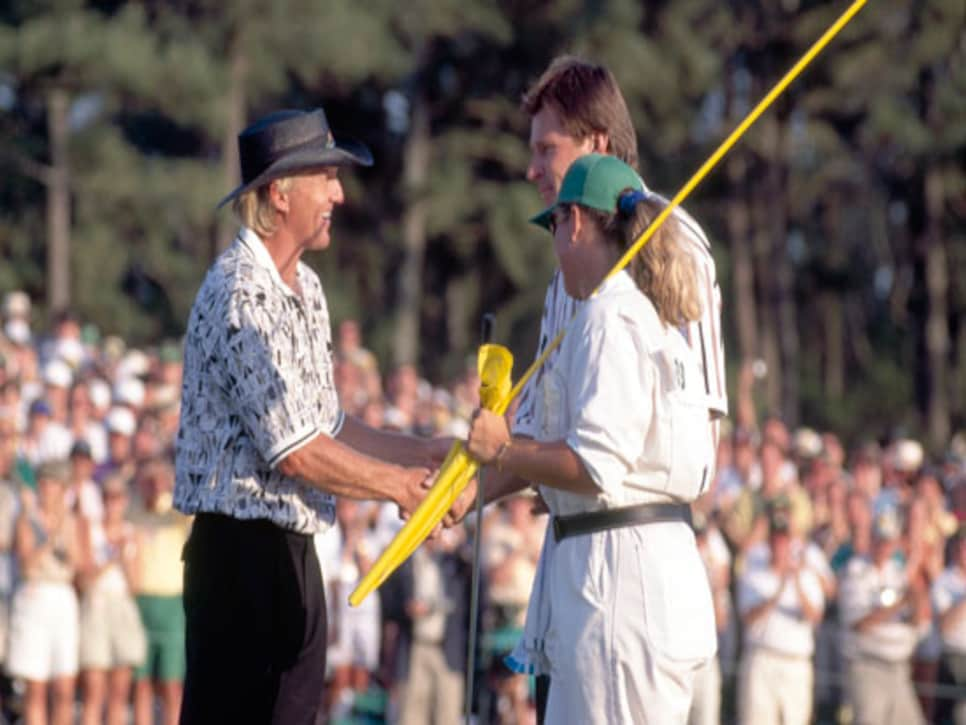 2001 Skins Game: Norman's final of 20 official PGA Tour titles came at the 1997 NEC World Series of Golf when he defeated Phil Mickelson by four shots. But four years later, he knocked off another young superstar, Tiger Woods, in the Skins Game. In the only year the event used the "validation rule" (players had to halve or win the next hole to validate a skin), Norman came up clutch by winning No. 17, halving the 18th, and winning a playoff in the event that also included Colin Montgomerie and Jesper Parnevik. As a result, he became the only player to win the entire prize purse ($1 million).
2008 British Open: Before Tom Watson nearly won an Open at 59, Norman was the senior who had the golf world buzzing. The then-53-year-old became the oldest 54-hole leader at a major despite having not even played in a major in three years. His final-round 77 left him T-3, but he proved, even in semi-retirement, he could still be golf's main attraction.