The Loop
The 2012 Trending Awards (aka, the Trendies)
](http://www.golfdigest.com/contributors/derek-evers)__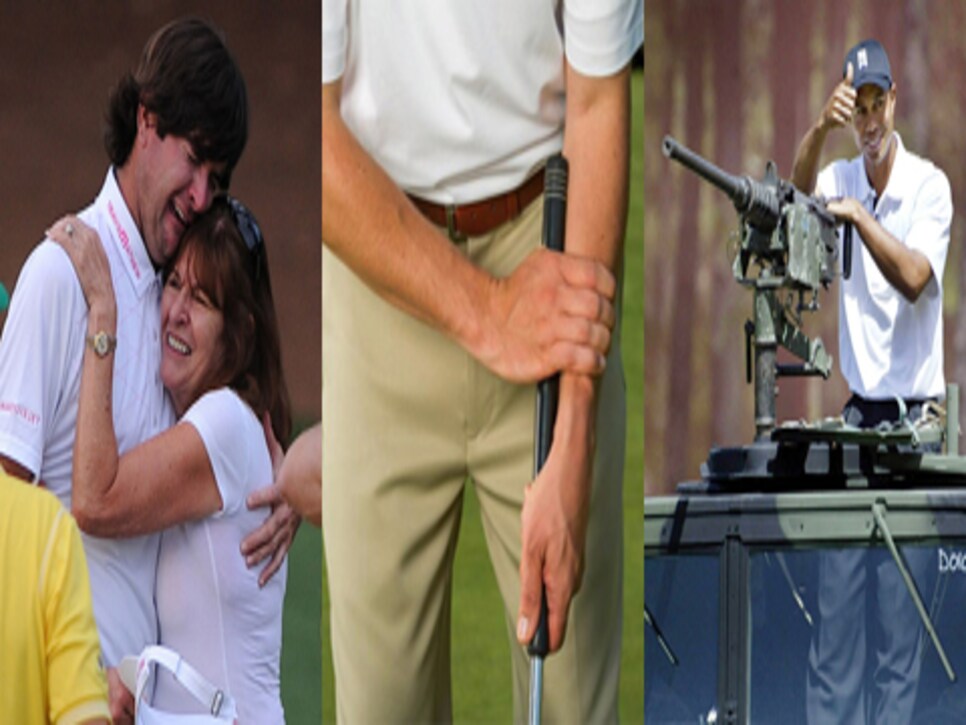 Some trends are fleeting, like parachute pants and fanny packs, while others go on to become cultural institutions -- like anchored putting (OK, bad example). And with each one, we ride the highs and lows that accompany the graduation of fads, from passing to fixtures. 2012 was no exception. With that in mind, here are the top trends from the world of golf I hope to see stick around for at least one more year.
We expect reality TV stars and celebrity break-ups to be the thing Twitter dreams are made of, but golfers creating controversy? You bet, and there was no shortage of it in 2012. While most of it skewed from the right side of the aisle, there was plenty of blame to go around. Luke Donald and Gil Hanse in a cock fight? Done. Does blasting the President make you a better Ryder Cup captain? Not sure, but threatening people to fights over the social-networking platform definitely won't win you many supporters. And it wasn't just the men. Brittany Lincicome and Christina Kim started a feud that drew in boyfriends and three other LPGA colleagues. Whether for entertainment or debate fodder at the water cooler, we're all a little bit better when the golf world opens up on Twitter.
#3. Tell-all books about Tiger Woods
With three victories, including his first in over two years, 2012 will be remembered as the year Tiger came back. Unfortunately for Hank Haney, it will not be remembered as the year of the Big Miss (there's an overused golf joke in there somewhere). For all the controversy it created at the start of the season -- eventually hitting No. 1 on the New York Times best-seller list -- it didn't deliver much in the way of dirt slinging, which is why I want to see more unauthorized biographies on the bookshelves in 2013. Do we really need to wait for the movie version to get the juicy story we all crave? Oh wait, that already happened.
__ #2. Tour wives/significant others tweeting/Instagramming photos of their husbands/boyfriends__
They seem untouchable on the course, so it's refreshing to see tour pros in some awkward moments off of it thanks to the prying camera lenses of their significant others. Whether it's as innocuous as Hunter Mahan strolling through Penn Station with his clubs as caught by wife Kandi, or as scandalous as a topless, sleeping Rory courtesy of Caroline Wozniacki, this is a trend we hope continues well into the two-thousand-and-teens.
#1. Unconventional putting strokes
The days of the long putter being a fad are well behind us, but with the new anchor ban going into effect in a mere half-decade, we can expect to see all sorts of new putting styles come into use in 2013. You thought KJ Choi's half-Sneed or AdamScott's anchor claw was unique, wait til you see the forearm grip. And the new year hasn't even started! Just another reason to hope the Mayans were wrong.