News
The 15 best U.S. Opens, ranked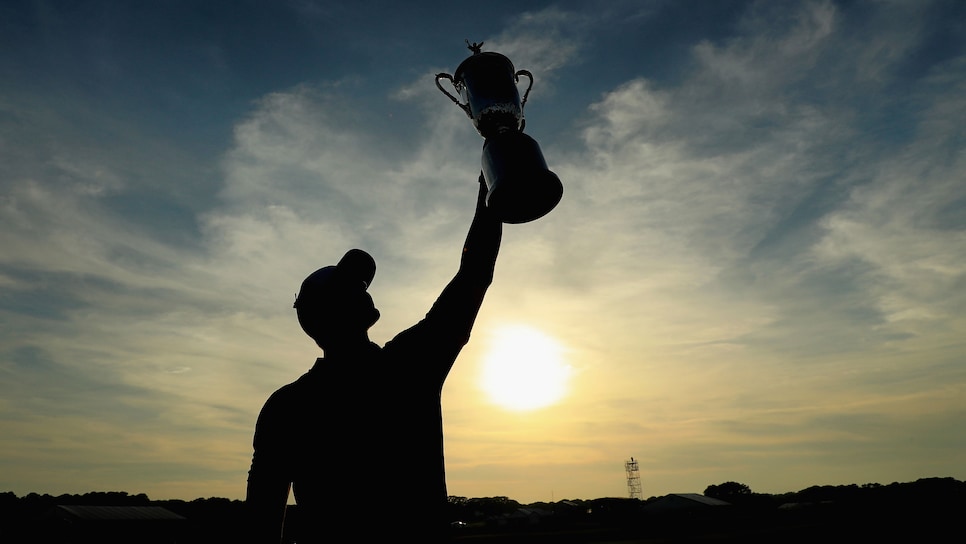 Photo By: Andrew Redington
A month ago, we ranked the 15 best PGA Championships of all time during the week of the 2020 championship … or what would have been the week of the 2020 championship in a world without COVID (see you now in August at TPC Harding Park). In that same hypothetical universe, we'd be settling in for the U.S. Open this week, so it's time to dive into USGA lore and discover the best of the best from the oldest American major. In 1895, at Newport Golf Club—a nine-hole course that was measured in feet at the time—21-year-old Horace Rawlins upset Willie Dunn to win $150 and capture the first U.S. Open championship. The 36-hole event was held in a single day, with just 11 players in the field.
Things have changed quite significantly in the ensuing 125 years, and I enlisted the help of USGA historian Michael Trostel (who better?) to navigate me through the years. We spoke for more than an hour last week, and what follows is more his wisdom than mine, though I reserved the right to make a few tweaks here and there.
15. 1929, Bobby Jones, Winged Foot
This one was only an honorable mention for Trostel, but I'm bumping it up into the top 15 due to the fact that it had a great potential impact on history. Jones was up five shots coming down the stretch, but made a disastrous triple bogey on 15. When Al Espinosa birdied 16 and 17, Jones found himself facing a 12-foot par putt on the 18th hole just to make a playoff. It wasn't easy—a left-to-right breaker—but he nailed it. Playoffs were 36 holes then, and the next day Jones won by a tidy 23 strokes. Yes, you read that right, 23 strokes. So it wasn't mega-dramatic at the end, but think about the consequences. There were whispers that Jones might have retired if he had blown that tournament, and even if he didn't, would he have had the confidence to put together his famous Grand Slam year in 1930?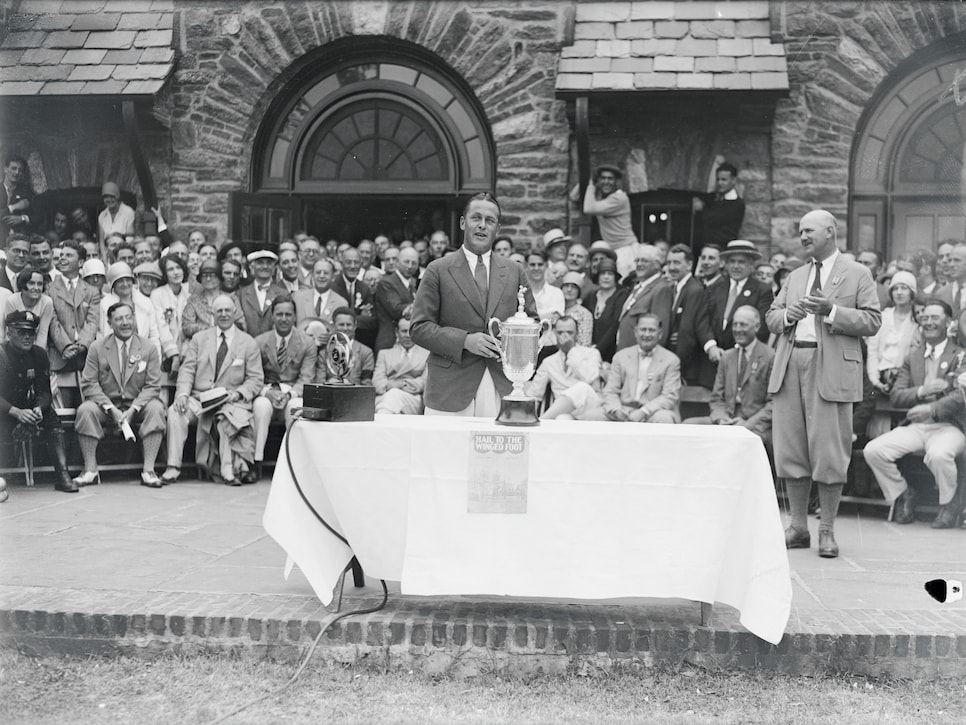 T-13. 1931, Billy Burke, Inverness
This one makes the list because of the sheer endurance required to win. The championship was still in the 36-hole playoff era, and as it happened, Billy Burke and George Von Elm finished their 36-hole playoff … in a tie. That meant 36 more holes, with Burke prevailing by just one stroke. In all, the two men played 144 holes—two tournament's worth—in five days. Obviously, that is a stroke-play record in majors. Temperatures rose as high as 105 degrees, and Von Elm is reported to have lost somewhere between nine and 15 pounds, while Burke boasted of smoking 32 cigars. Shortly after, the USGA wisely changed the playoff format to 18 holes and moved the championship from July to June.
T-13. 1964, Ken Venturi, Congressional
Trostel called this one a "case study in perseverance," and it seems appropriate to group it with Burke's 1931 victory. The mercury shot past 100 degrees on all three days of the championship, and by Saturday's third round, Venturi was so drained that he missed short par putts on 17 and 18 as he began to suffer the effects of heat stroke. A doctor who was a Congressional member met Venturi in the clubhouse, gave him green tea, lemons and salt tablets, and advised him not to play the final round that afternoon—his health was in real danger. But Venturi had been through too much in recent years, with various injuries taking him away from the game. He had barely earned his spot into the championship after rebounding from a 77 in a qualifying round. Plus, he was two shots off the lead. So he went back out, draped ice packs around his neck and said later he didn't remember a single shot from the front nine. But he took the lead for good after a birdie on nine, and in the closing stretch he moved as slowly as possible, focusing on simply completing the round. When he made the last putt, he yelled, "My God, I've won the Open." For obvious reasons, that was the last year that the Open was contested with a 36-hole Saturday finish.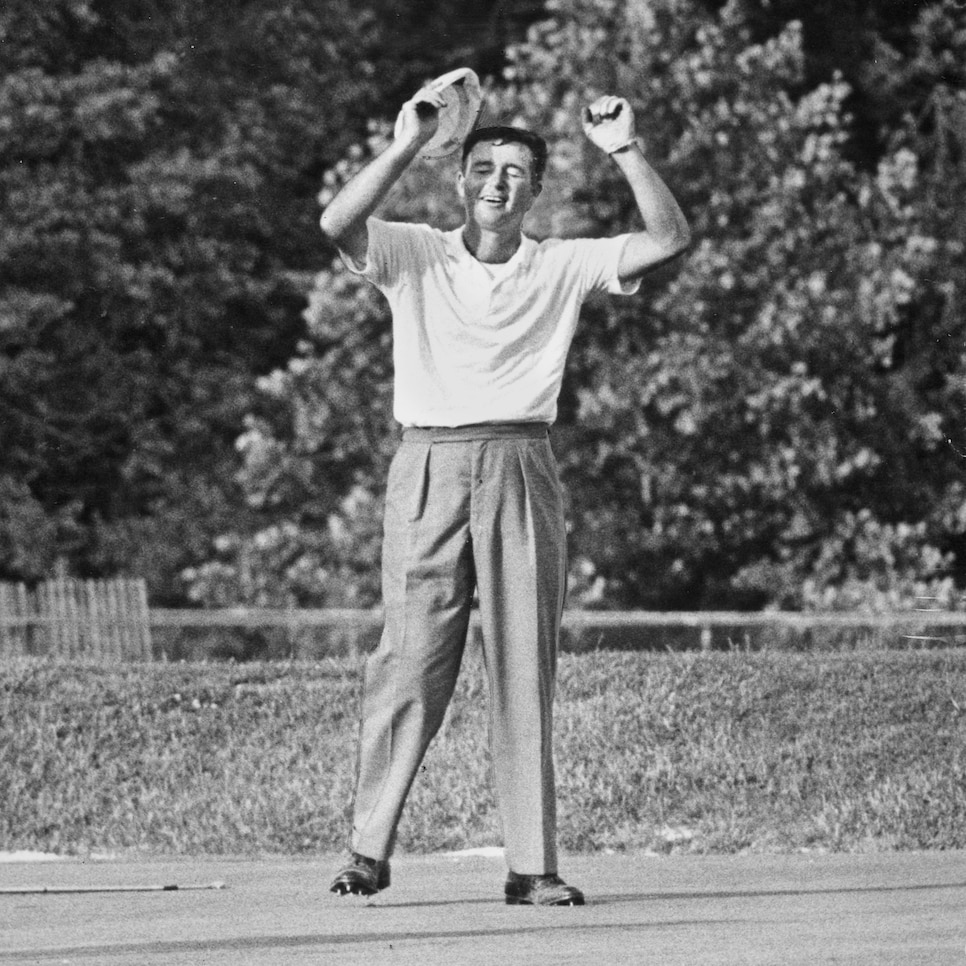 12. 2000, Tiger Woods, Pebble Beach
To quote Trostel again (there will be a lot of that), some victories are memorable because of the drama, and some because of the pure domination on display. This belongs in the latter category, and very little needs to be said about it—the Tiger Slam became tangible here when Tiger won by a staggering 15 strokes. It had an unreal feeling at the time, and still does today. Woods was the only player under par on what was, to mortals, a very difficult U.S. Open course, and his margin of victory is a major record. I could throw out a thousand stats to back up the singularity of this win, but Roger Maltbie probably summed it up best after one of Tiger's many absurd shots that week: "It's just not a fair fight."
11. 1966, Billy Casper, Olympic Club
Arnold Palmer held a seven-stroke lead with nine holes to play, and the only remaining drama seemed to be whether he would break Ben Hogan's U.S. Open scoring record. But that's not how it worked out. Palmer bogeyed 10, but kept it together enough to still lead Casper by five shots with four holes to play. Arnie then bogeyed the next two holes, Casper birdied both, and the pair of two-shot swings reduced the deficit to one. Palmer left an eight-foot par putt short on 17, and the two finished in a tie. In the 18-hole playoff, Palmer actually held a two-shot lead on the front, but collapsed once more. When you combine the back-nine scores from the final round and the playoff, it reads: Casper 66, Palmer 79. Palmer never won another major and told friends in subsequent years that this missed chance devastated him the most.
10. 1955, Jack Fleck, Olympic Club
Fleck, a club professional from Iowa who participated in the D-Day invasion while in the Navy, idolized Ben Hogan, and in 1955 he wrote to him requesting a set of his clubs. Hogan invited him to Texas, offered him a spot in the Colonial, and Fleck finished 24th. Fleck later qualified for the U.S. Open, and at the start of the tournament, Hogan personally delivered two final wedges to complete Fleck's set. Fleck played more than 150 holes on the four practice days, never breaking 80, but things changed in the actual championship when he shot a 69 in the second round. He was three behind Hogan before the final round, but a "voice" told him he was going to win. When Hogan finished ahead of Fleck, Gene Sarazen on NBC pronounced him the winner, and Hogan offered his golf ball to USGA executive director Joe Dey for storage in the association's museum. But Fleck was still on the course—he made birdie on 15 and hit a cut 7-iron on the uphill 18th to eight feet. He made the birdie, forced the playoff, and the next day he took down his hero by three shots.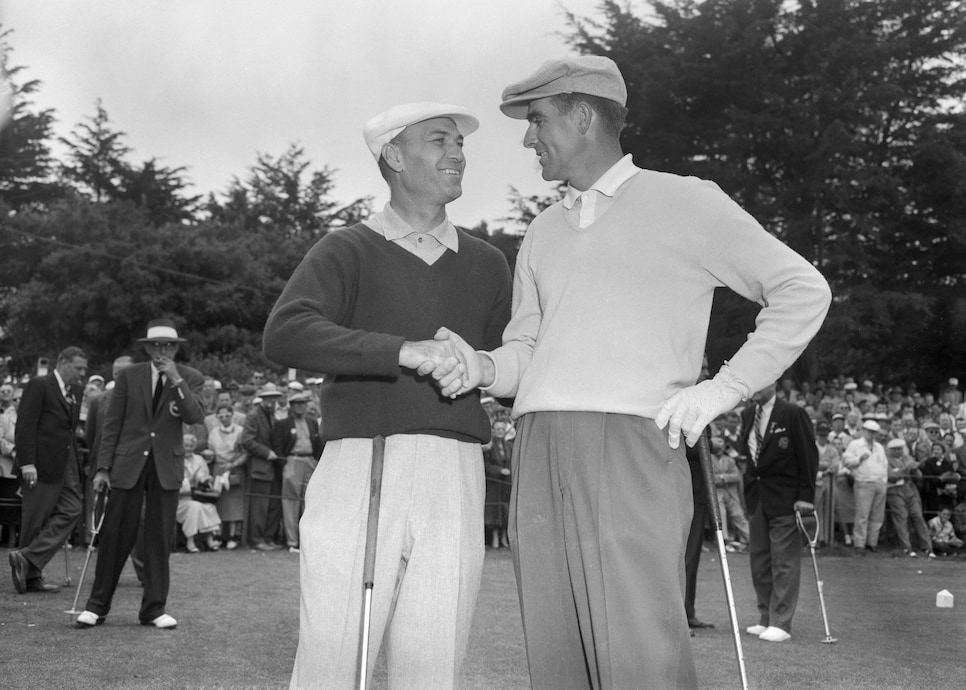 9. 1990, Hale Irwin, Medinah
The leader board was so packed on Sunday morning at Medinah that 27 players were within four strokes of the lead. Irwin was among that crowd, and that alone was a surprise; despite being a two-time former champion, he needed a special exemption from the USGA to make the field that year. When the 45-year-old reached the final hole, the leaders were just making the turn, and this putt, though delightful, probably didn't seem too critical at the time:
It was. Nick Faldo and Billy Ray Brown missed the playoff by one shot, and Irwin found himself tied with Mike Donald. They came back the next day, and this time Donald held a one-shot lead on the final hole before bogeying to send the match into sudden death. On the first hole, Irwin stood over a 10-foot birdie putt for the win, and his celebration (3:50 mark here) was almost as good as the day before. With the victory, he became, and remains, the oldest U.S. Open winner.
8. 1982, Tom Watson, Pebble Beach
When Watson was a student at Stanford, he'd drive to Pebble Beach on Saturdays to play early in the morning, and in some of those rounds he'd imagine he was dueling Jack Nicklaus for the U.S. Open title. He found himself in that exact situation in 1982, and he wanted the win badly. There was a connection with his father, who had quizzed him on U.S. Open champions when he was a kid, and there was also the fact that he had come close in the championship—six top 10s in his last eight tries—without winning. With Nicklaus in the clubhouse, Watson was tied for the lead on 17 when he missed the green. His caddie Bruce Edwards told him to get the chip close, and Watson famously said, "Get it close? Hell, I'm going to make it." And then this happened:
Considering the difficulty of the course, there's little question this is the greatest individual final round in major championship history. Miller had forgotten his yardage book on Saturday, and the first six holes of his third round were a nightmare that seemingly took him out of the running—especially with Palmer, Nicklaus and other legends ahead of him. But like Fleck, Miller heard a "voice." This one didn't tell him he was going to win, but to open his stance slightly. He did, and it made the difference. He hit all 18 greens in regulation that Sunday. His 63 came on a day when only three of 65 players broke 70. Enough said.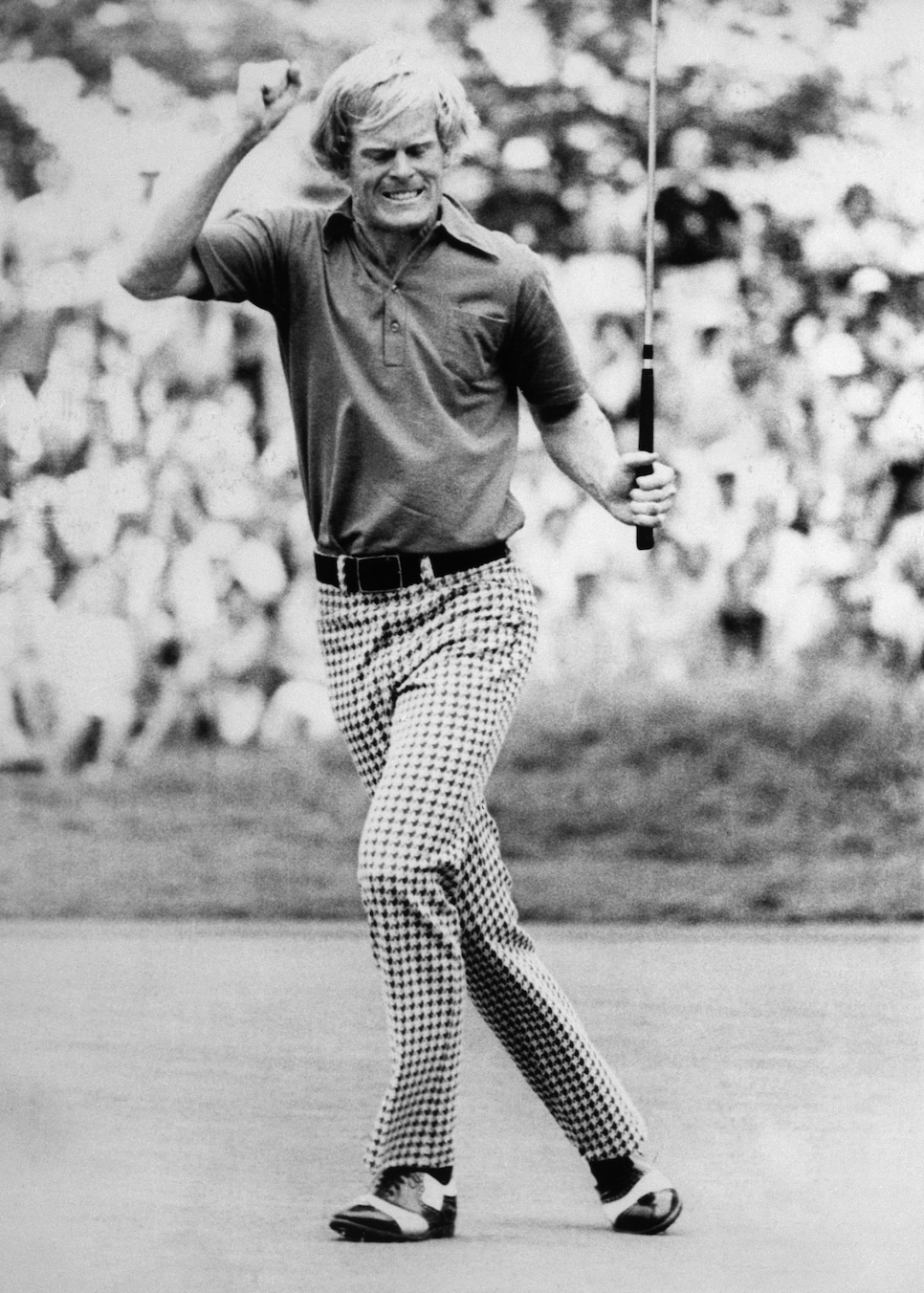 6. 1950, Ben Hogan, Merion
Hogan came into this tournament just 16 months removed from the devastating car crash that shattered his pelvis and collarbone (not to mention his ankle, ribs and knees), and left doctors wondering if he'd ever walk again, much less play golf at a championship level. He was bandaged from his ankles to his hips to manage swelling, and he used a collapsible chair to rest between holes. And yet, heading into the 15th hole, he was leading by two shots. But he three-putted 15, failed to get up-and-down on 17 and stood on the fairway on 18 in a three-way tie for the lead. That's when he hit his famous 1-iron, which led to a difficult par and secured his spot in the playoff. That club was actually stolen from his bag after the round, but he didn't need it. The next day, he beat Lloyd Mangrum and George Fazio to take the title.
5. 1999, Payne Stewart, Pinehurst
Pinehurst was cool and misty in the final round, and circumstances forced Stewart to invent his "rain vest" with the aid of some scissors in the pro shop. For the second straight year, he was the 54-hole leader, but Phil Mickelson took the lead by the 16th hole on Sunday, and when Stewart hit a chip far past the hole on 16, it looked like it might be close to over. Then Stewart holed a remarkable downhill putt, Mickelson missed an eight-footer, and Stewart emerged tied for the lead. Two excellent tee shots followed on the par-3 17th, but only Stewart made his birdie, and that set up the iconic winning par putt on 18 and the ensuing celebration, which was commemorated in statue form at Pinehurst:
4. 1962, Jack Nicklaus, Oakmont Country Club
Coming into Oakmont, Nicklaus had not yet won a professional tournament, much less a major. Meanwhile, he was playing with Palmer in Palmer's backyard, and, well, the people loved Arnie. On the first two days, more than half of the estimated 20,000 spectators were following the Palmer/Nicklaus group, and by the final round, it looked like they were going to get what they wanted. Palmer was up by four strokes standing on the ninth tee, and he almost reached the par 5 in two. But he somehow bogeyed, Nicklaus birdied, and things tightened considerably. Nicklaus clawed back two more strokes to force an 18-hole playoff, and raced out the next day to a four-shot lead through eight holes. Palmer made his usual charge, with birdies on 9, 11, and 12, but a three-putt on 13 stopped his momentum, and Nicklaus shot even par to win by three. Trostel called it "one of the most unpopular victories at the time," since Nicklaus then had nothing near the following of Palmer. But whether the fans liked it or not, it was a win that marked the start of a changing of the guard, and launched what might be the most brilliant career in golf history.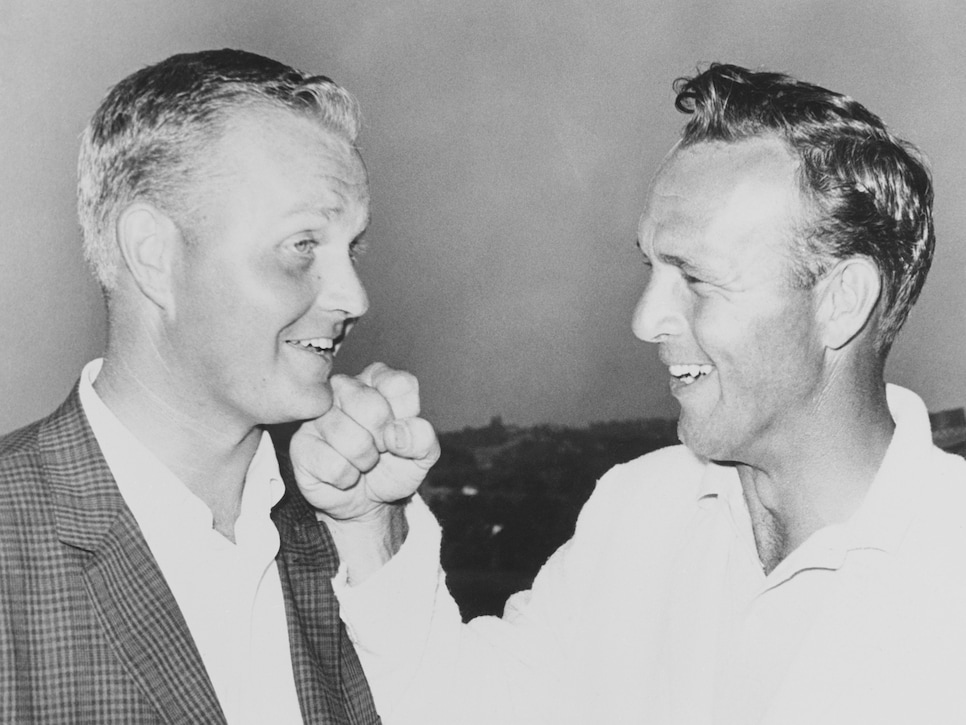 3. 1913, Francis Ouimet, The Country Club
The 1913 Open was held from Sept. 17-20, which is worth mentioning because, as Trostel pointed out, those are the same exact dates it's being held this year due to the postponement. Younger golf fans might be familiar with this championship from the film "The Greatest Game Ever Played," starring Shia LaBeouf as Ouimet. The drama certainly merited movie treatment—Ouimet, only 20, was a local boy who grew up across the street from the 17th hole and caddied at the course as a child. He would square off against two of the world's best golfers, Englishmen Harry Vardon and Ted Ray, who came over on a tour of the U.S. Vardon was a five-time British Open winner who had also won the U.S. Open when he came to America in 1900. Ray had won the 1912 British Open and would go on to win the 1920 U.S. Open. That made Ouimet's story even more special—against the giants of the sport, he played a spectacular final eight holes in wet conditions to force a three-way tie, and then defeated both in the 18-hole playoff. Ouimet became the country's first real golf hero, and for the first time golf made the front pages of the major newspapers. Within a decade, participation in the U.S. had gone from 250,000 to 2 million, and Ouimet's win was no small part of it.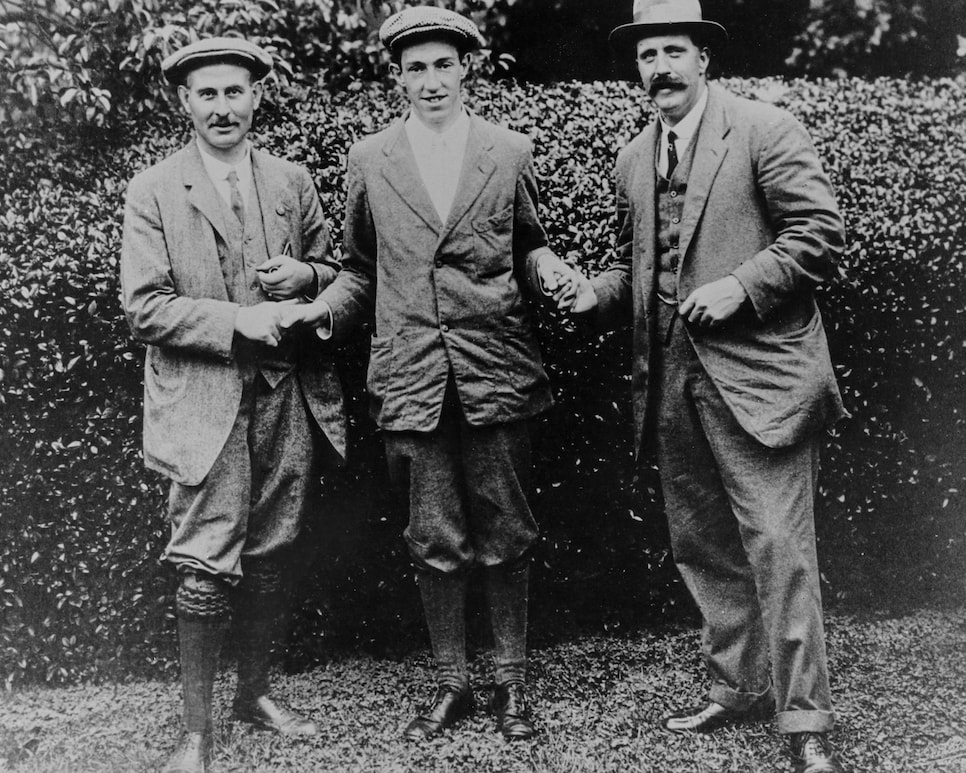 2. 2008, Tiger Woods, Torrey Pines
It's golf's version of the Jordan flu game, and it needs no introduction. The man won on a fractured tibia and a ruptured ACL. It's one of the greatest gritty/gutty/gumption-y golf performances ever. Not only that, but he had to birdie the 18th in the final round and the playoff against Rocco Mediate just to survive! The two shots on 18 to force his way into the playoff remain astounding. Imagine being Rocco, so close to a major victory, watching this unfold:
Sixty years ago is when the past, present, and future collided in the national championship. Mike Souchak actually led heading into the final round, with Nicklaus, a 20-year-old amateur, and Hogan, a 48-year-old legend, three shots behind, and reigning Masters champ Arnold Palmer seven shots adrift. Despite the long odds, it came down to the three greats. Palmer had a conversation with sports writer Bob Drum before his final round, and asked Drum if 280 might win the whole thing. Drum said no—Palmer was too far behind—but Palmer went out and birdied six of the first seven holes, and suddenly found himself in the thick of contention. Nicklaus actually held the lead at the turn, but missed a 20-inch putt at 13 and three-putted 14 to slip backward. Hogan hit the first 34 greens in regulation that day (the third and fourth round were played on the same day), but spun a wedge on 17 into the water and failed to save par before driving into the water on 18. That left it to Palmer, who closed with a par on 18 and tossed his red visor high in the air in celebration. You'd be hard-pressed to find any major, ever, that featured three legends of this caliber dueling on Sunday.