The Loop
The 10 best unconventional gifts found at Augusta National's merchandise shop
AUGUSTA, Ga. -- The Augusta National merchandise shop is always buzzing with hundreds of patrons, no matter what time of the day it is.
The typical gifts -- Masters hats, golf shirts and golf towels -- are standard fare for golf fans. Those go without saying. But what else does the golf shop have to offer?
We went on a mission in the golf shop for the most unconventional offerings. Want to really impress your friends? Come back home with one of these Masters gifts.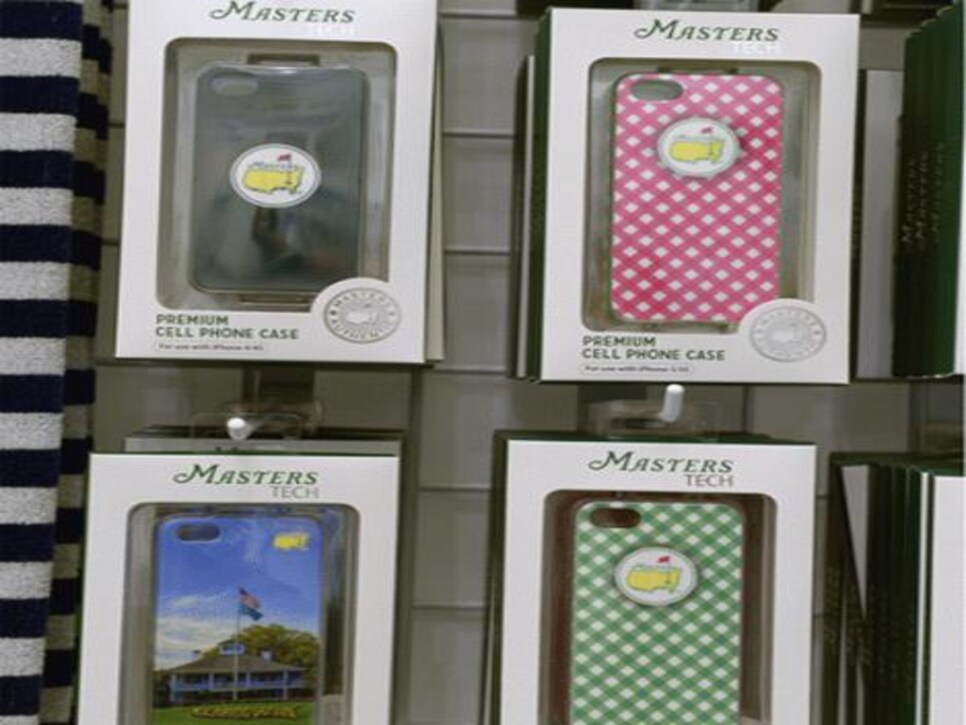 1. Cell-phone cover ($25)
What better way to carry around Masters spirit with you all year 'round? Four styles of Augusta National's logoed cell-phone cases are one of the coolest gifts we've seen. The available styles: A checkered green or red, an all green with the image of the Augusta clubhouse and a green with the Masters logo. It doesn't come with the Masters theme song pre-loaded, but having the tune as your ringtone would make your phone complete. It only comes for the iPhone 4 or 5(s).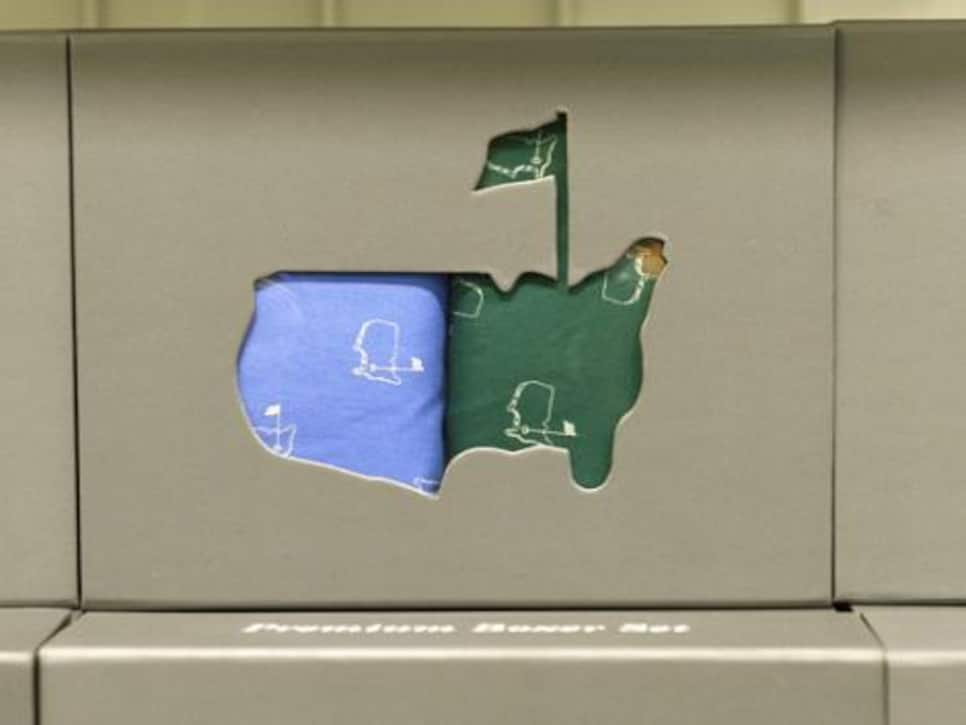 2. Boxers ($40, box of two)
Why wouldn't you want Masters underwear? These boxers come two different colors: a green and light blue. And they're available in five sizes: small, medium, large, extra large and double XL. These could be your lucky boxers to wear for your weekend matches.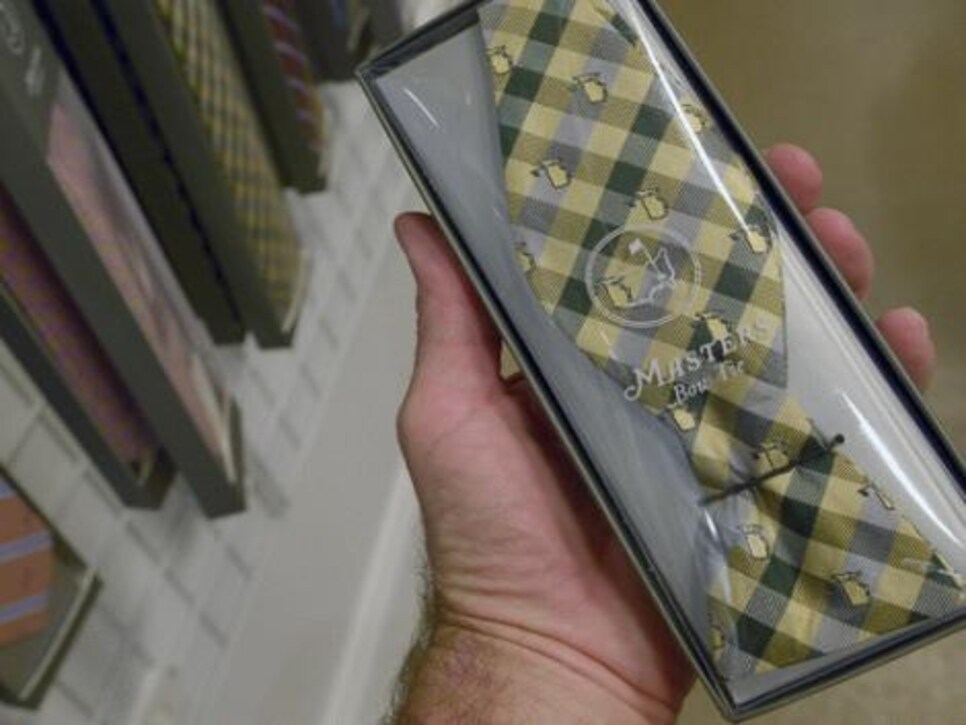 Talk about an instant conversation starter at a cocktail party. It's classy, elegant and actually looks good. These come in five different color combinations: A green with yellow and light blue, a light blue, a yellow with a blue stripe, an orange and a dark green with white stripes. And they all have a pattern of Masters logos.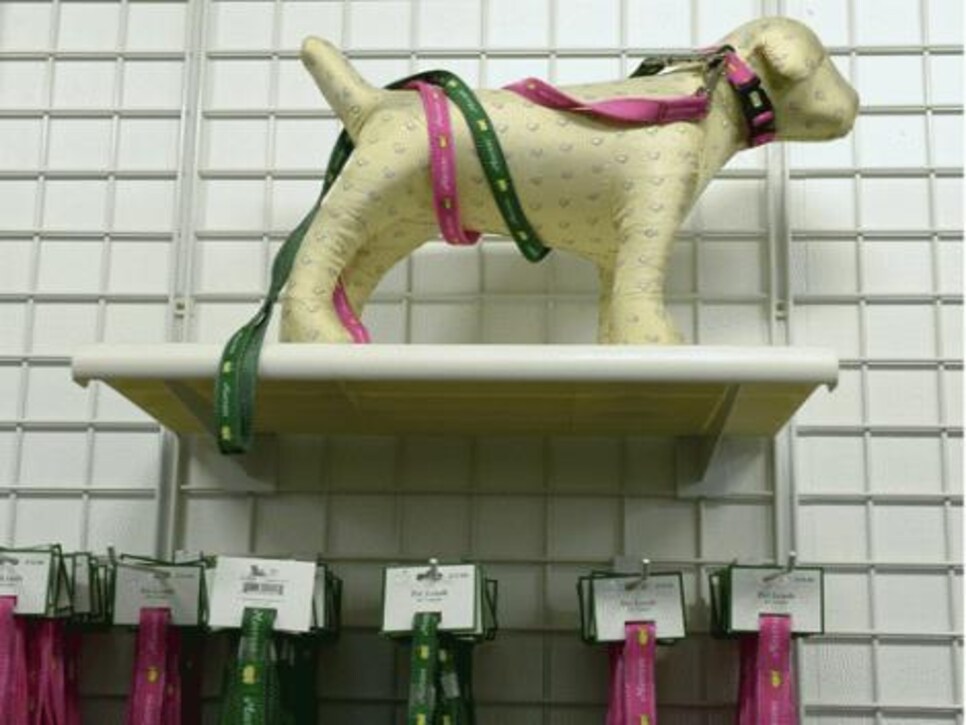 4. Pet leash ($19) or collar ($15)
Your pet will be the coolest in the neighborhood with a Masters-logoed leash or collar. All those regular old collars you've been using? How could it compare to a Masters leash that's less than $20?
Available in two colors, a royal blue or red, these towels would make you a star at the beach or local pool.
6. Magnolia Lane Scented Candle ($60)
Bring the scent of Augusta National home with you with this candle. This is one of the coolest items we've seen all week (seriously). The smell of blooming azaleas is one of the most memorable aspects of Augusta. Now they've encompassed it in a candle form. Genius.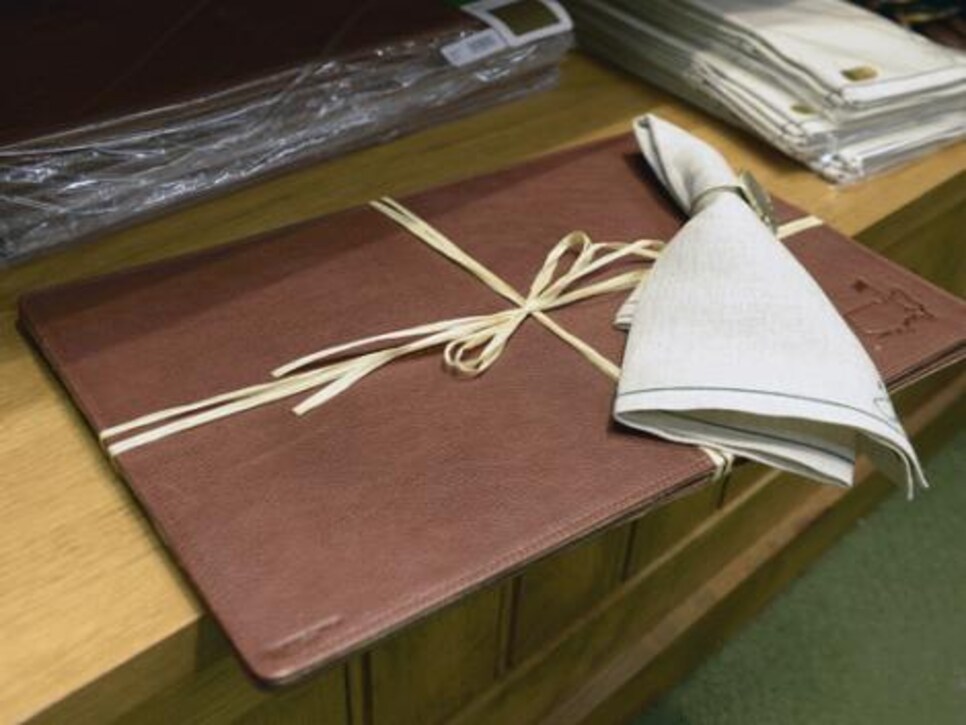 7. Leather Placemats ($195, set of four)
A little pricey, yes. But this is a gift the whole family can make use of. When you sit down to dinner with your wife and kids, you can eat off of Masters place mats. You wouldn't want to spill any food on these, though. If you have messy eaters in your family, there might be better options.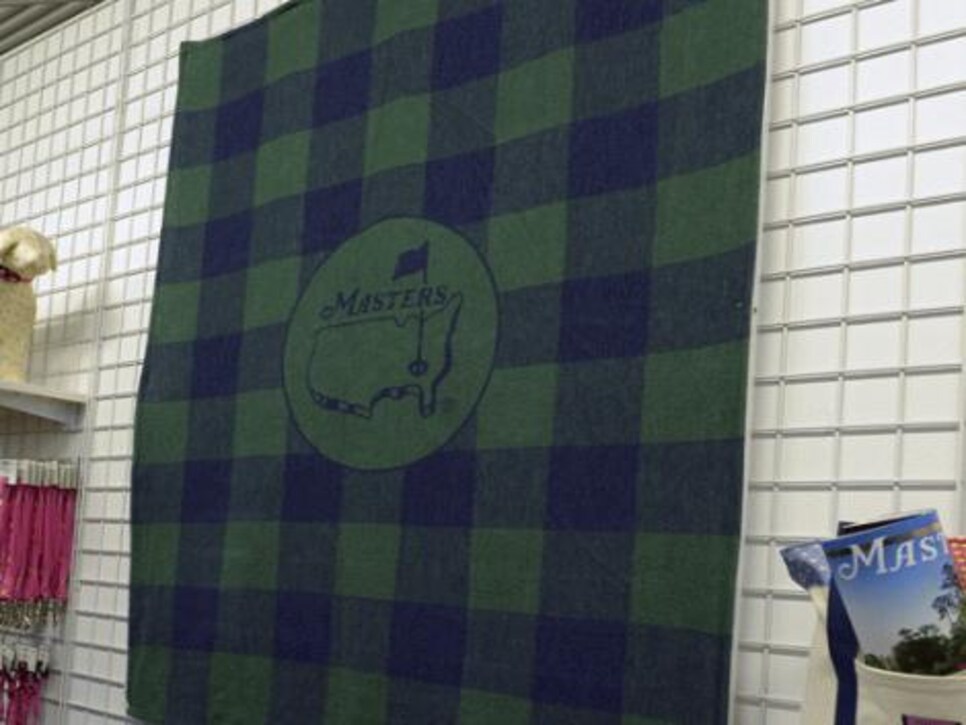 8. Luxury Throw Blanket ($68)
Cozying up to watch golf every Sunday with a Masters blanket? We're all in. This green blanket would be a great decoration in any living room, in addition to being a good way to keep warm.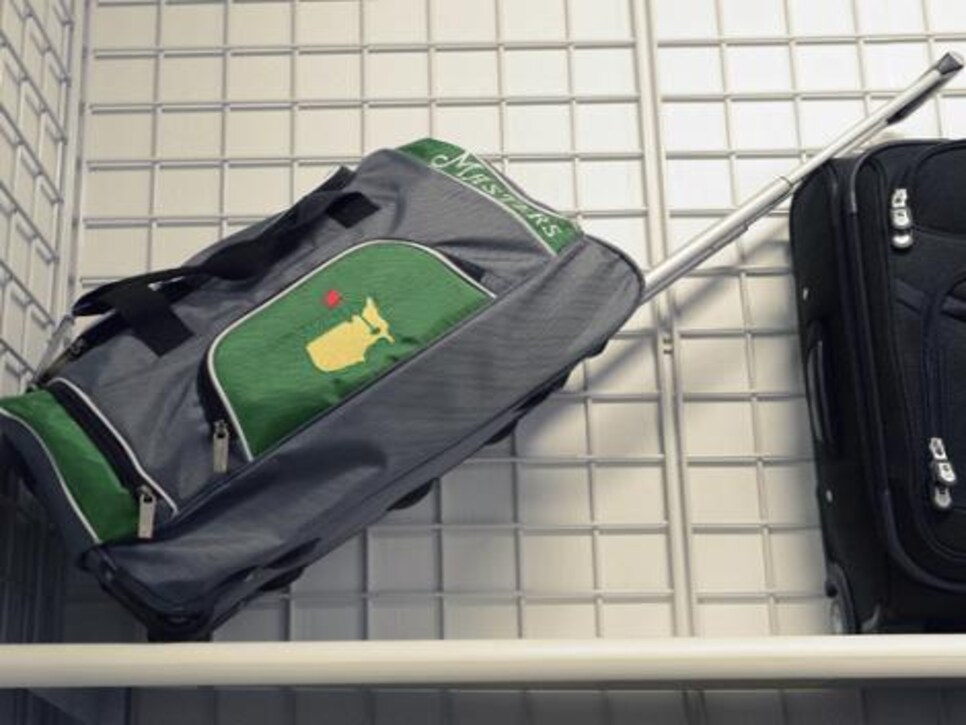 This seems like the perfect gift to bring home to your kid who loves golf. If he's an athlete and packs a bag to go to practice, lugging a Masters duffle bag is going to impress his buddies. Even for an older golf fan who travels a bunch, this comes with wheels so it's perfect.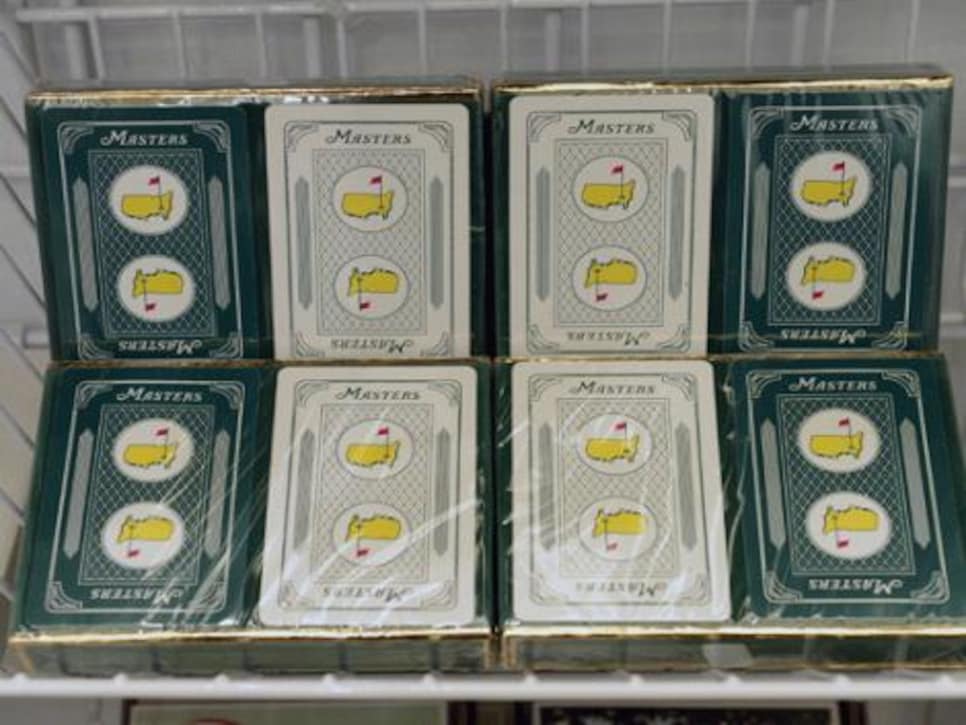 10. Set of playing cards ($12)
In a case a gin rummy game breaks out in the clubhouse, be prepared with a set of Masters playing cards. This year's edition has look incorporating the Masters logo. If your friend is into card games, these would be a great, easy gift. And they're one of the most inexpensive items here. A win!
(All photos taken by Golf Digest staff photographer Dom Furore)