News
Cheering for a local boy who made good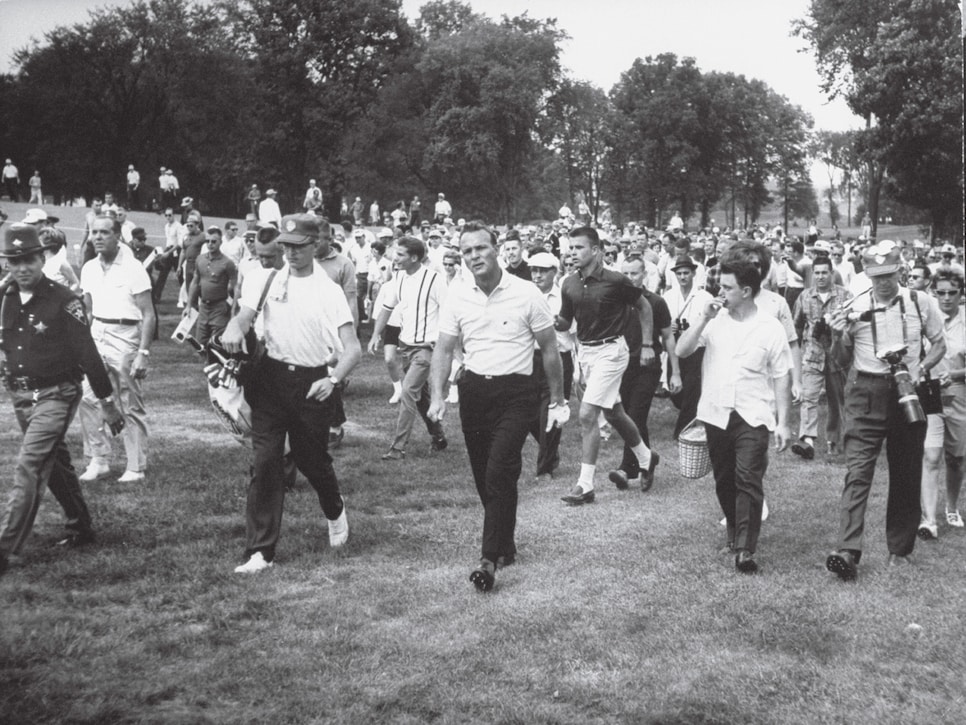 Photo By: Photo by Bob Gomel/The LIFE Images Collection/Getty Images
The first time I saw Arnold Palmer in person was 1960 at New Castle (Pa.) Municipal Airport, which was an exaggerated name for a slab of cement and a windsock. Palmer had recently won the Masters and piloted his single-engine prop plane into town for an exhibition at New Castle Country Club, 70 miles from what is now Arnold Palmer Regional Airport in Latrobe, Pa., his hometown.
He was, for people like my father, a steelworker, and my mother, a welder and cleaning woman, one of us—a local boy, the son of a golf-course superintendent—who made good. To us he was not Mr. Palmer, or even Arnold, he was Arnie. Arnie's Army got its name from the soldiers at Camp Gordon (now Fort Gordon) who cheered him on at the Masters, but we were the people he came from. We were all in Arnie's Army. I named my first cat Arnie, and when he disappeared one night I gave my second cat the same name. I don't remember what they charged for the exhibition Palmer gave, but I do know we couldn't afford it. Instead, my father took my mother, two brothers and me to the airport to watch Arnie land. There was no security, no entourage, just a car waiting for Palmer to whisk him away to the course. Mostly, I remember his smile. We saw him only briefly and never exchanged words, but he smiled and waved. Decades later it occurred to me how easy it would have been for Palmer to cancel that exhibition in a dying steel-mill town after winning the Masters. But that was not Arnie. He made a commitment and kept it.
The steel industry in Western Pennsylvania was struggling by the time Arnie came to town. By 1960, layoffs had started in mills that once ran three shifts a day. By 1962, my father was out of work and we were on welfare.
There were no food stamps then, just a distribution center where we'd pick up government-surplus food—powdered milk, powdered eggs, a block of cheese and a tin of Spam. I remember how much it embarrassed my father. But 1960 was a magical year in our corner of the world: Palmer won the Masters and the U.S. Open, the Pittsburgh Pirates won the World Series and—big for a Catholic family of Hungarian-Irish immigrants—John Kennedy won the presidential election.
My father died on March 23, 1966, just months before Palmer's crushing loss to Billy Casper in the U.S. Open, squandering a seven-stroke lead with nine holes to play.
My dad was 45 years old. The last tournament I covered before my mother died was the 1997 Pebble Beach National Pro-Am. As always, I called her when I got to the media center—a tradition we'd started years earlier—and, as always, she asked, "How's Arnie doing?" The question made me smile. Palmer was 67 and no longer competing. "He's not here, Ma, but I hear he's doing well," I said. The day I returned to my New York City home from Pebble Beach, I got the call from my brother that Mom had died. She was 72.
Arnold was nine years younger than my father and four years younger than my mother. He was of their generation, and whenever I was around Palmer, he reminded me of where I came from. And that was part of the genius of Arnold: He never lost touch with where he came from. He knew he didn't make golf but that golf had made him.
The last time I saw Arnold was at the Masters this year when he sat in a chair on the first tee at Augusta National and watched Jack Nicklaus and Gary Player hit the opening tee shots, then, helped to his feet by his two friends and old rivals, he smiled that smile, gave his signature thumbs-up gesture and looked like a very old man. I knew I would never see him again.
The last time I spoke at length with Arnold was in March 2015, when we spent the morning together at Bay Hill in Orlando. I was to receive the PGA of America Lifetime Achievement in Journalism Award, and Arnold had graciously agreed to be in the video they were making for the ceremony. Arnold had fallen recently, walked with a limp and favored his right shoulder. It was the first time he ever complained to me about getting old. Arnold Palmer loved being Arnold Palmer, and I could sense he was saying goodbye to the man he once was. It made me sad.
A couple of years earlier, I flew to La Quinta, Calif., to interview Palmer for the Words from the Wise issue of Golf World magazine. We agreed to meet at 9 a.m., and I knocked promptly at 9. Arnold opened the door dressed in sweatpants and a T-shirt. His wife, Kit, still in her nightgown, was scrambling in the background to get into the bedroom.
Arnold invited me in, and we sat at his kitchen table. He asked if I wanted coffee, and when I said yes, he got the pot and a cup, placed it in front of me and started to pour. That's when it hit me: The King, my childhood hero, the local boy who made good, was pouring me a cup of coffee. I was overwhelmed with a complex mix of emotions.
'Whenever I was around Palmer, he reminded me of where I came from.'
We had a great chat. He told me how he developed his amazingly strong, large hands driving that old tractor working on the golf course. He told me the main golf lesson his father, Deacon, gave him: "Keep your head still and swing hard." He told me Deacon always stressed to him that he was the son of a worker at Latrobe Country Club and not the son of a member, and to act accordingly. He also told me some stories I couldn't write. We laughed a lot—two working-class guys from Western Pennsylvania just hanging out. All that was missing was a shot of Imperial whiskey with an Iron City Beer chaser—an Imp and an Iron, we called it. But it was before noon.
When he walked me to the door, he asked: "Do you need anything? Do you need a ride anywhere?" That was Arnold.
Any discussion about the greatest golfer of all time is certain to be spirited with several names on the table drawing strong support: Bobby Jones, Ben Hogan, Jack Nicklaus and Tiger Woods chief among them. But if the conversation is about the most important golfer of all time, there is, in my mind at least, only one name in the running: Arnold Palmer. He took the game out of the country club and brought it to the masses. He was the most important grow-the-game program of all time.
Certainly, the stars aligned perfectly. After World War II, many of those who worked for a living moved from cities to the suburbs. Weekends became a reality for workers, and leisure time became something even regular folk could enjoy. Television was discovering live sports as a lucrative entertainment vehicle.
In Dwight Eisenhower, the country had a president who was passionate about golf.
And then Arnold came along with movie-star good looks, cigarette dangling from his lips, flicked to the side when he would play a shot, and a gambling, come-from-behind style of play with a lashing swing that ended in a corkscrew follow-through. Now that's entertainment. It all came together—TV, Eisenhower, the suburban migration, more leisure time for the working class—and golf grew. But the most important element might have been Arnold.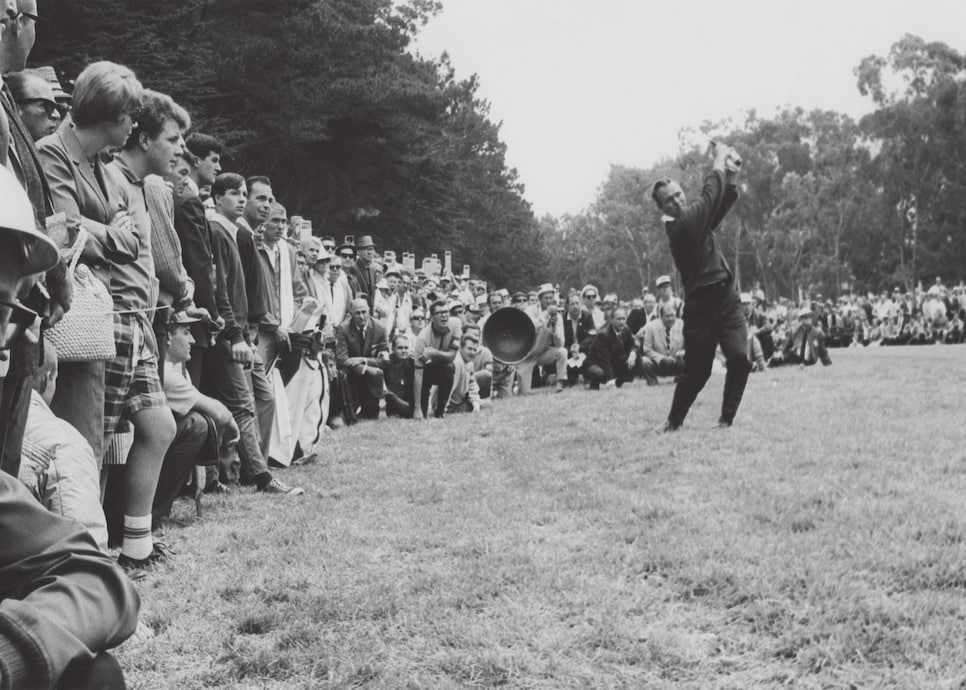 My father played fast-pitch industrial-league softball, a huge sport in Western PA. When he was 35 years old, a war injury was making it difficult to run, and he looked for another sport to play. That year—1955—Palmer won his first pro tournament, at the Canadian Open. My dad took up golf, and soon I was following him around with a cut-down 5-iron.
In the glory days of steel, the mill my father worked in had two sessions for its shop league. On Tuesday morning, the guys who worked the overnight shift or the 4 p.m.-to-midnight shift would play. In the evening, the day-shift workers showed up, still dressed in their green work pants and shirts. Even after they changed—often to bluejeans and T-shirts—the grime of the mills was still visible beneath their fingernails.
My dad fell in love with the game, and in addition to the shop league played every Saturday and Sunday morning in his usual foursome skins match with Tillie, Eyebrows and Sham, his best golf buddies. My father never broke 80 in his life. He could shoot 38 or 39 on the then-par-35 front nine at Castle Hills Golf Course, but the back nine was longer and harder and par 36, and he had to work to break 45 there. But he loved it.
My father began playing golf because of Arnold Palmer, and I began playing golf because of my dad. When I think of the charmed life I've had covering more than 150 major championships all over the world, I silently thank my father for getting me into golf and my mother for making certain I got a good education. I combined the two into a career. And then I thank Arnold.
More than the seven major championships, 62 PGA Tour wins, helping to pioneer sports marketing with his friend Mark McCormack of IMG and putting the British Open back on the golf map, I will remember Arnold Palmer for making golf the people's game—at least a part of it. Thanks, Arnie, for all you've done for golf—and thanks for all you've done for me. Goodbye, King. You'll always be one of us.