The Loop
Is it time to move on from the G.O.A.T. debate in men's tennis?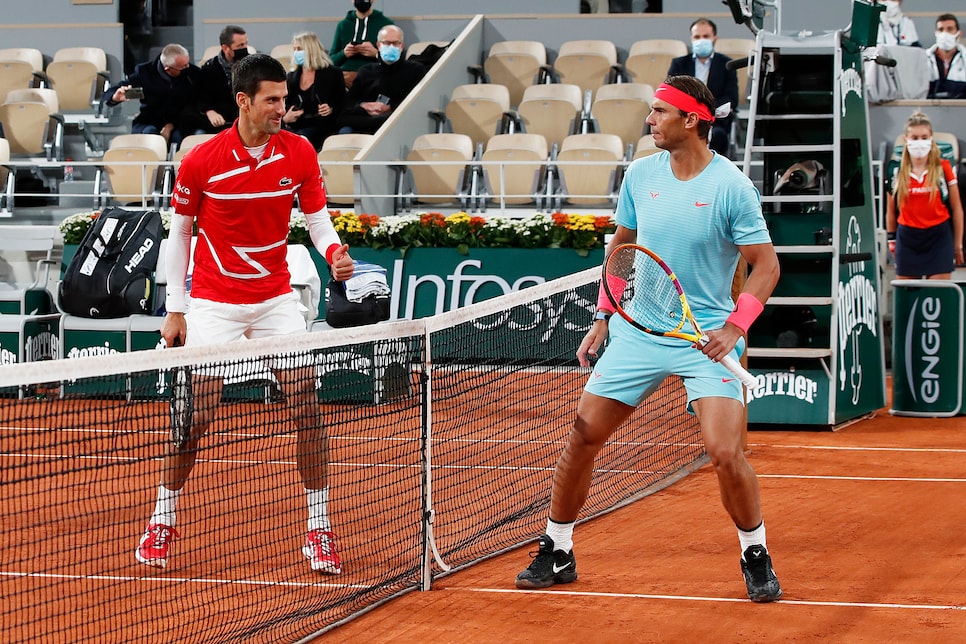 Hello, it's me: The guy who has been so deep in the tennis G.O.A.T. debate that I argued Rafa Nadal's case back in 2017, declared that the Big Three were tied a year later, and then, right when Rafa was about to tie Federer, reluctantly switched to Team Novak. Today, just one day after Nadal's historic French Open victory, I have no right to argue that MAYBE, just maybe, we should just end the whole argument once and for all.
But I'm going to anyway. Before I explain, let me indulge one last time and give the best case for each player:
1. Rafa Nadal — Tied for the most grand slams ever, and has a winning record against the man he's tied with. Also the undisputed best ever on clay, and has the highest career winning percentage of any player in the Open Era.
2. Novak Djokovic — Has a winning record against both Rafa and Federer, only one to win all nine Masters 1000 events, seems likely to end up with the most slams, and—my opinion only—played the best tennis of any human being ever at his peak.
3. Roger Federer — Tied for the most grand slams ever, will pass Jimmy Connors for the most career match wins before long. I actually think Federer now has the weakest argument due to his losing record against the other two, but his diehard fans will make claims that I personally find dubious, such as: his game was the most beautiful/best in his prime, clay court tennis is illegitimate, he was past his prime when the others entered theirs, etc.
It's a fun argument, and basically unwinnable no matter which side you choose, but—at the risk of sounding like an annoying kumbayah tennis hippie—maybe it's time that the whole debate gave way to pure appreciation.
What these guys have accomplished is astounding. It's the greatest rivalry in sports today, and I'm of the belief that even if I live to be 100, I won't see anything like it again. Rafa, Fed, and Djoker have so thoroughly dominated their sport that for the first time in the long history of tennis, there was no grand slam champion under 30 years old from late 2018 until Thiem's victory at the U.S. Open this year...which was, in turn, only possible because Djokovic managed to hit a line judge in the throat and get himself tossed.
The Big Three have been so good that they've basically left realism in the rearview mirror. We would have been lucky to see just one of them in a generation. Instead, the three greatest players ever co-existed at the same time, and we've been blessed to see them battle for almost two decades, with no real end in sight.
I'm a Rafa homer, and always have been, but at this point in their careers, the question of who's greater than who feels irrelevant. Yes, I'll still engage in the debate, mostly because it's entertaining and I like trolling Federer fans. But the predominant emotion I feel is gratitude, and in 30 years, I don't think anyone will really care who was better. Think of another great trio: Willie, Mickey, and the Duke. Sure, someone from my generation could look up their stats and try to figure out who was the best, but their chief legacy is that they were three Hall-of-Fame center fielders playing in New York City at the same time. That's the special part, and it will be the same for Rafa, Fed, and the Djoker.
In that way, arguing about who's best almost diminishes what they've accomplished. And make no mistake—they've accomplished it together. After winning the French Open on Sunday, Rafa expressed his thankfulness at being able to share the court, and so many courts, with Djokovic. They've made each other better, they've stretched themselves to the physical and competitive limits, and they've created the most exciting era in the history of men's tennis. It wouldn't have been possible without all three, and their legacies are close enough that no matter what happens from here until the end of the ride, the best way to honor them is to forget the unknowable hierarchy and tip your cap to the collective greatness.
The G.O.A.T. Debate That Should Rage Brighter Than Ever: LeBron vs. MJ
It's official: LeBron has his fourth title with his third team, and another NBA finals MVP. Last week, I wrote about what he stands to accomplish if he can string together just two more "normal" years (normal by his standards; superhuman by others). Now that he's a champion again, I think this is one of the more interesting and ripe debates in all of sports—does LeBron's longevity outshine Jordan's almost mythical brilliance? I say yes, but the responses to that piece tell me that it's still one of the most passionate topics in sport. Let it rage on!
Coaching Nitpick of the Week: Frank Vogel, Lakers
Fair warning: This is going to sound petty. But for me, when you're in the situation the Lakers were in on Sunday night—NBA championship imminent, and the game's basically a blowout—there are only two ways to handle your star players:
1. Check them out of the game one at a time so they can receive their individual props. This should only be used for home games.
2. Leave them in at the end so they can have the ball in their hands and celebrate at the end.
Vogel took option three, which was to take LeBron and Anthony Davis out at the end, and while this is the smallest possible quibble, it looked awkward having them cheer from the bench. If you can't do the honor roll individual subbing maneuver, let them stay in and be on the court to finish what they started. And with that, I believe I have earned my Debbie Downer black belt, and will now spend the rest of my days complaining about the wrapping paper when I get a nice gift.