The Loop
Ted Bishop tells his side of 'lil girl' comment in new memoir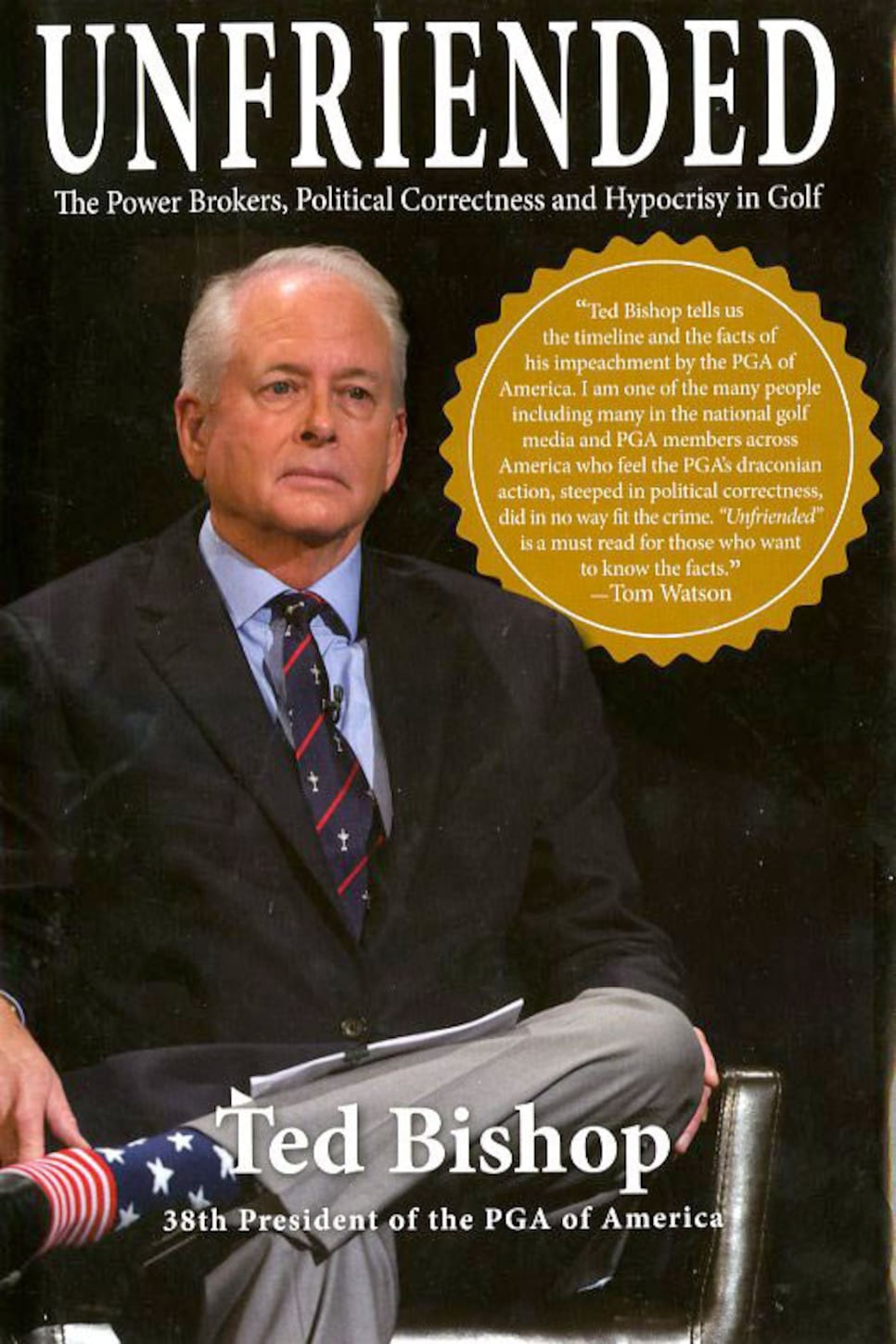 GolfDigest.com will regularly highlight a book that it finds of interest to readers. This week's is:
Unfriended:  Power Brokers, Political Correctness and Hypocrisy in Golf, By Ted Bishop, Classics of Golf, $27.50, hardback, 254 pages
Two years after the 2014 American loss in the Ryder Cup, we can summarize that captain Tom Watson took one from the team, and that the man who appointed him, Ted Bishop, simply found out his time was up.
For the latter, in retrospect, perhaps his time as 38th president of the PGA of America was just a case of bad timing. He was a major departure from his predecessors, who tended to blend in with all their blazered brethren standing at attention at the PGA Championship award ceremonies.
Bishop was more "out there," for sure, which some in the organization felt put the emphasis on Bishop more than it should have. Bishop simply thought of himself as "pro-active." The PGA professional from The Legends Golf Club in Franklin, Ind., nearly got through all of a two-year term, but after he committed a social-media blunder following the 2014 Ryder Cup, the PGA of America rulers gave him the heave-ho and took away everything he had of substance with the association except for his PGA status.
As the next Ryder Cup approaches, we look at Bishop's new book. The title is "Unfriended," a play on a tech term that is more Facebook than Twitter, but his offense occurred on both forums. Yet the feel of his dismissal is more "Branded," as in the old TV show, where Bishop was drummed out of office, sabre broken in half, and he's left to "fight for your name." "Unfriended" is his treatise on righting what he believes was a major wrong done to him and an overreaction to his mistake.
Bishop extended the PGA, and by association himself, into a bigger arc than the group was used to, but as long as things were running smoothly, he was left to operate in as big an orbit as he wanted. However, the '14 Ryder Cup hardly ended smoothly from the PGA of America's side. After having high hopes that golf legend Watson could make a difference as captain on foreign soil, the U.S. went down in a heap. Then post-match comments by Phil Mickelson led to some uncomfortable bickering, with the PGA left looking like it didn't have its act together in one of the golf world's biggest events.
In the aftermath, Europe's Ian Poulter took critical shots at Watson and Nick Faldo in his book, "No Limits," criticisms that deeply offended Bishop regarding his two friends. Bishop took to Twitter and Facebook, posting remarks that called Poulter a "Lil girl" and said he sounded like "a little school girl squealing." The attention from the huge miscue was too much for PGA brass to take, and Bishop was eventually impeached out of office.   Had the Ryder Cup not caused so much noise, Bishop could have survived another couple months. If it had happened in this age of Trump—or will it just be the summer and autumn of?—the rancor could have fit right in and Bishop would have looked current. So in that sense, Bishop came along too early and perhaps the environment wasn't ready for him.   When there is a dispute, usually if you take a little of each side, you get the full answer. This book, Bishop says, is his way of stating his side of the story that didn't fully come out when the PGA told him that it was expelled him. You can sense that Bishop has had a lot to say, and he's relieved he can finally say it. He states quite often that he'd wished he'd done things differently, so his regret feels real. But by using dates and times and specific recitations of email messages and conversations, he does his best to show that he feels the punishment did not fit the crime and that the people he worked with showed hypocritical attitudes and just wanted him gone.
That is the book's power, that Bishop gives readers the behind-the-scenes dialogues and developments into not only his dismissal, but events at the Ryder Cup and the subsequent U.S. task force that came from it. You also get some of his life story and career history, but the main reading is the Ryder Cup fallout.
If you come to this book impartially or are anti-PC, you'll likely feel Bishop was treated poorly since he presents a strong case against his removal. If you are anti-Bishop, this won't change things even if his points make sense since Bishop can come across as vindictive. An appendix lists nine pages of notable achievements during his term, along with the specific names of all the board members who voted to impeach him.
A constant theme Bishop states is that his desire is to set the record straight, and that after laying out the scenario of his ouster, he wants readers to judge whether the punishment fit the crime.
There is no secret which verdict he wants reached.