Angelo Spagnolo made a 66 on the par-3 17th at TPC Sawgrass in 1985 to become America's Worst Avid Golfer.
12-12-6-4-13-15-8. That's how the Pittsburgh grocer, Angelo Spagnolo, started the back nine on a steamy June day in 1985, on the TPC at Sawgrass. He was chosen by Golf Digest to compete with three other finalists from 627 nominations for the title of America's Worst Avid Golfer.
All this comes to mind as John Atkinson (see Dave Kindred's column) was chosen from 56,374 essay writers to compete in the first Golf Digest U.S. Open Challenge with celebrities Justin Timberlake, Tony Romo and Matt Lauer, televised by NBC as the lead-in to the final round at Torrey Pines on June 15.
Flash back to the infamous 17th hole, 132 yards to an island green, when Angelo topped his tee shot into the water and then walked to the drop area only 50 yards from the green. After hitting another dozen into the hazard, he ran out of balls and had to switch to red-stripes.
He pumped another 10 into the water.
Our Contributing Editor Peter Andrews reported at the time: "Unfortunately, a hip-high wedge shot, which is the basic building block of Angelo's short game, is of but limited use in trying to both carry water and stick on a small green."
Angelo's caddie pulled him aside and said: "You know, Ang, you can putt down this path and keep putting all around up the walkway to the green." "No," he replied, memorably. "The hole wasn't designed to be played that way. What will people say?"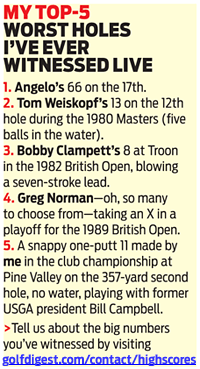 He had three whiffs and a total of 27 balls in the water before relenting and taking out the putter. "When I finally gave in, it was defeating for me -- sad, really," recalls Angelo, 23 years later. "I seriously wanted to play the game without resorting to miniature golf. One of the TV networks gave me uncut footage of that hole; it was like watching my fingernails get pulled out."
When he knocked it on the green, a cheer went up, his heart sank (he said), and he three-putted for a 66.
"Let me tell you something about Angelo Spagnolo," wrote Andrews. "In enduring perhaps 40 minutes of public humiliation, he did not wince or cry aloud. At no time did a single whispered blasphemy escape his lips. He took a 66 without a curse. Angelo Spagnolo has either the makings of a Christian saint or the most limited vocabulary of any man who has ever played golf."
Angelo finished with a 22 on the 18th, for nine-hole scores of 99-158, a total of 257 and the title. All three networks covered the finish on their evening news, and every major newspaper in the country filed reports.
Now 54, out of grocery stores and managing a dog-bone business in Fayette City, Pa., Angelo remembers the outpouring. "Hundreds of people told me I gave them hope," he says. "It didn't make me feel any better about the way I played, but it made them feel better about the way they played. And I figured that was good for golf."
Angelo and the other Worst Avids raised millions for charity through exhibitions and tournaments over the years. He's currently recovering from hand and shoulder surgery -- "all those divots," he explains -- and is looking forward to a return to golf. "I hope I can get back to the high level I once was at," he says.
"It's kind of funny to imagine me being rusty."
As for his advice to our foursome at Torrey Pines: "Never lose your ability to laugh at yourself." Good advice to all golfers.