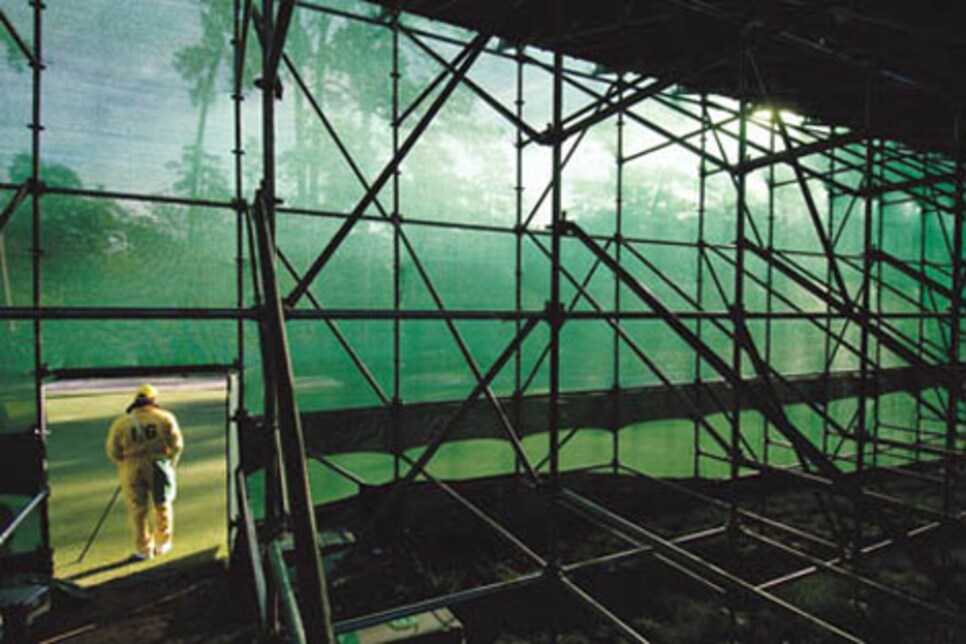 For more of Joe McNally's Masters preview photo essay on Augusta National and the city, click here.
On Golf Digest's watch over the past 30 years, I've covered two PGA Tour commissioners, seven LPGA commissioners, four USGA executive directors and five Masters chairmen. The Augusta dictators have always been the most fun, because they alone are able to speak their mind without fear of losing a sponsor. Augusta fires sponsors, not the other way around, as Hootie Johnson taught us.
"Stick your finger in a glass of water and pull it out. That's the hole you leave in this world," Hord Hardin told me over rounds of home-and-home golf (his home always better than mine). Hord asked me once about playing in a senior member-guest; my wife took particular joy in pointing out to him that I was only 34 years old at the time.
There's a fascination with the changing of chairmen at Augusta National, on a par with papal elections. After last year's Masters, Hootie surprisingly quit in a puff of white smoke and a new chairman, Billy Payne, emerged. If the name is familiar, it's because he brought you the Atlanta Olympics.
Senior Writer Dave Kindred first met him when Dave was a columnist at The Atlanta Journal-Constitution. "It was 1987, my fourth year at the paper," says Kindred, who I'm proud to announce has been elected to the National Sportscasters and Sportswriters Association Hall of Fame (read, his profile of Payne, "Back in charge"). "I'd never heard of this Billy Payne who was floating the Olympics idea. He was generally regarded as foolish beyond repair. But in my column, I treated him as a big thinker with a dream that we should embrace. That was my attitude throughout the bidding process and the Games.
"In his time as media-committee chairman at Augusta, I saw him every April, and interviewed him in the press room there for a book I wrote on Muhammad Ali and Howard Cosell (Sound and Fury). The subject then was how he came to choose Ali to light the Olympic flame. That whole process is indicative of the way Payne works. He was opposed to Ali -- viscerally so -- but was open to persuasion, especially from [NBC's] Dick Ebersol. Now he counts the selection of Ali as one of the Games' great triumphs. I didn't use this in the book, but this, too, is indicative of the way he thinks. Ali had dropped the torch in a secret rehearsal: 'So we had a backup plan in case Muhammad couldn't light the flame,' said Payne. 'Janet Evans [the last runner, delivering the flame to Ali] was to stay there and steady his hand and help him. But I knew he wouldn't need help. Champions come through.' "
And so we shall see this April with Mr. Payne, but let the record show -- give or take a Hootie -- the Masters has a history of identifying champions.
MY TOP 5 QUOTES BY A MASTERS CHAIRMAN
1. "That timetable will be ours, and not at the point of a bayonet." Hootie Johnson
2. "Bob, let's call it the Masters." Clifford Roberts
3. "Our tournament will never be the Pizza Hut Masters. We'll shut her down first." Hord Hardin
4. "As Jesus said, and I agree..." Clifford Roberts
5. "Seve, let me ask you...a lot of people have asked me: How tall are you?" Hord Hardin