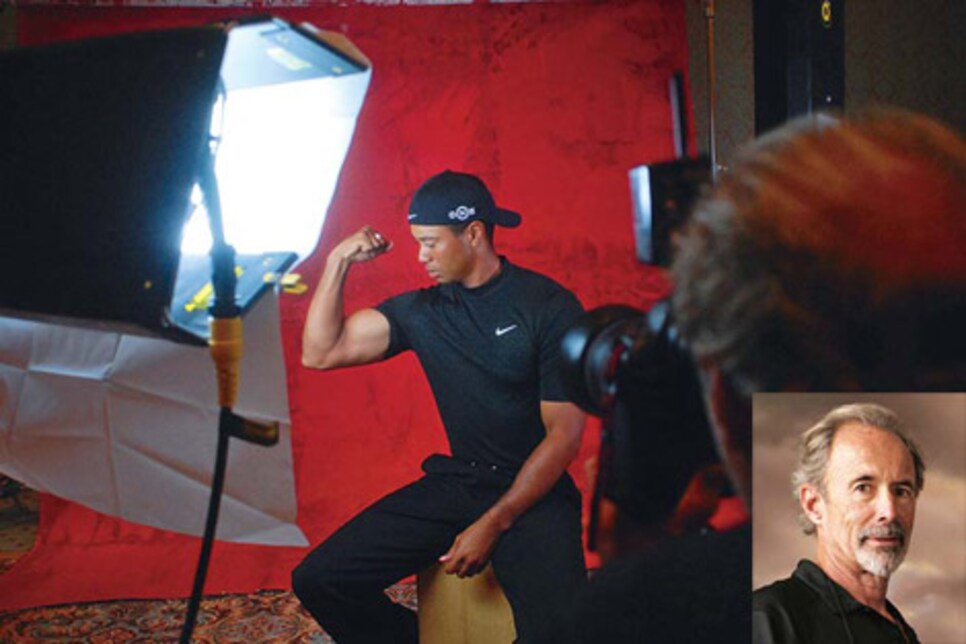 The renowned Iooss (inset) at work with another famous guy.
Those eyes on the cover belong to the father's son. Tiger sometimes has the soulful look of Earl, the military man with a big heart. But there was another side to Earl, after two tours in Vietnam. He didn't show it often, but when Pop got angry, his look was scary. Tiger relates his own game face to Earl's in combat. Under pressure, he gets "icy."
Our newest addition, Photographer-at-Large Walter Iooss Jr., wanted to show the intensity that Tiger's competition sees up close on Sundays at Augusta.
"The idea came from the movie 'Apocalypse Now,' " says Iooss. "There's a line by Martin Sheen when he's in Saigon: Every minute he's there he's getting weaker, while Charlie -- Tiger -- is in the jungle getting stronger.
"Every day Tiger looks more like an action hero. Not only has Tiger beaten the rest of them mentally, he dwarfs them physically. That was the attitude I was trying to get. I had him lower his head and look to me, as he slowly raised his eyes. Those eyes..."
Director of Photography Matt Ginella recalls: "I was holding a reflector in front of Tiger. When he looked up, I almost fell over. The look was too good." Who would have thought Tiger is a method actor?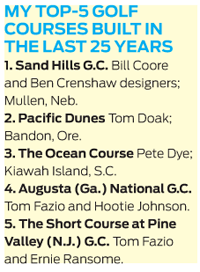 We shouldn't be surprised Iooss' description of the war movie clicked with Tiger. As Senior Writer Jaime Diaz reveals in his annual portrait of Tiger's evolution (click here to read, "The Year of Living Dangerously"), the world's No. 1 has become more consumed with the military as a means of connecting with his late and beloved father. He's parachuting out of planes and visiting the troops in the Middle East. His training regimen is lifted in part from the Navy SEALs. He reads military strategy.
Leave it to Iooss to sum it up in a single image. That's what he has been doing in photojournalism since he began at Sports Illustrated in 1961, with 300 covers since. Though he'll still be working the "minor sports" for Sports Illustrated, he's shooting golf and golfers exclusively for Golf Digest, where he joins our team of photographers Stephen Szurlej, Dom Furore and J.D. Cuban.
When Tiger walked into the studio for our recent cover shoot, he looked around and saw Iooss.
"Walter? What are you doing here?"
"I've signed with Digest," Iooss said.
Tiger replied, "Good call."