The Loop
It puzzles me, but there remains among you a fervent "Enough about Tiger!" bunch that thinks our coverage of the world's No. 1 (and everyone else's) is out of whack. Among these are fans who think we not only over-cover Tiger but pamper him as well. Tiger's U.S. Open victory and subsequent knee surgery has occasioned many, many letters on this theme. A sampling: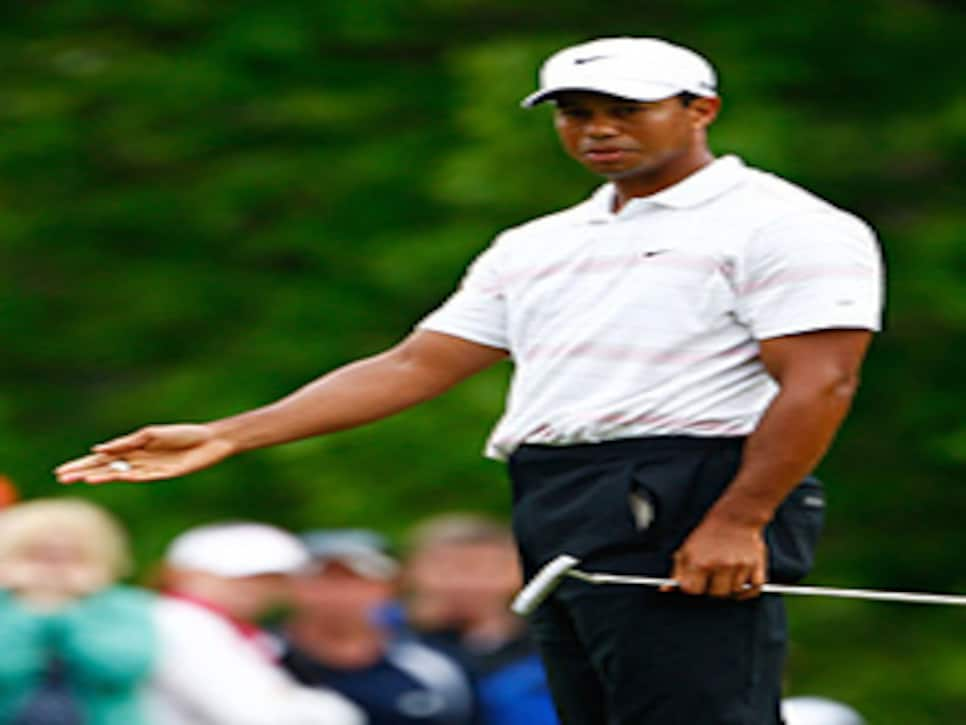 Golf media are hailing Tiger Woods to be the greatest hero ever for what he accomplished while dealing with a serious injury. Has everyone forgotten that Ben Hogan won 6 major championships with torn cartilege his right knee, a left leg that had had multiple fractures and was always in severe pain, a left shoulder that was permanently damaged and a left eye that would not focus. Mr. Woods is indeed strong willed but, his accomplishment pales compared to Hogan's.
I don't remember exactly how long I have been a subscriber to Golf World, but I believe it's well over 30 years, and it has always been my favorite (in fact, now, my only) golf magazine. Now, I am thinking of letting my subscription lapse because of what I perceive as your overkill coverage of Tiger Woods. I no longer watch the Golf Channel, and soon, I will not be reading your magazine. Woods will probably end up as the greatest golfer ever, but unlike the great ones of the past, he does not have their class and humility.
I know in golf it is bad form to root against someone but I certainly do in Woods case, as do many at my club.
San Mateo/Half Moon Bay, CA
He is No. 1 in the world and everyone knows it , and we are all sorry for his injury that will keep him from the tour for a time. However, is there anyway you can stop the Tiger fist- pump photos? Only five in your June 20, 2008 issue.
I have now finally received my copy of Golf World - 20th. June - U.S. Open Report. Talk about being biased. Reference made about Woods' knee - surgery, injury, pain etc - was mentioned at least 28 times throughout the magazine. Stuart Appleby's knee operation was mentioned once and no mention of Adam Scott's injured hand (small broken bone).
Maybe Appleby went off the boil on Saturday and Sunday because of his knee operation (being the leader after two rounds) as he was missing all sorts of putts and perhaps Scott's hand injury played up with him.
Then to boot, Johnny Miller made comments about Appleby's standard of play and not even considering his injury. He would not have made the same comments about Woods if he had gone bad. If Woods had gone bad, the knee business would probably have been mentioned 56 times. Please, be fair in your reporting.
__I was introduced to this wonderful game over 50 years ago. During that time I can say we have never seen a player with the ability, both mentally and physically, of Tiger Woods. It is now more a question of when and not if he will surpass the major victories of Nicklaus. __
It was not long ago, when a player who won an event would merely tip his hat and give a thank you gesture to the crowd. Golf is a gentleman's game that has been shown the respect it deserves by those that have participated through the years.
Suddenly Mr. Woods comes on the scene and we are treated to the latest "Rocky Balboa" antics every time he makes a shot of some consequence. Yes, he is the best player of our time, if not of all time, the years to come will only verify this conclusion. My only wish would be to show the game the respect it has earned. When was the last time we saw a highlight film from the past and saw Bobby Jones "high five" and "chest butt" his caddy.
Regardless of what happens in the future of our sport, I can honestly say that I miss the past and all it did to influence my future as a gentleman.
__Ok.....let's give it a rest. How many articles could your people possibly write about Tiger? This game has been the ultimate test of man against nature for hundreds of years. There are SO many stories about golf or golfers around the world and yet once again I open your magazine and I am bombarded with "TIGER TIGER TIGER" So why in the world can't we read at least ONE article that does not mention Tiger Woods. Okay, okay...exaggeration I know, but the media has really blown this whole 'knee operation' thing out of proportion. I have been a skier for over 30 years and in that time I have known many people who have had the exact same operation and have gotten on the slopes after 2 months. And anyone who says that a golf swing is more torque on a knee than a skier's, is very uneducated. If Tiger wants to take a year off.....great for him and his family. I am surprised it's taken him that long. But for the media to sit and cry about how it just won't be the same without Tiger is insulting not just to the general public but also the players on the tour that actually play more than 16 or 17 tourneys a year.... If money is your biggest concern, have the PGA Tour step in and force these guys to play more events. I have no illusions that this will get published but boy did that feel good to get off my chest. And finally...No, I don't dislike Tiger. Don't even know the guy, but the media needs to broaden their horizons. __
Thank you for your letters.
I will agree with all of you on one thing. Golf is bigger than any of us, Tiger included. On the other hand, when you're living in the age of Babe Ruth, you tend to cover the heck out of him. And as a role model, well, Tiger's not bad. What do the rest of you think?