News
Webb Simpson's remarkable rankings rise and four other takeaways from Day 2 of Rocket Mortgage Classic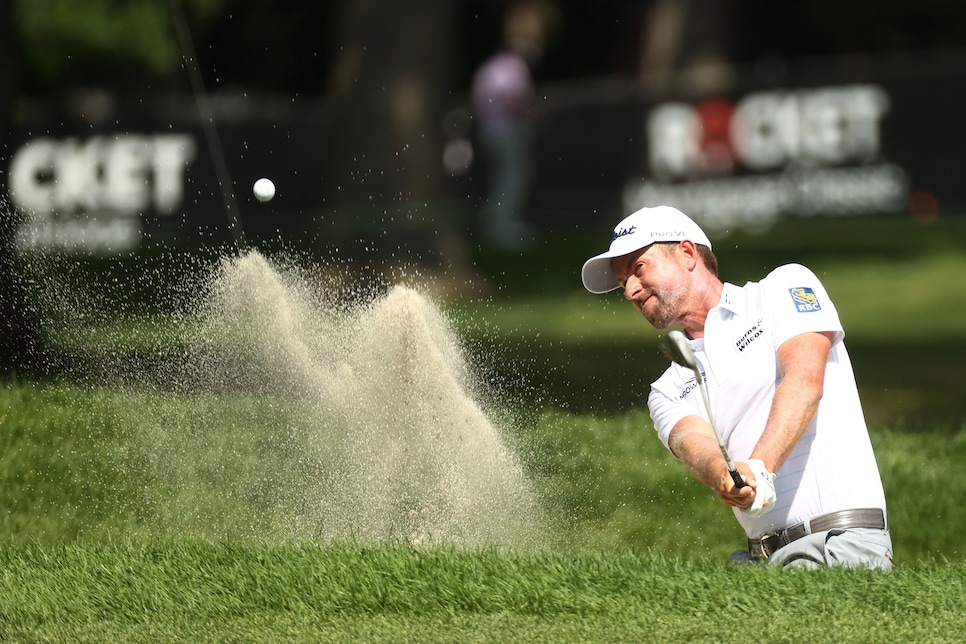 Webb Simpson hits a bunker shot on the 14th hole in the second round of the Rocket Mortgage Classic.
Gregory Shamus
Webb Simpson has long been the most dangerous man alive with a 4-hybrid in his hand. He might now be the most dangerous man alive with any golf club at all in his hand.
Two weeks after winning the RBC Heritage, Simpson is in great position to add another victory after a second-round 64 has him at 12 under total, tied with Chris Kirk for the lead at the halfway point of the Rocket Mortgage Classic at Detroit Golf Club.
Here are takeaways from Friday.
With a win or a runner-up finish this week, Simpson, currently at No. 6, would become the top-ranked American golfer in the world. If he wins, he gets to No. 2, behind only Rory McIlroy. (One year ago, Simpson was 19th.)
At first glance, that may sound a bit outlandish, given this is the country of Justin Thomas and Dustin Johnson and Brooks Koepka and Bryson DeChambeau and Tiger Woods. The results, however, speak for themselves—Simpson has six top-three finishes in his last 13 starts, dating back to last summer, and he's on track to pick up a seventh this week.
"I'm as confident in my ability as I've ever been," Simpson said on Friday. "I'm having as much fun as I've ever had."
His remarkable success is a refreshing reminder that you don't need to swing it like Adam Scott or hit it Bryson-long to be an elite player on the PGA Tour. Simpson simply plays within himself, hardly ever makes a mental error and peppers the first page of leader boards. He's coming off a hectic week at home after a family member had tested postitive for COVID-19 (the entire family has since tested negative). But he is easily the man to beat this weekend.
Birdie-fests are getting a bit old
Last summer, Rory McIlroy admonished the European Tour for setting courses up too easy. "I'm sort of honestly sick of coming back over to the European Tour and shooting 15 under par and finishing [T-26]," he said after playing in the Dunhill Links Championship.
You have to wonder what he's thinking about the current state of the PGA Tour.
For the fourth straight tournament since the tour restarted from the COVID-19 hiatus, an obscene birdie-fest has broken out at Detroit Golf Club. Windless conditions haven't helped matters, but for the second straight year the Donald Ross design has proven completely toothless to the modern player.
Last year, Nate Lashley shot 25 under to win. This year, the cut was five under [Lashley missed it at four under] and nine guys are already at least 10 under with 36 holes left to play.
We all love seeing birdies, but there is little charm in having every single tournament feature a comically bunched leaderboard with rounds of three under proving virtually worthless. Here's to hoping that Muirfield Village provides a stauncher test over the next two weeks. It should. Over the last seven years, the champions' final scores have ranged from 12 to 19 under.
Wolff in position for first top 10 of year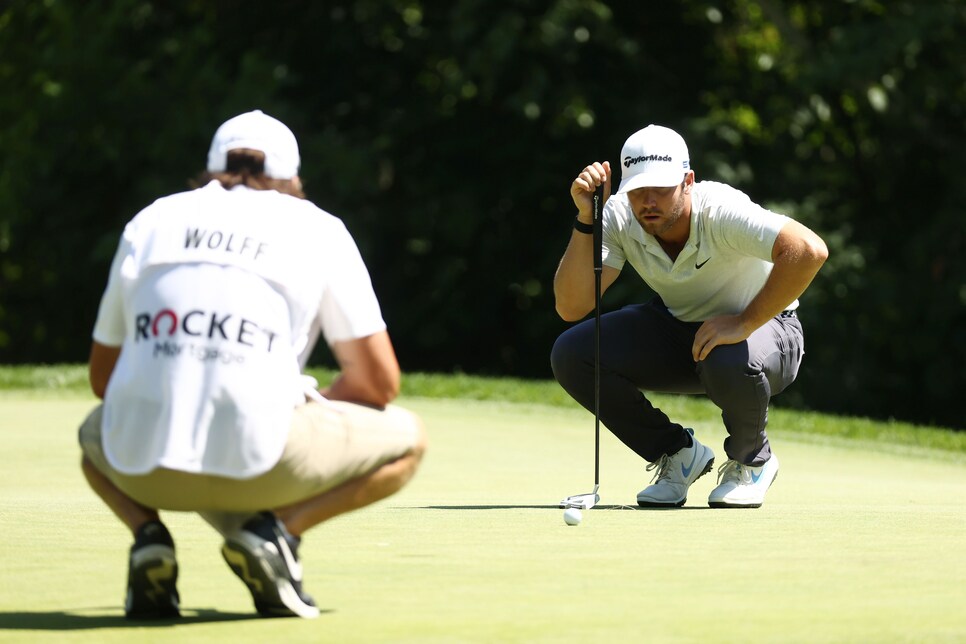 Matthew Wolff lines up a putt on the eighth green during the second round of the Rocket Mortgage Classic.
Gregory Shamus
Because he won so early in his career, because his swing is already iconic, because he's one of the more marketable young players in the game, it may come as a surprise that Matthew Wolff still only has one top-10 finish on the PGA Tour—his victory at the 3M Championship, almost exactly one year ago.
Wolff is in great position to pick up his second one this week after a second-round 64, which included six birdies in a row, has him at 11 under heading into the weekend.
Some pretty interesting, honest quotes from Wolff as to why he's semi-struggled since his win—his last six starts have resulted in three missed cut and three finishes between T-52 and T-58.
"I would say just maturity, just mentally," Wolff said about the difference between this year and last. "When I'm hitting it good and I feel like—I feel like I was really caring too much about the outcome and thinking about every little factor on every single shot."
Kirk proving Korn Ferry success is no fluke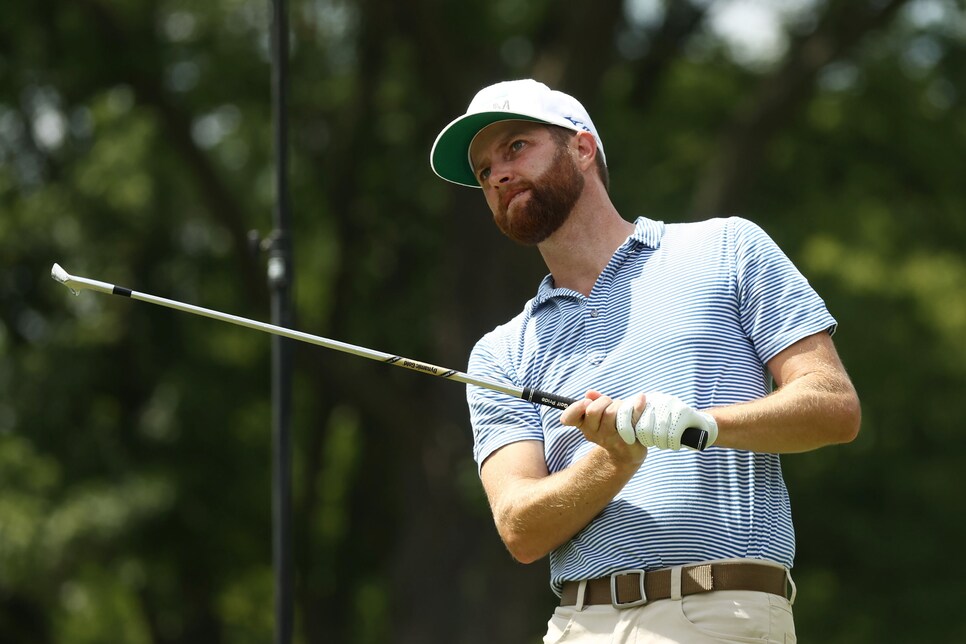 Chris Kirk watches his shot from 15th tee during the second round of the Rocket Mortgage Classic.
Gregory Shamus
They say the guys who win on the Korn Ferry Tour aren't far behind those who win on the PGA Tour. Kirk appears ready to put that theory to the test. The 34-year-old, who took seven months off last year to deal with alcohol and depression issues, won the King & Bear Classic two weeks ago on the KFT. He's now tied with Simpson heading into the weekend on the Big Boy tour.
DeChambeau really is playing The House
Last week at the Travelers, Bryson DeChambeau said he was hoping to be the PGA Tour's version of The House. In Vegas, if you play long enough, The House always wins. DeChambeau's logic: If he keeps putting himself in position to win, eventually it's going to happen.
Well, he keeps putting himself in position to win. After a second-round 67—notable because it was bogey-free—he is now a combined 57under par in the 14 rounds since the restart. Simpy put, he is on a remarkable stretch of golf, his success seeming so easy, so inevitable that other players are surely thinking long and hard about whether they should emulate his Hulkish transformation. He's simply up there each and every week. Perhaps this is the time The House gets its share.