News
It's Jon Rahm's title to lose and four other takeaways from Day 3 at the Memorial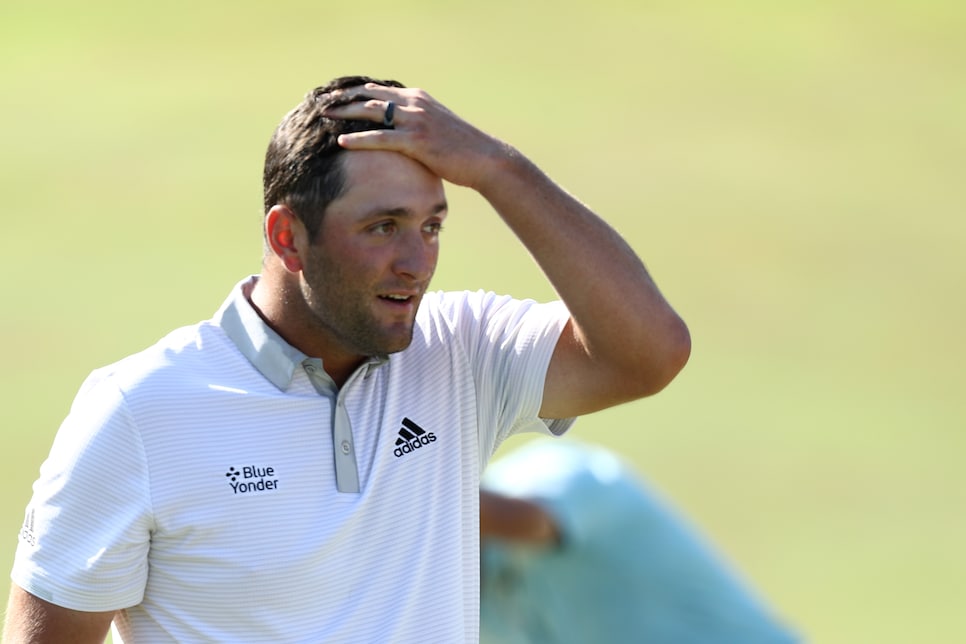 Jon Rahm reacts after finishing on the 18th green during the third round of the Memorial.
Jamie Squire
After a hectic Friday evening at Muirfield Village, Saturday's third round of the Memorial Tournament was a bit of a come down. Having no fans certainly plays a part in that, but the U.S. Open scoring conditions made for some grind-it-out golf. For those who appreciate a good pitchers duel in baseball, this was your kind of Saturday afternoon.
Sunday's final round won't be lacking in the drama department, so we've got that going for us. Here are our five takeaways from Day 3 at the Memorial.
Can Jon Rahm run away with it?
Good lord, that flipped on a dime, didn't it? For a brief period, it looked like Tony Finau would exorcise some demons and break the Puerto Rico Open curse. Through 11 holes, Big Tone sat at 12 under, four clear of 25-year-old Spaniard Jon Rahm.
Then came the back nine and some big ol' wind gusts. Finau played the final seven holes in four over, finishing with a one-over 73, which put him at eight under heading into Sunday. Rahm, meanwhile, played the most impressive back nine of any player in the third round [aside from Danny Willet]. He made four straight birdies between the 13th and 16th holes, and just barely missed a fifth in a row at 17. At the 18th, while everyone else was melting down, he got up-and-down for par to finish off a four-under 68, the lowest round of all 74 players who teed it up on Saturday.
According to the oddsmakers, this thing is already over. Depending on where you look, he's anywhere between -400 and -500. That's the World No. 2 (soon to be World No.1 ?) effect. Can anyone catch him?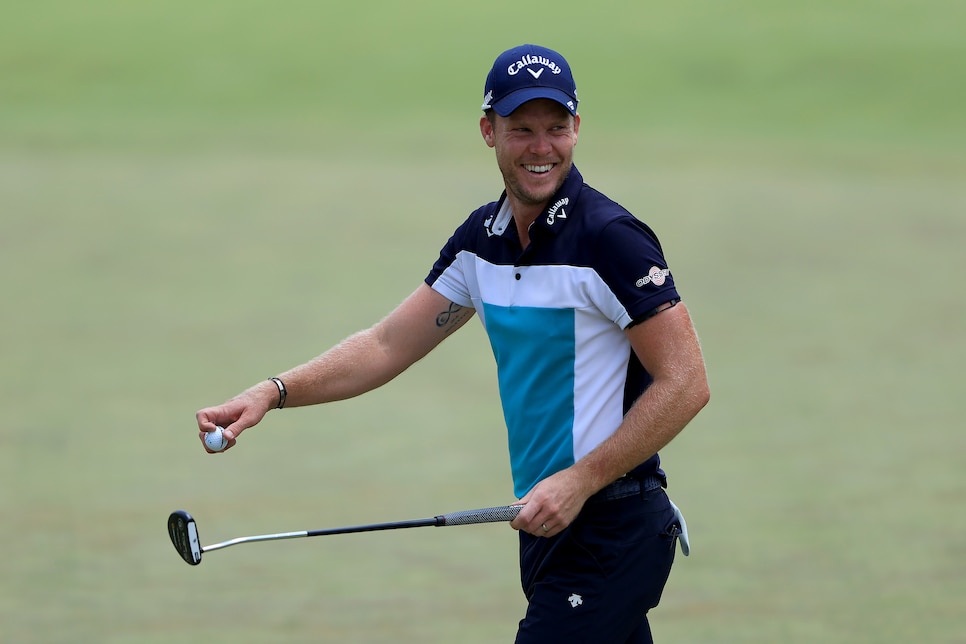 Danny Willett reacts on the fourth green during the third round of the Memorial.
Sam Greenwood
It's going to be WINDY on Sunday
Jason Day, who shot an even-par 72 and sits at five under for the week, had this to say after his round.
"That lead is still not a secure lead," said Day of Rahm's four-shot edge. "You never know what's going to happen; it's going to be firm and it's going to blow a lot tomorrow."
For Day to come back and win he better hope it blows a ton, and he'll still need some help from Rahm. That said, plenty of guys are still in it, even if it doesn't blow like crazy. Mid-90s temperatures are in the forecast, meaning the greens will be as hard as they were on Saturday. Despite his meltdown, Finau still lurks at eight under, as does Ryan Palmer, who will play alongside Rahm in the final group. That should be a solid pairing for this duo, who teamed up to win the 2019 Zurich Classic.
But the guy to watch has to be England's Danny Willett, whose incredible career resurgence continued on Saturday in the form of a two-under 70, which included a back-nine 32. Willett is six back, which is a lot of shots to make up. But if you recall, Willett made a decent comeback in some blustery conditions at the 2016 Masters. If you're looking for some Sunday value, Willett at 25/1 is the play tomorrow.
Did anybody else miss Bryson on Saturday?
Judging by hardcore Golf Twitter on Friday evening, no, absolutely no one missed him. Then again, the content wasn't nearly as easy to come by on Saturday. As hard as the golf course played, there weren't a ton of blowups, but there weren't many birdies either. After weeks of -19 and -21 winning scores, this U.S. Open style of play has been refreshing, but there was a bit of energy lacking in Saturday's broadcast.
One can't help but think DeChambeau's absence played a role in that. Love him or hate him, he's THE guy right now. Every shot and potential on-camera meltdown is now a must-see event. Jordan Spieth could have picked up that slack with a good round on Saturday, but Jordan Spieth doesn't really shoot good rounds on Saturday.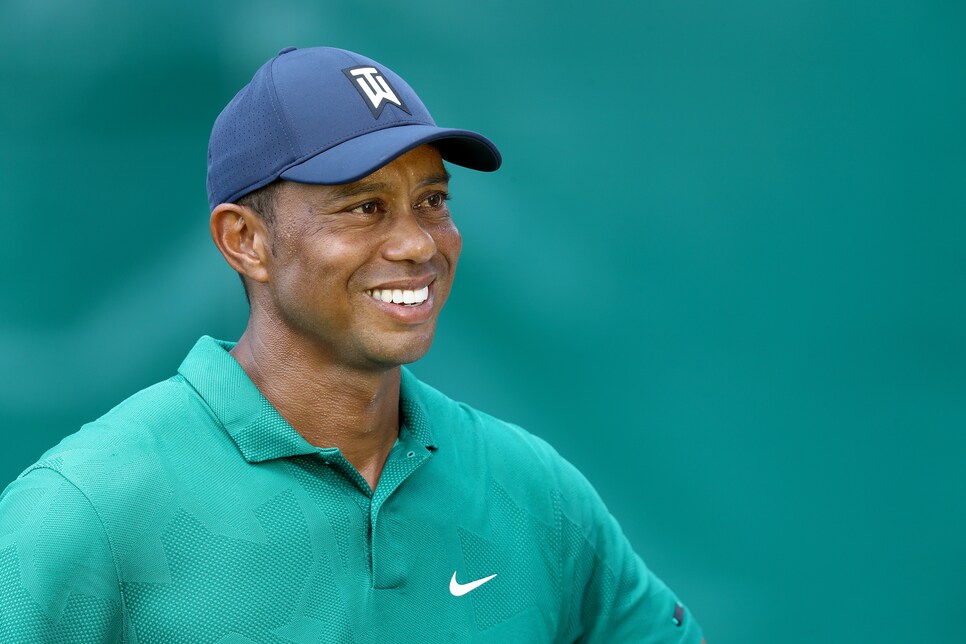 Tiger Woods speaks to the media after playing in the third round of the Memorial.
Jamie Squire
No, Tiger Woods didn't make the move we had all hoped for, but not many players did on Saturday in Dublin. The fact he posted one of the 20 under par rounds shot in the third round, and looked very smooth doing it is cause for everyone to exhale. He's going to have his bad days and he's going to have his good days. That's just part of the deal going forward with the 15-time major champion. The hope is he can string four good golf days and good body days in the same week, which, as we've quickly forgotten, he just did this past fall in Japan. It's all going to be OK, OK?
Is it time to worry about Brooks Koepka?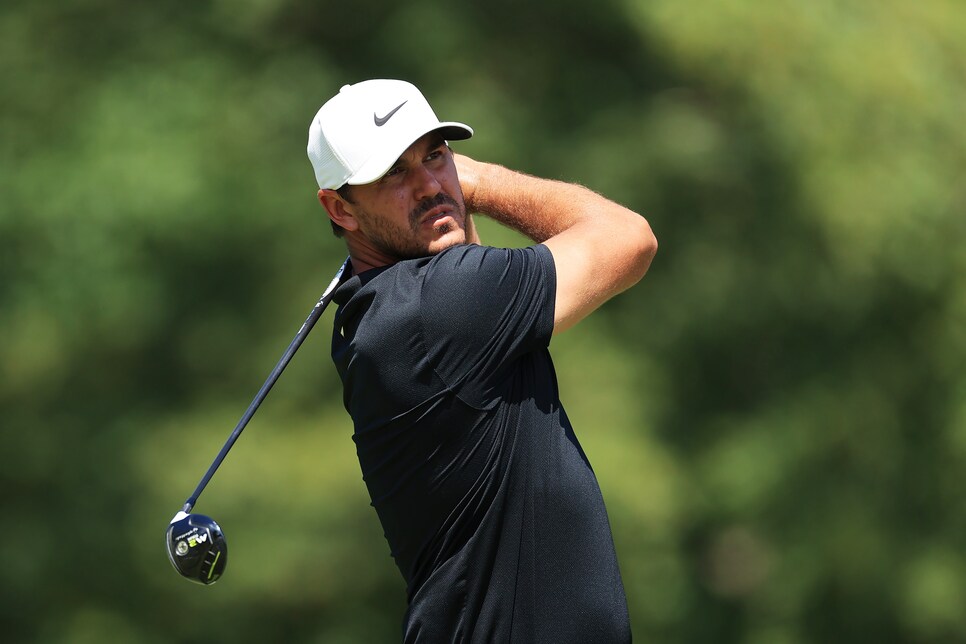 All the way back in February, Brooks Koepka made an alarming admission about the state of his left knee, on which he received a painful stem-cell injection last fall. "I don't know if my knee will ever be 100 percent," Koepka told Golf Channel prior to the Genesis Open at Riviera. "It's one of those things where I'm just trying every day."
The four-time major champion went on to finish T-43 that week. He's since followed like this: cut, T-47, T32, 7th, cut. Through three rounds of the Memorial, he's posted rounds of 72, 75 and Saturday's 73, in which he suffered a pair of double bogeys.
Is the knee really bothering him, or is it a convenient excuse for poor play? Could be a combination of both, and let's not forget to factor in just how difficult Muirfield Village played this week, not to mention his so-so results here in the past. It's a dangerous game to speculate that it's definitely injury-related, but Koepka admitted himself on Saturday that the left knee "still has its moments." It was also revealed that he got an MRI on the knee this past Monday, and the results showed that nothing has improved. It all sounds a bit troublesome.
And yet, Koepka still claimed his game's not that far off, which certainly appeared to be the case at Harbour Town, where he was a late missed short birdie putt away from seriously contending for a win. He needs some good results to secure himself in the FedEx Cup Playoffs, and with a few majors coming up, no one would be surprised if he snapped out of it. But anyone who has followed golf the last 20 years [specifically Tiger Woods] knows that injuries to the left knee are pretty scary in this sport.