News
Patrick Cantlay continues love affair with TPC Summerlin and other Friday takeaways from the Shriners
The way Patrick Cantlay had been struggling, it seemed as though not even TPC Summerlin, where he's gone first-second-second in three career starts, could get him out of his funk. As the late, great Charlie Murphy once said in the Rick James True Hollywood stories skit on "Chappelle's Show" - Wrong. WRONG!
Not only has Cantlay snapped out of his funk, he's gone nuclear, and he's attempting to make some history in the process.
Here are our takeaways from Round 2 of the Shriners Hospitals for Children Open.
Patrick Cantlay has beachfront property in TPC Summerlin's head
There are horses for courses, and then there is Cantlay at Summerlin, where he's now 66—SIXTY. SIX.—under par in 14 career rounds. His previous three starts have been WIN-2nd-2nd, and he's two more low rounds away from adding a fourth straight second or better finish in the same event. As one astute reporter pointed out on site in Las Vegas, only Tiger Woods, Jack Nicklaus, Tom Watson and Gary Player have ever done that in one tournament. Pretty elite company, some would say.
"That would be great," said Cantlay after hearing this information. "Every time I come here I feel like I have a chance to win. It doesn't surprise me because I really like the golf course, but obviously I have to execute. I have so far, so I'm looking forward to the weekend."
Cantlay has made 16 birdies, the most of any player in the field. He ranks third in strokes gained/around-the-green, ninth in putting, fourth in tee-to-green and a measly 23rd and 48th in off-the-tee and approach, respectively. That hasn't stopped him from filling it up, which you have to do at this course. He knows that, obviously.
"I think especially around here you need to make so many birdies, and I'm just used to it out here. It never feels like I'm stressing because it feels like there are so many birdie holes. It actually allows me to be patient."
Good strategy. It's working. Hot take alert.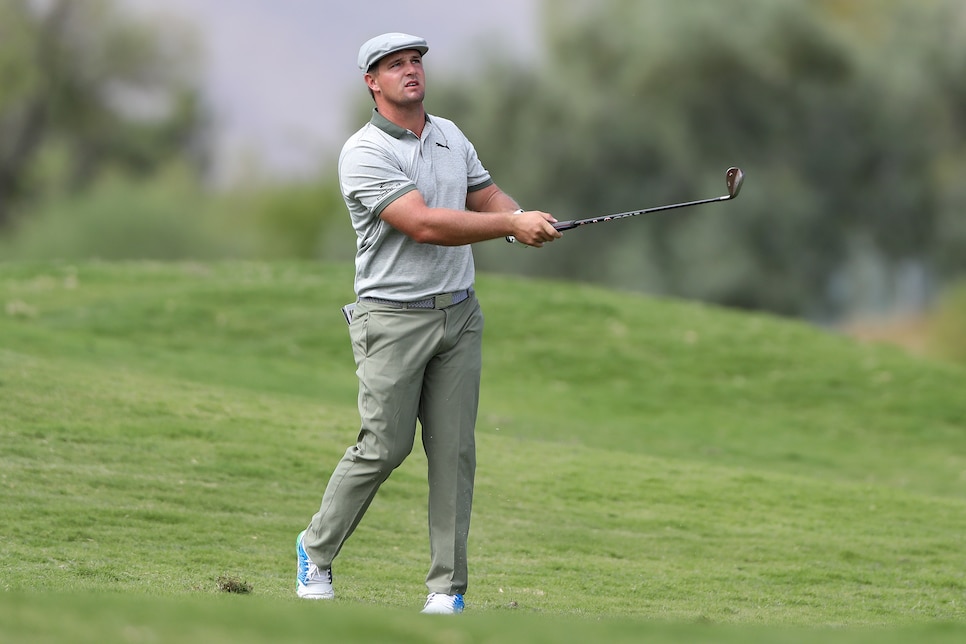 That Bryson guy is playing OK, too
Bryson DeChambeau's scores so far this week, if you include the Wednesday Pro-Am, look a little something like this: 59, 62, 67. The question on everybody's mind is, what the hell happened on Friday?
Of course, we're kidding. DeChambeau played just fine on Friday, but by his current standards a 67 at TPC Summerlin is losing ground. And yet, he's just one off the lead, and he may have gotten his worst round out of the way. He actually played his first 14 holes in a paltry one under, only to come storming home with a birdie at the 15th and an eagle at the par-5 16th. At 18, he had just 14 feet left to tie for the lead, and missed by an inch. He's first in strokes gained/off-the-tee through two rounds (shocking) and fifth in tee-to-green. On Friday, he drove a 382-yard par 4, then made the 26-footer for eagle. Until he literally goes backwards, this is probably still his tournament to lose.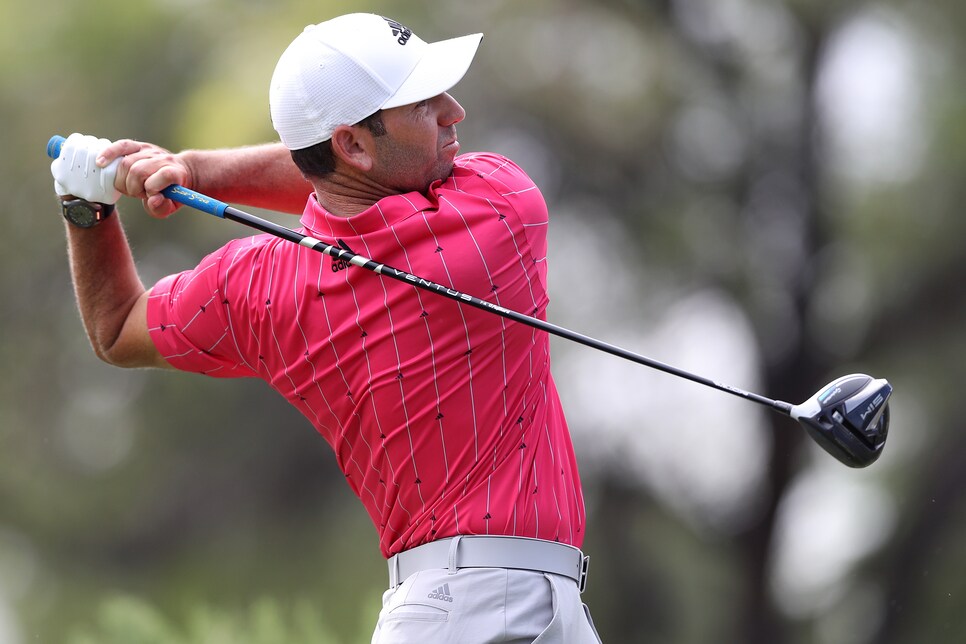 No Sanderson hangover for Sergio Garcia
When you're locked in, you're locked in. That seems to be the case right now for Sergio Garcia, who rolled into the Shriners fresh off a win at the Sanderson Farms Championship. Rounds of 66 and 64 have put him in contention once again at 12 under, giving him a chance to win two PGA Tour events in the same season, something he last did in 2004 at the age of 24. Those two wins, which came at the Byron Nelson and the Buick Classic, came a month apart. Should he go on to win this week, he'd have two victories in seven days. So, yes, you could say he's feeling pretty good.
"You know, it's funny. Earlier in the year I felt like I was playing as well as I've been playing the last week and a half, just things weren't really happening," said Garcia, who had just one top 10 in his last 11 starts entering the Sanderson Farms.
"So obviously it's a combination of playing well, confidence, a couple of good breaks when you need them at the right time that keeps your round going, and that's what I did."
If he does pull off the improbable and wins again, it'd be the first time he won in consecutive weeks since October 2011 on the European Tour.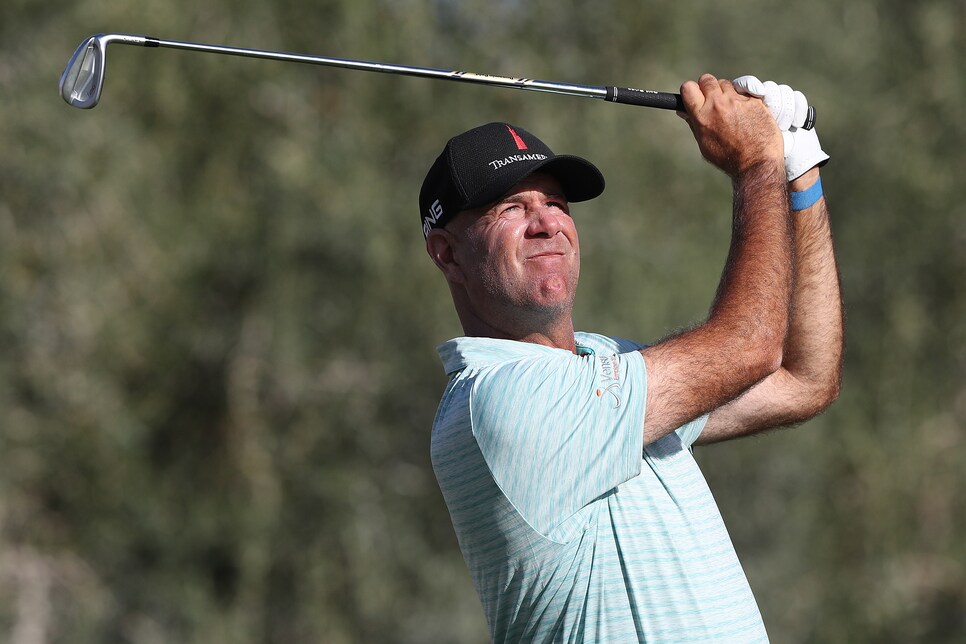 New caddie, same Stewart Cink
In early September, Stewart Cink made his season debut with his 23-year-old son Reagan on his bag. The father-son duo was a magical one, as Cink, now 47, went on to win the Safeway Open, his first win since the 2009 Open Championship at Turnberry. In his very next start at the Sanderson Farms Championship, again with Reagan as his caddie, Cink tied for 12th. It was the first time he had posted consecutive top 12 finishes since June of 2018. It felt like the beginning of a very special partnership.
But Cink was quick to make it clear this wasn't going to last for much longer, that Reagan had to get back to his own life. However, had they finished top 5 at Sanderson, he'd stay on for one more week. That was the deal they made. Cink gave it a great run with a final-round 65, but came up a little short. Veteran looper Kip Henley's job was saved.
Henley was back with Cink on Thursday at TPC Summerlin, and they didn't miss a beat. Cink opened the Shriners with a 67 and backed it up with a Friday 63, which puts him just a few off the lead at 12 under.
"Kip and I were on the same page a lot today, which is nice," Cink said afterward. "I've had my son Reagan caddying for me for a couple tournaments now and he was great.
"Now Kip is back and we're -- we haven't missed a step really. It's been nice. We're seeing things the right way and I'm executing pretty well."
Cink did more than just execute well, he caught fire. His 63 included a pair of eagles, five birdies and just one bogey, the only bogey he's made all week. Thanks to a few minor tweaks, he's playing some of the best golf of his life as he closes in on 50.
"I've made some changes in my game the last month or so and paid off really quickly with a win, and now it's just fun to get out there and wail on the driver and see the shots. Golf is a fun game when you got things going right, and hopefully let it last a long time."
These scores are ridiculous
First, quick hat tip to Austin Cook, Brian Harman, Peter Malnati and Martin Laird, who don't have the name recognition of Bryson DeChambeau and Patrick Cantlay but are at the top of the leader board as well. Great playing by this trio at 14 under so far. All three have PGA Tour wins and should absolutely be able to hang deep into the weekend.
For those keeping count, yes, five players are at 14 under. Twelve are 12 under or better. Twenty-freaking-five are double-digits under par. In order to make the cut this week, you had to shoot seven under. That is not a typo. Scott Harrington went 63-73. He trunk-slammed. Jason Dufner went 68-68. Thanks for coming out, bud. Will Gordon went 67-69. See ya later. Just insane scoring. Unfair, even.