Takeaways
Chris Kirk's key comfort factor, Daniel Berger's literal home cooking and a Koepka bro's cruel finish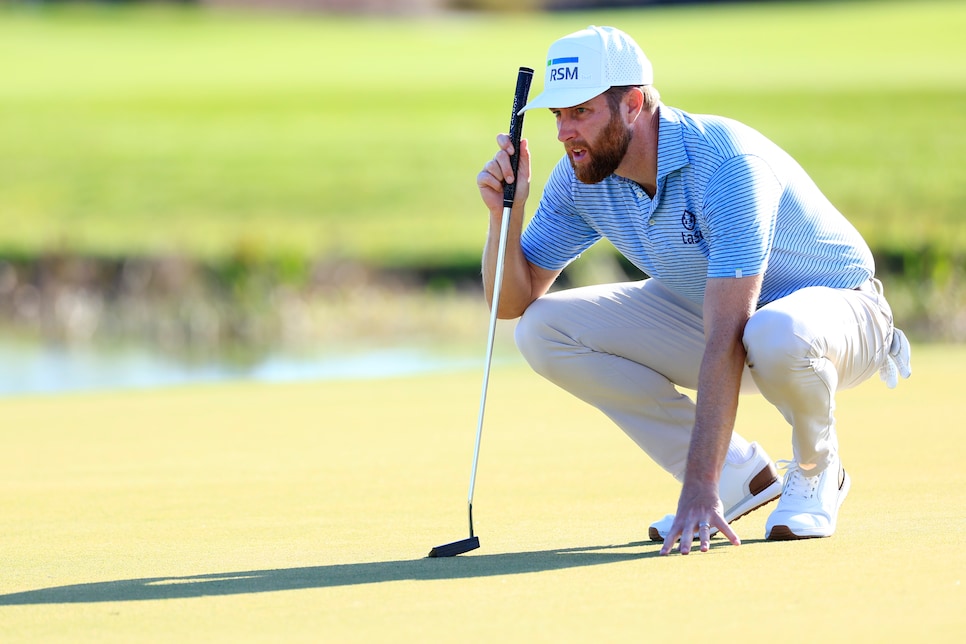 Chris Kirk lines up a putt on the 11th green during the second round of the Honda Classic.
Mike Ehrmann
For some players, the abrupt switch from the West Coast swing to the Florida swing can be a difficult adjustment. The cross-country flight, the time change, the weather difference, and, perhaps the most underrated factor, the switch from Poa to Bermuda grass greens.
But for Chris Kirk, all those challenges could not have come soon enough. Kirk, who was born in Knoxville, Tenn., played college golf at the University of Georgia and now lives in Athens, Ga., is a Bermuda man, through and through. This would explain why his putter is cooperating in a big way through 36 holes of the Honda Classic, where Kirk has shot rounds of 65 and 68 and sits at seven under, good enough for a share of second place with Kurt Kitayama, three strokes behind leader Daniel Berger.
"It's definitely a comfort factor for me," Kirk said of the fast Bermuda greens at PGA National. "Bermuda and sometimes bent, but mostly Bermuda, has been mostly what I've had the most success on for sure and the faster the better seems like."
Kirk, who missed the cut at The American Express and Pebble Beach in California, losing strokes putting in both starts, has gained nearly five strokes putting over two days in Palm Beach Gardens.
"For me, I tend to struggle with the greens that are a little bit slower where I feel like I got to hit at it some," he said. "If I know the greens are real quick and I can just kind of let it go, that seems to be when I hit my best putts and I seem to be pretty decent at reading Bermuda greens, so it's a combination of a number of things, but yeah, it's just what I'm most comfortable on."
Kirk's history on the PGA Tour more than backs up his own theory. He has four wins on tour in his career and two have come on courses that feature Bermuda greens (Country Club of Jackson, Sanderson Farms; RSM Classic, Sea Island). His other two wins came at TPC Boston and Colonial, which feature Bentgrass greens, the second-favorite putting surface he mentioned.
It helps, too, that Kirk is hitting it well (he ranks ninth in SG/tee-to-green this week) and getting up and down from everywhere. That, plus a hot putter, could equal a long-awaited fifth career win, his last on tour coming in 2015.
"I've felt good about my golf swing for quite awhile now and then the work I've done with Ramon, my putting teacher, the last few weeks has got me feeling a little bit more confident in that area and yeah, so just keep plugging away," he said.
Daniel Berger's (literal) home cooking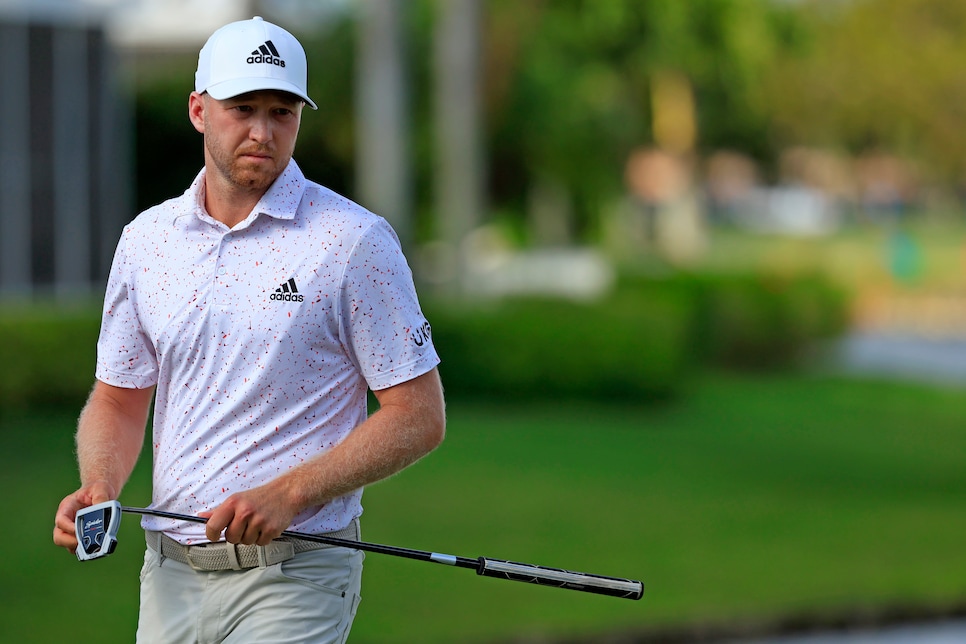 Daniel Berger reacts on the 17th green during the second round of the Honda Classic.
Mike Ehrmann
By now, you've heard the news—Berger is sleeping in his own bed this week. It's kind of his secret weapon, helping him shoot a pair of 65s to grab the solo lead at 10 under. His super-secret weapon, though? Mom's cooking.
"I try to eat healthy, but I definitely eat better when she's cooking, that's for sure," Berger said Friday. "But yeah, it's just nice to sit down in your own kitchen or your own bedroom and just feel like you're at home and not be in a hotel. We spend a lot of weeks and the road so it's nice to be at home."
When asked if it's a particular dish that's his favorite, Berger gave the most brilliant answer possible: "Everything. She's a great cook, so everything."
A Koepka bro's brutal finish
Neither of the brothers Koepka played particularly well on Friday, the duo shooting a combined four over par. One of them, however, did survive the cut, and it was ... Brooks, naturally, and he's tied for 31st.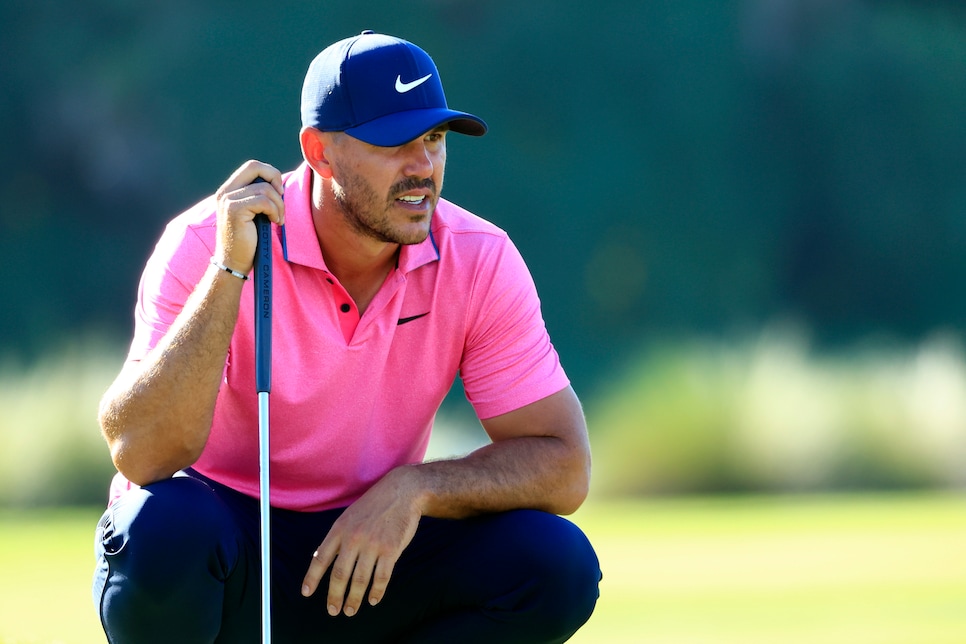 But, Chase Koepka came damn close, which would have marked his sixth career cut made on the PGA Tour and his second in a row at the Honda Classic. He was well on his way to getting an extra 36 holes at PGA National on Friday, shooting a one-under 34 on the front nine and arriving at the Bear Trap at even par for the round, one over for the tournament. That would have been safely inside the cut line of two over, but bogeys at 16 and 17, plus a missed 15-foot birdie attempt at the 18th, saw him miss the cut by one shot.
Tough break for Chase and an even tougher break for the whole Koepka clan on hand this week. Last year, Brooks had to pull out of the Honda due to injury, while Chase posted a 30th-place finish. This year, there was a legitimate chance to watch them both on the weekend not far from where they grew up, but the Bear Trap had other plans.
Louis Oosthuizen's incredible turnaround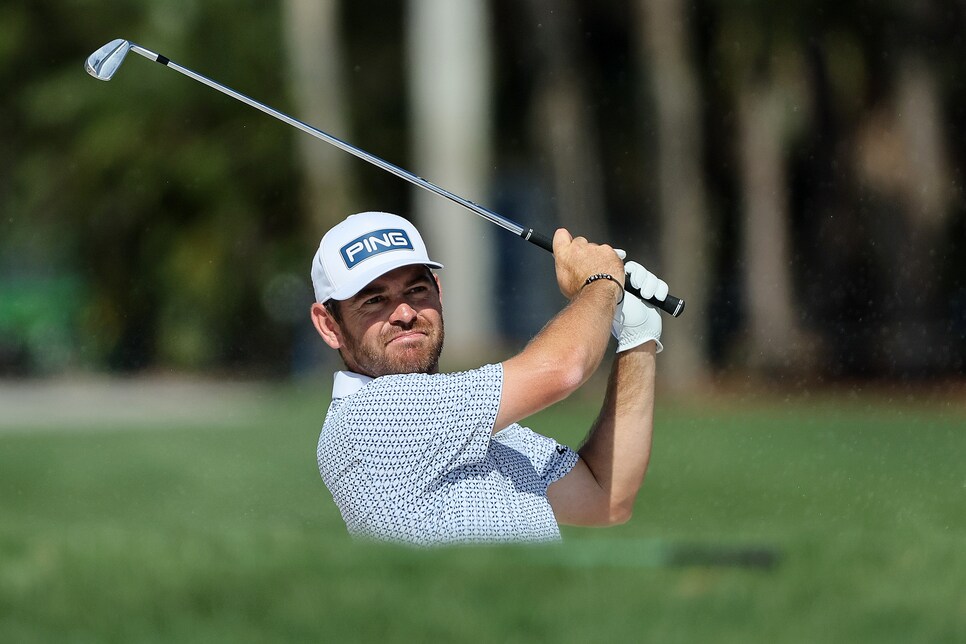 Following an ugly opening 75, Louis Oosthuizen appeared destined for an early exit, especially after picking up right where he left off on Friday morning, double-bogeying the par-4 11th (his second) to fall to seven over for the week. Surely, his first win on American soil would have to wait.
That very likely will still be the case, but not for lack of trying. Oosthuizen proceeded to play the next 16 holes in seven under, highlighted by a wild back-nine 29 that included five birdies on his final six holes. Not only did he make the cut by two shots, but he got into a tie for 31st, 10 shots back of Berger. It looks like a huge gap, but on a course like PGA National, where trouble lurks at every corner, he's not completely out of it.
With a morning tee time on the horizon for Saturday, don't be surprised if Louie O's name creeps up into the top 10 before the clock strikes noon.