News
Mother Nature wins Round 2 and three other takeaways from Friday in Bermuda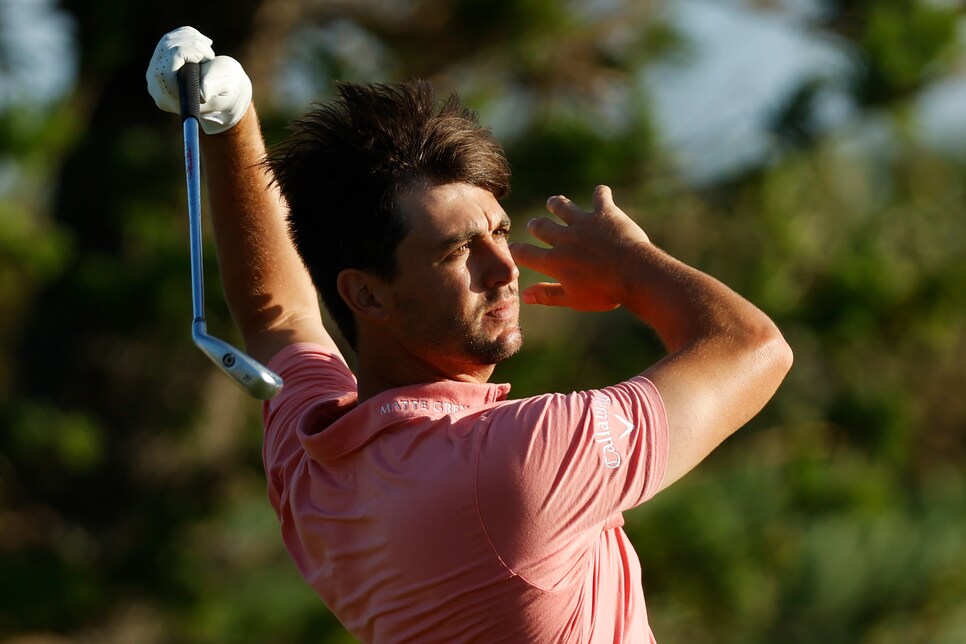 Ollie Schniederjans plays his shot from the sixth tee during the second round of the Bermuda Championship.
Gregory Shamus
After an absolutely prime day for scoring on Thursday in Bermuda, it looked like we were headed for another week where 20 under or lower was required to get a win. Mother Nature decided to fight back on Friday at Port Royal Golf Course.
Here are our takeaways from the second round of the Bermuda Championship.
Mother Nature dominates Round 2 in Bermuda
One of Paul Azinger's favorite cliches, of which there are many, is that "wind is the great equalizer" in professional golf. Azinger isn't on the call this week in Bermuda, but we're sure if he tuned in on Friday that what he saw brought a big smile to his face. Earlier in the week, the forecast called for some light winds, which was the case on Thursday as the scores showed. There was no such "light" winds on Friday, which led to serious carnage. At one point in the broadcast, a stat flashed across the screen that said "FIELD SCORING TO PAR - First round: -136. Second Round: +218." And that was with half the field still on the course.
"Yeah, it's night and day," said Wyndham Clark when asked about the conditions Thursday versus Friday. "Yesterday I felt like I left a lot of shots out there and I shot five under, and today, I mean, until hole 7 I felt like I didn't leave any shots and I was five under. So played a lot tougher, but I'm overall pretty pleased with how I played."
Clark shot a three-under 68, and that was with bogeys on two of his last three holes. He's tied for the lead at eight under with Ryan Armour, who, like Clark, got it to 10 under before faltering late on his back nine.
"When it's blowing this hard, it's really whoever just keeps it in front of them, makes the putts they need to make," said Clark. "And there's a lot of luck sometimes with this. Yeah, I mean, there's going to be long hitters, short hitters, everyone up there."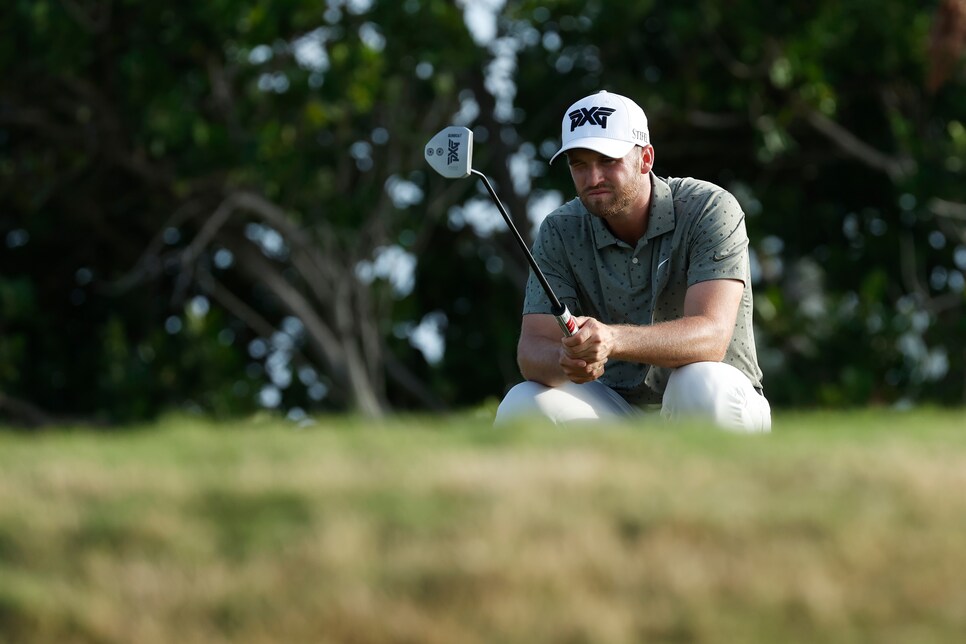 It was particularly windy for Clark, who played in the afternoon, but it wasn't much easier in the morning for Armour, who finished with a one-under 70. On the 15th hole, which is right on the ocean, Armour nearly got blown down the hill by a gust.
"I had a chip behind the green and on my backswing I got blown and like I had the grass mark right on the toe of the club and I'm like, wow, I almost missed that chip shot. So I was happy to get out of there with 4."
Armour wasn't alone in posting a solid score in the morning that held up at day's. Former top-ranked amateur Ollie Schniederjans also shot a one-under 70, putting him in the second-to-last group tomorrow at six under. He'll play alongside Kramer Hickok, who got in the house early at seven under thanks to a three-under 68. Denny McCarthy, who shot a four-under 67, and former World No. 1 Luke Donald, who shot 68, each vaulted over 40 spots up the leader board. They're tied at five under. Doc Redman, who shot even par in the afternoon wave, is tied with Schniederjans at six under.
The round of the morning—actually, scratch that, the round of the DAY belonged to ... Kiradech Aphibarnrat? Oh yes, the Barn Rat posted a five-under 66 on Friday, which jumped him an astounding 74 spots up the leader board. It was exactly the type of day he's been grinding over for some time now. If you include the European Tour, the 31-year-old from Thailand has missed eight of his last 12 cuts, with a high finish of T-27 at the Puerto Rico Open last February.
"Especially with this condition, I would say this is the best round for me for whole season," Aphibarnrat said. "I've been struggling a little bit from the beginning of the year. Hopefully today is the turning point."
His struggles have gone back even further than the beginning of 2020. Aphibarnrat has just one top 10 across all the major tours since May of 2019, and it came at last fall's CJ Cup at Nine Bridges. Despite all that, he was able to go bogey free on a brutally windy day in Bermuda, which is something that didn't even cross his mind while it was happening.
"Bogey-free round doesn't pop in my head, I just try to make birdies and birdies," he said.
Somebody put that quote on a plaque.
Fred Funk joins seriously elite company
Sam Snead. Jack Nicklaus. Tom Watson. Fred Funk. No, that's not a "which of these does not look like the other?" question. That's an extremely elite quartet of players who have all made a cut on the PGA Tour at the age of 64 or older since 1970. The best part? Funk chipped in at the last, and just so happened to be playing with his son Taylor, who he wound up beating by 11 shots. One for the geezers!
Turns out, Funk's chip-in was more than enough. The brutal conditions caused a lot of guys to fall down the leader board, and one over ended up making the cut. Funk's rounds of 69 and 72 put him at one under on the week, tied for 36th and just seven off the lead. And, as my colleague Joel Beall pointed out on Twitter, he did it while averaging 234.8 yards off the tee.
Sounds right to us, Funk man.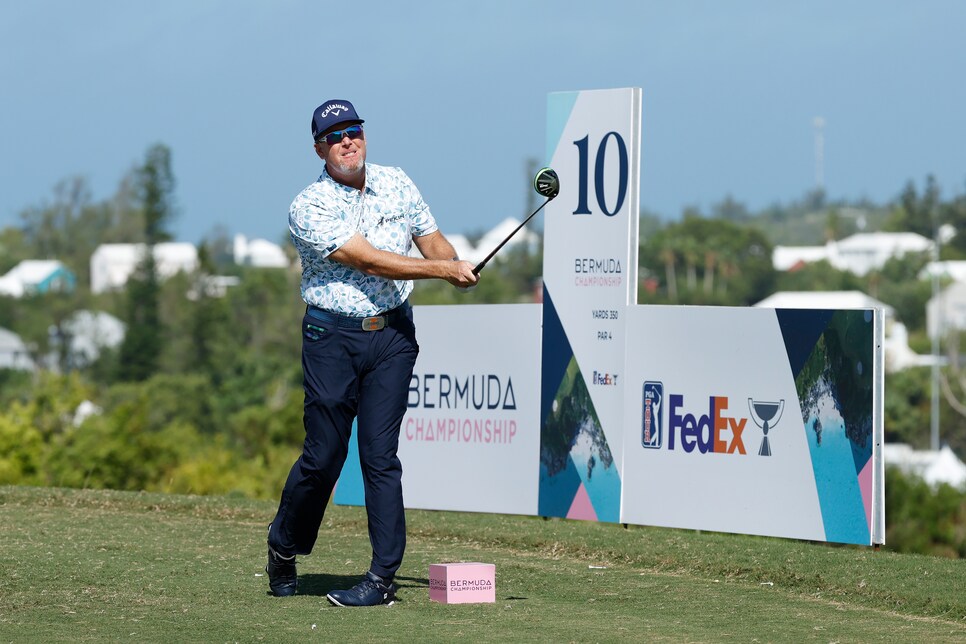 Round of applause for D.A. Points
You may be asking yourself, "Why on earth should I be clapping for a dude eight shots back?" To that I'd say stand up, shut up and start smacking those hands together. D.A. Points showed some all-world grit on Friday:
Call us crazy, but maybe we could make an exception for a guy who is hobbling around like he's 100 years old out there? Cripes, that looks painful. And yet, Points grinded out a one-over 72 to make the cut at even par. It's his first made cut in 18 starts, including Korn Ferry Tour. Fred Funk's made cut will, and should, get all the love, but Points making the weekend is an equally insane story.