Wells Fargo Championship
Rory stuck in neutral, Rickie's got a pulse and Bryson grinds out a one-under 70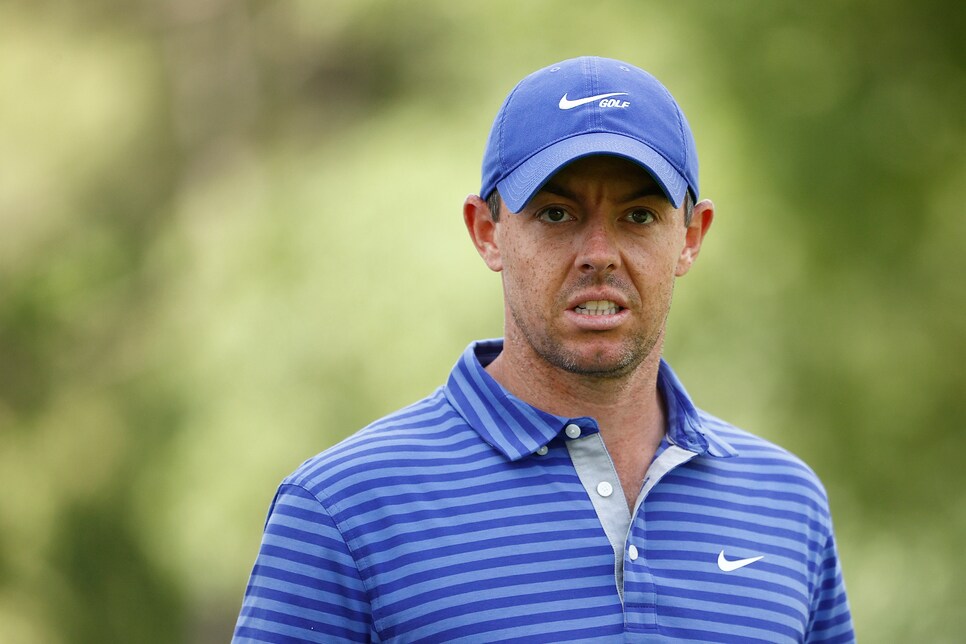 Some post-Masters rest, combined with Quail Hollow, a place he's owned throughout his career, was supposed to be just the antidote for the struggling Rory McIlroy this week. He even felt good about the state of his game, which was not the case in late March, when McIlroy admitted he'd developed some bad habits in the chase for more speed.
But being fresh and having great course history and feeling good about your game doesn't always equal a low score, a low score McIlroy once again failed to post on Thursday at the Wells Fargo Championship for what feels like the 100th time in a row. It sounds hyperbolic, but in reality his last eight stroke-play rounds including today read a little something like this: 71-72-76-79-75-76-74-72. You don't need to be a mathematician to know that ain't going to get it done on the PGA Tour.
Now, to be fair, he had shot a 66 right before that stretch in the opening round at Bay Hill, where he tied for 10th. A week earlier he tied for sixth at the WGC-Concession. Prior to that he had six finishes of T-21 or better in seven starts to kick off the Super Season. But is that what McIlroy plays for? T-21s or better? If you asked him, we're confident he'd emphatically say no.
And so Rory remains stuck in neutral, which remains hard to watch. It's happened before and it'll happened again, and he's snapped out of it before and he'll snap out of it again. It clearly won't be an overnight process, which is a shame because of how the schedule is shaping up for him right now. Quail Hollow this week, where he's won twice; Kiawah Island for the PGA, where he won in 2012, in two weeks; Torrey Pines for the U.S. Open, where he's had some success, next month. The Open down the line. The Ryder Cup, too. It's a bad year to have a bad year. Here's hoping McIlroy can escape the funk soon, because him not in a starring role for all of the events just mentioned is too disappointing to fathom right now.
Here are four other takeaways from Round 1 at Quail Hollow.
Pulse check: Rickie Fowler
First off, hold up. Are those shades? Rickie Fowler wears shades now? Is this an alter ego in the hopes. of turning his season around? If so, not the worst move we've ever seen.
The real question is, is it working? If you call a one-under 70 "working," then yes, it is. He might be six back, but any forward progress is good progress for Fowler right now, and it was actually a really good round up until he finished bogey-bogey. He drove it decently, hit plenty of fairways and greens and putted at a medicore level, which is good compared to how he had been putting. No, we are not seriously breaking out balloons for a one-under 70, we're just checking Fowler's pulse. After Thursday it appears he absolutely still has one. How could you not after watching the Masters with the GOAT himself.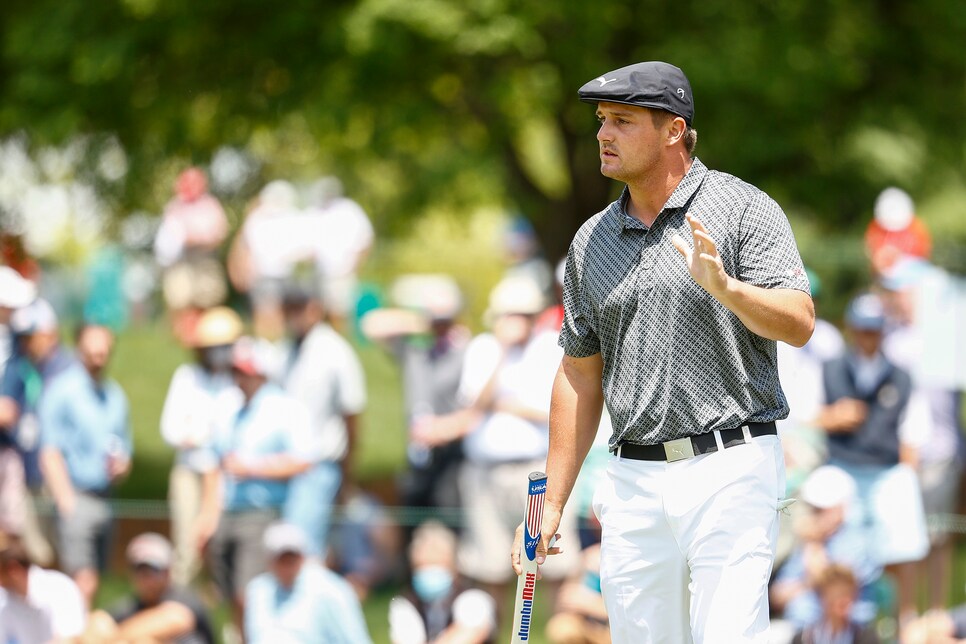 Bryson DeChambeau shakes off rust, grinds out one-under 70
Judging by the driver and the irons, Bryson DeChambeau had some serious rust after his time off on Thursday. He ranks 42nd in strokes-gained/off-the-tee, a category he's rarely not top five in, and he ranks a lowly 145th in SG/approach. That rust showed on the 14th and 15th holes, two of the more gettable holes on the course, where he went bogey-double bogey to spoil what was at the time a blemish free round of two under.
DeChambeau quickly bounced back, holing 11-footer for birdie at 16 and 18 to grind out a one-under 70. Say what you want about the guy, but he has a short memory. A few on-course outbursts in the past have given him the reputation of running a little hot when things go bad, but he almost always bounces back with a few birdies. Thanks to those two late ones, he's a 66 or 67 away from getting right back into this tournament heading into the weekend.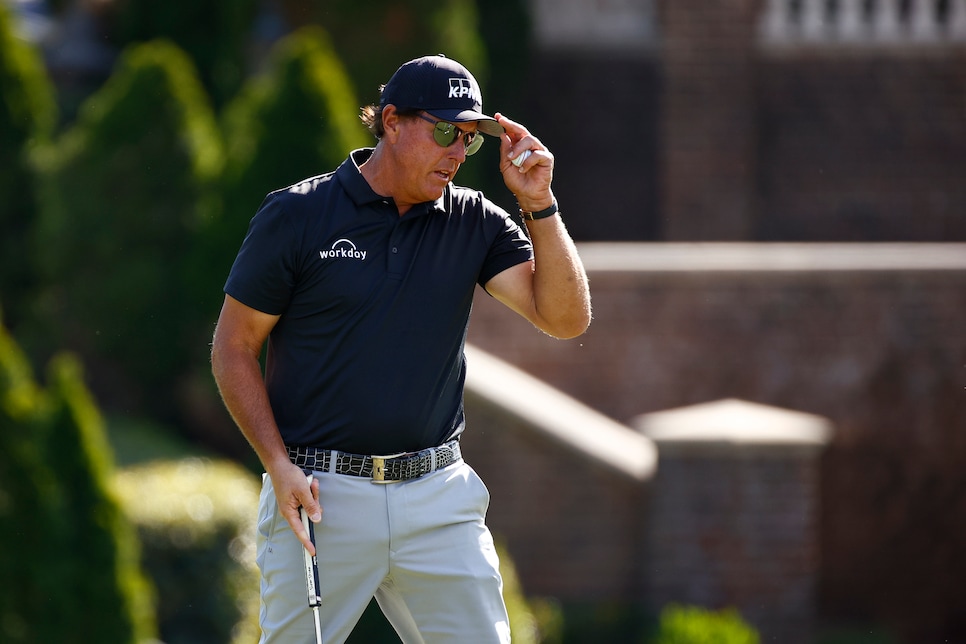 Locked-in Lefty, we have missed you
Our Daniel Rapaport, on site at Quail Hollow this week, has more on Mickelson, but Lefty needs a little loving here, too. The man was locked in on Thursday, which served as a reminder that only himself, a guy named Tiger and a handful of other guys can produce that type of "drop what you're doing, [insert guy] is going low right now" energy when they are taking it deep. He was fully engaged in every shot, he was holing putts, he was playing to the crowd, he was rocking the shades. It was the full Phil experience, something we've missed on the PGA Tour for some time now.
That said, if you've been paying attention to how he's been playing and to how he's been speaking, you might have seen a day like this coming. He's been grinding away of late, particularly at the Masters, where he very quietly tied for 21st despite making zero putts all week. Sure, he still has his ejection weeks here and there, but he's still been somewhat "close," as they all say, for some time now, and Thursday's seven-under 64 was a big step in proving that. Yes, there is a lot of golf left, but when Mickelson gets in the mix he usually stays in the mix. He's only been doing this for three decades.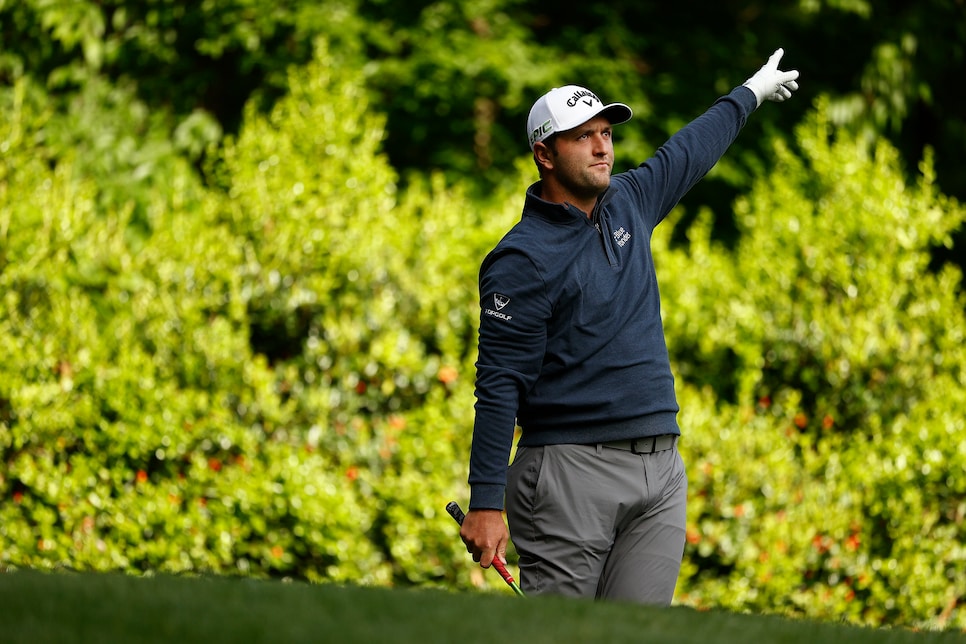 Two betting favorites, two different directions
The two betting favorites this week, at least according to the William Hill Sportsbook, were Jon Rahm and Justin Thomas, each at odds of 11-1. One of them, Rahm, shot himself out of the tournament and is closer to dead last than he is to surviving the cut. The other, Thomas, is two under, five off Mickelson's lead. Not sure where I'm going with this other than it's almost never worth it to bet favorites in golf, not because they can't win but because you can get guys just as good, sometimes guys playing better, in the 30-1 and above range. Hell, depending where you looked, you could have got Mickelson for anything between 125-and-200-1 to win this week. And if you still want to bet Thomas, hoping because he's five back he'll be a better number, no dice. He's still the betting favorite at 8-1.