Takeaways
Cameron Champ's secret weapon, Sebastian Munoz's wild back nine and Camilo Villegas' elephant-like memory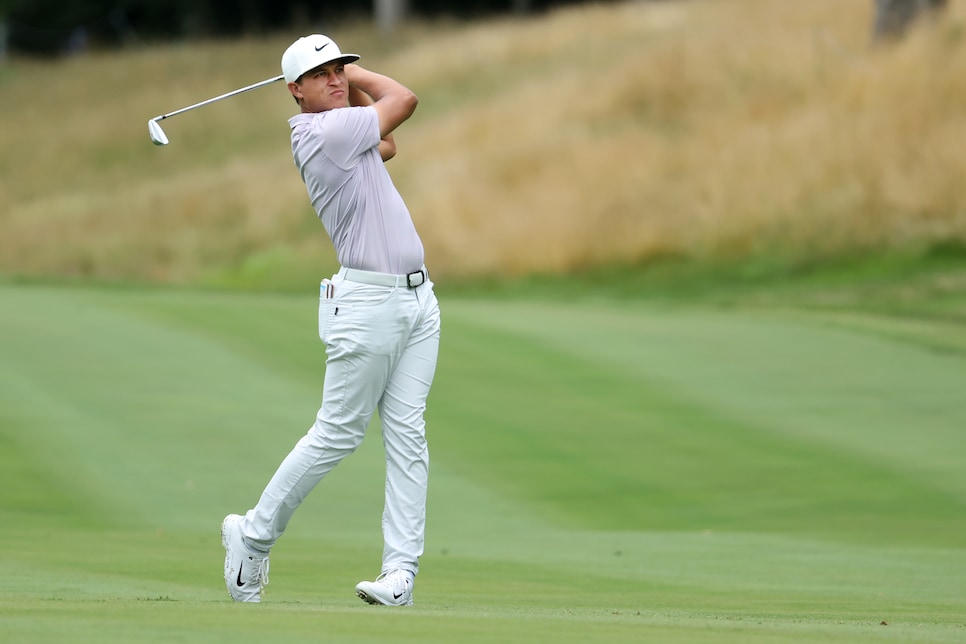 A quick glance at Cameron Champ's recent statistics, and the subsequent results, would lead you to believe he's utterly lost on the golf course right now. Missed cut after missed cut, poor tee-to-green play, shaky putting. Not since the Masters has he posted a finish inside the top 20 on the PGA Tour. It's been bad bad.
Champ, already a two-time tour winner, insisted on Thursday he's been doing all the right things during this recent rough patch, easy to say after shooting a five-under 66 at the John Deere Classic, his first sub-70 round since Sunday at the Byron Nelson in mid-May. But by the sound of it, it's something he truly believes, which makes a nice result like his first round at TPC Deere Run that much sweeter considering how hard he's been working for it.
"I've really been doing all the same things the last few months," said Champ, who hadn't shot 65 or lower since the Zozo Championship in October. "I haven't played well, the scores haven't shown, but I've been doing what I'm supposed to be doing. I'm putting in the work in the proper areas, again, just trying to stay positive. Golf at times can be very rewarding and the majority of the times it's not.
"Last week at home we had a lot of exciting stuff going on at home, so that might be a little kind of kick, but just regardless, I'm in more of a positive mindset with how to approach things out here and again how to deal with golf and personal life stuff."
The 26-year-old didn't expand much further on the personal life stuff, but whatever he's referring to surely helped on Thursday. Another thing that helped: a potential secret weapon that he put in the bag this week.
"I don't hit many drivers here," he said. "I think I hit maybe four or five, mainly on the par-5s, but I hit a lot of 2-irons. I put a 2-iron in play that's pretty strong, and I've been hitting that everywhere. Again, it's just giving me opportunities. I'm putting great, I'm hitting it great, and just going to keep doing what I'm doing."
Champ, who says he puts the 2-iron in play depending on the course, only hit seven of 14 fairways on Thursday, but the ones he did miss he didn't miss badly, and was able to capitalize with six birdies and only one bogey. The putter was key, too, as it so often is on the PGA Tour. Entering the week, he had lost strokes on the greens in 12 of his last 13 measured starts. On Thursday, he gained +2.178 strokes with the flat stick.
Should Champ go on to replicate that type of performance on Friday, he'll suddenly become the main draw over the weekend in Silvis, Il. To do that, though, he knows he's just got to keep on doing what he's been doing all year, no matter the result.
"For me it's not so much shots or things like that, just kind of my process and how I went about the round," Champ said. "I think that's what I've really been trying to learn for myself, again, figuring out how I need to approach things for me to be able to have my ultimate success.
"Regardless of my scores, I feel like I've been building off of it slowly over the last few months. Again, I'm just going to go out there and do what I did today regardless of what I shoot."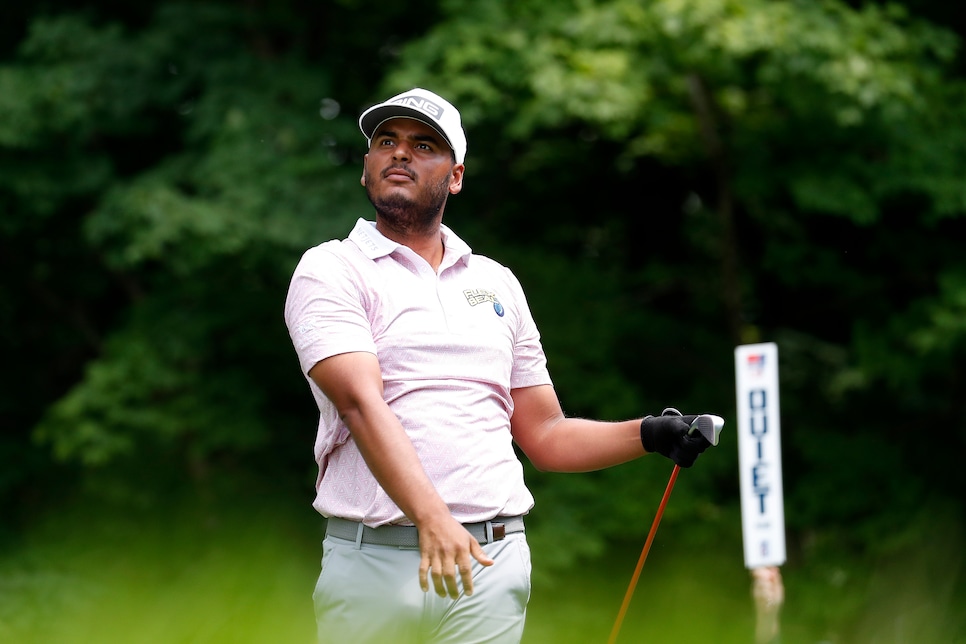 Sebastian Munoz's wild back nine
More than halfway through his first round, Sebastian Munoz was plugging along at two under, not bad but certainly not good enough to sniff the lead on a birdie-fest course like TPC Deere Run. By day's end, though, he didn't just sniff the lead, he grabbed a share of it at eight under thanks to a scorched-earth back-nine 30. To be more specific, a scorched-earth final five holes. Munoz birdied every one starting at the 14th, and all five were of the inside-20-feet variety, indicating he was peppering flagsticks. The Colombian gained +3.367 strokes on the field with his irons, which ranks third after 18 holes. He's got plenty of firepower, but only has one top 10 since the April Masters to show for it.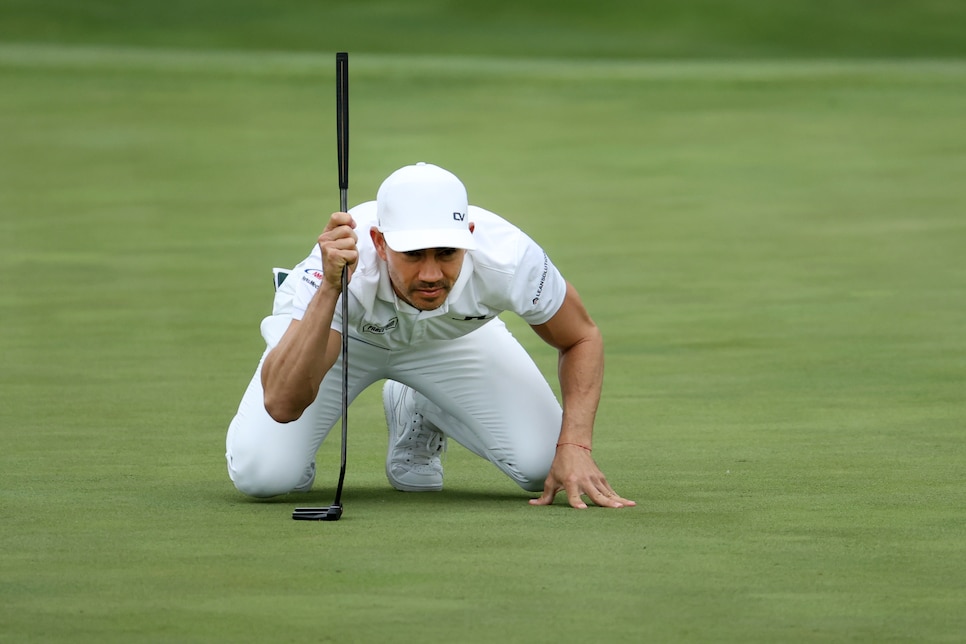 Camilo Villegas' elephant-like memory
After a strong run of form in Florida, Villegas has gone 69th-MC-MC-67th. Enter the John Deere Classic, where Villegas only owns one top 20 in the last decade. But just because you don't have a ton of course history at a certain place doesn't mean you're not allowed to love it.
"I love this place. I love this place," Villegas said. "I didn't get a chance to come the last few years, but I'm here."
Villegas hadn't made it to TPC Deere Run since 2017, but he's very glad he came in 2021. He opened with a seven-under 64 on Thursday, the latest good memory at a place where he has nothing but good memories, even ones from a very long time ago.
"This is where I made my first check, by the way, on the PGA Tour," he said. "2004 I made my first check here. I remember parring the 9th hole to make the cut, and I've got good memories. There's great people around this town. They put a great show, they put a great tournament. John Deere has been supportive of the tour and our job for many, many years, and I always enjoy being here."
Parring the ninth to make the cut! That's some elephant-like memory type stuff from Camilo. Then again, everybody remembers their first check. Eh, we'll let him have this one.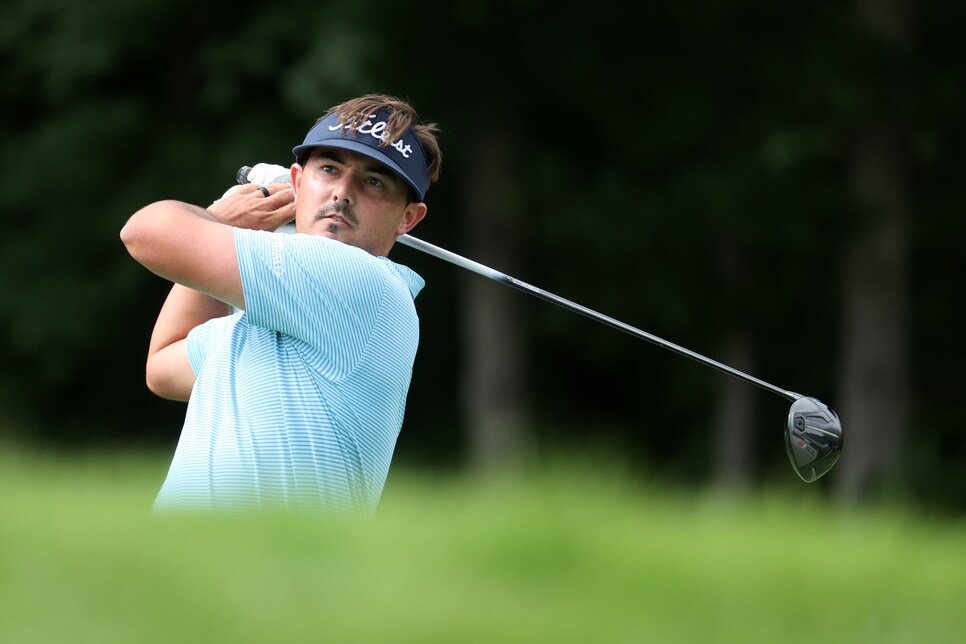 Hank Lebioda promptly back for more
If you been digging the lefty in the visor's vibe, then you'll be thrilled to see he's promptly found himself back at the top of the leader board in a PGA Tour event. Coming off consecutive top 5s, the latter of which he had a very serious chance to win, Lebioda is already back for more at the John Deere, shooting a first-round 64 to sit one off the lead. We overuse this phrase, but they're may not be a hotter player on the planet right now (Jon Rahm who?). He doesn't need to win for this to be a successful week, because every strong result puts him one step closer to his first-career FedEx Cup Playoff berth, but man, he's riding an extremely hot hand right now, and he'd certainly love to cash in with a maiden victory.