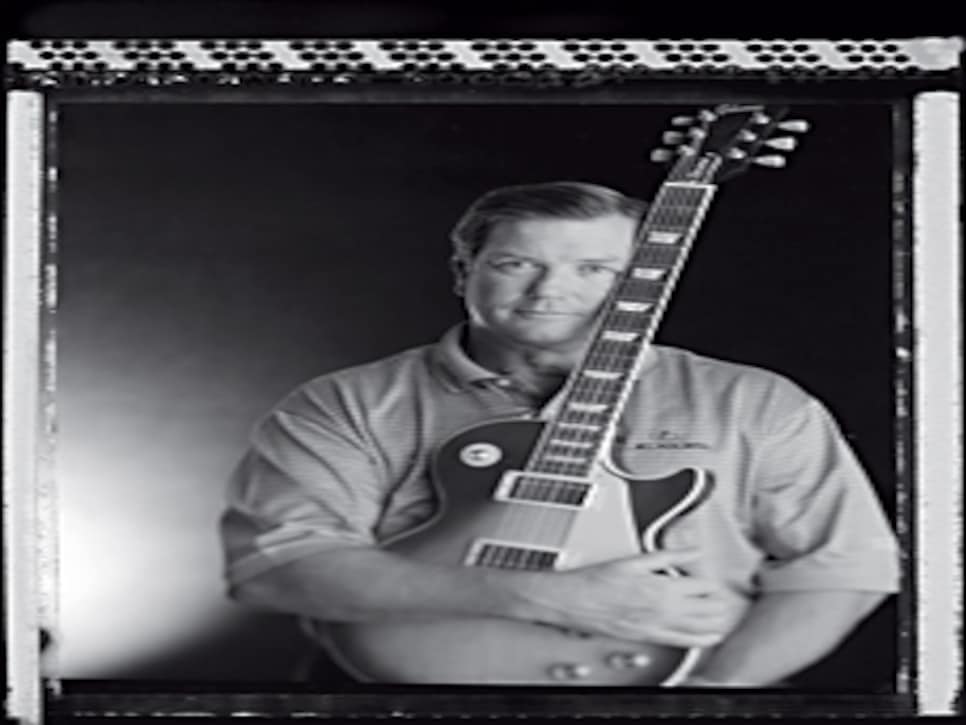 Jacobson enjoys playing his Les Paul while he's not on the course
There's a line that goes, "Everybody's on the stage, and it seems like you're the only person sitting in the audience."
It's a healthy way to do things. In fact, it's a great trick if you're ever speaking, and you're very emotional, and you can't speak. I'll never forget I had to do that when I had to speak at my father's funeral, at my brother's funeral and Jack Lemmon's funeral. I was asked to eulogize Jack along with Kevin Spacey and Michael Douglas, Peter Gallagher and Blake Edwards and Chris Lemmon. I had to really disassociate myself, put myself in the audience watching myself, to be able to do it.
It's like how great players go beyond emotion. When Nicklaus, Trevino, Palmer, Watson or Player would stand up there and hit these shots, like Jack at Augusta in 1986, they're watching themselves with the rest of the world. It helps you to peak perform.
There have been some fabulous performers in golf who have been ruined by emotions getting in the way. It's happened to me. It happens to everyone. If somebody tells you that it doesn't happen to them, they're lying.
I prefer to say it's trying too hard. Plus, momentum is huge. When it's good, you can do Tiger Woods-, Nicklaus-, Watson-type things where you birdie four of the last five. But it can go the other way where it's ugly. And it's so hard to stop that rot. That's what was so impressive about Tiger at the Masters this year. He bogeys the last two, and all the momentum is with Chris DiMarco, and Tiger turns it around with two perfect shots and a putt. From a player's perspective, that was incredible. That mental strength is what makes him great. Balls of steel.
Will Tiger get to Jack's record for majors?
He's either going to be one short or get one more. His will to win is second to none. It doesn't matter if he works with Butch Harmon, Hank Haney or Debbie Reynolds with his golf swing. Tiger will win.
Fluff left you to work for Tiger in 1996 after 19 years as your caddie. How did that transpire?
I was home in Portland resting my back and attending the U.S. Amateur that Tiger won at Pumpkin Ridge. Mike had been talking to Butch Harmon about maybe working a week or two with Tiger, and Tiger was asking me about working with Mike a couple of weeks. I totally encouraged Mike to do it. I was going to be out for a month, and I thought Mike's experience would be great for Tiger. I'll never forget when Mike called after working for Tiger in his [pro] debut, at Milwaukee, and Jan took the phone and asked Mike if he had thought about working for Tiger full time, and Mike said, "No, I'm not ready to leave Peter after all these years." And Jan said, "Are you crazy? If you don't work for this guy, we'll fire you." Mike is family, and both Jan and I thought Mike had to take the opportunity if it was offered.
Still, the way it finally happened, with Mike telling you a few weeks later he was leaving you to go to Tiger, it was a tough situation for you, wasn't it?
The problem was that everybody involved -- Mike, Butch, Tiger, Hughes Norton, who was my manager and also Tiger's -- knew that Mike had been with me for 19 years, and nobody really knew what to do or how to handle it. If everybody could do it again, it would have been handled better. Everybody could have communicated better.
I guess there was the assumption that I wasn't going to let Mike go, or maybe they didn't care what I thought. I don't know, because I never heard from anybody. But if anybody had asked, I would have told them that Mike should go with Tiger. Without hesitation. What hurt was, I wasn't asked, and I thought I deserved to be consulted. I had such a close relationship with Mike, and at the time I felt I had a fairly close relationship with Tiger.
Have you and Tiger ever talked it out?
We never talked about it then, and we haven't talked about it since.
I know how difficult it was for Mike to tell me he was leaving. People thought we became instant enemies, but Mike and I probably became closer. Because instead of being in an employer-employee relationship, we've become more what we had been all along, which is friends. We check up on each other all the time.
How did losing him affect your game?
That definitely was a bad situation for me. Much worse than I had anticipated. Because I thought, Well, I can handle a caddie change. But Mike was much more than a caddie. He probably spent three or four Christmases with us in our house in Portland. My kids called him Uncle Mike-a-Beard, because they have an Uncle Mike who is Jan's brother. He was such a part of my game and part of our lives. When he left, I really struggled emotionally, although I didn't want to admit it.
What did you miss from being together?
His easy manner. I'm kind of a high-energy, excitable guy, and every time I'd turn to Mike, he was as calm as a mountain lake. I'd be in contention and make a bogey, and Mike would look up at the sky and say, "Wow, look at that cloud formation." We mixed well. He was everything I wasn't, and I was everything he wasn't. And since then I've had my share of caddies, and I've had to spend time calming a lot of them down. Which was a big switch. I'm supposed to be the skittery cat on the hot tin roof, and my caddie is supposed to be Obi-Wan Kenobi, not the other way around.
We've talked a bit about Tiger. Let's get your take on some other major figures. Sam Snead?
I did a couple of exhibitions with Sam, one before the first Fred Meyer Challenge in 1986. We were on a charter plane with Curtis Strange, Chi Chi Rodriguez, Charlie Coody and Phil Hancock. Sam was bragging about how high he could kick his leg. He was 74 years old. He says, "I can kick the top of this airplane." So we start throwing money on the seat until there's about $100 that says he can't. The ceiling has to be 71⁄2 feet high, but he leaped up with his right leg and touched it with his toe. It was unbelievable. He told me that he felt competitive on the PGA Tour until he was 62, when he noticed he was losing some distance. A magical talent.
Probably the greatest family man I know. Family means more to Jack than all his championships.
From where he was to where he is, I never would have guessed it. I would have thought Seve would have become one of the ambassadors in the world of golf. I obviously don't know him very well.
An aside: Can you recount your unfortunate episode against Seve and David Gilford while playing with Brad Faxon in a best-ball match at the '95 Ryder Cup at Oak Hill?
right and said, "Play hard, partner." I hit mine in the fairway. When I get to my ball, I can't see where Brad is, but I see a ball fly out of there. I hit my shot to about 30 feet. Anyway, Brad eventually had about a 10-footer that he makes, which I think is for a par 4. But Brad had taken an unplayable lie. So because we're playing slow and it's raining, I pick up my four-footer for par, which if we'd had more time I would have knocked in for practice. That's when Brad tells me, "Peter, I made a 5."
My heart went right into my throat. Seve came up to me and said, "Peter, did you pick your coin up? I said yes. He said, "I did not give that to you." I said, "I'm aware of that. We made a 5."
I could tell he felt bad, but obviously the Ryder Cup is for keeps. I felt like a jerk and Brad felt like a jerk, because we should have communicated.
Everybody might think Seve is a gamesman, but he's got a heart. On the next tee he put his arm around me and said, "I'm sorry about that." Which I appreciated. And of course we went on to lose the match. It was one of those things. To this day when I talk to Brad, we say, "Can you believe that actually happened?"
Back to some other players. Your thoughts on Vijay Singh?
Back in 1995, when I was playing great and he was playing great, he'd walk by me and say, "Man, you're hitting it so good you look like Iron Byron." And I'd say, "Me? What about you?" So for a while when I'd see him I'd say, "Hey, Iron." And he'd say, "Hey, Byron."
Vijay is very bright, and he cares a lot about the PGA Tour, which is different from a lot of superstars in the history of the game. I'd love to see him on the PGA Tour Policy Board. He'd be fabulous.
Probably the most well-rounded person I ever met on the tour. He understood who he was to his fans, he understood who he was to his playing partners, and he understood who he was to his family. He got home, and he wanted to make sure his kids were not worrying about Johnny Miller and what he was doing. I love Johnny Miller. I know he's controversial on the TV, but I enjoy him a great deal. Always talked about his kids and wanted his kids to do better than him.
Most underrated player over the course of your career?
I would say two players. No. 1, Larry Nelson. The fact that he was not named Ryder Cup captain this last time is a joke, and the fact that he was not named to the Hall of Fame on the last ballot is a joke. It goes to show, the PGA of America captain-selection system is flawed, and I would say the Hall of Fame voting is flawed.
No. 2, Greg Norman. He was an amazing talent for such a long time. Everybody feared Greg Norman. But he never got the credit, because he had a business empire and did a lot of things outside golf. People didn't take him as seriously as they should have. He's a very, very bright guy. Kind of a go-for-broke golfer, but off the course, a very deliberate, shrewd businessman.
How do you assess your playing career on the regular tour?
Most people would say they underachieved. In golf, we don't reflect on the events we won or the putts we made. You always reflect on the ones that got away. That's why I made a pact with myself: I wasn't going to let golf get me; I was going to make sure I got the game. What I mean by that is, I never, ever wanted to be bitter, or resentful of other players, covet another player's success, be resentful of somebody who beat me, or regret a shot I hit. I've hit shots under pressure that I've hit poorly; I've hit shots under pressure that I've hit well. I wish I had been in position more to be able to have those opportunities.
But specifically in reference to you, other players say you underachieved. Like Curtis Strange recently saying, "Peter should have won more. He was a better player than he showed." Was Curtis right?
Most people in sports -- and golf especially -- will try to impose their thought process on you. Curtis and I were compared because we were good friends, and Curtis would always say, "Peter, I need to be more like you, and you need to be more like me." And it was a pretty true statement. And we would kid each other for a time. I'd say, "Are you being like me?" and he'd say, "Are you being like me?" But if I had approached things differently in one area, it might have affected another area.
I remember Faldo saying when he was winning everything, "I really work hard on my game, and I'm serious because I don't want to sit back one day when I'm retired and say, 'You know what, I could have won another major if I hadn't been screwing around.' " And now when I talk to Nick, he says, "Wow, I was so serious. I wish I'd had more fun."
But I always thought Faldo was a budding stand-up comic. I knew him when we were 21, 22 years old and always thought he was one of the funniest guys. Quick wit, very friendly, sparkle in his eye, ready to let go of a one-liner, totally contrary to his image. I remember when he wore a wig as a disguise when he caddied for Huey Lewis. Nobody recognized him, and he said, "At last, I've attained the anonymity I've always wanted."
If I had spent a lot of time practicing and treating people like crap, would I have been a better player? Who knows? I don't think so. I learned to let things roll off my back.
What did winning last year's Senior Open mean to you?
I've played in USGA championships for 35 years -- U.S. Junior right through. The USGA still sets the standard. Always something magical about having that USGA money clip, or that USGA badge, and you're playing in a USGA championship.
So it was very special to win the Senior Open. Especially by persevering through my hip surgery. It was the first week back where I could walk, and I had to gut it out.
When I finished that morning round on Sunday, I didn't think I could play the final round that afternoon. It was a ridiculously hot day, and I felt like I was done. But on instinct, I went into the clubhouse and took a freezing-cold shower. And I literally just stretched out in the bottom of the shower. But when I came out, I was fresh and ready to go. I had never taken a cold shower before. And I played beautifully.
Why are some pros playing their best golf after they've reached the age of 50?
People are definitely realizing the limit is not where they thought it was. Hale Irwin would still be making cuts on the regular tour. In the next five years you're going to see a blending of the Champions Tour with the regular tour, where you could see five to eight guys playing both.
I want to see what it's like to play in a tournament with Vijay and Tiger, to get up on the first tee and rip my drive and see how far behind them I'm hitting it. I know Arnold was always measuring himself. And he would say to me, "I love playing in this event, because I have a chance to play with the best." Arnold would be hitting it out there and be 10 or 15 yards behind us, but then he'd catch one and maybe get one past us and puff his chest. It's an insight into why he was great.
What about the time you got a cake for Arnold when he made the cut at Bay Hill in 1991?
I was so impressed he made the cut, and I was so appreciative for the tournament that he puts on for us that I wanted to do something for him. I stopped at this supermarket and ordered a three-foot-wide sheet cake. They told me it would take at least a couple of days, but when I said it was for Arnold Palmer and I needed it right away, they had it done in less than an hour. As luck would have it we had a rain delay, so all the guys were in the locker room when we presented it to him. I just said, "Arnold, from all the players, congratulations on making the cut. Thanks for everything. We love you." He got choked up.
We've mentioned family a lot, and your family was a big golf team. Tell us about growing up in golf.
Our whole family would play together. My dad, my mom, me and my two brothers, David and Paul, and my sister, Susie. For a while we had a combined handicap of 26.
Is tour life dysfunctional for a family?
Yeah, it very easily is. And Jan's been the rock in that respect. In my early years on tour we traveled with all of the kids and stayed at Motel 6s and Days Inns, and it was airplane to the hotel to the golf course to the hotel back to the plane. With the golf, yeah, I might be the one we're paying attention to, but when we got done and back to the room and we bundled the kids up and went to Chuck E. Cheese, they were great kids.
Are your kids as expressive as you?
More. At a Christmas dinner or any dinner where there are all five of us, I don't say a word. Half of it is because I just can't keep up with how quickly their minds move, but more than anything I love to sit back and listen. I have a far-left-wing daughter in medical school, Kristen, and a far-right-wing son in Mick, and Amy in the middle, and I just love to listen to them express their views. Some of them are very, very adult, and some of them are uninformed, but that's all part of growing up. And that's the thing about changing your mind -- it's OK.
t always drives me crazy in the political process when somebody says something in 1984, and they hold him to it in 2004. I just wish the candidate would say, "In 1984, I was wrong. I didn't know what I was talking about." And people would accept it and move on.
In March you lost your mother. In previous years, the death of your brother Paul and your father deeply affected you. What was the impact?
Whenever you lose somebody in your life -- could be divorce, death, business disagreement -- it takes a little of the meaning out of your life. When you lose a parent, it's sobering. The baton gets passed to the children. And it's brought me and my siblings closer. And it makes you stronger. We all face the same end. Both my parents lived with great joy and dignity, all the way until the end. That's a lesson I've learned.
My dad, he taught us all how to play. I took it for granted that every round I played I would call my dad after, or how we'd play together when I would come home. There was always a link there. I could always ask my dad if there was a question or something I was doing wrong with my swing. I'd always say, "Hey, Dad, watch me hit a few balls." And when he died, I just thought, There's no reason for me to play.
Tell us about your brother, Paul.
When Paul died, we knew he was gay. He just never came to grips with his sexuality. He was HIV positive for probably a year before he told anybody. When he finally was in the hospital and we learned of that, we went down to see him. He knew he was going to die. He was my brother. We grew up in the same house, shared the same beds, hung with the same friends, all the things brothers do. So it was a huge sense of loss.
I'll never forget how great Jack Lemmon was to my brother. Paul was fighting so many demons. He was an alcoholic and a drug abuser. I couldn't get him into the Betty Ford Center, so I called Jack, and Jack got him in there in two days. And Jack was so kind to Paul, because Jack had a problem with alcohol himself.
I don't think it's so bad to every now and then let your barrier down and have a little compassion in your life and try to understand that person sitting next to you. It isn't so hard to do. Empathy is a fantastic quality to have, where you try to understand where that other person's coming from. It gives you a whole different perspective on where you're coming from.
You have to connect to people. I don't have all the answers. Nobody has all the answers. We all need help. ‹›