News
Pettersen, Oh Tied For Lead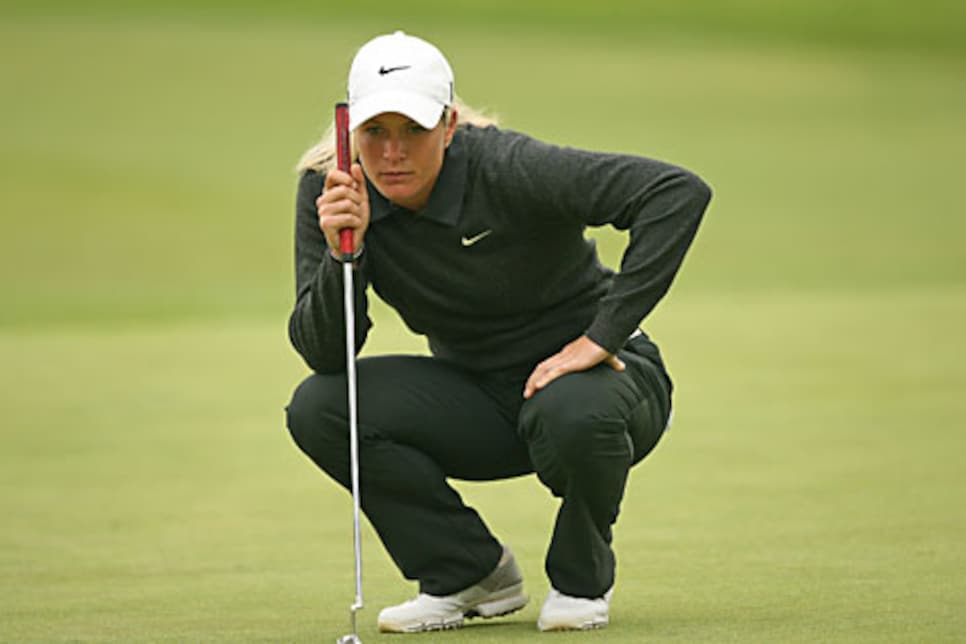 Suzann Pettersen will have to fend off a host of challengers on Sunday at Upper Montclair Country Club.
CLIFTON, N.J. (AP) -- Suzann Pettersen and Ji Young Oh seemingly won't have to worry about three-time defending champion Lorena Ochoa making a run at them in the final round of the Sybase Classic.
There are plenty of other challengers though, including recent major winner Brittany Lincicome, eight-time LPGA winner Paul Creamer and probably the most famous non-winner on tour, 19-year-old Michelle Wie.
Pettersen of Norway and Oh of South Korea shot 3-under 69s Saturday, taking a one-stroke lead over Lincicome after three rounds of the $2 million event that seemingly will have a new champion with Ochoa 10 shots back heading into the final round on the Upper Montclair Country Club.
The biggest story would be Wie winning her first title since the USGA Women's Amateur Public Links Championship in 2003. She turned pro in 2006 but that first win has eluded her.
She had a second in Hawaii earlier this year after blowing a three-stroke lead with eight holes to go.
"It would mean a lot," Wie said after matching Creamer's 69 to move three shots behind the leaders. "I always think about it, you know, how - that old Nationwide Tour commercial with the guy holding the little (coffee) creamer thing, that's basically how I feel. I'm just basically going to go out there and try my hardest and have fun like I had the last few it days and see where it takes me."
If Wie is going to win, she will have to putt better. She missed seven putts of 10 feet or less in the second round and she missed four of 4 feet or less on Saturday.
"I'm a pretty good putter, just want to send the ball home," Wie said. "But it will go home tomorrow; I'll make it."
Pettersen, who has not won on tour since capturing five titles in 2007, and Oh, a 20-year-old who won last year's State Farm Classic, both jumped ahead of their playing partner, Lincicome.
Both had 54-hole totals of 12-under 204.
Pettersen played the front side in 3 under to grab a share of the lead, but she played the back nine in par. She briefly took the lead with a 10-foot birdie on No. 16 but gave the stroke back after missing the green with her drive on the par-3, 17th hole.
"I'm going to try to go out there and put myself in position off the tee," Pettersen said. "I think that's the most important thing here. The greens are big enough, so keep hitting the fairways and give yourself a chance to be aggressive to certain pins."
Oh, who was constantly 40 yards behind Pettersen and Lincicome with her drives, still got the ball close, making four of her five birdies from 11 feet or less.
"We're still in a pack so I feel good," Oh said. "That means I have a great chance to win tomorrow."
Creamer, who played in Japan last week, could have been a lot closer had it not been for No. 12, a dogleg 408-yard hole. She mishit a 5-iron on her second shot and put her ball in the pond next to the green.
"My game plan today was to move up the leaderboard as far up as I possibly could," said Creamer, who is still looking for her first win of the year, a campaign in which she has been bothered by recurring stomach ailment. "I feel like I did that, even though I made the double on 12, I still made a lot of birdies and that was my plan. So I feel like I'm in the right position right now."
The one person who did not make a move was the 23-year-old Lincicome, who captured the Kraft Nabisco Championship last month. She started the third round with a two-shot lead and shot a 72.
"To shoot even par today and still be on the leaderboard is fantastic," said Lincicome, who has struggled with her putter after an opening-round 64. "Hopefully, I'll go out tomorrow and make some putts and play like I did on Thursday."
Hee Young Park was four shots off the pace after a 67. The 21-year-old South Korean is looking for her first LPGA victory. Candie Kung was in seventh place at 7 under, a shot ahead of Ai Miyazato, Moira Dunn and first-round leader Helen Alfredsson, who overcame a triple bogey on the fourth hole to shoot a 72.
Ochoa, who won this event here the past two years and at Wykagyl in Westchester County in New York in 2006, has failed to get her game going this week. She shot a 72 and was tied for 27th place at two under.